About Time You Tried: London's Best White Hot ChocolatesBy Angelica Malin
I used to judge people for liking white chocolate. A far removed cousin from the fancy 70% dark stuff, white chocolate always reminds me of the episode of Peep Show where Jez says that "anyone who buys a Crunchie had a bad childhood".
White chocolate, by its very nature, is for the big kid. For the people that like to life to the max – too sweet, too rich, too creamy, it's everything your mother told you not to have before bed. But there's a pleasure in white chocolate – the ultimate indulgence, it's proof that we can all be children again. I sipped my way through London's best white hot chocolate offerings (and made myself very, very sick in the process) to find you the ultimate slurps. Happy drinking, kids:
1. The Café at Hotel Café Royal, Piccadilly
Order: The White Lady (£6) – white chocolate with cinnamon and star anise
Why: Using only the highest quality Valrhona chocolate, the hot chocolates here are incredible. This white chocolate creation is absolutely heavenly. The combination of wintery spices really cuts through the richness of the drink – it's creamy, nutty and just a touch of exotic. Absolute perfection, and our favourite in London. If white chocolate isn't your bag, try their incredible Salted Caramel Kiss, a hot chocolate made with 34% Caramelia milk chocolate and homemade caramel.
The Venue: Hotel Café Royal needs no introduction, but I'll give you one anyway. It's one of London's most iconic hotels for gourmet patisserie and The Café is a beautiful, calming space fronting London's vibrant Regent Street, created from golden Siena marble. Celebrating the European tradition of café culture, The Café offers seasonal dishes, plus an espresso bar and counters lined with cakes, pastries and chocolates; these are created fresh everyday by Hotel Café Royal's executive pastry chef, Andrew Blas. Every cake comes with a choice of tea or coffee – try their hazelnut praline and cazzette buttercream tea cake, it's the stuff of dreams.
Where: 68 Regent Street, London W1B 4DY
Order: White Drinking Chocolate (£3.50) – white chocolate and nutmeg
Why: Because the word drinking and chocolate is the same sentence are too of the best ever. These little shots of chocolate are the perfect sweet treat to end a meal at Borough Market's sensational chocolate-inspired Rabot 1875. If you like to keep it classic, their regular dark chocolate blend is also fantastic, as are the more usual chilli, gingerbread and hazelnut chocolate shots.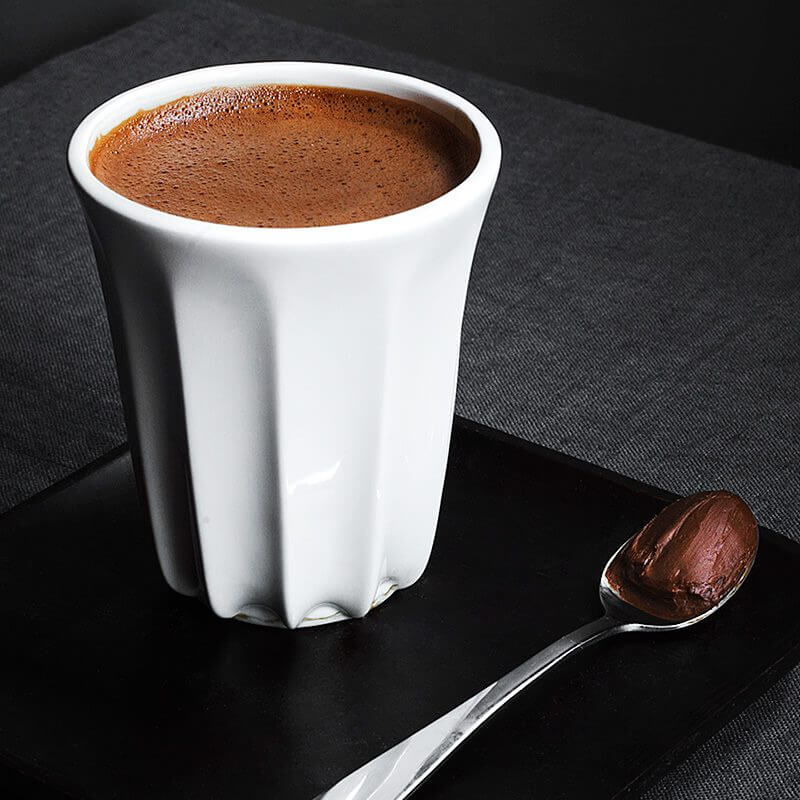 The Venue: If you like quirky chocolate dishes, this restaurant by Hotel Chocolat is for you. The restaurant's name is inspired by a cacao estate purchased in 1745 in the Caribbean; and chocolate flavours run through the entire menu. Repeat: the entire menu. Think sweet twists on classic starters, such as cacao balsamic, cacao-cured salmon and cacao guacamole. For mains, try the 'Choc Au Vin' chicken with cacao red wine sauce, or, get this, a Mac n' Cheese in cacao nib pastry. For pudding, go all out and get the Chocolate Soup, or try the sticky toffee and cacao beer pudding. This is upside down dining as its best.
Where: 2-4 Bedale Street, Borough Market, London, SE1 9AL
Order: White Hot Chocolate (£3) with white chocolate and matcha
Why: It sounds strange, but trust us. The Melange uses their own white chocolate to make this hot chocolate – and it's a real game changer. The mixture of refreshing, earthy Matcha and rich white chocolate is truly special – get it with dairy-free coconut milk to make the whole Bounty bar experience. All the hot chocolates are made with their quirky, homemade chocolate bars – think milk chocolate with lavender and lemon, dark chocolate with raspberry and rosemary, and vegan, dairy-free dark chocolate bars. Heaven.
The Venue: There's nothing these people can't do. From vegan hot chocolate to spicy bars, the place is a chocolate lovers dream. Melange Chocolate Shop & Café is based in Peckham and was created in 2008 by Isabelle, an artisan chocolatier. They infuse spices, herbs, fruit, flowers, seeds, tea & coffee into first grade belgian chocolate to create >unusual chocolate bars and unique flavour combinations; and have one Great Taste awards for their unusual, quirky creations. You can sample all the bars in the shop, and stop for an amazing chocolate brownie if you fancy. They host monthly chocolate-themed events, such as chocolate and wine nights, and chocolate making workshops – see here for more information.
Where: 84 Bellenden Road, Peckham, London SE15 4BW
Photo Credit: Trivial Pursuits
Order: Hot Chocolixir (£7.00) – three indulgent layers: warm chocolate ganache, steamed milk and milk foam
Why: Did you read the description? This is literally the dream. Three layers of white chocolate goodness, with a melting ganache, sweet film and perfect foam – you really can't beat this. The hot chocolates come in three flavours, so there's something for everyone. This amazing cafe is also one of the only places in London that we've discovered which does a really, really good white chocolate mocha – Godiva rich white chocolate ganache with hints of vanilla, to be served with espresso. If that's not enough for the big kid in you, you can also get the ice cream Chocolixir – a rich and creamy chocolate ganache whipped with ice cream for a cool chocolate drink, in milk, dark or white. Oh baby.
The Venue: Since 1926 Godiva has been the premier maker of the fine Belgian chocolate. Today the brand is known – and loved – in over 80 countries around the world. Come to Cafe Godiva for decadent truffles, melting fondues and rich chocolate drinks all using the finest ingredients, for a guaranteed taste of heaven. This eatery also offers sandwiches and savouries for a pre or post chocolate fix. A sweet oasis for unwinding and indulging your every chocolate desire. Don't leave without trying the Godiva Dark Chocolate Sin Cake – a decadently glazed chocolate cake layered with rich chocolate ganache and silky dark chocolate mousse and crunchy pieces, accompanied by a warm Godiva chocolate sauce. Dreams.
Where: 87-135 Brompton Rd, London SW1X 7XL
7. Choccywoccydoodah, Carnaby Street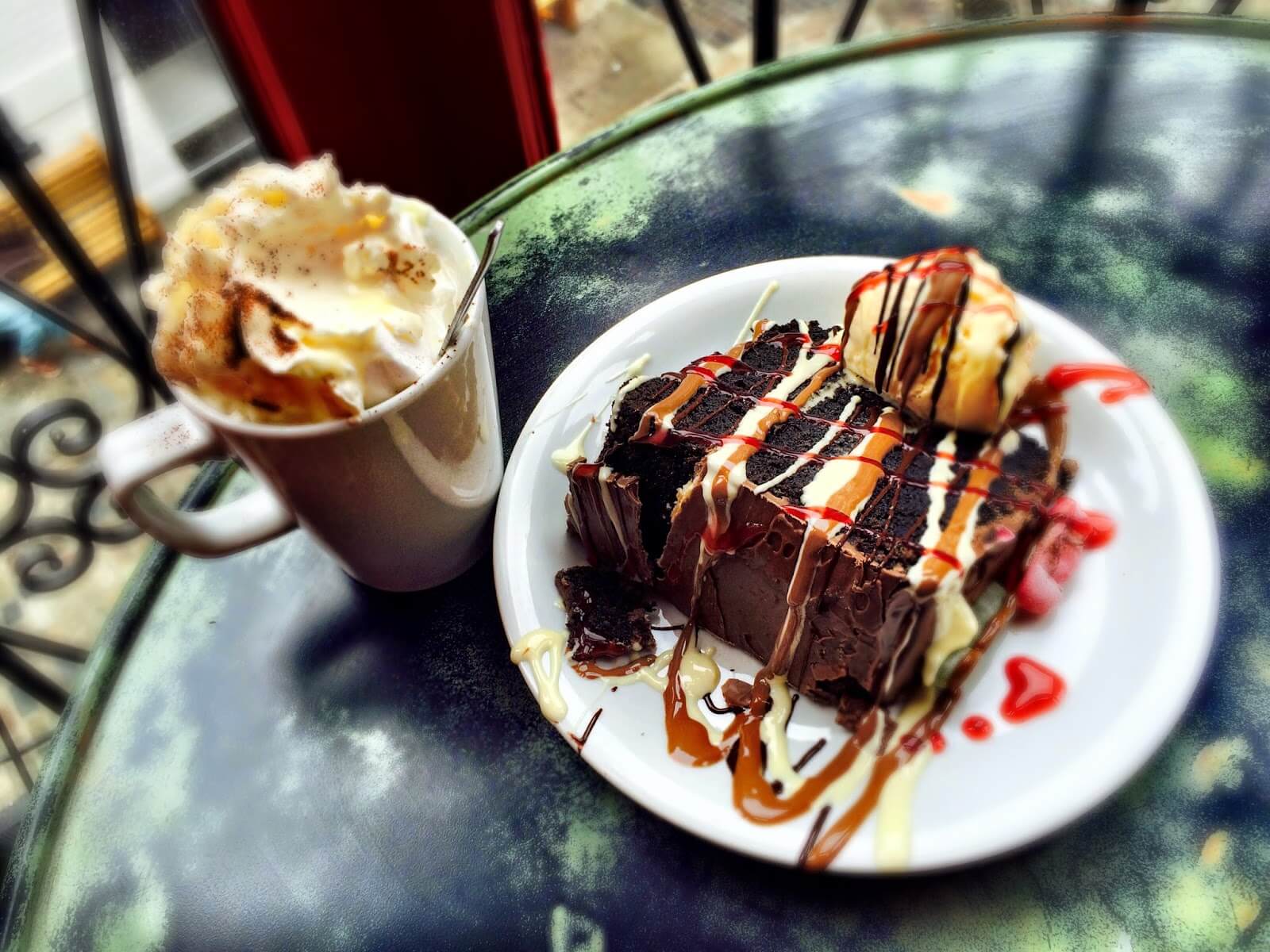 Order: Hot Chocolate (£3.50) with white chocolate, whipped cream, marshmallows and chocolate curl
Why: For over-the-top indulgence. This place is a total dream. Tacky, decadent, brilliant, they make amazing one-of-a-kind custom cakes and outrageous scrummy chocolates which are (almost) too pretty to eat. You can order the hot chocolate in white, milk and dark flavours – they are giant and very, very delicious.
The Venue: Choccywoccydoodah is an art and design focused chocolaterie. Specialising in chocolate, one-off sculptured fantasies, bespoke wedding cakes and chocolate creations, it's a riot of chocolate madness. At their shop just off Carnaby Street, you can find fantastic chocolate, gifts, and upstairs in their cafe they serve incredible, decadent hot chocolate and great homemade cakes. This is like a childhood dream come true – let your inner six-year old run free.
Where: 30-32 Foubert's Place, London W1F 7PS
Photo Credit: The Crafty Larder
8. The Haberdashery, Crouch End
Order: Italian Hot Chocolate (£4) – white chocolate, festooned with marshmallows
Why: Regularly touted as one of the best places for coffee in London (voted Best Coffee Shop in London by Grazia and London's Best Breakfasts by Time Out), come here for their amazing Italian Hot Chocolate in milk or white chocolate. It's rich, thick and absolutely delicious. In fact, their entire breakfast menu is a dream – try the warming bowl of porridge with poached pear, blueberry, banana, prunes, honey and cinnamon, and if you're feeling naughty, you just can't beat the French toast with grilled cinnamon banana and maple syrup. Breakfast perfection.
The Venue: The place for all-day breakfast, sandwiches, and cakes served in vintage crockery with tea cosies and bunting, you'll fall in love with The Haberdashery. They have taken shabby chic to a new level and it's a girlie paradise. They have a regularly changing menu – and their sandwiches and soups, served with vintage terracotta breadpots, are seriously good. The food is made fresh to order, and
Where: 22 Middle Lane, London N8 8PL
Order: Hot Chocolate (£5)
Why: For hot chocolate so thick you could stand your spoon up in it, head to Soho's SAID Dal 1923. The cafe, which operates in London and Rome, does some of the best hot chocolate in town – lovingly prepared in front of you with rich, thick melted chocolate, it's a feast for the eyes and the taste buds. You can choose from milk or dark hot chocolate (no white here, but we thought it would be a crime not to mention it), and enjoy it with a selection of their finest homemade chocolates.
The Venue: A beautiful, quirky designs and real quality, we love the wall covered with chocolate moulds shaped as stars, shells, rabbits, fish and Easter eggs. This place is an absolute chocolate lover's dream. You need to try their salted caramel and chocolate tart – it's got the most perfect oozy salted caramel, with a delicious biscuit base. They also do fantastic chocolate-dipped strawberries, with either milk, dark or white chocolate, and incredible chocolate truffles. This place can't be missed.
Where: 41 Broadwick St, London W1F 9QL
Photo Credit: Joy Felicity Jane
Order: Belgian Hot Chocolate (£5) with shavings of white, milk or dark chocolate
Why: They do things properly at Dark Sugars. If you like thick, continental, hot chocolate – come here. You choose either dark, milk or white chocolate to be hand cut, which is then placed at the bottom of your cup and warm drinking chocolate is poured over it. The chocolate solids melt into the drink and you can expect a total mouth sensational. Fact.
The Venue: This shop is a feast for the eyes. You'll walk in and be greeted by stacked slabs of chocolate, and cocoa beans themselves. Come here for cocoa dusted truffles with incredible flavours – from stem ginger and honey, chocolate & chocolate to coffee & walnut. There's many flavours of hot chocolate to choose from – try the unusual cardamom hot chocolate with cardamom and cream, it's sensational if you like spice. A family business with soul, this place can't be missed.
Where: 141 Brick Ln, London E1 6SB
Photo Credit 1: Fork and Camera