We came, we feasted on dishes from some of the finest street food vendors in South London, and we left with our belts considerably looser. If you're a regular or a first timer to Pop Brixton – here's what you need to eat when visiting. Come hungry and wear trousers with some give:
Order: Chorizo pizza – brindisa chorizo and piquillo peppers on a margherita base (£8)
The Lowdown: Best pals Ed and Henry are behind one of Brixton's most popular haunts, Made of Dough. Ed, originally from Southern Spain, and Henry, from the Amalfi Coast have fused together their love of Mediterranean ingredients to create the best doughy delights this side of the Channel Tunnel. Their secret? The dough is fermented  in 2 ways for a minimum of 60 hours, they import all of their ingredients from Campania and Andalusia, and their flour is milled in Italy. Authentic pizza at its finest. Oh, and we should probably mention that they were won the 2015 London Pizza Festival with this chorizo bad boy.
Gimme More: We're big fans of condiments – so order a pot of their basil aioli. It's garlicky, creamy and the best partner for those chewy crusts.
Order: Fried calamari
The Lowdown: Don Lugi are newbies to Pop Brixton, having opened back it May; but it hasn't taken them long to cause a stir with their Italian bites. Behind this new venture is Mario and Alessio, two Italians who have considerably upped the Italian street food game with their traditional European flavours, and original Italian dishes. Their squid is freshly caught and delivered on a daily basis, and fried to absolute perfection. There's no greasy calamari here. Don't miss their Arrosticini skewers – basically, meat on a stick, but with seriously big flavours. The mutton is marinated and cooked over a BBQ for an all round cracking taste.
Gimme More: The team create their own version of bruschetta which combines aubergine and courgette on top of olive oil soaked sourdough. Sublime.
Order: Samphire pakoras with chilli garlic mayonnaise, date and tamarind chutney (£5)
The Lowdown: If Indian small plates was our religion, Kricket would be our church. Their playful approach to Indian cuisine has gone down an absolute storm, with not only the About Time team, but the hungry punters at Pop Brixton. For the price of 10 bananas from Pret, you could be digging into the best samphire pakoras you have ever tasted. The samphire pakoras are salty bites of pure happiness – fried and drizzled in their special date and tamarind chutney. We highly approved of the chilli garlic mayonnaise which has some serious bite. And their smoked sweet potato with gunpowder, crispy onions and labneh is a serious contender for the best sweet potato dish in London. Bold claim, but it's true.
Gimme More: Veggies can revel in all the plant based delights here. The grilled hispi thoran with pickled carrot and coconut is like a big ol' Indian knees up in your mouth.
Order: Currywurst
The Lowdown: World of Wurst is a mecca for sausages. Ditching the humble Cumberland for sausages further afield, the stall cook a range of meaty greats from Germany, Poland, USA and South Africa. They're forever changing the menu with new arrivals and limited edition numbers. They've stuck to traditions with their currywurst – German sausage topped with a thick ketchup and curry powder combo. Don't ask us how something so simple can taste so good, but it does, it really does. Good job they stick some white carbs on the side – get mopping up the saucy dregs.
Gimme More: Not just sausage, kids. There's beer on tap and a range of international bottled beers.
5. For Sides: Zoe's Ghana Kitchen 
Order: Handcut plantain chips
The Lowdown: What do you get when you mix Ghanian food with some of the friendliest staff in Brixton? You end up with Zoe's Ghana Kitchen, you're one stop shop for home spun, home cooked West African food. Zoe's Ghana Kitchen will feed you up like your overbearing aunt at Christmas – you love her for it, but you just don't know when to stop. Their handcut plantain chips are, without doubt, a taste sensation. So much so that we ended up polishing off three portions. In keeping with the plantain theme, try the plantain pancakes with the bean stew. Man, we love Zoe and her kitchen powers.
Gimme More: Avocado in any sort of dessert goes against our morals, but Zoe's avocado and chocolate mousse had us questioning them in an instant.
Order: BBQ jerk chicken wings
The Lowdown: Adrian Luckie is the chicken chief at Mama's Jerk. Mama's started as a legacy to Adrian's late great grandmother, with Mama Charlotte's secret jerk sauce recipe passed down through generations. Adrian uses fresh, spicy ingredients that adds a delicate heat to the chicken, with all of the chicken marinated for 24 hours, before being cooked on the BBQ for the ultimate smokey taste. If you've never been to Mama's Jerk it only feel right to start off with their famed BBQ jerk chicken wings, gloriously coated in a sweet and sticky sauce. Order their jerk sweet potato fries as a side, it would be rude not to.
Gimme More: There's some great veggie and vegan options including jerk sweet potato and kidney bean cakes, coconut and sweetcorn vegan cakes, as well as their jerk vegetable and dumpling soup.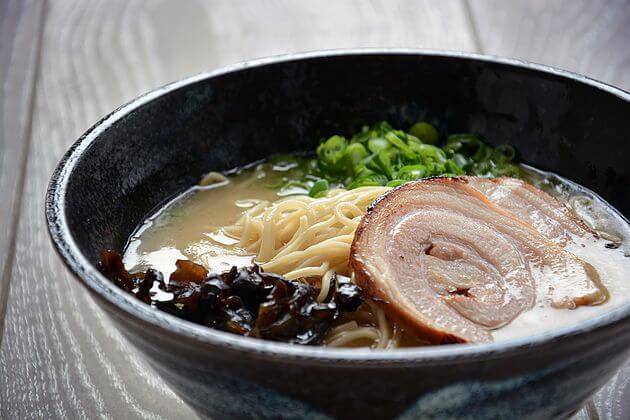 Order: Pork ramen
The Lowdown: There's ramen, and then there's ramen from Koi Ramen Bar. Dishing up a slice of Japan in South London, these guys and gals know a thing or two about broths. Slurp your way through their pork broth which takes 12 hours to make (all homemade and handmade) – with each broth topped with 10 hour slow cooked tender pork belly slices marinated in their own special soya sauce. We're not the biggest fans of ramen, but it converted us. They're also pretty skilled in making the perfect gyoza too.
Gimme More: Try the miso ramen, a vegetarian soybean soup noodle soup. It'll warm your cockles on a rainy summer's night.
Order: Lamb jalfrazi burger
The Lowdown: Baba G's is a Brixton icon. These chaps have been going long before the Pop Brixton phenomenon. 7 years ago they were banging out their bhangra burgers from a small stall on the corner of Cold Harbour Lane. Today, you can still get your hand on their bestseller, their sensational lamb jalfrezi burger, but there's also wraps, Indian snacks and a changing menu to keep you on your toes. They've taken Indian cuisine to a whole new level with their own special twists and a range of knock your socks off spices. The food is vibrant, tasty and it won't cost you the earth. Gold stars all round.
Gimme More: They peddle their burgers on the festival circuits around the UK, and also cater at weddings, celebrations and any excuse for a get together.
9. For Dessert: Franzina Trattoria
Order: Choux pastry with ricotta and chocolate chip
The Lowdown: Franzina Trattoria is part of Pop Brixton's new initiative to help people start and grow their business. The pop-up restaurant is only running until September, and is led by Sicilian duo Pietro and Stefania who are on a mission to bring their seasonal Italian eats to the masses. Their simple restaurant is styled on the British cafe – a place where you can enjoy home cooked grub when you're not in the mood to whip up something in your own home. It's big on homely vibes, small plates based on the Italian favourite 'cicchetti' (a sort of snack to enjoy with wines), and straight forward, no nonsense dishes. Everything on their menu is a winner, but the dessert of choux pastry with ricotta and chocolate chip is well worth the punt across town for.

Gimme More: Their handmade fresh tagliatelle with fresh tomatoes, mint and basil is bloomin' good.
10. For Liquids: New Zealand Wine Cellar 
Order: 2012 Millton Opou Chardonnay Gisborne
The Lowdown: The New Zealand Wine Cellar may be small in size, but its mighty when it comes to their wine collection. The bar and shops boasts the very best wines from New Zealand's finest vineyards, with a firm focus toward boutique wineries and small production wines. The approachable staff are on hand to help you pick out the perfect pitcher of plonk to suit your taste and purse. If you're not proficient in wine terminology, just ordered a glass of their finest savvy B, we always find that works.
Gimme More: If you need to up your wine game, they host regular wine clubs. Prepare to journey into an Aladdin's Cave of wine.
For more information on Pop Brixton, visit their website here.
49 Brixton Station Road, London SW9 8PQ