In association with POD, as part of POD Health Week, we've searched the city for the best Tabbouleh in town. What's more, you can get £1 off their tabbouleh at POD this week – simply quote About Time at the till or show this article to claim your big bowl of Tabbouleh. You can see POD's menu here. Without further adieu, may we present the best tabbouleh in London:
The Lowdown: Located in the busy and bustling London area of Borough, Arabica offers Levantine inspired food for breakfast, lunch and dinner, taking inspiration from the sun drenched countries of the Eastern Mediterranean including Lebanon, Jordan, Palestine and Israel.
The Vibe: What's not to love when there's all the meze up for grabs. The menus offers a range dishes alongside rare-breed meat and fish cooked over single variety English charcoal as well as stone baked pastries, interweaving authentic classics with modern dishes.
Where: 3 Borough High Street, London SE1 9AF
The Lowdown: Hoxton Beach are a street-food stall favourite and a big hit with the Whitecross Market crowd come lunchtime. They freshly prepare all food daily and fry their falafel to order. All of the food is 100% vegan and they change their salads according to the seasons.
The Vibe: Prepare for a slight wait at Hoxton Beach, but it's totally worth it. Their falafel isn't dry, but a heavenly mix of chickpeas and skinned fava beans giving a slightly sweet taste. Pair the falafel with some pink pickles and some of their special homemade Amba (Indian green pickles) and you're really onto a winner.
Where: Locations here 
Photo courtesy: londonvegansocieties
3. The Harana Meze Bar and Restaurant 
The Lowdown: Imagine a British cafe, but instead of serving fried egg and chips they served chicken shish and flatbreads –  The Harana Meze Bar and Restaurant is exactly that. Think a kebab shop with a seating area of flat pack furniture and limited decor to match. Believe us, the food is the real talking point here.
The Vibe: Part takeaway, part restaurant come here for all types of Turkish grub. We're talking about hummus, baba ghanoush and all the kebabs. Donner, shish, mixed meat – you name it, Harana Meze Bar are cooking it. What's more, they have a cocktail menu – we can seriously vouch for the lychee smooth.
Where: 118 Uxbridge Rd, London W12 8AA
The Lowdown: With three locations across London, Noura knows a thing or two when it comes to Lebanese cuisine. Originally founded in Paris in 1980, two brothers decided to cross the channel and set up in London.
The Vibe: The Mayfair branch is our go to, upstairs is a bistro style affair ideal for a relaxed lunch or a quick dinner, while downstairs is a new lounge bar and dining area blending modern decor with traditional Lebanese food. Stop by on a Friday night for Lebanese live night with heaps of musical entertainment and all the hummus you can eat. Game on.
Where: Locations here 
5.  Randa Restaurant by Maroush 
The Lowdown:  Part of the Maroush Group, London's most celebrated and renowned Lebanese restaurant collection, Randa Restaurant offers sensational traditional 'home from home' ambience and authentic cuisine,  just a stone's throw away from the hustle and bustle of Kensington High Street
The Vibe: From the open-plan kitchen the team of chefs prepare favourite dishes that include a huge array of hot and cold mezzas, grilled meats and fish, mixed shawarma, fresh salads and delicious fresh fruit juices, all made from the finest seasonal ingredients. Seriously, this is the best falafel you'll find in London.
Where: 23 Kensington Church St, London W8 4LF
6. Mandaloun
The Lowdown: Mandaloun is a group of independent, family run restaurants with the flagship eatery found in Westfield Shopping centre (there's more to this shopping centre than various department stores). A restaurant in a shopping complex may sound odd, but once you've tasted their moussaka and stuffed vine leaves you'll be glad you didn't opt for a sandwich meal deal.
The Vibe:  All their restaurants share one philosophy: take the best and freshest ingredients, lovingly prepare succulent dishes and offer a true and sincere taste of Lebanon. The menu is filled with tasty treats from lamb cous cous to Lebanese salads and hot mezzes.
Where: Locations here 
Photo courtesy: Markrwilliamson
The Lowdown: Cookhouse Joe has become a firm favourite amongst the time-strapped, money-saving Londoner with their lunch time meal deals a sell out. You can't argue with half a chicken, chips, garlic mayonnaise and corn for the bargain price of £7.
The Vibe: This place is rarely empty – a buzzing, casual pit-stop with the smell of  rotisserie chicken wafting down the street. They might be known for their expertly cooked chicken but they're also a dab hand at creating some downright delicious Lebenese sides – anything from halloumi salads, Tabbouleh and falafel wraps.
Where: 55 Berwick Street, Soho, London, W1F 8SP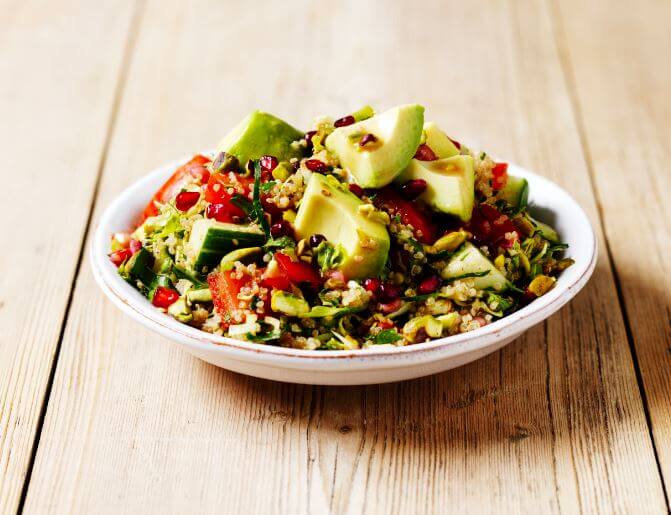 The Lowdown: With over 20 Pods across London, this chain knows how to rustle up healthy, fast food. Feeding hungry city workers and lunch time lovers with good, nutritious and pleasing nosh that is much better than other places, take our word for it. For a warming pot of breakfast goodness, their bean boost breakfast is spot on.
The Vibe: It's a grab and go situation at Pod. They've recently launched a new autumn menu – expect warming hot bowls of lamb meatballs to grain based salads of quinoa and chicken and salmon and small snack pots. Their vegetable tagine will warm you on a chilly autumn day.
Where: Check where your nearest Pod is here 
The Lowdown: Cheap eats and fresh ingredients is the name of the game at Yalla Yalla. Serving up informal Lebanese and other Middle Eastern cuisine from their Soho and Oxford Street branches, Yalla Yalla became an instant hit when it first opened in 2008. The menu is filled with delicious offerings including wraps, a wide array of sharing mezzes and charcoal meat dishes.
The Vibe: Come by for lunch and ordering the sharing mezze – get stuck into flatbreads, a range of dips falafel and a selection of  salads. The reason why Yalla Yalla has risen head and shoulders above the rest is the fact that it's consistently good. Their hummus shawarma – hummus with a generous topping of lamb strips – is on point and their fattoush is always worthy of an order.
Where: 12 Winsley Street, London, W1W 8HQ and 1 Green's Court, London, W1F 0HA
The Lowdown: Comptoir Libanis first opened its doors in 2008 and now has 11 restaurants across London. Enjoy traditional Lebanese fare in a souk-like setting and treat yourself to a new bag once you've finished your labneh – they sell some pretty sweet accessories too.
The Vibe: The food at Comptoir is fresh, healthy, honest and affordable with their breakfast menu far more adventurous than your average porridge. Think organic yoghurt topped with pomegranate and orange blossom water and their best seller the crispy onion, halloumi cheese and tomato tortillas. Computer Libanis is a great spot for a takeaway brekkie, a quick but wholesome lunch or a dinner with friends.
Where: Locations here