Poached eggs on toast, fried eggs on a fry-up, boiled eggs with soldiers – nothing quite beats a cracking (sorry) egg dish. For me, no picnic is complete without Scotch eggs. Forget your sausage rolls and cocktail sausages, I'm all about those sweet sausage meat-filled treats. Here are the Scotch eggs in London… Eggspect some pretty great dishes:
1. For the Veggie Egg: Grain Store 
Photo courtesy of Jonathan Lovekin
What: Vegetable chorizo 'Scotch egg', fennel and aioli (£6)
The Egg: Chef Bruno Loubet makes vegetables the starring role in his creative menu at Grain Store. Industrial decor and an open kitchen all adds to the experience. From food and drinking pairings to sweet potato bellinis and 'caviar' made from tapioca – Grain Store is not your run of the mill restaurant. Their Scotch egg is no exception, with the outer layer made from vegetables to resemble chorizo – it's zany, but the end product is utterly delicious.
Where: Granary Square, King's Cross, 1-3 Stable Street, London N1C 4AB
2. For the Classic Egg: The Trading House 
What: Homemade Scotch egg with piccalilli (£5.95)
The Egg: Recently opened, The Trading House is a pub serving spiced cocktails and great sharing boards, with British G&T list longer than my arm and an impressive selection of craft beers, ales and ciders. Their Scotch egg is a classic, with a traditional sausage meat shell served with a generous portion of piccalilli. If you're after a Scotch egg like your mum used to make, this is the one.
Where: 91 Gresham Street, London, EC2V 7NQ
3. For a Different Egg: Scotch Tails 
What: Scotch egg of choice served on a bed of rocket and with a side of sweet potato fries (£6.90)
The Egg: Dominic Hamdy and Oliver Hiam started making Scotch eggs whilst at university, experimenting to see if they could improve this classic British snack. Some might say, don't fix what's not broken. However, their range of different favours including beetroot and lentil, chorizo and sweet potato falafel are all outstanding. Pick up one of their Scotch eggs from their stall at Borough Market, and help yourself to a pretty snazzy selection of condiments.
Where: Borough Market, London SE1 1TL
4. For the Popular Egg: The Sand's End
What: Scotch Egg (£5)
The Egg: What Hummingbird Bakery is to cake lovers, The Sand's End pub is to Scotch egg fans – their breaded beauty is the stuff of legends. The Scotch egg served in this South West London pub makes the ones you get from the supermarket deli, taste well below average. It might not be on your doorstep, but the journey across town is worth it. Wash it all down with one of their real ales, superb.
Where: 135-137 Stephendale Road, London SW6 2PR
5. For the Egg with Cheese: Bistro at 66
What: Scotch egg with balsamic pickled onion, keen cheddar and fig chutney (£7.95)
The Egg: A quiet sanctuary in the heart of Marylebone, Bistro at 66 found in London's Royal Institute of British Architects is an ideal weekend lunch spot. Traditional British dishes have been given a modern makeover using high-quality local ingredients all sustainably sourced. Their Scotch egg with fig chutney is something you'd find in a rustic pub in the Yorkshire Dales. Ploughman-esque but much, much better.
Where: First Floor, 66 Portland Place, London, W1B 1AD
6. For the Curried Egg: The Bull & The Hide 
What: Home-made made Scotch egg with curried mayonnaise (£5)
The Egg: Only a stones throw from Liverpool Street Station, The Bull and The Hide is a gastro-pub serving classic dishes. Think, pies, fish and chips and bangers and mash. Their Scotch egg is fuss-free, traditional and all about the ingredients. No salad garnish is needed and no fussy dressing when you've got a proper curried mayonnaise. Get dipping. Walk up the stairs and the dining experience gets classier, here you'll find The Hide – a place you'd take a loved one or your mum.
Where: 4 Devonshire Row, Bishopsgate London EC2M 4RH
7. For the Duck Egg: Rivington Grill
What: Scotch Duck Egg (£6.75)
The Egg: Using seasonal, British and independent produce, Rivington Grill carefully crafts seasonal menus that are innovative and inspired. If you're an early riser, pop by for their breakfast menu – drop scones, fry ups and eggs Benedict, oh baby. I'm not so sure on duck eggs, but their Scotch egg has me swayed. The duck Scotch egg is richer than your traditional Scotch egg, but is well-balanced with the side salad. If you need a place for after-work drinks, head to the Rivington Grill for £5 gin and tonics between 5pm – 7pm, Monday – Friday. What a steal.
Where: 28-30 Rivington Street, London EC2A 3DZ
8. For the Fishy Egg: The Laughing Gravy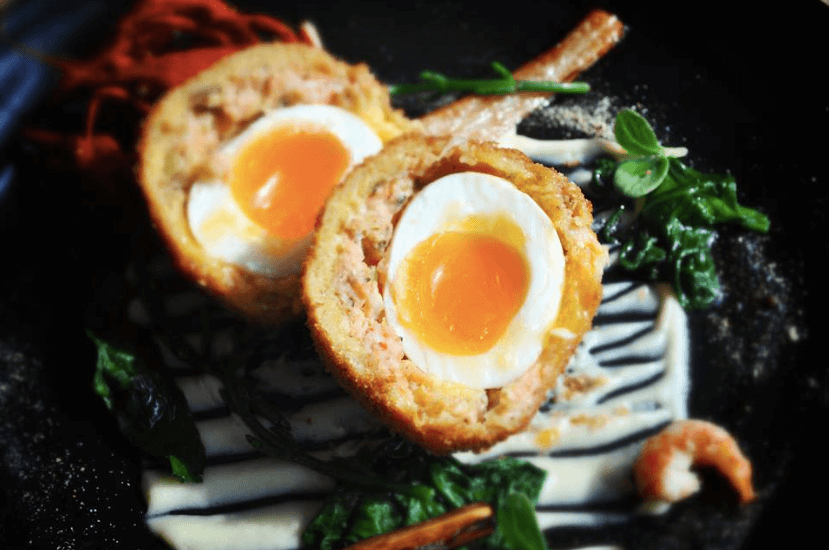 What: Smoked scallop and West Country crayfish Scotch egg with roast salsify and Norfolk sea veg (£8.75)
The Egg: Fish in a Scotch egg shouldn't work, but believe me when we say – it does, it really does. From the outside, The Laughing Gravy looks like a standard London joint, inside however is a different story. The vibe is super chilled, the decor is stylish and the food is consistently good. Swing by on Sunday and order the lamb rump roast. We'll let the yolks do the talking on this one.
Where: 154 Blackfriars Road, London SE1 8EN
9. For the Japanese Egg: Tsuru 
What: Scotch egg (£3.60)
The Egg: When you think of scotch egg, you probably don't associate the picnic treat to a sushi restaurant – tsuru has well and truly thrown the egg rulebook out of the window. Their Scotch egg has surpassed expectations, served with a pinch of salt, it's simple, yet eggcellent. Tsuru might not have a large sushi menu compared to other restaurants, but don't let that deter you – their sushi is fresh, handmade by experienced chefs and all fish used is sustainably caught. Ramen and Scotch eggs, yes please.
Where: Locations here
What: Thai Scotch Egg (£6)
The Egg: Bam-Bou is four floors of incredible Southeast Asian cuisine, inspired by fusing ingredients and flavours from Thailand, China and Vietnam. Dumplings, noodle bowls, curries and small plates are all on the menu, for choice and good food – you can't go wrong with a visit to Bam-Bou. Order their Thai Scotch egg, a spicier version compared to your classic egg, it makes a cracking side dish to their steamed sea bass.  After dinner, head to the third floor where you'll find The Red Bar, a place that is home to the finest Japanese whisky selection we have ever seen.
Where: 1 Percy Street, London W1T 1DB
And one for luck…
11. For the Big Egg: Ben's Canteen
What: Ben's Epic Scotch Egg (£6)
The Egg: When a scotch egg is called epic, you know you're getting a good deal – this scotch egg is far from small. This isn't a starter, this is a meal. Knocking up incredible brunch dishes, *that* veggie burger we haven't stopped talking about and one of the finest chocolate and peanut brownie that has passed our lips, Ben's Canteen is a South London hangout you need to visit.
Where: 140 St John's Hill, SW11 1SL and 422 Garratt Lane, SW18 4HW