Pumpkin pie is a glorious thing. Not just for Thanksgiving, these glorious tarts filled with a deep orange custard pumpkin filling, heady with cinnamon, nutmeg and clove, are one of the very best things about Autumn. And to help you track one down, here's our top ten in London:
1. Best Sharing Pie: Outsider Tart
What: Traditional Pumpkin Pie (£30 – serves 12).
Why: This year, the two Davids behind this Chiswick bakery cafe have deployed the Chez Panisse recipe to classic effect. A crunchy, biscuity base with a thick, luscious pumpkin filling: all this needs is a splodge of what the Americans call 'heavy cream' on the side. In fact this pumpkin pie is so good that Shake Shack are using it in their frozen concrete ice cream all season. Bring out the flags!
Where: 3 Chiswick High Rd, London, W4 2EF
2. Best Cinnamon Pie: Balthazar
What: Pumpkin Pie (£13 – serves 6). Puff pastry base with a cinnamon pumpkin filling.
Why: The London outpost of this quintessential New York brasserie has a magnificent bakery alongside – and their pumpkin tart is rightly the stuff of legend. The pastry is like the best kind of shortbread, and the filling is smooth and custardy. They say the pie serves six, but that would require a superhuman level of restraint.
Where: 4-6 Russell St, London WC2B 5HZ
3. Best Caramel Pie: The Mount St Deli
What: Caramel Pumpkin Pie (£4.50) – shortcrust pastry base with pumpkin and nutmeg filling.
Why: On those days when you just happen to be strolling through Mayfair – and who doesn't – this deli offers a range of fancy restaurant-level food to take away, with baked goods to match. You can pick up a rather fine caramel pumpkin pie, and some chocolate pumpkin balls for the road.
Where: 100 Mount Street, London W1K 2TG
4. Best Walnut Pie: Knead Bakery
What: Pumpkin Pie (£3) with cinnamon sugar
Why: Anita sells her fabulous crumpets, English muffins and ever expanding range of cakes at her Saturday stall in Broadway Market and a number of independent coffee shops. She's now selling a delicious pumpkin pie, all baked by hand and topped with cinnamon sugar toasted walnuts. While you're there, pick up a jar of cinnamon raisin peanut butter to take home.
Where: Broadway Market, Hackney, London
5. Best Pecan Pumpkin Pie: Brett and Bailey

What: Pecan Pumpkin Pie (£3.50)
Why: This pair have full time jobs during the week but somehow manage to bake an incredible range of cakes and tarts for their weekend market stalls in Crystal Palace and Clapham. Plus a Christmas market in Westminster on November 1st. Their pumpkin pie comes with an integral layer of sticky syrupy pecans. Yes, it's pecan pie and pumpkin pie all at the same time. Winning.
Where: Locations here
6. Best Spiced Pie: Konditor and Cook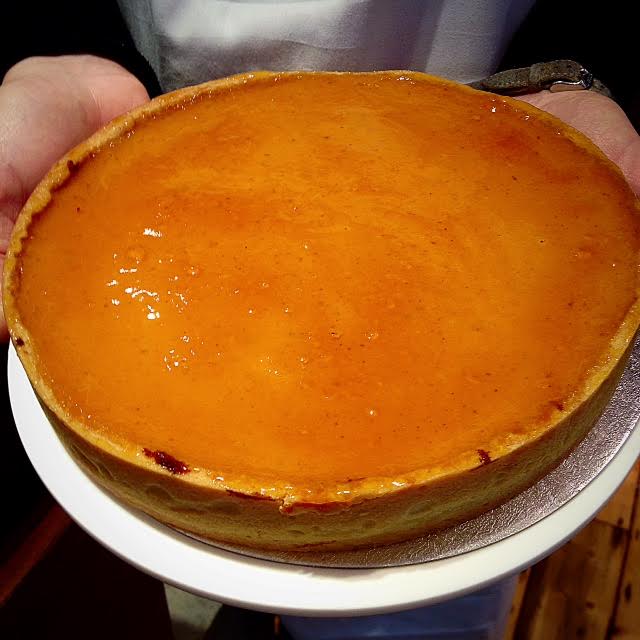 What: Pumpkin Pie (£22 – serves 8 slices) with cinnamon, ginger and nutmeg.
Why: Their pumpkin pie which comes by the slice or a whole tart boasts a 'new improved recipe'. We didn't think there was much wrong with the old recipe, but this year's looks like it has an even more generous pumpkin filling, which has to be a good thing. We have been known to have a slice of this for breakfast. Don't judge.
Where: Locations here
7. Best Fancy Pie: Fortnum & Mason
What: Individual Pumpkin Pie (£2.95)
Why: The pastry chefs here create an impressive list of cakes and tarts, and just in time for Halloween they've brought out a pumpkin pie, sold in individual size for just £2.95. The pastry is exemplary, with no danger of a soggy bottom…and there's a thick, gently spiced pumpkin filling. Plus you get one of the poshest carrier bags in London to carry it home.
Where: 181 Piccadilly, London, W1A 1ER
8. Best Authentic Pie: Whole Foods Market
What: Pumpkin Pie and Pourtoi gluten-free Pumpkin Pie (both £16 – serves 6)
Why: The classic American pie, deep filled and big enough to feed the family. Yes, the pastry is a little soft, but it tastes just right and gives you everything you want for a traditional Thanksgiving experience. And they're in store now.
Where: Locations here
Photo Credit: Ksat
9. Best Unusual Pie: The Dessert Deli
What: Pumpkin Pie (£15 – serves 8 slices) with cinnamon, pumpkin and pumpkin seeds.
Why: Laura Amos produces an astonishing range of cakes and puddings from her bakery in Clapham Junction. At this time of year, that includes a pecan whisky pie and a pumpkin pie, for all your festive needs. The pumpkin pies – large and small sizes – are available at her Lavender Road market stall on Saturdays and at all London branches of Whole Foods.
Where: Northcote Road, Battersea, London 
10. Best American Pie: Lizzie D's
What: Pumpkin Pie (5)
Why: This Alabama-born baker now has a weekly pitch from Wednesday to Saturday in Berwick Street, Soho, selling a tempting array of US-themed bakes. She'll be doing a traditional pumpkin pie as well as a gluten free, low sugar version – and there's a vegan pumpkin loaf in her online range too. Pumpkin for everyone!
Where: Buy here 
One for luck..
What: Pumpkin Dessert (£12)
Why: Yes, I know there are now eleven pies in this top ten list. But – breaking news – we've just had word that the pumpkin custard tart might just be back on pastry chef Adam Degg's dessert menu. This is about the most high-end a pumpkin pie gets. Lightly spiced, amber-hued, with a gentle wobble, this is the 'ne plus ultra' of pumpkin tarts. Get on that waiting list for a table now.
Where: 1 Chiltern St, Marleybone, London W1U 7PA
Photo Credit: eppieshepherd.blogspot.com