What's summer for, if not a little picnic in the sunshine? Save yourself the effort of making all those bland sandwiches which are soggy by lunch time, and instead indulge in one of London's best made-to-order picnic delivery hampers. From Italian deli feast to traditional English delights, there's something for everyone this summer in the capital:
1. For Italian Food: Carluccios Picnic Hamper
Nothing says 'happy summer' like antipasti. Embrace the nice weather with homemade, fresh Italian dishes from Carluccios. They're great for veggies, too – choose between the classic and vegetarian option, which feature an antipasti selection, homemade olive focaccia, a delicious, nutritious salad of pearl barley with grilled aubergine and rocket, as well tarts filled with pancetta and taleggio. Follow with chicken supreme and courgette, mint and ricotta frittata and a fresh salad of leafy greens with aged, Italian balsamic dressing – just what summer needs. Dessert is a slice of indulgence with individual strawberry shortcrust tarts and traditional Piedmont biscotti to finish. Add a bottle of fruity Italian red and drink yourself happy.
Price: £45
2. For Setting: Chapters' Picnic Hamper, Black Heath
Chapters, the modern South London brasserie, has just launched a special takeaway picnic menu, which includes a selection of charcuterie with piccalilli, shredded salt beef and green beans and bread with houmous. The main event comes in the form of slow roast belly of pork with salsa verde and mange tout with fennel, orange and hazelnut salad. For pudding, dig into chocolate brownies with English strawberries and cream, and watch the sun set. Chapters is located in the heart of Blackheath Village and opposite the glorious heath – a perfect picnic site looking Canary Wharf in the eye and a stone's throw from Greenwich Park.
Price: £45, which includes the wicker hamper.
3. For Build-Your-Own: Valetina Fine Foods
For a fantastic bespoke Italian hamper, try Valentina Fine Foods, one of the UK's biggest selection of Italian deli products. You can build your own picnic, with a wide range of Italian meat, cheeses, wines, to decide from. Every hamper is bespoke – no leftover sandwiches here – so you choose exactly what you want  for your picnic and create a fantastic summer hamper with a lovely traditional wicker hamper basket around your favourite foods. Choose from a selection of fresh parmesan, the finest prosciutto, freshly baked ciabatta, white truffle honey and giant olives. And, of course, the perfect tipple – we'd suggest a bottle of limoncello to wash it all down.
Price: starts from £25 for hampers
4. For Breakfast: Oscar Picnic Hampers
Firmdale's Oscar Restaurant makes lazy picnics in the park a veritable delight. They've got a hamper for everything – their hampers are filled with a selection of sandwiches and sweet treats, as well as fresh fruit juice, iced tea and top-notch tipples. For breakfast, try the Breakfast Hamper with croissants, muffins, smoked salmon and cream cheese – and amazing sandwiches, such as ham and Gruyère and egg mayonnaise. The sweet fix comes in the form of granola bars and fruit salad. For lunch time, try the Bloomsbury Hamper with tuna and watercress, chicken roll, Rueben, cheddar and tomato sandwich, as well as healthier options of caesar and tomato and mozzarella salad. Finish it all off with a mixed berry salad chocolate tiffin, cupcake, fruit tart and macaroon. You can't have too much of a good thing, right?
Price: £40 for Breakfast Hamper, £50 for Bloomsbury Hamper
5. For British: Hyatt Regency Picnic Hamper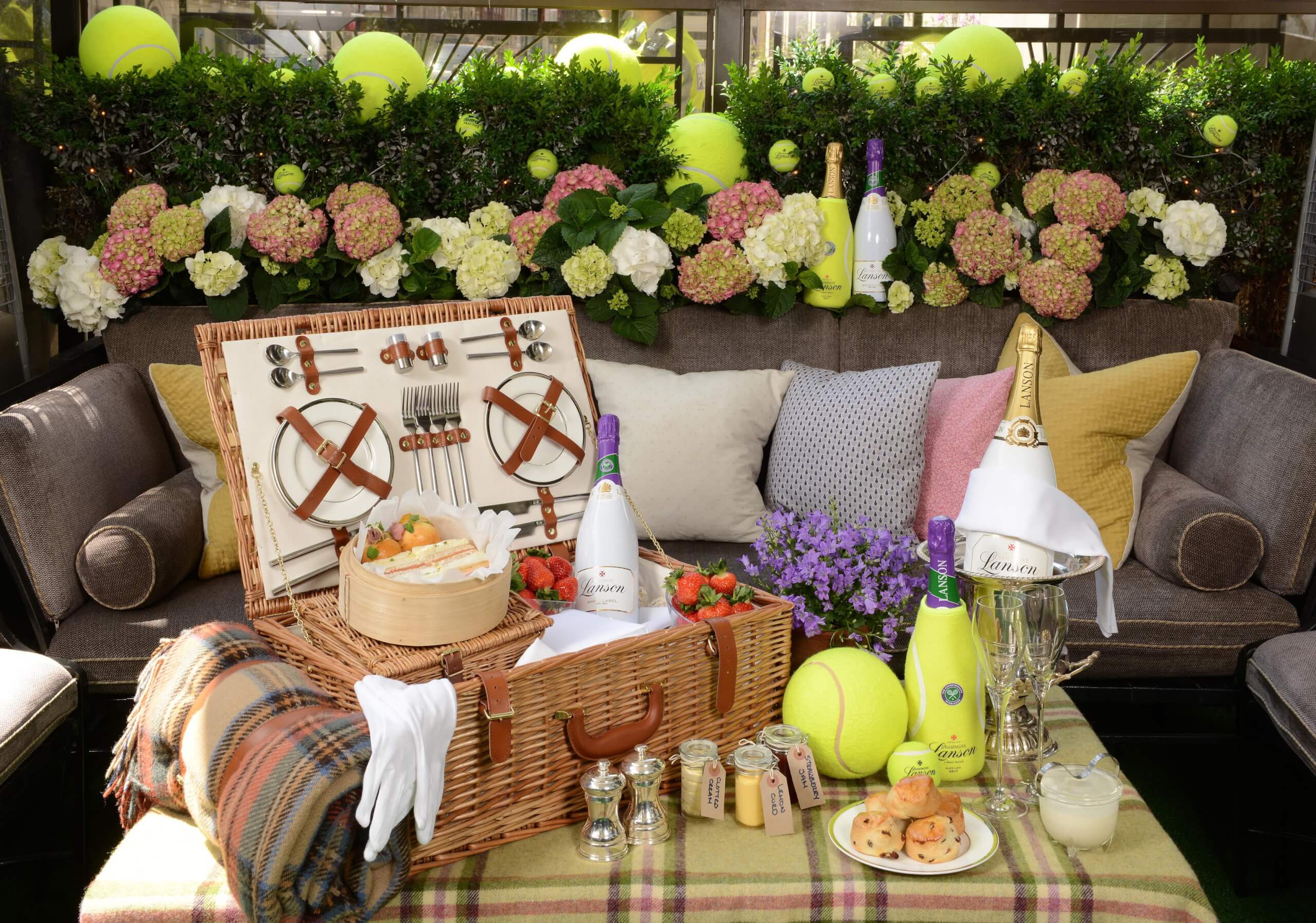 The Churchill at Hyatt Regency allows you to create a personalised picnic hamper, with a host of perfect English snacks, including chilled cucumber and mint soup, Scotch eggs, ham hocks, finger sandwiches and a selection of meats and cheeses, all available alongside fresh-baked breads and an assortment of homemade preserves.  Those with a sweet tooth can end their experience with a trifle or Eton mess, which, I can assure you, are very good news. It's easy, too – select the dishes you'd like to enjoy and these dishes will then be delivered to the table in a carefully packed picnic hamper. Perfection.
Price: varies on order
6. For Posh: Corrigan's Picnic Hamper, Mayfair
A fancier option, each picnic hamper from Mayfair's Corrigan restaurant is freshly prepared to order and contains not one, not two, but seven seasonal dishes, as well as homemade bread and hand churned butter. There's no fuss here, as the crockery, cutlery, glassware and a blanket are also included, for the ultimate picnic. Expect only the finest British food – fishes include grilled sardines, new potatoes, Heritage beetroot, goat's curd, and smoked mackerel. No picnic is complete without an English pudding; and this one includes summer berries, shortbread and creme fraiche. How very refined.
Price: £100 for 2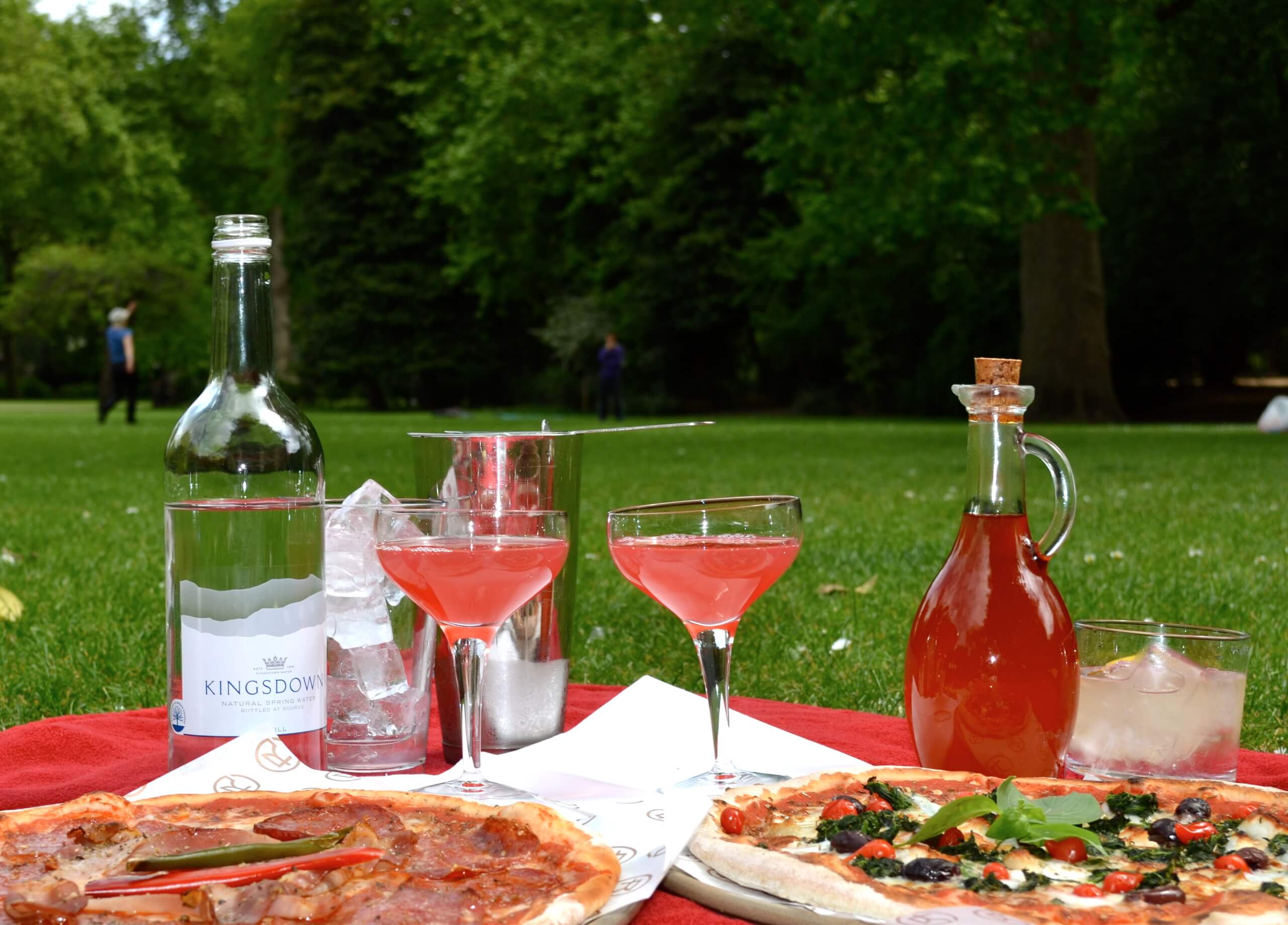 What could be nicer than whiling away an evening in London's tranquil Lincoln's Inn Fields? Pizza, that's what. Rocket Holborn's new picnic in the park pizza delivery service allows you to enjoy the oasis of calm away from the hustle and bustle of the busy city, with the additional of melted cheese. The purveyors of some of London's leading pizzas will put on a perfect al fresco dining experience this summer – sending picnickers in the park cocktails, pizzas, chilled water as well as a blanket to sit and enjoy it all on. Pop into the Holborn restaurant which backs onto Lincoln's Inn Fields to place your order and Rocket will bring you a cocktail and pizza each, as well as a bottle of water, cutlery and glasses to your chosen picnicking spot for only £20 per person.
Price: £20
8. For Super Fancy: Sofitel London St James' Picnic Hamper
If you are staying at Sofitel London St James this summer, order a mouth-watering French inspired picnic hamper that includes Secretts Farm heirloom tomato salad with tapenade and basil, Forman's smoked salmon and cucumber with dill cream in a seeded baguette. There's also Cannon and Cannon sausages with pickles and delicious Camembert cheese and crackers, if that wasn't enough. To round things off, indulge in sweet madeleines and refreshing fruit salad – the perfect accompaniment for hotel guests to enjoy in the neighbouring Royal Parks. Don't miss their weekend brunch, too, it's the stuff of legends.
Price: £50 for 2, with £75 deposit for non-guests
9. For an Escape: Coworth Park's Picnic Hamper
If you fancy a break from London, escape to Ascot's Coworth Park and try their new picnic basket menu. Set within 240 acres of picturesque Berkshire, with a beautiful wildflower meadow, it's the ideal place to enjoy the very British treat. The picnics are open to guests and non-residents alike there are three basket options, which range from sandwich picnic menu to deluxe. For a real treat, try the deluxe hamper, which includes half of Scottish lobster, English cheese, Waldorf salad and freshly baked rolls. Finish it all off with English strawberries and chocolate and orange mousse for the full experience. And, of course, a glass of champagne.
Price: £65 per person for the Deluxe Hamper
10. For Arty Heaven: Tate Britain's Picnic Hamper
The iconic Tate Britain restaurant, Rex Whistler, has launched a brand new seasonal picnic menu to enjoy, which comes complete with Clovelly hamper and picnic blanket, as you laze out on its lawn. The delectable picnic hampers are filled to the brim with the best of British produce, all handpicked from artisan suppliers from across the country. Expect Dedham Vale beef and horseradish sandwiches, Burford Brown scotch eggs with leeks, Pinney's of Orford smoked salmon and cream cheese and a selection of British cheeses. Picnickers can also enjoy the fine-wines from the restaurants' award-winning wine list, as well as specially-crafted Rex Whistler Pimms – the perfect summer tipple.
Price: £28.50 for two people and wine starts at £14.00 for a half bottle