There's three things we like in life – brunch, sausage rolls and Sunday roasts. We teamed up with our pals over at Abel & Cole to bring a whole week dedicated to health and nourishment, during our special Abel & Cole Nourish Week. There's nothing more nourishing than a hearty plate filled with veggies, pork and gravy. Here's London's best pork roasts:
What: Smoked belly of saddle-back pork with cider glaze, bacon ketchup and all the trimmings (£25)
The Lowdown: Barbecoa is the absolute one. Opened in 2010 by Jamie Oliver, Barbecoa is a celebration of incredible produce and fire-based cooking. Here, the meat is the real talking point – all of their beef is dry-aged in house for up to 70 days.
The Roast: The Sunday roasts here are legendary. The veg is roasted in their wood fire oven and the potatoes are cooked in beef dripping. Ooft.  The real magic with pork belly is the two layers of fat and meat, that when distributed correctly comes together to bring a mouthful of tender and juicy flavours. What's more, the roast is served with a side portion of mac 'n cheese, naturally.  At £25 it's by no means the cheapest, but it's certainly one of the best.
Where: 20 New Change Passage, City of London, London EC4M 9AG
What: Wick's Manor pork belly with mashed potato and Bramley apple sauce (three courses £37.50)
The Lowdown: Roast is a restaurant built on simple principles – source the best quality produce, and use British produce where possible.  These guys are all about the farm to fork philosophy, creating lasting partnerships with the farmers, fishermen and growers.
The Roast: The pork used in their Sunday roasts is sourced from Wick's Manor, an Essex Farm specialising in quality pork,  growing the crops they feed to the pigs. The sweetness from the apple sauce blends well with the creamy mash. The meat and crackling come together to flood your mouth with intense meaty flavours in every bite.
Where: The Floral Hall, Stoney Street, London SE1 1TL
What: Pork belly with black pudding, roast potatoes and all the trimmings (£16)
The Lowdown: Behold The Morgan Arms, a gastropub filled with quirky decor and the wooden flooring you only find in upmarket public house establishments. Along with serving food, they boast a wine list filled with liquid dreams and serve quite a selection of local and American craft beers.
The Roast: On Sundays, they knock up some killers roasts. The pork is served with a disc of black pudding, double the pork, double the flavour. The pork here is something special. You're greeted with three layers of different tastes and textures. From the crackling, through the layer of fat to the meat – each bite is better than the last, believe me. Best washed down with one of their Bloody Marys.
Where: 43 Morgan St, London, Bow E3 5AA
4. The Hour Glass Pub, South Kensington 
What: Slow roast rare breed pork shoulder, crackling and apple sauce (£15)
The Lowdown: Revamped and re-decorated by the chaps who also own Brompton Food Market, found just around the corner. This boozer is better suited to the rolling hills, not on a busy London road, but that's why it works – cracking British menu and a fine selection of ales and tipples. By gosh, the area of South Kensington should be thankful for this beauty opening up on their doorstep.
The Roast:  Slow roasted to perfection, the pork is moist and has a delicate flavour – not overly seasoned, just the pork juices to flavour the meat. Served with a decent portion of crackling, there's not a lot you can argue about. More gravy? You only have to ask.
Where: 279-283 Brompton Road, London, SW3 2DY
5. The Londesborough, Stoke Newington 
What: Slow roasted pork belly with crackling, Yorkshire pudding, roast potatoes, roasted roots and gravy (£14)
The Lowdown: Nestled in the residential area in Stoke Newington, The Londesbrough is your typical London pub that oozes charm. Light, airy and bright, The Londesbrough has become a firm favourite for wedding receptions at the weekend. Come for the homely vibes and home cooking. And, with Apsalls being sold at £3.60 a pint, there's no excuse not to go.
The Roast: The Londonesbourgh is in a league of their own when it comes to roasts. There's nothing less than 6 veg on your plate, with all your greens fresh and abundant. The pork, oh the pork –  it's a huge slab of well-cooked meat that will make you want to skip the dessert menu.
Where: 36 Barbauld Road, London, N16 0SS
6. Paradise By Way of Kensal Green, Kensal Green 
What: Crispy pork belly with cider and Bramley apple sauce (£15)
The Lowdown: Paradise By Way is a gastropub specialising in European food with the contemporary menu created by Head Chef Cat Ashton. They're big on seasonality and work closely with  the farmers who supply the restaurant's ingredients to make sure they're ethically sourced, sustainable and most importantly, the best they can find.
The Roast: Delicious Sunday roasts with all the trimmings. Their duck fat roasties are heaven on earth and their Yorkshire puds are crispy yet soft. And, if you're one to have your roast swimming in gravy, you can order it by the bucket load – no dry roasts here. There's only one word to describe Cat Ashton's roasts: epic.
Where: 19 Kilburn Ln, London W10 4AE
7. The Trustcott Arms, Maida Vale
What: Free-Range English rare breed pork (pulled shoulder & roast loin) with mustard sauce (£18)
The Lowdown: The Truscott Arms is a gastropub based in Maida Vale providing a fantastic drinking and dining experience in a relaxed and welcoming environment. They take great pride in ensuring they use only the very best produce from smaller, local suppliers.
The Roast: To get you pork and veg kicks on Sunday, The Trustcott Arms is the place. They scooped up the award Best British Roast Dinner and we can see why.  The Yorkshires are just as good, or better as your mums and they don't scrim on the portions. For all the gluten-free hunnies out there, they have a gluten-free pork roast on the menu and, they also specially bake gluten-free Yorkshire puddings on request. Everybody wins.
Where: 55 Shirland Rd, London W9 2JD
What: Roast belly of pork with Yorkshire pudding, baked heritage apple and crackling (£14)
The Lowdown: Queen Adelaide is found on the border of Wandsworth and Putney. It's the best of British at this local, the menu has been created with fresh ingredients and seasonality in mind. Not only do they excel at food, but the drinks list is good, if not better. Sup on cask ales, European wines and London craft beers. As gastropubs go, this one is pretty snazzy.
The Roast: You can't help but notice the quality of pork, it's just fantastic. The rich layers of fat and meat gives the dish big flavours and a combination of textures. The crispy crackling with the succulent meat paired with the thin layers of fat is a partnership even Tinder would approve of. Any place that sells double yolk Yorkshire puddings as a side gets our vote.
Where: 35 Putney Bridge Road, Wandsworth, London, SW18 1NP
What: Mixed beef, lamb and pork with all the trimmings and sides for table (£20 per person – minimum 2 people)
The Lowdown: If there was ever such a thing as being king of the chops, the award would have to go to Blacklock. Their menu is a shrine to this cut of meat – cooking up various different chops in their custom build fire oven. Hello, meat mecca.
The Roast: This, my friends, is a three meat situation. You'll literally spoilt for choice with this amount of meat. In some instances, quality always beats quantity, but you'll be pleased to hear that the meats are of the highest quality and cooked in their oven which retains the moisture. This plate of food will make your arteries cry, with happiness (gym membership not included).
Where: 24 Great Windmill St, London W1D 7LG
10. The Pig and Butcher, Islington 
What: Slow roasted pulled Hampshire pork shoulder and Bramley apple sauce (£16.95)
The Lowdown: Heady cocktails, nourishing and wholesome food, and hand pulled ales awaits at The Pig and Butcher. Here, it's all about bringing conversation back to the dining table from their sharing plates to their Sunday roasts. They specialise in serving rare breeds such as White Park cattle, Iron Age pigs and Hebridean lamb.
The Roast: It's everything you want from a roast – crisp, well-cooked on the outside and fluffy on the inside roasties, pork that has been both cured and smoked onsite to give a rich, smokey taste, and creamed leeks for a home comfort twist. Glorious, just glorious.
Where: 80 Liverpool Rd, Islington, London, N1 0QD
One to make at home..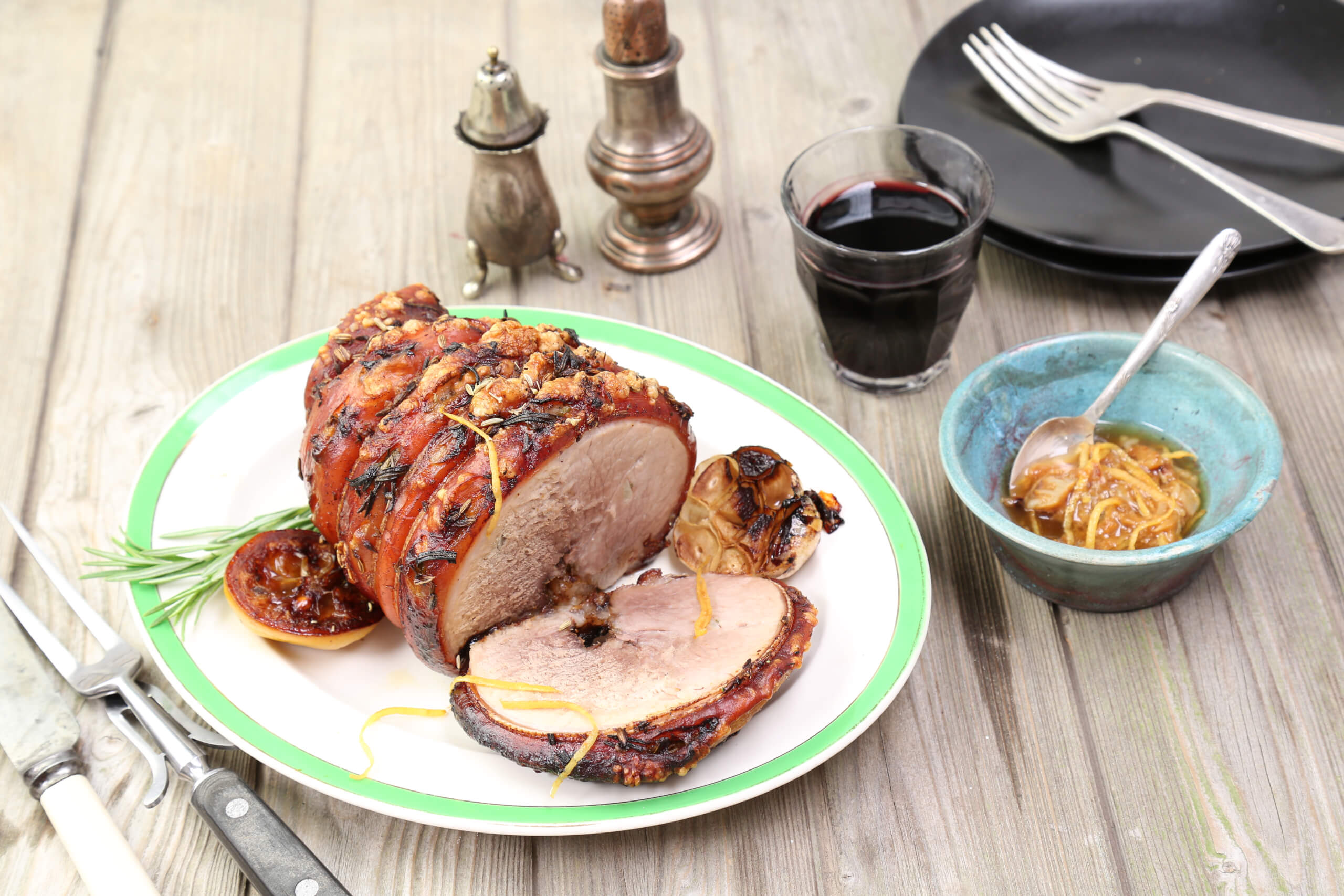 What: Roast with the most (£14.50)
The Lowdown: Abel & Cole were the first delivery pioneers, providing farm-to-front-door home deliveries for the past 27 years, not only is the produce of the highest standard, it's also all organic.
The Roast: This box has been ruling roasts for over a year now and it is one of their highest rated products. You get a royal joint of high welfare British meat, plus herbs, spices, flavours and a recipe card.
Where: Order here