Guacamole is the greatest thing avocados have ever given us. Fact. We've eaten our way through every version of guacamole in London, and can report these are the very finest. Time to tuck in, London:
1. Best Spicy Guacamole: Comensal
What: Guacamole En Molcajete – fresh avocado, lime, tomato, onion, coriander and fresh Mexican green chillies, served with tortilla chips (£8.50)
Why: Authentic Mexican street food in the heart of Clapham, Comensal uses fresh, seasonal ingredients to create delicious sharing plates, enchiladas and 'that' guacamole – it really is worthy of the hype. Their bar boasts a wide selection of different Mexican beers and spirits, don't get us started on their cocktails, they all taste so good. Order their Tequila Sour with Tequila Reposado, egg white, lime juice, agave nectar and bitters.
Where: 32 Abbeville Road, Clapham, London, SW4 9NG
2. Best Tomato Guacamole: Mestizo
What: Guacamole – freshly prepared avocado dip served with tortilla chips and Pico de Gallo (£7.50)
Why: Euston is hardly a place you'd think of heading to when dining out, with your choices limited to chain pizzerias and 'Victory Cafe' which looks anything but victorious. Behind the throngs of office workers and large glass buildings is Mestizo, offering a true taste of Mexico. Their menu pays homage to classic Mexican dishes – it's no tex-mex here. Think steamed corn husks, panucho (corn tortilla topped with refried beans) and tortilla soup. The restaurant is smart, slick and is a much better alternative to a franchise (even if you do have a 25% off voucher).
Where: 103 Hampstead Rd, London NW1 3EL
3. Best Street Guacamole: Luardos
What: Anything off their menu
Why: All hail Luardos, a food truck dishing out tasty Mexican burritos, they serve only burritos and they serve them well. They freshly prepare all ingredients daily and prepare their  'secret' guacamole recipe – it puts other guacamole to shame. If you spot a retro style green truck at Whitecross market, head for it, you won't be disappointed with the food. The competition is stiff with decent burgers, falafel wraps and thai curries being plated up, for a purse-friendly price and great taste you can't go wrong with Luardos.
Where: Locations here 
4. Best Gluten-Free Guacamole: Peyote
What: Guacamole – avocado, gluten-free tostadas and salsa molcajete (£8)
Why: Peyote is a contemporary restaurant and bar bringing the soul, salsa and variant beats of Mexico City to Mayfair. At Peyote it's all about striking a balance between comtepoary and classic flavours.The menu, created by acclaimed chef Eduardo Garcia is big on flavours and quality ingredients. We're talking about small plates, ceviche dishes, tacos and cactus salads. Don't leave without sampling their vast selection of tequila – it's the stuff of liquid dreams.
Where: 13 Cork Street, Mayfair, London, W1S 3NS
5. Best Aunthetic Guacamolde: Lupita
What: Guacamole Artesanal  – ripe avocados, onions, tomatoes, coriander, jalapeños, olive oil and lime juice. Served with home-made corn tortilla chips (£10.95)
Why: Opened in 2010, Lupita now operates out of two restaurants; one near Charing Cross and the East London eatery can be found in Shoreditch. If you prefer to eat your burrito in a restaurant, rather than at your office desk – head down to Lupita for cool decor, killer cocktails and dreamy churros. Their menu is large and includes a wide variety of Mexican dishes such as; quesadillas, ceviches and guacamolito (a fancy word for nachos).
Where: 13 – 15 Villiers Street, London, WC2N 6ND and 60-62 Commercial Street, London E1 6LT
6. Best Cheesey Guacamole: Taqueria
What: Botana – guacamole, salsa, refried beans, crumbly cheese and totopos (£9.80)
Why: Starting life as a humble street-food stall on Portobello Road, the guys decided to seek central heating and a roof over their heads after braving the London weather for far too long. If tacos are you bag, head for Taqueria – they had make their own soft corn tortillas and pile them high with modern and traditional fillings, using free range meat, eggs, milk and sustainable fish. Man, we love Taqueria.
Where: 141-145 Westbourne Grove, London W11 2RS

7. Best Humble Guacamole: Cafe Pacifico
What: Guacamole – a fresh dip made from avocados, tomatoes, onion and spices. Served with corn chips (£6.25)
Why: Fancy classic Mexican dishes served alongside killer margaritas? Course you do. Cafe Pacifico is thee place to go for creative margaritas, if anything skip the food and head straight for the drinks menu. Their lychee Margarita is unbelievable as is their classic Pacifico Maragrita – don't fix what's not broken. If you need to soak up all the tequila order their enchiladas, it's cheesy, meaty and downright delicious.
Where: 5 Langley Street, Covent Garden, London, WC2H 9JA
8. Best Simple Guacamole: Wahaca
What: Guacamole – Hass avocado with freshly squeezed lime juice (£3.95)
Why: Fancy it isn't, but it doesn't matter when the food tastes this damn good. It's simple, honest Mexican street food done well and that's why it works. They've got the whole healthy eating with hearty grub down to a tee. Order a few of their small plates and dig in (the pork pibil taco is the one). Make room for the honeycomb chocolate bites, it's new to the menu and it's bloody fantastic.
Where: Locations here 
9. Best DIY Guacamole: Las Iguanas
What: Holy Guacamole – make your own and season as you choose. Served with spiced dusted corn chips (£4)
Why: Don't let the garish pink neon sign put you off, it may have a Blackpool illuminations feel about the place, but the food here is the real talking point. The menu is an eclectic mix of flavours from South America, Spain and Portugal. Do not fear the high-street people, to get bang for your buck – Las Iguanas is the place. 
Where: Locations here 
10. Best Homemade Guacamole: Cafe Chula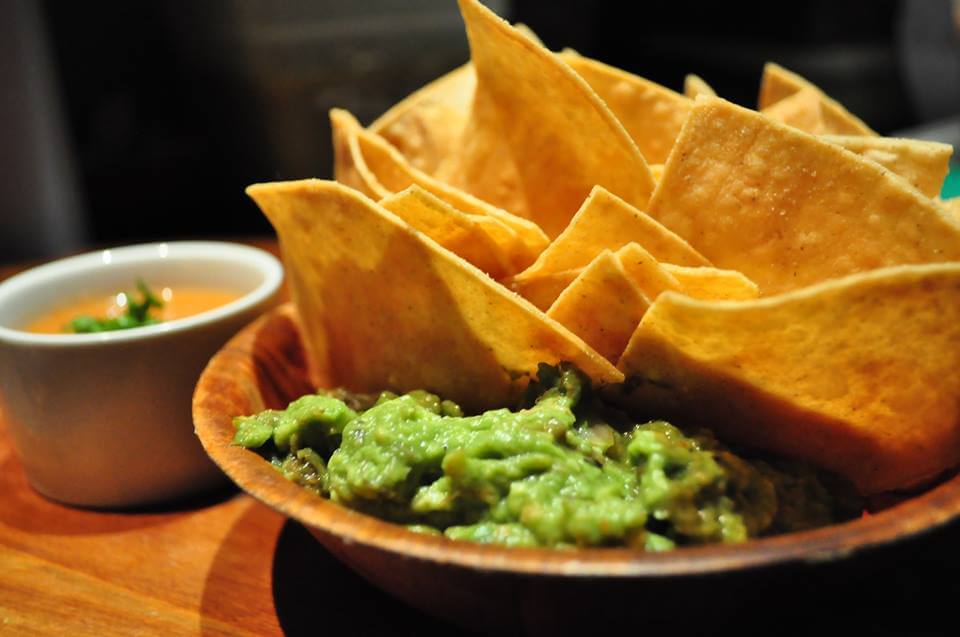 What: Totopos Con Guacamole – tortilla chips with salsa and guacamole (£4.95)
Why: Skip miscellaneous meat being stuck under your nose and dry chicken stir fry from Camden Market and head to Cafe Chula for cracking Mexican fare. At Cafe Chula they serve home-style Mexican grub which is similar to the food being cooked on the streets and in the café's of Mexico City. The source the best quality British produce and stick to traditional recipes.
Where: 75 – 89 Lower Walkway, West Yard, Camden Lock Place, Camden NW1 8AF