*Breaking news* it's hot. Like really hot. Like you need something icy immediately or you might expire hot. But take heed with the summer desserts and treats: lots of takeaway iced coffees are full of sugar and cream, and it goes without saying that ice cream is, um, iced cream. If you're watching your waistline, ask for skimmed milk, without sugar or a light soya alternative in your frappe.
In a bid to cool down in London, we're tried every iced-based drink, milkshake and dessert for the calorie-conscious. Happy sipping London, here's our guide to best skinny ways to cool down in the capital:
#1 Vegetable Ice Lollies
What: Orange Carrot and Beetroot Lolly at Gelupo, Soho
The Idea: Creative ice-creamists, sister site of Bocca Di Lupo, has just launched a new 'Juice on a Stick' lollies. Developed by owner Jacob, the all-fresh fruit & vegetable lollies have no added sugar and are unusual but delicious. Our favourite is the Orange, Carrot & Beetroot, although the Avocado, Cucumber & Lime is fab too.
Why: Health without the added sugar: win. If you wanted to get even more healthy, they've also launched G-Fit, an exclusive range of "protein" ice cream with low fat, low sugar and high protein. Perfect post work-out. Or pre walk to the tube… Whatever takes your fancy.
Price: £3 a pop
Gelupo is at 7 Archer Street, Soho, London
#2 Have a Mochi Moment
What: Black Sesame Mochi at Nobu London
The Idea: People are scared of Mochi, the Japanese sweet treat, but I secretly love them. A strange, texturally confusing blend of ice cream and sweetie, the outside is jelly-like and the inside filled with cold sweetness. The best are at Nobu; try the black sesame flavour for a really authentic experience.
Why: Low-fat, low-sugar and gluten-free, they tick most of the boxes in my books.
Price: £3.75 a pop
Nobu is at 15 Berkeley St, London W1J 8DY
#3 The Ultimate Skinny Sorbet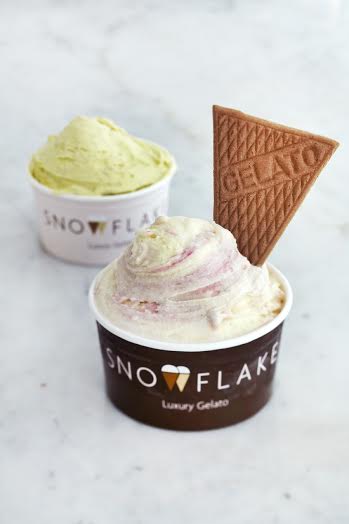 What: Luxury Pear Sorbetto at Snowflake Gelato, Soho
The Idea: The sorbetto and guilt-free ice cream at Snowflake is literally one of the most delicious things in London. You wouldn't know that it's dairy-free, fat-free and with no-added sugar, although you would know it's handmade because it tastes too delicious to be made by a cruel machine. The sorbetto comes in a range of great seasonal fruity flavours (try the peach) and the apple and elderflower Guilt-Free is delicious, although we're pear through and through.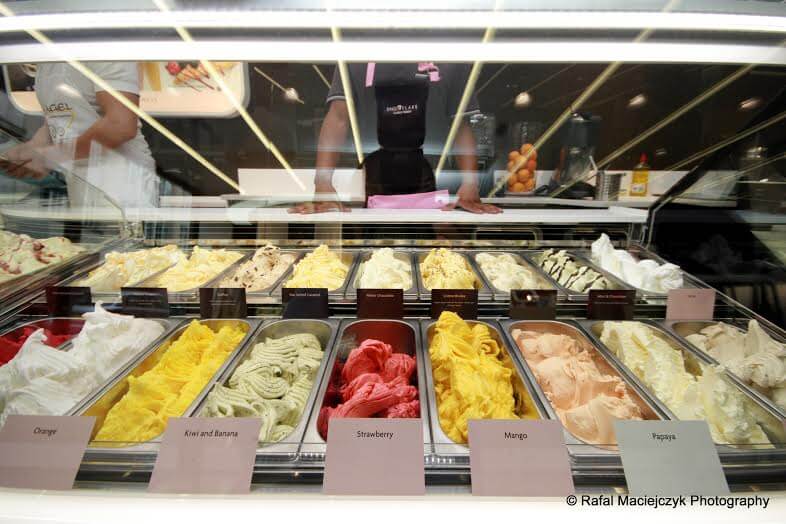 Why: Suitable for vegans vegetarians to boot.
Price: £3.20 small, £4.20 medium, £5.20 large
#4 Matcha Made in Heaven
What: Iced Matcha Latte at The Good Life Eatery, Chelsea
The Idea: This caffeine-free tea drink is heavenly, even if it's not actually a dessert. The Iced Matcha Latte at LA-inspired Good Life is given a healthy kick with almond milk and energising green tea powder. It's cooling, calming and will give you energy for the rest of the day!
Why: One of London's trendiest health hangouts. Try to act cool when you spot Deliciously Ella tucking into a giant bowl of quinoa salad.
Price: £3.30
The Good Life Eatery is at 59 Sloane Avenue, Chelsea, London 
#5 The Garden Party Saviour
What: KÖLD Cocktails Frozen Lychee Martini
The Idea: Sometimes you just need a fruity fix and don't have the fresh fruit on hand. The KÖLD Cocktails range of premium frozen cocktails are great for entertaining friends in the garden and faking it. Grab a Frozen Lychee Martini one and pop some raspberries in… They'll never know the difference. They are all available to buy from www.koldcocktails.com.
Calories: Frozen Cosmopolitan – 78kcal, Frozen Mojito – 74kcal, Frozen Lychee Martini – 89kcal per serving.
Why: "We created KÖLD for adults who enjoy well-made cocktails and want to be able to recreate the taste and experience of a 'bar-served' cocktail at home but without any of the hassle" Nick Sotiropoulos says founder of KÖLD Cocktails. Right on.
Price: £6.99 per multipack (2 pouches)

#6 The Corner Shop Quickie
What: The New Solero Mojito
The Idea: The "adults only" fresh water ice lolly is made with lemon and lime juice for a refreshing citrus-mint flavour and a drop of rum for that extra special kick. And with each lolly containing just 55 calories, Solero Mojito is the perfect guilt-free treat.
Calories: 55
Why: Because you can have one at lunch time and no-one will call it daytime drinking.
Price: £1.20
#7 The Adults-Only Lolly
What: POPS Champagne Ice Pops
The Idea: POPS are the world's first champagne pops. If you like the taste of bubbly, you'll love this. Released this june, they are 100% organic, 37% champagne and only a 100 calories a pop. They also sell to private parties and Kate Moss loves them, win.
Why: Perfect with a punnet of strawberries on a sunshine-filled day in the park.
Price: £5 a pop
And one for luck…
#8 The One Worth Waiting For
What: Frozen apple panna cotta with herb granite and dried meringue at Chiltern Firehouse
The Idea: Ok, we're not quite sure if it counts as healthy and you may never actually be able to try it because of the absurd waiting list for this trendy hangout, but hey ho. If you manage to get Harry Styles on your arm and get a spot at Chiltern Firehouse, don't leave without trying this unusual icy treat.
Price: £8 (bargain)
Why: Apparently it looks like a snail and tastes like heaven.
Photo credit: Georgie Travis – Twitter