If you haven't already noticed, we really like breakfast. There's nothing worse than an overly-sweet, un-balanced bowl of granola – in the process of this feature, we've become experts in the balance of oats, nuts and raisins – and can report that these ten bowls are nothing sort of granola perfection. Tuck in:
Order: Fruit salad, Greek yoghurt and granola (£7.50)
The Vibe: If you haven't been to Nopi, this is what you need to know: part of the Ottolenghi empire, the chef that's behind the beautiful London chains of fresh eateries, and cookbooks such as Jerusalem, the menu focuses on fresh, seasonal and healthy.  The granola is rich with nuts, seeds and cinnamon, and not too sweet either. The yogurt is Greek; thick, not too sour, the perfect companion to all those crunchy almonds.
Where: 21-22 Warwick Street, London, W1B 5NE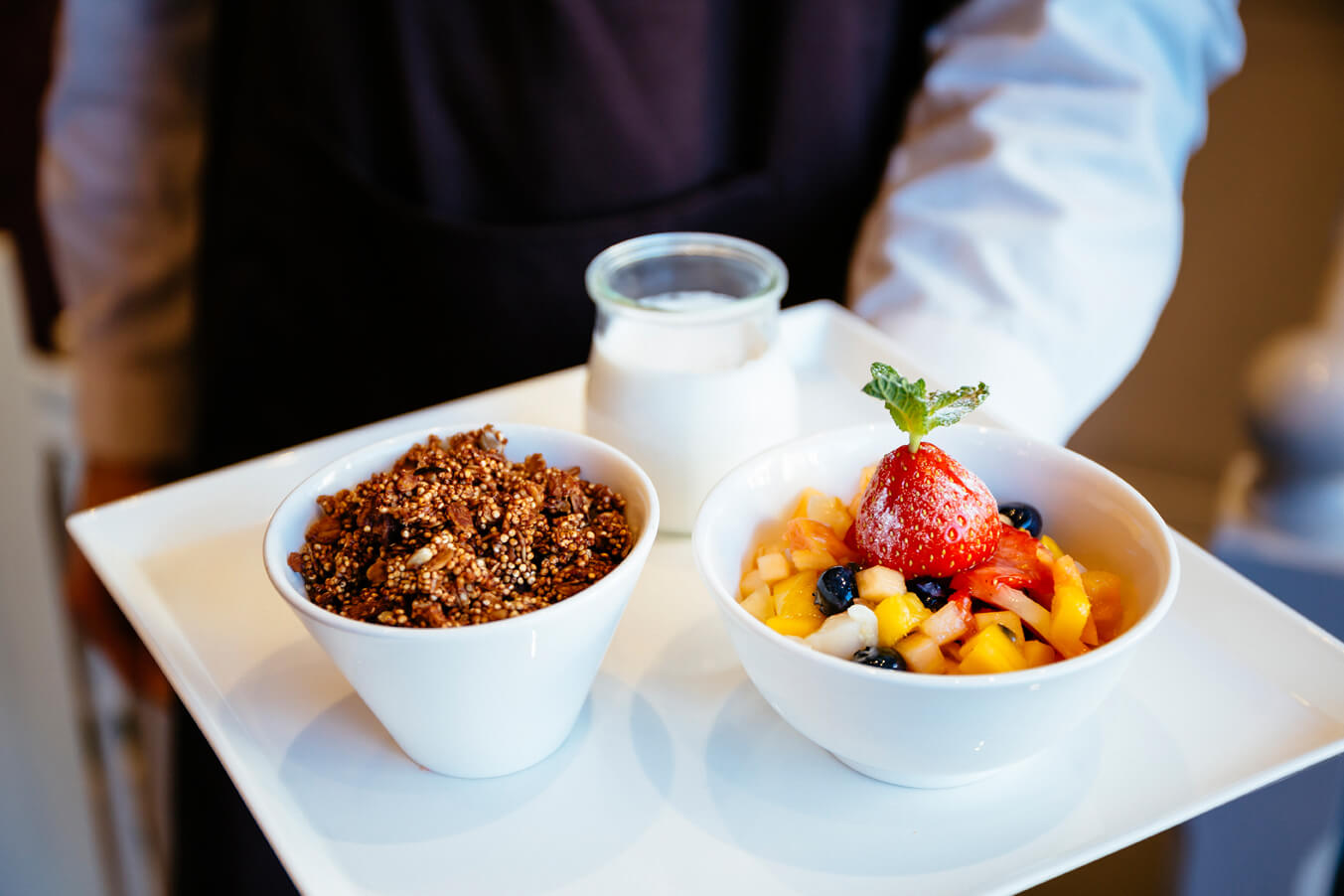 Order: Quinoa granola, dairy-free coconut yoghurt, tropical fruit salad (£8.50)
The Vibe: First opened in February 2011 in Soho, L'ETO now has six locations across the city. Known for their cakes, savoury treats  and fresh juices, they recently launched a healthy breakfast menu with gluten-free options. Think, egg white omelette with spinach, tomatoes and sourdough toast and buckwheat pancakes with yoghurt, berries and fruit compote. Their quinoa granola has a different texture to a classic nuttier granola, and a bit sweeter with a chocolatey- flavour, but it's super tasty. All the dairy-free coconut yogurt is homemade, don't you know.
Where: 243 Brompton Road, London, SW3 2EP
Order: Superseed granola, ginger yogurt and blueberries (£6)
The Vibe: Pachamama is a Peruvian restaurant, serving up small plates, well-crafted cocktails and unusual brunch dishes. The menu heavily features, the now popular Peruvian grain quinoa. Quinoa ice-cream anyone? If you're after classic brunch staples, this isn't the place – but you certainly won't be disappointed with their quirky options. Their superseed granola is a taste sensation and is well worthy of an Instagram.
Where: 18 Thayer St, W1U 3JY, London
 Order: Greek yoghurt with fruit compote and granola (£3.99)
The Vibe: Gail's, an artisan bakery known for their big love of bread, quiches  and top notch sarnies also excels in the breakfast department. It may not look much in the plastic container, but their rich, thick and creamy Greek yoghurt topped with their handmade granola is a show stopper. There's nothing wrong with the high-street, people.
Where: Locations here
Order: Superfood Granola with honey, Greek yoghurt or milk (£4.50)
The Vibe: Sourcing seasonal and locally ingredients and working closely with British suppliers and farmers, Tom's kitchen creates dishes with British flare. Their breakfast menu is killer and if you're hankering for some Belgian waffles, theirs are the absolute one. The superfood granola is packed full of nuts, raisins and goji berries, with a generous topping of greek yoghurt and honey. Ooft.
Where: Throughout London here
Order: Honey roast oats, seeds & nuts, grated apple, pomegranate and Greek yoghurt (£6.20)
The Vibe: If you've yet to try breakfast at The Modern Pantry, you really need to. Cool, casual and laid back atmosphere, this eatery knocks up smashing cooked brekkies, smoothies and a fine selection of pastries. If you prefer your granola nutty with plenty of seeds, this is the one for you. The added honey touch to the oats makes it super delicious, and we like the added touch of grated apple, somewhere between a granola and a bircher, it's absolutely perfect.
Where: 47-48 St John's Square, Clerkenwell, London EC1V 4JJ
Order: Granola, coconut yoghurt, toasted almonds and poached rhubarb (£5)
The Vibe: Jar Kitchen is the brainchild of  Lucy Brown and Jenny Quintero, concentrating on seasonal menus and using quality ingredients. They make their granola and coconut yogurt from scratch and it shows, this granola is up there with the best. The poached rhubarb is a welcomed change from berries and is well matched with the toasted almonds.
Where: 176 Drury Lane, London WC2B 5QF
Order: Kopapa's toasted oat & dried fruit granola, Greek yoghurt, blossom honey (available with soya milk) (£7)
The Vibe: If you haven't been to Kopapa, you really, really have to. The menu, by brilliantly talented chef Peter Gordon, is a fusion of all the best things in life – think amazing French toast with figs, great unusual eggs and amazing Monmouth coffee. Come here for something sweet – their granola, with black sesame, is one of the finest we've tried in London. You can have it as a 'half and half' option for an extra 50p, where fresh fruit is added into the mix, along with a fat dollop of Greek yogurt. Trust us, total heaven. Try the raspberry, yuzu & mint smoothie while you're there.
Where: 32-34 Seven Dials, London WC2H 9HA
Order: Homemade granola with with roasted plums, hung yogurt and honey (£6.50)
The Vibe: This small cafe offers creative breakfasts, plus modern Mediterranean lunches and evening meals. It's great for weekend brunch, too. If you're looking for value for money, you can't get much better than this – served in a little cast iron pot, the delicious granola comes with a huge serving of hung yogurt (we're still not 100% what this is, but it tastes nice) and amazing poached plums. It's the kind of bowl you can't finish, in a good way. Come for homey vibes and a lovely neighbourhood feel. Their toasted banana bread with pistachios and honeyed yogurt also comes highly recommended by us.
Where: 21 High Street Wimbledon, Wimbledon SW19 5DX
Order: Homemade date and cherry granola with fresh fruit and greek yoghurt (£5)
The Vibe: Super fancy. The London version of cult New York French brasserie is decked out with dark wood and red-leather banquettes – if you're looking for a French bistro with a seriously swish feel, then this is the one for you. Balthazar London offers something for everyone all day long: they serve a selection of classic French brasserie and bistro dishes, using the philosophy of the best ingredients with the most traditional methods to produce great quality food. Come for lunch and tuck into one of their amazing tartines, and don't leave without popping into the next door bakery for some of the best pastries you'll try in London. This granola is sensational with dates and cherries, everything you need for a sweet start to the morning.
Where: 4-6 Russell Street, London WC2B 5HZ