Did you know you can now get your Jewish favourite foods delivered? That's right, with Deliveroo's new area delivery, you can get home comforts, such as kosher chinese, schnitzel and chicken delivered, right to the comfort of your own sofa. Here's the new places on our favourite Deliveroo and what to order
1. For Kosher Classics: Bevis Marks
The Story: Aldgate kosher restaurant Bevis Marks serves up the finest Jewish delicacies in London, from matzo and latkes to their famous shredded salt beef. This is the one for a slightly more fancy kosher dinner, in the comfort of your own home.
What to Order: Depends what you're in the mood for, they've got lighter options like chicken soup, lockshen and matzo ball, and chicken with mango, rocket and peanuts, as well as seriously tasty main courses. This is the place for meat lovers – they deliver kosher steaks, such as Prime Rib-Eye steak with mushroom sauce, as well as salt-beef, rosemary-coated lamb cutlets, and for fish lovers, herb-crusted salmon on wilted spinach with ratatouille. Of course, there's pudding too – try the chocolate bread and butter pudding with custard for a chocolate taste sensation, and apricot frangipane tart for a sweet treat.
Price: Starters from £7.95, mains from £19, desserts from £4.95
The Story: You can imagine with Pita does. Stuff in pitta – done really well. Whether it's falafel, sabich, schnitzel, beef kebab and humous, there's nothing they can't put into bread and make it taste delicious.
What to Order: Well, obviously all the pitta. For an affordable dinner, you can't go wrong with Pita – our favourite is the classic falafel in pitta, served with humous, fresh vegetable salad, pickles, fresh onion and tahini. For something different, try schnitzel in a wrap, or the beef kebab, which also comes with side salad.If you're shying away from the carbs the humous box with minced beef or falafel has optional pita bread, so you can get as carby as you like. You can't go wrong with fried aubergine, hard boiled egg and mango chutney for a simple supper.
Price: From £5
The Story: The tastiest pizza in town, Pizaza is the only kosher pizza parlour in London with stuffed crust, and we think that's reason enough. They also do a delicious wide range of milkshakes and more. Nom.
What to Order: Start with bite sized chunks of baked pizza dough topped with melted cheese, served with butter – they are always a family favourite. And then, of course, all the kosher pizza your heart could desire – they have everything from Margherita with black olives to the Sabich Pizza with tomato sauce, mozzarella cheese, chargrilled aubergines, boiled egg, roasted potatoes and freshly chopped tomatoes. For something rich and delicious, try the Roquefort Pizza with tomato sauce, mozzarella cheese, artichoke, blue cheese, freshly chopped tomatoes and truffle oil. For a calzone, try the Sweet Potato Bianca with cream sauce, mozzarella cheese, sweet potato and caramelised onions. And for something lighter, the Pizaza Salad with halloumi cheese, strawberry, orange peppers, caramelised pecans, lettuce, freshly cut avocado and tomatoes sprinkled with crunchy croutons and a touch of olive oil, balsamic vinegar and honey. 
Price: Pizzas start at £7.50
The Story: Soyo is all about healthy, wholesome food which fills you up, and leaves you satisfied at the same time. There's healthy versions of your favourite comfort food, such as pasta made good with fresh olives and vegetables, and the best salads.
What to Order: Soyo specialises in amazing salads, which hit the spot every time. You can also order breakfast with Soyo, such as their famous Spinach Shakshuka – two poached eggs on a base of creamy sauce with spinach, served with homemade bread, side salad and basil tapenade – and great muesli with fruit salad. For dinner, start with their fantastic mushroom soup – a selection of mushrooms with cream and herbs, cooked daily using fresh ingredients sourced locally. Then try the sweet potato pie, made from a butter crusted pie with sweet potato filling, then freshly baked to perfection, served with gourmet yogurt and dill and a side salad. They've got a selection of healthy wholemeal pasta with lots of veggies, salad (try the Lentil Taboule with green lentils, mint, parsley, tomato, cucumber, spring onion, beetroot, cranberries, spinach, sunflower seeds and pumpkin seeds). The sandwiches on olive bread are also dreamy – as is their homemade apple tart. 
Price: Breakfast from £4.50, starters from £3.50, sandwiches from £5.95, main meals from £7.95
5. For Kosher Shishlick: White House Express
The Story: A kosher restaurant with traditional and Thai menus, they have everything you could want for an easy, meaty dinner.
What to Order: Start with all the dips – humous, tahina, Aubergine greek style, and move onto meaty goodness. They've got all the kosher meat your heart could desire – from salt beef with rice, served with lettuce, sweet pickle, homemade potato latkes and rice to chicken shishlik with chips, steak entrecote with chips, schnitzel and lamb shawarma with egg fried rice. If that's not enough, there's also falafel, beef burger and golden chicken nuggets with mashed potato. Basically, eat all the meat.
Price: Starters from £3.50, mains from £10, sides from £3
And a few non-kosher, delicious options…
6. For Chicken Soup: Harry Morgan
<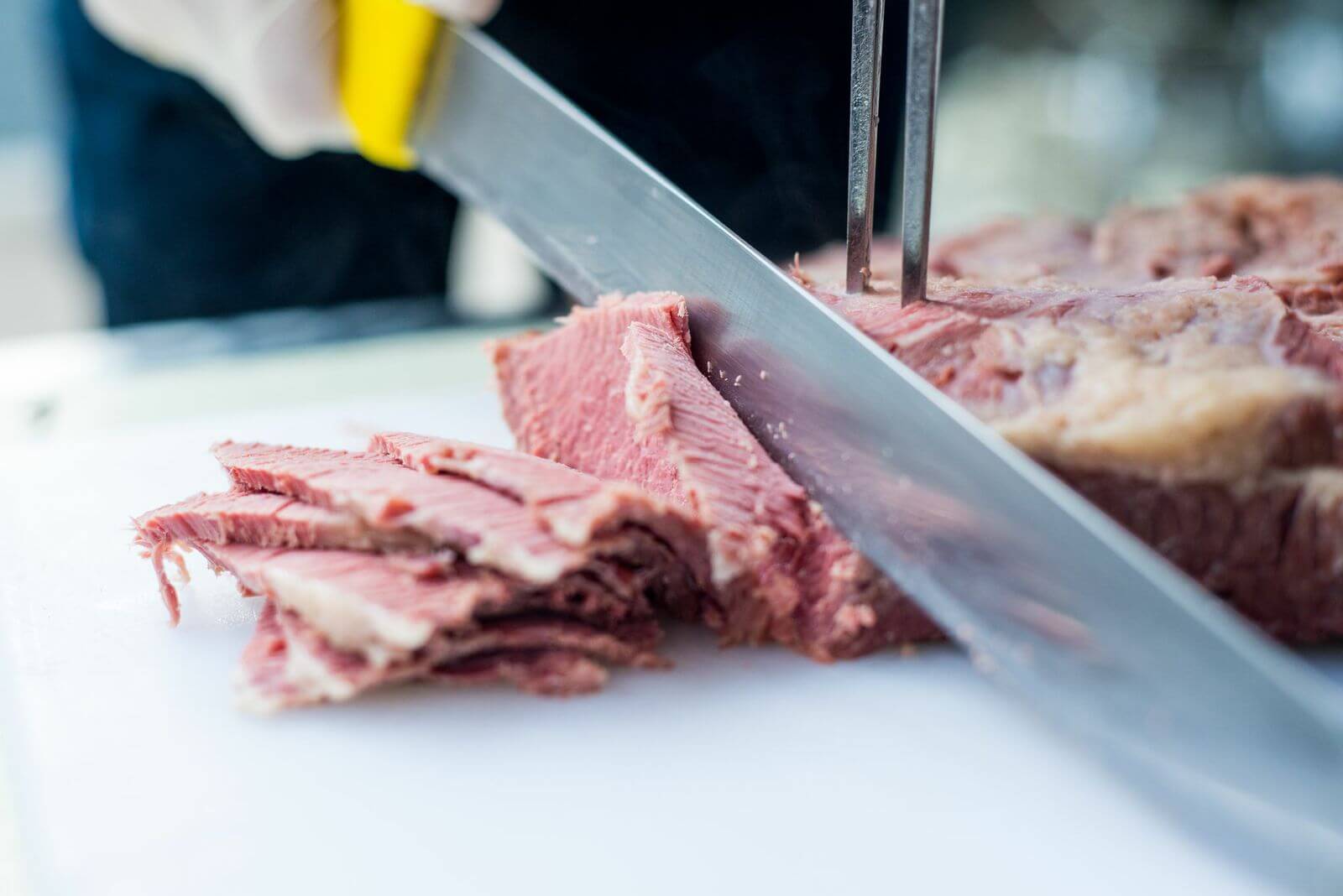 The Story: Established in 1948, Harry Morgan serves traditional home-cooked favourites such as challah French toast, smoked salmon bagels, chicken soup, salt beef and more. They do great sweet treats too – make sure you leave some room for dessert as their Oreo cheesecake, pecan and key lime pies are sure to tempt.
What to Order: You need to try their homemade soups – everything from chicken matzo ball soup, to bean and barley, chilli and borscht. You can also try the deli favourites, such as chopped liver, Israeli salad, and hot potato latkes. For main courses, order the homemade lasagne, beef viennas with fries or Turkey Reuben melt. Their desserts are brilliant – try the Oreo cheesecake and apple strudel, they are always winners.
strong>Price: Soups from £4.75, mains from £8.95, desserts from £4.95
The Story: If you haven't tried Delancey and Co, you really have to. If for nothing else but the epic peanut butter cheesecake, and the twist on the classic smoked salmon bagel with smoked salmon, wasabi infused cream cheese, tobiko, black sesame seeds, and seaweed salad. 
What to Order: The concept is simple: choose between Challah roll, rye or poppy seed bagel, and one of the epic fillings. It's all about the smoked salmon bagels and salt beef. Make ours a Pizza Bagel with salt beef, cream cheese, tomato sauce, mozzarella and oregano. The Beast Mode Reuben with salt beef, smoked turkey, sauerkraut, Swiss cheese and Delancey & Co special sauce is a winner every time. 
Prices: Bagels from £4.50
The Story: The Ottolenghi team has searched across the Mediterranean – from beach shacks in Istanbul to the alleys of Jerusalem – for the best street food there is. Get ready for thick, fluffy pittas bursting with flavours, sumptuous salads and exotic desserts. Think: the menu is inspired by the vibrant market stalls and the smoking grills of the Middle East.
What to Order: All the Middle Eastern goodness. If you like chicken, you must try the lemon and Za'atar chicken with chopped salad, hummus and zhoug. For lamb, try the spiced lamb kebab skewer – perfect alongside their fresh salads. There's great small salads – from roasted aubergine with parsley yoghurt to cauliflower with tahini and pomegranate. You can also go all out and get the Full Sesame – with two paprika and cardamom chicken skewers, hummus, salad and pitta. Don't forget to order a treat – there's halva and chocolate cookies, a bag of Medjoul dates, and yummy sesame brittle to choose from. Also, their fresh lemonade is the dream. 
Prices: Pitta from £6.65, skewers from £2.25, salads from £3.45, desserts from £1.30
The Story: Maroush is a London institution for good reason. The team of chefs prepare favourite dishes that include a huge array of hot and cold mezzas, grilled meats and fish, mixed shawarma, fresh salads and delicious fresh fruit juices, all made from the finest seasonal ingredients. Seriously, this is the best falafel you'll find in London.
What to Order: Well, obviously all the falafel. Beyond that, try their tabbouleh – parsley salad with tomato, fresh mint, onion, cracked wheat, lemon juice and an olive oil dressing and the best labneh – strained yoghurt served with olive oil and dried thyme. We also love the fried aubergines baked with tomato, onion, chickpeas and sweet peppers. For mains, try Hommos Arwama – chickpea purée with sesame paste, lemon juice and an olive oil dressing, topped with sliced or diced marinated lamb. For fish, order the fresh seasoned sea bass, deep fried, served with tahine sauce, and for a hearty option, the Fattet Lisanat B'laban – layers of boiled chickpeas, toasted bread and crushed garlic, topped with yoghurt, pine kernels and fried lamb tongues. For pudding, try the Mouhallabieh – a Lebanese milk pudding, topped with rosewater syrup, sprinkled with pistachios. 
Prices: Starters from £4.5o, mains from £15.50, desserts from £4.50
10. For Fish & Chips: Hook Camden
The Story: It all began with a simple market stall in Dublin back in 2011, where the founders of Hook made a name for themselves with their unique, "new-school", take on fish and chips. They broke down a classic dish into all of its basic ingredients, and built it back up again with big portions of extra love and care to ensure every single part of the dish was of the highest quality, and sourced from the absolute best suppliers they could lay our hands on. Everything is made on-site; from their sauces, all the way across to our their very special seaweed salt.
What to order: Classic Panko crusted cod with seaweed salted chips and homemade tartar, or lime, mint and wasabi tempura of seabream with basil chilli sauce. For sides, try the celeriac, fennel and mustard seed slaw and sea spaghetti with samphire citron salad. They've got amazing dips such as lemon cajun, smoked chilli ketchup, and garlic truffle.
Prices: Fish from £10