Did someone say chia seeds? It's January and yes, our trousers are a tad tighter. Here are the best ways to get your healthy food fill in London this week:
For a Superfood Brunch: Christopher's
What: Just the ticket for January detoxing, grade II listed restaurant and bar Christopher's, Covent Garden, is offering a new Superfood brunch menu every weekend. Detox your way through January with this Superfood brunch – packed with nutritional goodness, the superfood brunch includes delicious options of avocado toast, buckwheat pancakes and raw smoothies and juices.
Eat: Drinks and dishes include Citrus Beet Cleanser, Early Chocolate Shot and warm kale and butternut squash salad. There's also great cacao nut brownies and Buckwheat Pancakes with Camu powder and cinnamon dust.
Where: 18 Wellington Street, Covent Garden, London WC2E 7DD 
For Saints & Sinners: Percy & Founder's 
What: Still undecided on whether to kick off 2016 with a retox or a detox? There's no need to commit at Fitzrovia restaurant and bar Percy & Founders, as they're offering a special January menu which gives you the best of both worlds.
Eat: Printed on a flip-able menu for saints and sinners alike, guests can opt for Percy & Founders indulgent burger served with celeriac slaw, pickle & fries with a pint of beer or glass of house wine (£16) or stay health smug with one of three salads such as the Superfood with pomegranate & citrus dressing, alongside a soft drink or water (£13). The Detox/Retox menu is available for lunch and dinner from Monday 11th – Sunday 31st January.
Where: 1 Pearson Square, London, W1T 3BF
For a Vegan Menu: Pollen Street Social
What: Jason Atherton's Pollen Street Social has recently launched an innovative vegan menu to be served alongside the existing vegetarian menu at the Michelin-starred restaurant. Proving that vegan food is anything but boring, the menu includes a selection of five dishes all showcasing Atherton's flair for seasonal produce, the highest quality ingredients and beautiful presentation.
Eat: Roasted woodland mushroom salad, raw chestnuts, castelfranco and truffle dressing and Pearl barley, roasted Jerusalem, artichoke and truffle. The new menu will no doubt be a welcome addition to London's vegan dining scene as the first Michelin-starred vegan menu available in the capital.
Where: 8-10 Pollen St, London W1S 1NQ
For Healthy Eating: LIMA Floral
What: After a month of feasting on endless mince pies, pigs in blankets and Quality Street, not to mention all of those festive tipples, LIMA Floral's menu of fresh, healthy dishes will provide an easy and enjoyable way to kickstart a healthier 2016.
Eat: With a selection of protein rich ceviches all marinated in tiger's milk, a trusted hangover cure in Peru, dishes with superfood Peruvian ingredients including kiwicha and quinoa, and even the suitably detox friendly cubes of frozen organic yogurt with passion fruit and hierba buena available for dessert, a visit to LIMA Floral this January will leave diners feeling refreshed, healthier and finally free of that festive hangover.
Where: 14 Garrick St, London WC2E 9BJ
What: Newly opened Chi Kitchen, from the team behind Thai institution Mango Tree Belgravia, have a menu packed full of healthy options ideal for the January health-kick.
Eat: Lighter offerings include a refreshing prawn and pomelo salad, a selection of steamed dumplings, fresh and cleansing salmon sashimi or iron-boosting grilled broccoli, making Chi Kitchen the obvious location for a meal out that won't rack up the calories.
Where: 334-348 Oxford Street, London, W1C 1JG
What: This January, luxury Chinese restaurant Chai Wu, located in Harrods, will be offering a specially designed detox menu comprised of seven healthy and light courses.
Eat: Designed for two to share, the menu includes dishes with key health-boosting ingredients such as crispy kale, spinach soup and steamed salmon.  A detox-friendly dessert of fresh berries with dragon fruit is also available. Priced at £68, the menu will be accessible throughout January and is the ultimate in guilt-free January dining.
Where: 87–135 Brompton Rd, London SW1X 7XL
For Breakfast: The May Fair Bar
What: The post-Christmas detox doesn't have to be tedious – why not detox in style in the elegant surroundings of the May Fair Bar? After a hedonistic December, the May Fair Bar is offering a range of different healthy options to help kick those New Year resolutions into action.
Eat: Proving even a virtuous breakfast can be delicious, the May Fair Bar's new range of juices and smoothies feature nourishing ingredients to enrich both body and mind. Freshly made to order, each juice contains a hand selected blend of fresh market fruit and vegetables. The cleansing avocado and ginger smoothie with raspberries and apple juice, it's delicious.
Where: Stratton St, London W1J 8LT
For Charity: Arabica Bar & Kitchen
What: Throughout the month of January, Borough Market based restaurant Arabica Bar & Kitchen will be serving a spiced red lentil soup and donating £3 per bowl sold to the Soup for Syria initiative.
Eat: The healthy yet hearty dish, developed by founder James Walters and team features key Levantine ingredients sold within his Arabica Food & Spice range, including ras el hanout, pomegranate molasses and sumac, adding an indulgent depth and spice to the dish.
Where: Borough Market, 3 Rochester Walk, London SE1 9AF
For Juice: Bluebird and Juicebaby
What: This January the bar team at Bluebird have partnered with cold-pressed juice specialists Juicebaby to create three invigorating juice-based cocktails, including Candybeats, Juicebaby's candy beets cold pressed juice, fresh lemon juice, hazelnut syrup, cranberry juice, egg white, topped with Moet brut.
Drink: Almond Heaven, Juicebaby's vanilla and almond milk, banana puree, Bacardi gold rum and amaretto, and  Tropic Thunder, Juicebaby's spicy immunity cold pressed juice, vanilla vodka, goji and raspberry liqueur, served with fresh raspberries. The Restaurant, Courtyard and Café are serving a selection of healthy dishes too.
Where: 350 King's Rd, London SW3 5UU
Photo Credit:  Jess Dismont Photography.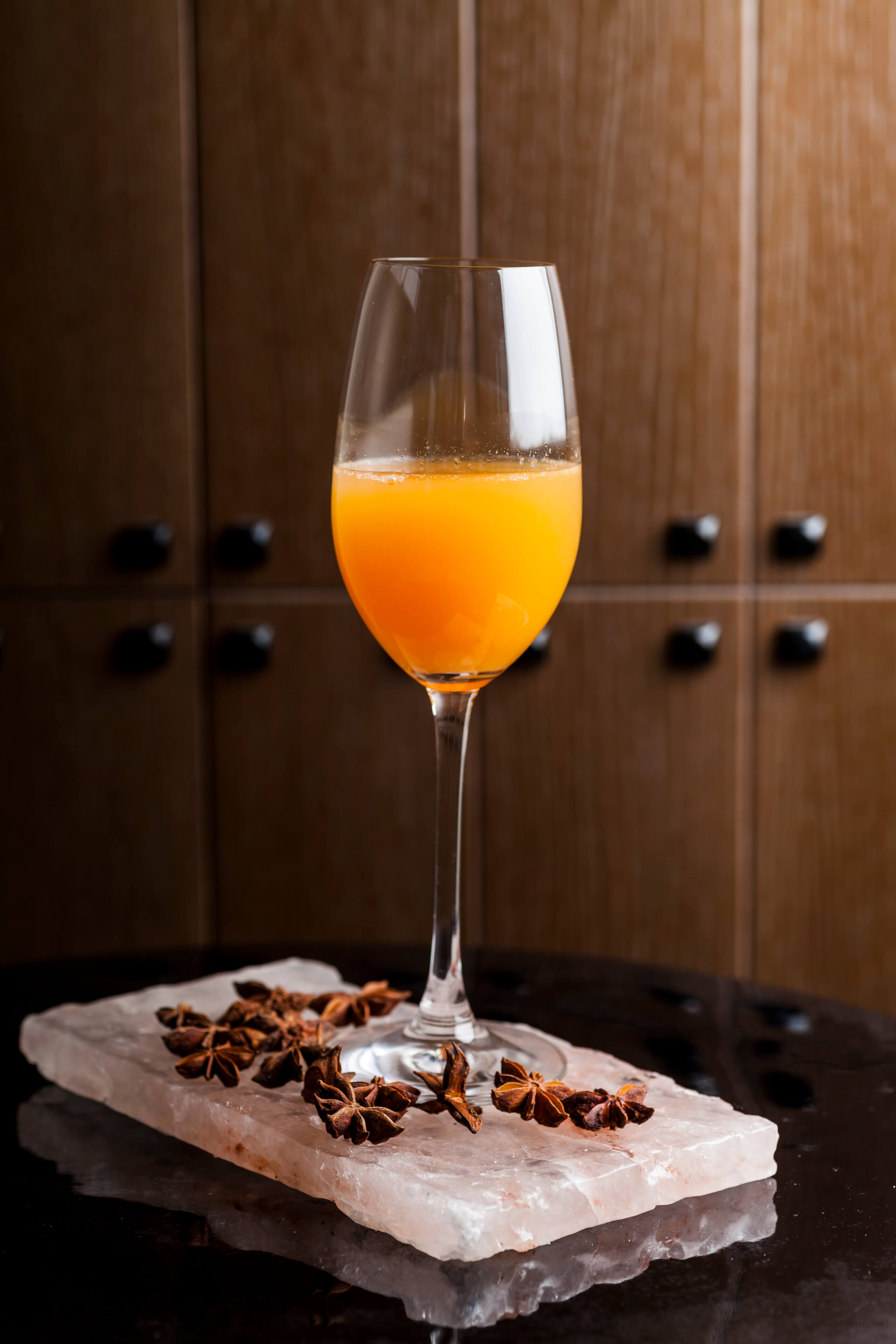 What: Rich Woods, Head of Spirit and Cocktail Development at Duck & Waffle has created a limited double menu to run side-by-side throughout January.
Drink: For those who want to continue the indulgence of the festive period can opt for the 'Anti Resolution' menu – a small collection of decadent cocktails with all the frills. For the Dry January drinkers, the 'As Good As It Gets' menu features sophisticated non-alcoholic cocktails that taste just like the real thing but the alcohol has been removed.
Where: Heron Tower, 110 Bishopsgate, London EC2N 4AY