In association with POD, as part of POD Health Week, we've searched the streets of London for the best dairy-free breakfast in town. What's more, you can get £1 off any breakfast at POD this week – simply quote About Time at the till or show this article to claim your super breakfast. You can see POD's breakfast menu here. Because being dairy-free shouldn't mean you have to miss out on the great meal of all time: breakfast. We're rounded up the best dairy-free breakfasts this city has to offer.
What: POD started a healthy food revolution. The focus here is on fresh, healthy food, that nourishes you – all the dishes contain genuine benefits for your body, mind and soul. With 22 pod shops around London, they are doing something right.
Order: Chorizo Power Eggs – two free range eggs, Spanish chorizo, tomatoes, spinach, chilli munchy seeds, peppers, capsicum, chilli & a slice of malted brown toast. Ask for the toast without butter to make it totally dairy-free! (£3.99)
Why: Since 2005, they have been pioneering a new kind of healthy fast food and changing the way people eat on the go. They have introduced many of customers to the brilliant natural benefits of bee pollen, chia seed, nori, Peruvian corn and many more. They use accredited foods wherever possible, such as RSPCA assured salmon and Rain Forest Alliance coffee beans. Tuck in.
Where: Throughout London – see here
2. For Granola: Greenberry Cafe
What: Greenberry is an independent, laid-back, casual cafe in Primose Hill. They're big fans of using seasonal and sustainable produce to create global dishes that are flavoursome, and good for your too. Greenberry is open for breakfast right through until dinner with a menu of international fare.
Order: Homemade granola, coconut yoghurt, mixed berries and honey (£6.75)
Why: For perfect park-side brunch. Greenberry lends itself to being the ultimate weekend brunch spot with its location – you can't go wrong with a big bowl of granola after a meander around Regent's Park. For dinner, the guys at Greenberry have combined their love of food with their love of wine. Their wine list focuses on individual, eclectic and finely crafted wines from small producers with some stunning English sparkling wines on offer.
Where: 101 Regent's Park Rd, London NW1 8UR
What: Home to real fast food, Bel-Air is inspired by California and the healthy food buzz found in LA. This breakfast and lunch eatery serve up virtuous grub – think homemade pineapple and coconut granola, open breakfast sandwiches and a take on a fry-up with their self-styled healthy hash.
Order: Buckwheat porridge with almond milk (£2.85)
Why: There's not many places in Shoreditch serving food that focuses on being low in salt, low carb and free of refined sugar. Developed by former Lardo, Zucca and St John chef Damian Currie, the menu features sensational crab cakes, a self service salad bar and breakfast shots. The sweet selection is just as good with the oat and flaxseed cookies and the coconut, lime and cardamom macaroons all spreading the healthy love.
Where: 54 Paul Street,Shoreditch,  EC2A 4LN
4. For a Chia Pot: Granger & Co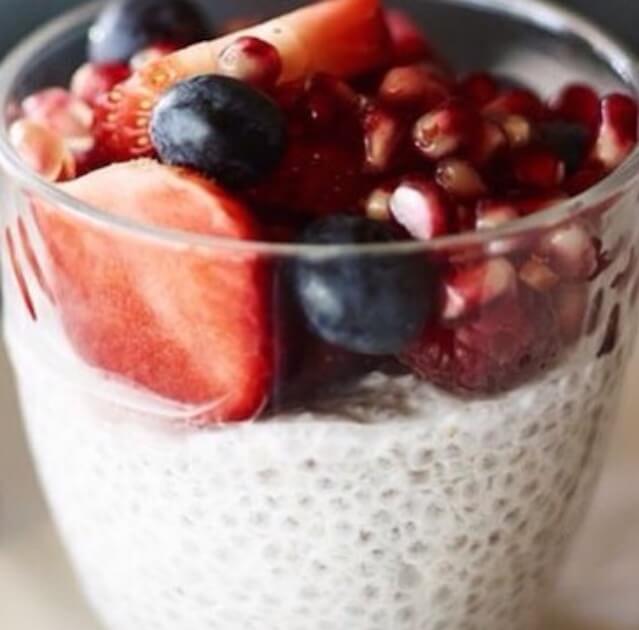 What: Bill Granger is the man behind Aussie inspired restaurants Granger & Co. The premise is simple; every Bill Granger restaurant reflects the spirit they like to think of as 'Australian' – sunny, easy-going and generous.
Order: Almond milk chia seed pot, berries, pomegranate and coconut yoghurt (£5)
Why: Check out new Granger & Co in Kings Cross. There is no denying that King's Cross is undergoing a dramatic transformation and there couldn't be a more exciting area in London to be a part of. Expect a central bar, wraparound olive leather banqettes and pink marble tables, an ideal place for a breakfast meeting, an indulgent brunch with friends, a salad with work colleagues or dine in style in the evening.
Where: Stanley Building, 7 Pancras Square, London N1C 4AG
Image courtesy: Instagram back2buckley
5. For Waffles: Good Life Eatery 
What: The Good Life Eatery is a favourite pit stop for the healthy foodie crowd, who come here to lap up a bit of zen and delicious healthy food. You'll find The Good Life tucked away from the Kings Road, and they've also got a branch in Marylebone.
Order: Paleo chestnut and almond waffles with chia strawberry jam, coconut yogurt and strawberries (£7.95)
Why: The menu caters for gluten-free, vegans, vegetarians and diary-free and spans from breakfast to dinner with highlights including their chestnut and almond waffles to the sunset chopped salad full of all the good stuff and baked sweet potato with quinoa falafel and avocado butter. They also have no wifi, so switch off for a morning, relax and enjoy your cocobutter superfood smoothie.
Where: 59 Sloane Avenue, London, SW3 3DH
6. For Bircher Museli: Kin Cafe
What: Kin Cafe is a family run eatery knocking up fantastic veggie, vegan and gluten-free dishes. Come here for honest, healthy and fresh food in a relaxed atmosphere away from the busy streets of Fitzrovia. Their menu is innovative with a loads of different yummy food up for grabs – order their tofu scramble sandwich. Delicious.
Order: Raw bircher museli (£3.95)
Why: It's not only the food that receives care and love, coffee is another draw to Kin Cafe. They're all about exploring the best speciality coffees, with a regularly changing menu using beans from some of the top countries roasters, both large and small. All ingredients used is sustainable, environmentally friendly and the chaps source produce from suppliers who have a wider positive impact.
Where: 22 Foley Street, London, W1W 6DT
What: Kopapa: a Maori word for 'a gathering, to be crowded, and a building to store food in' is an Antipodean cafe with a lot of soul. Kopapa is owned by Peter Gordon and Brandon Allen who both have Maori heritage and are inspired by the rich culture of New Zealand.
Order: Fruit salad of apple, grapes, banana, pineapple, Blueberries, nectarines, strawberries, vanilla poached figs (£7.50)
Why: You can't beat the wonderful and wacky fusion cooking here – this cafe, located near Seven Dials, Covent Garden, is the perfect place to meet, eat and drink in the West End. They do fantastic coffee and fresh juices, energising and hearty breakfasts with seasonal ingredients and weekend specials. Eat all the brunch.
Where: 32-34 Monmouth St, London WC2H 9HA
8. For a Healthy Granola: L'eto 
What: First opened in February 2011 in Soho, L'ETO now has six locations across the city. Known for their cakes, savoury treats  and fresh juices, they recently launched a healthy breakfast menu with gluten-free options. Come here for a coconut, banana and basil smoothie and salmon and avocado on rye bread.
Order: Quinoa granola, dairy-free coconut yoghurt and tropical fruit salad (£8.50)
Why: Their brunch is as virtuous as it gets. Think, egg white omelette with spinach, tomatoes and sourdough toast and buckwheat pancakes with yoghurt, berries and fruit compote. They're big fans of the diary-free goodness with all their coconut yogurt homemade.
Where: 243 Brompton Road, London, SW3 2EP
9. For Cereal: Cereal Killer Cafe
What: You've probably heard the hype. Cereal Killer Cafe is the UK's first speciality Cereal Cafe; selling over 120 different types of cereal from around the world. You can choose from 30 different varieties of milk and 20 different toppings – and you can come for breakfast, lunch or dinner in their nostalgic cafe displaying hundreds of pieces of memorabilia from the 80s and 90s for you to feast your eyes on.
Order: Reece's Puffs with your choice of milk (soy, almond, lacto-free, hazlenut or coconut)  (£3.40)
Why: Because cereal is the breakfast of kings. Fact. They also stock vegan cereals including Reece's Puffs, Oreos and Fruit Loops. Gluten-free and nut-free options are also available. Hello, Cinnamon Chex. Extra topping of Party Rings on top of your cereal, go on then.
Where: 139 Brick Lane, London, E1 6SB and Mezz 2, Stables Market, Camden, London, NW1 8AH
What: This canal-side vegan cafe and bar, which is run on renewable energy, often has live music nights and spoken word performances. Come here for some seriously good vegan nosh; from cashew nut ice cream, to incredible version of Caesar salad with kale and nutritional yeasts (sounds weird, tastes great), they've got it going on.
Order: Flax and Chia Crepe – Dehydrated omega seed raw crepe filled with sliced bananas, berry compote and raw cashew cream, drizzled with raw chocolate sauce. (£5.45)
Why: Honestly, your soul will thank you later. This place has bags of charm and charisma, despite the fact it's in busting Camden Town, and you can happily spend a few hours overlooking Camden canal and sipping soya lattes here.
Where: 250 Camden High Street, Camden Lock, London, NW1 8QS
And one for luck…
11. For a Fry Up: The Gallery Cafe
What: Serving up vegan and vegetarian nosh, The Gallery Cafe source all their food from local suppliers and they regularly have themed menus nights including Diner Night on Tuesdays and Chip Shop Night on the last Thursday of every month.
Order: The Gallery Signature – Sourdough toast topped with special tofu scramble, spinach and pan-fried garlic mushrooms (£6)
Why: Awarded 'Best Cafe in Bethnal Green' by Timeout in 2014, The Gallery Cafe is a neighbour restaurant everyone wishes they had on their doorstep. The menu is easy to navigate with all allergens listed. Come and taste one of the best brunches in London.
Where: St. Margaret's House Settlement, 21 Old Ford Road, Bethnal Green, E2 9PL
Sponsored post in association with POD – to take part in POD Health Week, follow them on Twitter and like them on Facebook.