I love the cold. I love it all: the need to wrap up in a silly amount of layers, the excitement of bobble hat shopping and the endless desire for carbs and cuppas. Winter is a delight. And when the cold comes, you need food that holds you like a hug, and warms you from inside. Things are about to get hot and spicy – here's 10 of my favourite spicy ramen bowls in London:
Best Spicy Ramen in London: For Taste
1. Spicy Yuzu Ramen at Kanada-Ya, Soho
The Ramen: Spicy Yuzu Ramen – spicy yuzu, pork and chicken bone broth and chashu pork collar (£12)
The Lowdown: Kanada-Ya should be on every ramen lovers list – noodles don't get much better than this. Originally established in Japan, the kitchen crew make all noodles on site with a special machine, imported from the motherland. They also use a very specific brand of flour, enriched with the right protein content and alkaline salts to produce a bouncy, firm noodle capable of standing up to the rich broth.
Order: One of the best spicy ramen in London – it's seriously good, and will warm your cockles on a cold London evening. The spicy yuzu paste and the meaty broth is a winning combination, and the chashu pork collar is melt-in-the-mouth delicious. I'd recommend adding in a Hanjuku egg. And the Japanese fried chicken served with wasabi mayonnaise should be ordered. Immediately.
Where: 3 Panton Street, Soho, SW1Y 4DL London
2. Spicy Miso Ramen at Bone Daddies, Soho
The Ramen: Spicy Miso Ramen –  pork neck chashu, padron peppers and sesame oil in a chicken bone broth (£11)
The Lowdown: With their latest outpost just opened in Old Street and another one on it's way in Shoreditch soon, these guys are spawning like rabbits. And for good reason. Where else will you find little jars crammed full of hairbands sitting alongside the standard ramen accoutrements of garlic, sesame seeds, vinegar and chilli oil? How thoughtful. Because this place requires you to get down and slurpy, so tie your hair back and wade through a glorious bowl of rich, steaming, sexy bone broth.
Order: Everything. With the Soho outlet their original rocking ramen joint, it would be rude not stick to the classics. Line your stomach with their sweet and sticky Korean chicken wings, before getting your chopsticks into their tonkotsu ramen made with 20-hour pork broth. The spicy miso ramen has a real kick to it, without knocking you into next week. And yes, padron peppers in ramen really works.
Where: 31 Peter St, London W1F 0AR
Best Spicy Ramen in London: For Quirkiness
3. Lazy Goat Tsukemen at Nanban, Brixton 
The Ramen: Lazy Goat Tsukemen – spicy dipping ramen with goat in a rich curry broth, half a tea-pickled egg, seafood sawdust, fried shallots and Scotch bonnet-pickled bamboo shoots (£11.95)
The Lowdown: Tim Anderson, Winner of Masterchef 2011 is behind Nanban, a southern Japanese restaurant in Brixton. Tim famously wooed John Torode and Gregg Wallace with his Tokyo-inspired monkfish liver and jellied ponzu burger, and he's been woo-ing the hungry crowds with his take on Japanese soul-food ever since. Head upstairs to the booth-style seating, and peruse the menu whilst nibbling on edamame with Jamaican Scotch bonnet sauce. There's nothing like a bit of heat to kick off proceedings.
Order: Some of the small plates are hit and miss, but the baked sweet potato with ponzu butter and black sesame salt do not disappoint, and the beef tatki is another highlight. Hearty hunks of goat, fried shallots and Scotch bonnet-pickled bamboo shoots is a killer combo and this ramen really delivers in the spicy stakes. The Miyazaki chicken ramen ain't too shabby either.
Where: 426 Coldharbour Ln, London SW9 8LF
4. Piri Piri Ramen at Shoryu Ramen, Various Locations 
The Ramen: Piri Piri Ramen – extra heat, jalapeños and top secret spicy gochujang sauce (£11.90)
The Lowdown: Shoryu Ramen is, obviously, the place to come for ramen. They just do it so well here, and there's plenty of different ramen to choose from. This canteen-like restaurant is an ideal pit-stop for a quick lunch, or a pre-drinking dinner; quick, fuss-free and you certainly get more bang for your Great British buck. You can also get gluten-free noodles in your ramen, so everyone's a winner here.
Order: One of the best spicy ramen in London if you're looking for something new. For something deliciously different, try the Dracula Tonkotsu with caramelised black garlic mayu and garlic chips. Just don't breathe on anyone after, yeah? The Shoryu Bun – a steamed hirata style bun filled with soy marinated chicken karaage – is fantastic. Piri piri doesn't just lend itself chicken, hell no. The piri piri ramen is a beautiful bowl of warming pork bone with a fiery kick. I don't know what's in that top secret spicy sauce, but I like it.
Where: Locations here
Best Spicy Ramen in London: For Classic Flavours
The Ramen: Spicy Ramen – noodles in soya soup with spice, carrot, menma, bean-sprouts, fish-cake, seaweed and spring- onion (£7.90)
The Lowdown: Taro on Brewer St would't win a beauty contest, but their food certainly makes up for their slap dash furnishings. Ignore the tired decor, and just concentrate on the menu. This place attracts a mixed crowd – anything from students to local office workers. There's queues out the door for a reason. It's all very simple at Taro – the menu isn't fussy or over-complicated, and that's what we love about it.
Order: If you enjoy life on the hotter side, the spicy edamame are a must try. And their spicy ramen features thin egg noodles and oodles of different ingredients. Fish cake in ramen sounds like a strange combination, sure, but it's totally tasty – the mix of salty seaweed and fermented menma on top is utterly divine. Don't miss their spicy chicken teri don, it's devilishly good.
Where: 61 Brewer St, London W1F 9UW
6. Pork Ramen at Koi Ramen Bar, Pop Brixton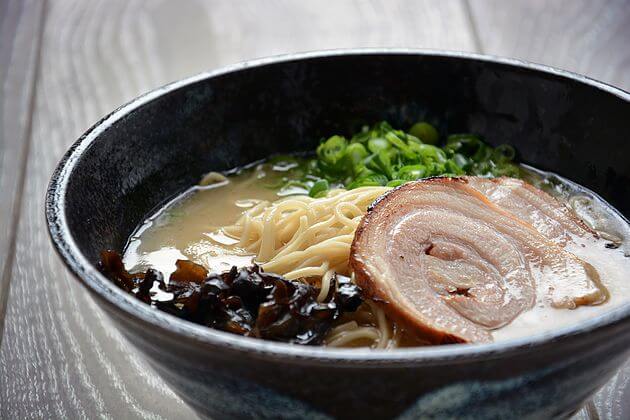 The Ramen: Pork Ramen – noodles in a pork broth with pork belly (£6)
The Lowdown: Before you start trolling me over various social media sites, I know there's no spicy ramen at Koi Ramen Bar – but their ramen is stupendous, and leaving them out this list would just be barbaric. Dishing up a slice of Japan in South London, these guys and gals know a thing or two about broths (there's takes 12 hours to make).
Order: One of the best spicy ramen in London. Guzzle their pork broth topped with 10 hour slow cooked tender pork belly slices marinated in their own special soya sauce. I've eaten ramen in Japan, and this is by far the closest I've found to the real deal. They also serve a veggie friendly version with fried tofu, shredded carrot and spring onion in a miso soybean broth. No meat, and full of flavour.
Where: Pop Brixton, 49 Brixton Station Road, London SW9 8PQ
Best Spicy Ramen in London: For Speed
7. Chilli Chicken Ramen: Wagamama, Various Locations
The Ramen: Chilli Chicken Ramen – noodles in a spicy chicken broth topped with grilled chicken, red onion, spring onions, beansprouts, chilli, coriander and fresh lime
The Lowdown: Really? Yes, you read that right – I have included Wagamama in the list. Wagamama is onto a very good thing with their Japanese offering. The school-like seating feels like home to me, and the speedy service and purse friendly prices keep the punters come back time and time again. I've been to Wagamama many times, and I still don't understand what the scribble on my place mat.
Order: Come here for all the Japanese favourites. Obviously, for all the Wagamama virgins, the chicken katsu curry is pretty legendary, and the chill squid is fantastic too. They don't hold back with the spice when it comes to the chilli chicken ramen, and they also serve a chill beef ramen. The green tea is free, and if you ask nicely, they sometimes throw in a free miso soup. Winner.
Where: Locations here
Best Spicy Ramen in London: For Homemade
8. Karaka-Men at Ipuddo, Covent Garden and Canary Wharf 
The Ramen: Karaka-Men – tonkotsu broth and homemade noodles, 'karaka' spicy miso paste, pork belly chasu, bean sprouts, cashew nuts, spring onion, sansho pepper and fragrant garlic oil (£11)
The Lowdown: Ippudo is a Japanese ramen restaurant group which now operates restaurants across 13 different countries, with sites in New York, Singapore, Hong Kong and Sydney. The restaurant resembles a kitchen show-room; sleek features and ultra modern fittings. You can order your meal from an i-pad which is always entertaining.
Order: The menu here feels like the Yellow Pages – it's long and quite confusing. Stick to when they're known for and opt for the ramen. There's plenty of options, and no one is going to go hungry. Keep it classic and  rder the shiromaru tamago, it's everything you'd find in the tradiotnal ramen with the addition of the special chasu sauce. In fact, the vegetable ramen is one of our favourites – so the veggies don't feel left out, either.
Where: 3 Central Saint Giles, Piazza Saint Giles High Street, London, WC2H 8AG and Unit CR 28, Level Minus One Crossrail Station and Retail Mall, 1 Crossrail Place London E14 5AR
9. Spicy Kimchi Ramen at Tatami Ramen, Flat Iron Square
The Ramen: Spicy Kimchi Tonkotsu Ramen 
The Lowdown: Flat Iron Square has just opened, and covers 40,000sq ft, encompassing six railway arches and surrounding open spaces. Think of it as London's version of New York's High Line. Inside Flat Iron Square is a treasure trove of different foodie haunts, including Tatami Ramen. This Barcelona born ramen bar has finally brought its award-winning noodles to the colder climes of Britain. 
Order: The menu features Tonkotsu Fukuoka style ramen, along with miso Tonkotsu ramen. The spicy kimchi Tonkotsu ramen is like nothing we've tried before – it's rich and full of flavour. Meat-free queen? You'll pleased to hear they serve a white sesame vegan ramen and a spicy black sesame vegan ramen. This is a ramen force to be reckoned with.
Where: 68 Union St, London SE1 1TD
Best Spicy Ramen in London: For Super Spicy
10. Spicy Tonkotsu Ramen at Cocoro, Marylebone
The Ramen: Spicy Tonkotsu Ramen – ramen in hot and spicy pork soup with various toppings (£14)
The Lowdown: Cocoro is Marylebone's answer to decent ramen. After a successful first opening, you can now find Cocoro in Highgate and Bloomsbury. Drop in for classic Japanese eats and a serious sake menu to match. And not only is the food a welcoming hug in a bowl, but the staff are super friendly.
Order: There's sushi galore. Let's just say, you'll be eating maki rolls for days. But hey, it's winter and you need a comforting broth – here you'll find one of the best spicy ramen in London. The spicy tonkotsu is an excellent choice, and the spicy miso ramen has a wonderful deep aroma. We advise throwing in extra noodles to mop up the broth-y dregs.
Where: 31 Marylebone Ln, London W1U 2NH