Sourdough's popularity has been on the rise (sorry) in recent years. Long fermenting and a batter-like dough is key to making a smashing sourdough loaf.  There's some fantastic homemade sourdough in London – with its slightly sour taste, doughy middle and great crust, you really can't get much better. We ate our way through London's loaves to find the best sourdough dishes – tuck in:
Order: Turkish eggs  – two poached eggs on whipped yoghurt with hot chilli butter and sourdough (£9.90)
The Vibe: Under the charge of Peter Gordon, the Executive Chef and Co-Owner of The Providores and Tapa Room, this all-day dining restaurant serves up fusion food, small plates and a New Zealand wine list to rival all else. The breakfast menu at the Tapa Room isn't your standard cereal and porridge, but exciting and interesting dishes including grilled sardines and roast tomato bruschetta and sweetcorn and blueberry fritters, with avocado, pomegranate and rocket salad. Their turkish eggs is their standout dish – poached eggs with sourdough is the one.
Where: 109 Marylebone High Street, London W1U 4RX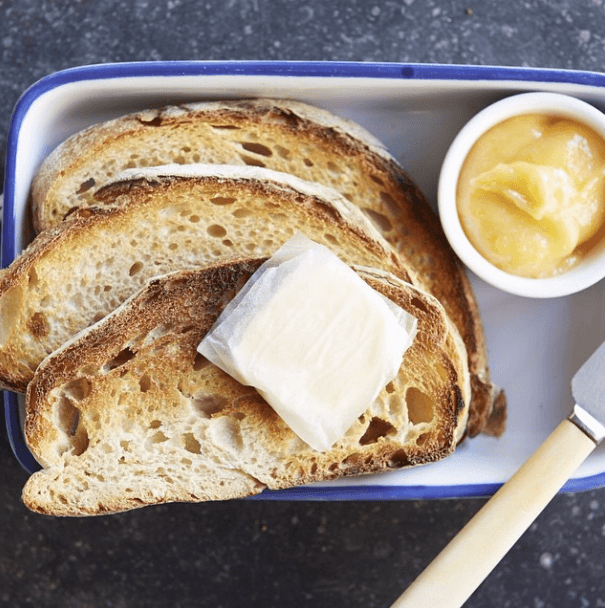 Order: Sourdough toast and butter with seasonal jam and house made lemon curd (£3.50)
The Vibe: The chilled atmosphere and extensive breakfast menu is the reason why independent restaurant, No. 11 Pimlico Road is a popular morning pit stop. If you're a sourdough nut, the menu is full of dishes featuring this beautiful, beautiful loaf such as sautéed field mushrooms, marinated ricotta, truffle balsamic and parmesan on toasted sourdough and breakfast sourdough bruschetta. Sometimes, the best dishes are the simple ones – toasted sourdough with their homemade lemon curd is fuss-free and delicious.
Where: 11 Pimlico Road, London SW1W 8NA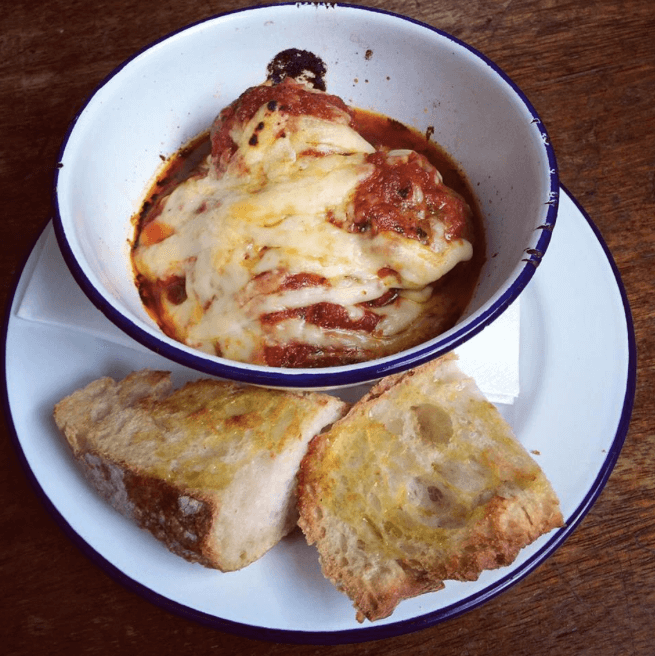 Order: Meatballs – homemade meatballs, marinara sauce, cheddar and emmental with toasted sourdough (£8)
The Vibe: If you enjoy chowing down on hearty dishes and later on grooving to the dulcet tones of some 80's pop star, head down to Dalston Superstore. This LGBT-friendly spot draws in a large crowd not only for their roof raising DJ sets, but for the all-day brunch menu and burger selection. It's chilled, great value for money and they have a cracking cocktail menu. Meatballs and sourdough is a pairing that we approve of.
Where: 117 Kingsland High St, London E8 2PB
4. Best Sourdough Pizza: Franco Manca 
Order: Tomato, mozzarella and basil  (£5.90)
The Vibe: The pizza connoisseurs at Franco Manca only use sourdough as a base to their pizzas for added flavour – forget your regular thin crust. The dough is fermented for 24 hours, before being cooked in a wood-burning brick oven, the high heat turns the sourdough into a fluffy and easily digestible crust. The menu is easy-to-navigate, with 6 pizzas to choose from. They regulary change their menu and use seasonal produce and the finest ingredients – cheese from Neal's Yard, cured meats from Tuscany and imported organic kalamata olives from Crete. Trust us when we say it's the best pizza in town.
5. Best Breakfast Sourdough: Aqua Shard 
Photo courtesy of Emily Jane Young 
Order: Smoked salmon, scrambled eggs, toasted sourdough, creme fraiche and corn fritters (£14)
The Vibe: British dishes, panoramic views and a sourdough dish done right – Aqua Shard is a must for any dining enthusiast. The service is quick, the staff are helpful and the views don't distract from the damn good food being served. Unlike many fritters on offer, their corn fritters are creamy, light and matched with the scrambled eggs and toasted sourdough is the absolute dream. Come for breakfast, as lunchtime gets busy and so does the camera flashes.
Where: Level 31, The Shard, 31 Saint Thomas Street, London SE1 9RY
Order: Broad beans, Westcombe ricotta, lovage and heritage tomatoes on sourdough toast (£7)
The Vibe: Re-opened, re-vamped and re-worked – the Bull & Gate is back in business and is now a pub, restaurant and cocktail bar. Tucked away on the ground floor is the restaurant, complete with shabby chic decor and mix matched chairs. Italian-born Head Chef Luca Mattia, has created a menu that changes as the British seasons do and comes filled with local produce. Their sourdough starter with Westcombe ricotta and broad beans is our pick of the menu, flavoursome, filling and well worth the tube ride.
Where: 389 Kentish Town Road, Kentish Town, London NW5 2TJ
7. Best Avocado Sourdough: Healthy Stuff 
Order: Smashed avocado, maldon sea salt, chilli flakes and olive oil on sourdough (£5)
The Vibe: No breakfast menu is complete without avocado on toast, but finding a good one is a challenge. Fear not, husband and wife duo behind Hackney cafe Healthy Stuff serve up a mean avocado on sourdough, with chilli flakes for a kick, complete with additional feta. Stop by at lunchtime for one of their sourdough sandwiches, fillings include goat's cheese, beetroot and carrot and the mighty smoked salmon with gherkins, lamb's lettuce and horseradish.
Where: 168 Dalston Lane, London E8
Order: Potted smoked mackerel and horseradish pâté with toasted sourdough (£7)
The Vibe: Classic British dishes, a cracking steak menu and 'aged' cocktails – Silk and Grain is a gem in the city. They use steak that has been matured for 35 days on the bone, all served with one of their homemade sauces. Happiness guaranteed. Their starter dishes are just as good; barrel aged Bloody Moira Scottish mussels with sourdough and their potted smoked mackerel and horseradish pâté with toasted sourdough are our picks. Come in the week, as they aren't open weekends.
Where:  33 Cornhill, London EC3V 3ND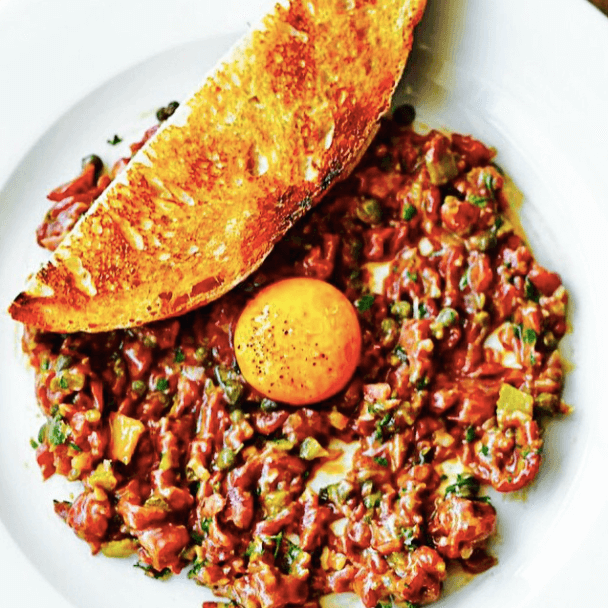 Order: Hand chopped Somerset beef tartare and sourdough toast (£8)
The Vibe: Championing sustainability and environmental responsibility, John Todd & Jamie Grainger-Smith, the chaps behind T.E.D Restaurant encourage people and restaurants to think, eat and drink more ethically. The decor features eco-paint and recycled glass – Kevin McCloud would have a field day. Sourcing British ingredients and seasonal produce, Head Chef Daniel Kerr regularly switches up the menu to reflect the different fruit and veg on offer.
Where: 47-51 Caledonian Road, King's Cross, London, N1 9BU
Order: Roasted aubergine, hummus and tomato on sourdough (£5.25)
The Vibe: NO 67 is a fab local cafe with soul and a jewel in Peckham's food scene. Housed in the South London Gallery, their weekend brunch menu is without doubt a serious contender for some of the best brunch dishes in the area. Tuck into roasted mushrooms with white wine and thyme on toasted sourdough or indulge in their famous Full Spanglish – two eggs , chargrilled chorizo and morcilla, beans, roasted mushrooms and toast, the ultimate hangover cure. Stuff your lunchtime meal deals, order one of their sourdough sandwiches – sensational.
Where: 67 Peckham Road, London SE5 8UH