Who doesn't love falafel? They have no soul. If you're tired of disappointing, dry falafel, then get clued up with our guide to London's best Middle Eastern bites… Falafel for all:
1. The West End One, Darling: Gaby's Deli
What: The West End secret which everyone knows about. Gaby's is a family-run greasy-spoon looking, easily-overlooked falafel temple. It was narrowly saved from redevelopment a while back, and my taste-buds are much happier for it.
Why: The crumbliest flavour-packed falafel with a kick from the chilli sauce. Special mention goes to the hummus – they slap it on in lashings and you're still left wanting more.
Gimme more: Watching the plates go out it looks like you can't put a foot wrong ordering here. As winter sets in, the soup will be a great cockle-warmer before curtains go up.
Where: 30 Charing Cross Rd, London WC2H 0DE
2. The One You Can Mix and Match: Pilpel
What: A family recipe, created over 60 years ago, passed on over the generations makes up these lunchable nuggets of deliciousness. The pilpel spirit is palpable in every mouthful.
Why: If you lunched every day at pilpel you wouldn't get bored. The variety and quality of the ingredients means you can mix and match and test out what your ideal combo would be.
Gimme more: Pimp your pitta by opting for the Greek falafel. It's all kinds of amazing, expertly spiced with middle eastern za'tar.
Where: St Paul's, Spitalfields and Fleet Street. Exact addresses here.
Photo Credit: Tom Eats Jen Cooks
3. The Celebrated One: The Best Turkish Kebab
What: Ever found a superlative-named kebab joint you can trust? Well now you have.
Why: The homemade chilli sauce is exquisite. If you don't trust me then ask Delia Smith, Jay Rayner and Ainsley Harriot – all who have previously visited (some regularly). Okay so the meat is the celebrated part, but now I'm giving the falafel it's fair claim to fame.
Gimme more: Treat yourself to the meat.
Where: Stoke Newington.
Photo Credit: London Living
4. The One That Makes You Feel Good about Yourself: Hummus Bros
What: A moment of calm away from the fast-paced fast-food-fuelled Oxford Street bustle.
Why: The ingredients are so fresh that you immediately feel renewed. Delicate tasting hummus is topped with whatever you fancy. But the falafel is extra fanciful.
Gimme more: There are toppings a-plenty but make sure you wash down your falafel and hummus mountain with the mint and ginger lemonade. Then walk out feeling smug.
Where: Soho (also Holborn, St Paul's, Exmouth Market & Gray's Inn Road). Exact addresses here.
5. The Civilised One: Comptoir Libanais
What: A Lebanese canteen adorned with a cornucopia of curiosities and seasoned with a heavy dose of class.
Why: Because you can get their delicious falafel as part of a mezze starter, or alongside a dip platter.
Gimme more: Definitely pair your meal with a Lebanese wine. And if you're on the move there's no excuse not to try this place as you get them Heathrow and Gatwick too.
Where: All over London, specifically here.
What: Zengi is a beautifully decorated but modest Turkish restaurant. Your entrance more often than not will be framed with fragrant sheesha smoke.
Why: At lunch time as they go through the sauces you can have with your falafel wrap, do not stop saying yes.
Gimme more: The halloumi wrap is another firm favourite. It's also great for groups in the evening with plenty of mezze and a glass of wine, or five.
Where: Commercial Street.
What: Soho's answer to Subway but nowhere near as boring.
Why: Their falafel plus extras makes a healthy lunch or an even healthier post-night out meal (when comparing to a kebab obviously).
Gimme more: The extra fried aubergine goes without saying. And add fries for that authentic 1am experience.
Where: They're international dontcha know.
8. The One Worth Queuing For: iFalafel
What: Palestinian falafel heaven with the speediest wrap-maker you'll ever come across (seriously, why he isn't a YouTube sensation yet I have no idea…). Warning: the queue might take half your lunch break, but it is worth it.
Why: Because the £3 medium wrap will be enough to keep you full until way past your dinner time, and it hits the spot every time.
Gimme more: It's a pound extra for a large. Dare you…
Where: Off Petticoat Lane.
9. The Overlooked One: Moroccan Grill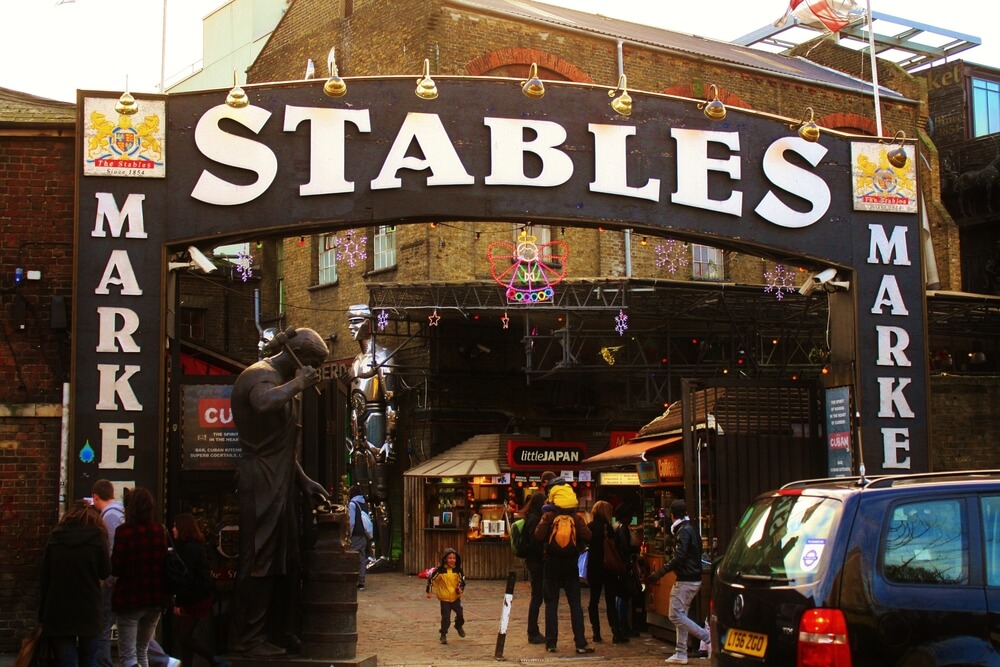 What: A Moroccan falafel stall in Stables Market – probably the busiest lunch time spot in London.
Why: The falafel are freshly made in front of your eyes and are as appetising as they look.
Gimme more: Separating the wheat from the chaff in Camden Market is a fine art. Less is more, so head to this place. They have a tagine or two if you want to mix it up.
Where: Navigate here.
10. The One that Delivers: Falafel Point
What: A family falafel business in West which can deliver their tastiness direct to your belly.
Why: A reliable falafel, which delivers on taste every time. A firm favourite among Portobello Road market goers.
Gimme more: Their peanut chilli sauce is for the brave.
Where: Portobello Road market, Hammersmith or to your door. More info here.
Words by Selma Willcocks