Looking for the best Fairtrade chocolate brands? You've come to the right place. Fairtrade Fortnight, the highlight of the year for the Fairtrade movement in the UK, is here! 2019 is a big year for the movement; this year not only marks the momentous occasion of 25 years of Fairtrade, but the beginning of an ambitious three-year campaign to introduce a living income for all. The new campaign, She Deserves a living income, highlights the things we take for granted in a world where many farmers and workers can't afford life's essentials.
Fairtrade has done much to improve the lives of many, but it's not enough, fast enough. Many farmers are underpaid and exploited. That means they can't earn enough for the basics many of us take for granted, such as food, education and housing – and nowhere is the need for a living income more clear than in the cocoa industry.
Europe is the world's biggest importer of cocoa, yet 70% of that cocoa is produced in West Africa, and 43% of worldwide output comes from the Côte d'Ivoire, where one in six of the population is employed in the cocoa sector. Yet a shocking 60% of all cocoa farmers live below the poverty line. That's why, starting this Fairtrade Fortnight, you can help.
Why buy Fairtrade? Well, Fairtrade is the only certifier to provide a safety net of a minimum price for farmers (in times of global price decline), plus extra money that goes direct to farmers to invest in projects of their choice in their own communities. With every bar bought, you'll be supporting a move towards a living income.
So, stand up for farmers this Fairtrade Fortnight and look for Fairtrade chocolate to show you believe that She Deserves. Here's our pick of the best Fairtrade chocolate brands to support the movement:
10 of the Best Fairtrade Chocolate Brands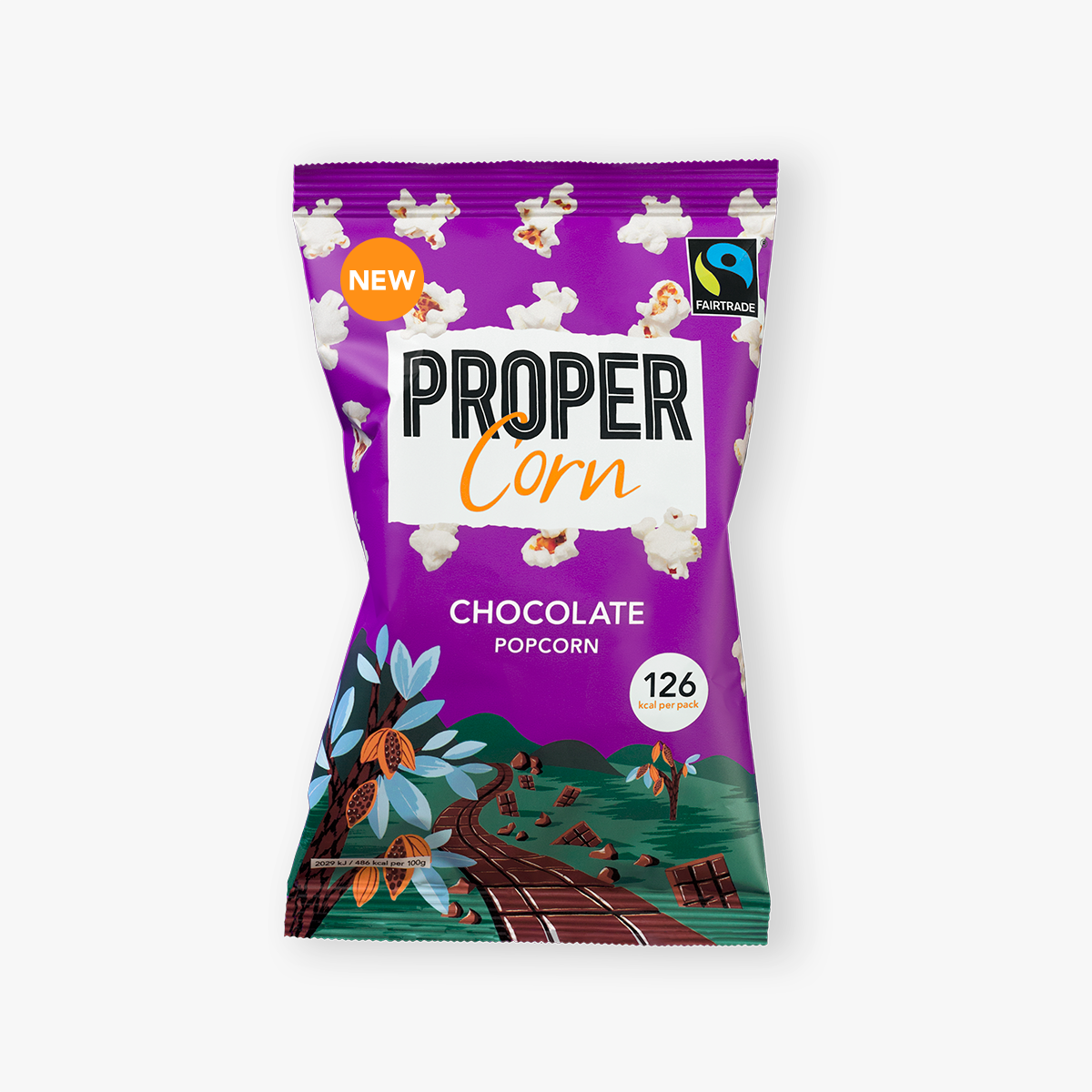 What: Propercorn's cocoa dusted popcorn (£1.59)
The Lowdown: An increasing favourite on the high-street – don't miss Propercorn's new chocolate popcorn. Hand-popped butterfly corn, sprinkled with a rich blend of Fairtrade cocoa and demerara sugar, perfect for those little snack-attacks. With the help of expert chocolatiers, Propercorn have sourced high-quality cocoa to coat their light popcorn. These rich, dark cocoa notes combine with whole milk, sweet Fairtrade demerara sugar and a sprinkling of sea salt for smooth chocolatey sweetness.
Buy: Ocado, Waitrose, Propercorn Website
What: Sweet Orange & Thyme Fine Dark Chocolate Bar (£2.69)
The Lowdown: One of the best Fairtrade chocolate brands out there; this truly unique chocolate flavour will blow your mind. Handmade in England, the combination of the citrus from the orange and peppery fresh flavour of thyme is a delicious blend that will tease your tastebuds. Made from The Dominican Republic's finest selected Trinitario Fairtrade cocoa, you can indulge in this ethical Fairtrade chocolate, and support farmers attain a fair price for their produce and help protect their rights. It's vegan too!
Buy: Seed and Bean Online, Planet Organic, Holland & Barrett and Amazon.
What: Divine Organic São Tomé Range
The Lowdown: One of the best Fairtrade chocolate brands, Divine, has recently introduced its first ever organic, dark chocolate range. Expect a range of innovative flavours, including ginger and turmeric, refreshing lemon, and blueberry and popped quinoa. At least 85% quality cocoa content, these Fairtrade chocolate bars are really something special. Cocoa comes from smallholder Fairtrade farmers in São Tomé aka 'The Chocolate Island', just off the west coast of Africa.
Buy: Divine's Online Shop, Ethical Superstore, plus selected Waitrose & Co-op stores
What: Divine Smooth Dark with Lemon & Juniper (£2.39)
The Lowdown: Another classic, try the refreshing lemon with aromatic juniper, a Divine take on a classic Gin & Tonic. Made with Fairtrade cocoa grown by family farmers in Ghana.
Buy: Ocado, Oxfam, Divine online and Waitrose from April 2019
What: Green & Black's Fairtrade Organic Tasting Collection (£5.50)
The Lowdown: This is a mouth-watering selection of unique Fairtrade Green & Black's bars, alongside tasting notes and recipes. Start a tasting journey, which will take you around the world to discover the intense and refined flavours of Green & Black's. One of the best Fairtrade chocolate brands if you're looking for a little taste of everything.
Where: Sainsbury's, Tesco and all major retailers
What: Chocolate & Love Tins (£11.99)
The Lowdown: One of the best Fairtrade chocolate brands right now – Chocolate and Love's popular Sea Salt and Rich Dark tins full of chocolate are a perfect gift or naughty but nice treat for any occasion. This delightful duo of tins contains 30 perfect pieces of their lovingly crafted organic, Fairtrade chocolate. After these delicious chocolates are gone, these gorgeously decorated tins can be used to store all sorts of goodies. Chocolate and Love's passion for quality and purpose means they choose ingredients for their multiple award-winning chocolate bars with extreme care.
Buy: chocolateandlove.com
What: Rawr Organic Mint Chocolate (£1.49)
The Lowdown: No need to wait until after eight. Luxuriously chocolatey with a natural aperitif, Rawr Mint is a perfect refresher for after…. anything you like. This Fairtrade chocolate bar won a Great Taste Award and has been commended in the FreeFrom Food Awards too. Basically, one of the best Fairtrade chocolate brands in the UK. Rawr's chocolate is all tempered at low temperatures to preserve all the goodness of pure cacao. Not to forget, this bar of minty deliciousness is made from ethically sourced, Fairtrade cocoa.
Buy: Rawr Online, Amazon
What: Cocoa Loco Dark Chocolate Buttons (£1.95)
The Lowdown: Made in small batches in a "Chocolate barn" in the heart of West Sussex, this organic and Fairtrade chocolate brand has won several national awards and is simply scrumptious. Choose these sustainable, ethical giant chocolate buttons for a naughty but nice treat. The dark chocolate used to make the buttons is from the finest single origin beans from Fairtrade cooperatives in the Dominican Republic.
Buy: Abel & Cole or Cocoa Loco online
What: Cafédirect Sao Tome Hot Chocolate (£3.00)
The Lowdown: Cafédirect have two single origin hot chocolates for a perfect bit of liquid indulgence. Just off the coast of West Africa is a small island called São Tomé, but known as Chocolate Island due to its age old reputation for producing prized cocoa beans. The Sao Tome hot chocolate is rich and smooth for a luxuriously luscious cup of cocoa.
Buy: Waitrose, Ethical Superstore
What: Clipper Teas Seriously Velvety Instant Hot Chocolate (£3.15)
The Lowdown: Rich, smooth and with a conscious, Clipper's hot chocolate is simple to prepare and simple to enjoy. Great for snuggling up with on a cold day. A cuddle in a cup, this hot chocolate is filled with goodness as all the cocoa in your cup is certified Fairtrade. Now what's not to love.
Buy: Sainsbury's, Waitrose and Ocado