About Time You Tried: London's Sexiest Coconut DishesBy Angelica Malin
Are you mad about coconuts? We are too. And that's good news, friends, as this week we've got a whole week dedicated to them!  We've teamed up with our friends at The Coconut Collaborative for special Coconut Week on About Time – for coconut inspiration, follow Coconut Collab on Twitter here, like them Facebook here and keep up to date by using #CCcoconutweek. We can't get enough of coconut dishes; we ate our way through some of London's best curries, breakfasts and treats to find the best coconut creations in the capital. Go coconuts:
1. Best Coconut Prawns: Trishna
The Dish: Jheenga Moilee – an incredible dish made with king prawns, coconut and curry leaves (£20)
The Lowdown: Located in the heart of London's Marylebone Village, Trishna specialises in coastal Indian cuisine, and serves one of the best coconut dishes in London. The restaurant was awarded a Michelin Star in 2012 – taste this dish and you'll see why. Full of rich, Southern Indian flavours – the combination of juicy prawns and spice is just right. It's a great restaurant spot – the informal and sociable neighbourhood dining atmosphere offers seating for up to 80 guests and is available for lunch, dinner and private dining. Come summer time, Trishna's doors also open onto the street, creating a semi-alfresco ambience throughout the restaurant. If coconut is your thing, try the Kori Gassi – a chicken drumstick marinated in Mangalorean spices and coconut, it's nothing like you've tasted before, and the spice hit is just right.
Where: 15-17 Blandford St, London W1U 3DG
2. Best Coconut Pudding: Balls & Company
The Dish: Coconut chia pudding with fruits and seeds (£6)
The Lowdown: Here I was, thinking that chia pudding only worked for breakfast and then we stumble on this beauty – a coconut dish to rival all others. Balls & Company's coconut chia pudding with fruits and seeds really hits the spot, and provides some healthy relief after feasting on meatballs! Don't miss the meatballs, though, they are ace – try the Wagyu beef balls for a taste sensation, and veggies don't have to miss out either, with their great quinoa balls. A side of spaghetti and we'd call that a feast. Balls & Company do the simple stuff well. A little meatball restaurant on the charming Greek Street, where the food we cook is honesty and love. You can't go wrong.
Where: 58 Greek St, London W1D 3DY
The Dish: Coconut rice, fresh mango and gingerbread crumbs (£6.50)
The Lowdown: Caravan now has this incredible new dessert on the menu – it's a taste of everything that's right with the world, with an exotic hit of mango and the unusual pairing of spicy ginger, which just works. You can't go wrong at Caravan – everything on their menu is great. For breakfast, try the coconut bread, lemon curd cream cheese and rhubarb (have we said coconut enough yet?) and for dinner, you've got to sample their small plates – the River farm smoked scottish salmon with avocado, chilli ponzu and nori, and potato gnocchi with wild mushrooms, jerusalem artichoke cream and kale are both divine. Don't leave without trying their pumpkin cheesecake – it's amazing.
Where: Locations here
4. Best Coconut Creation: Tiny Leaf
The Dish: Wild rice with mango and toasted coconut (£6)
The Lowdown: Opening on Thursday 28th January 2016, Tiny Leaf is London's first organic, vegetarian, zero waste restaurant. Taking temporary residence on Notting Hill's Westbourne Park Road on the former site of Bumpkin, the brand new concept turns surplus food donated by local food suppliers into a guilt-free gastronomic experience. Come here for breakfast delights – breakfast includes dishes such as quinoa and spelt porridge with apple and cinnamon, wild rice with mango and toasted coconut and buckwheat pancake with blueberry compote, coconut yoghurt and bee pollen. Wash it down with drinks such as flavoured Kombucha, nut mylks and cold-press juices from the juice bar. We expect many, many coconut dishes on the menu.
Where: 209 Westbourne Park Road, London, W11 1EA
5. Best Coconut Ice Cream: THIRTY SIX  at Dukes London
The Dish: Pineapple upside down cake with coconut custard (£8)
The Lowdown: THIRTY SIX, the signature restaurant at Dukes London, has recently unveiled a brand new British Larder menu concept. Created by award-winning Executive Head Chef, Nigel Mendham, the menu runs throughout 2016 and is inspired by his love of traditional British recipes and the country's quality ingredients. Nigel has created a calendar of field to table culinary delights, set to change on a monthly basis, in line with the seasons. We love his delicious coconut dish – an old pineapple cake with coconut custard. Each month, the British Larder menu offers diners the chance to sample a different British dish. Come here for old school, secret Mayfair atmosphere at THIRTY SIX and the excellent service. Pop into the DUKES Bar afterwards for a cheeky classic martini, and try Nigel's revival our childhood comfort food during freezing January.
Where: 35 St James's Pl, London SW1A 1NY
6. Best Vegetarian Coconut Dish: Mildreds London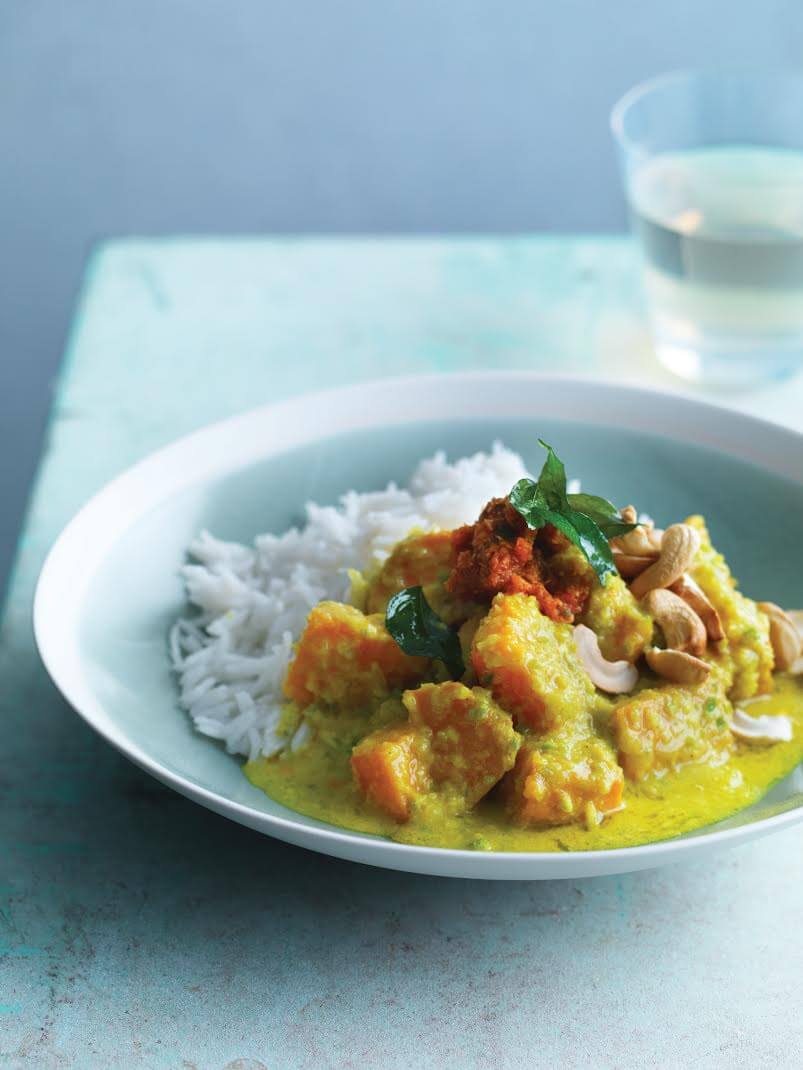 The Dish: Sri lankan sweet potato curry with roasted lime cashews, pea basmati rice and coconut tomato sambal (£11)
The Lowdown: Mildreds, established in 1988, serves internationally-inspired vegetarian food which is made daily on the premises, with serious style and sass. Catering for vegetarians, yet popular with omnivores, Mildreds offers friendly informal service in a lively atmosphere coupled with excellent value for money – and has some great coconut dishes. They use organic ingredients where possible, and you can really taste it in the food. This coconut-based curry is absolutely delicious, full of amazing, soft sweet potato, crunchy cashews and the best sweet sambla – one of our favourite winter warmers in London. While you're here, their vegan chocolate peanut butter brownie with chocolate sauce and vanilla ice cream has to be tasted to be believed.
Where: Camden and Soho here
7. Best Coconut Porridge: Nopi
The Dish: Black rice, mango, banana and coconut milk (£9)
The Lowdown: There's nothing Nopi can't do well. In the morning, come to Nopi for the best breakfasts in town; their shakshuka is a thing of beauty, as are the fresh juices – try the kale, cucumber, apple and lime juice, it's a winner. We love the beef brisket hash with gremolata and fried egg – it's a serious dish, and one that will keep you going all morning. For porridge, this coconutty, sweet black rice dish is both gluten-free and vegan, and has a delicious exotic flavour. Nopi succeeds on so many levels; the atmosphere of the place is just laid-back and casually cool, perfect for dates and friend dinners alike. We love.
Where: Nopi, 21-22 Warwick St, London W1B 5NE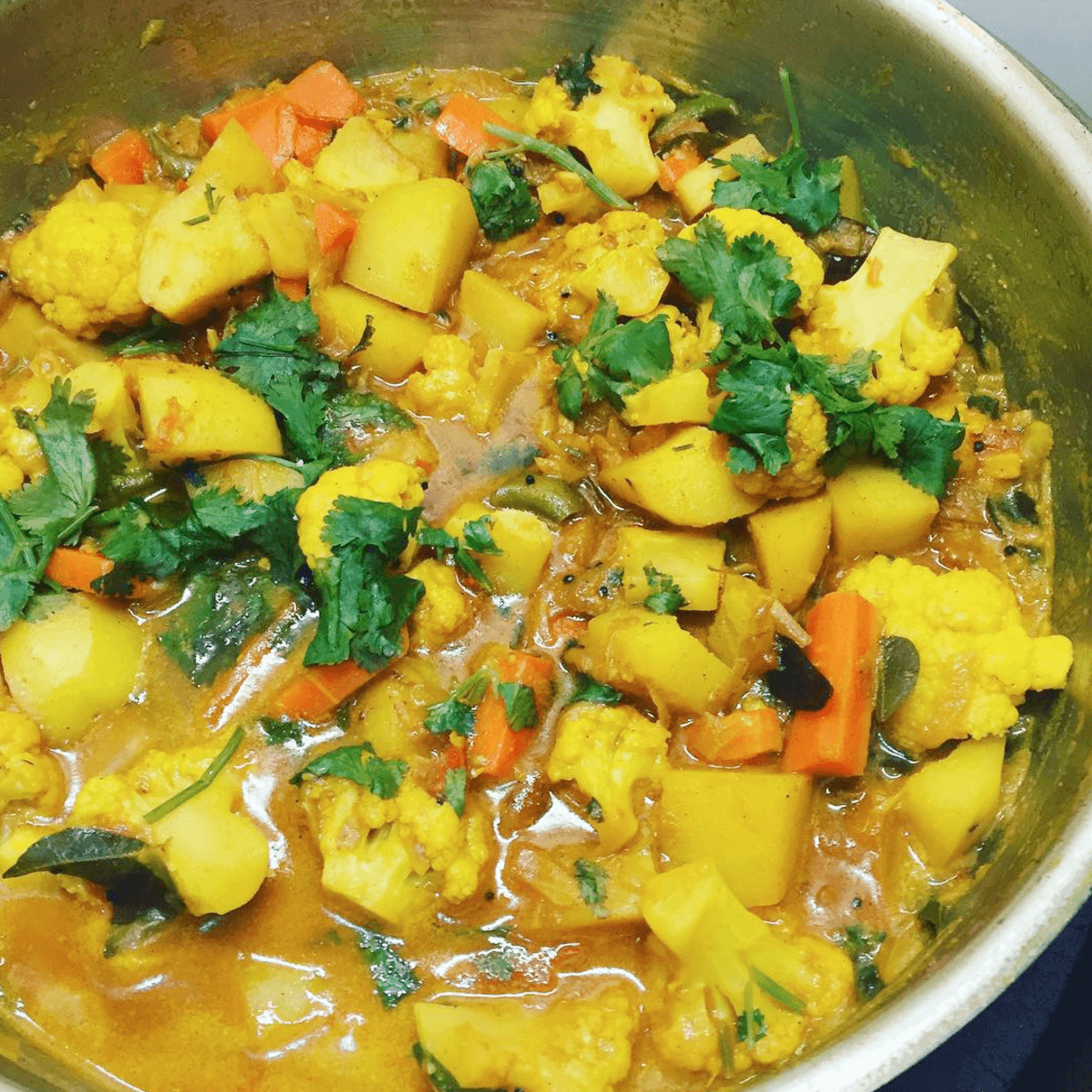 The Dish: Calicut Chicken Kurma – chicken cooked in a creamy coconut sauce with cashew nuts, green chillies, ginger and fresh curry leaves (£8.50)
The Lowdown: Rasa is a cool, upmarket restaurant in Central London, with more locations throughout London. Rasa began life as a vegetarian restaurant, but more recently the menu has expanded to include a meat-based section inspired by the cuisine of Northern Kerala. Rasa strive to bring you the best Indian food there is, delicious, home-cooked Indian food, made with the same love, care and thoughtfulness that a mother would devote. Inspired by their own school of hospitality in Kerala which all their chefs attend, they have made this possible. Their coconut curries are amazing – the Calicut Chicken Kurma is a lunch time favourite in restaurants on mittai theruvu in Calicut with 'choodu choodu' Malabari parathas. For a veggie delight, try the Beet Cheera Pachadi – an amazingly vibrant dish, traditionally only served at wedding feasts. Fresh beetroot and spinach are blended together in a yoghurt sauce with roasted coconut, mustard seeds and curry leaves – a must for the adventurous.
Where: Locations here
9. Best Coconut Meat Dish: Patara 
The Dish: Lamb Shank Massaman –  coconut milk braised lamb in a mild homemade curry of warm spices, garnished with almond and pickled onion (£22.75)
The Lowdown: Check out the newest Patara for some great Thai food – they've got everything from delicious Thai small plates, such as duck confit spring rolls with herbed prune sauce and curried kaffir fish cakes with sweet chilli and cucumber salsa to tuna drizzled with a fresh chilli, lime, and lemongrass dressing and wagyu beef with artichoke, tomato, and red radish. This lamb dish with coconut is totally delicious; a sweet and sour mix of curry flavours, sweet coconut and pickles, the lamb literally melts in the mouth. Patara Berners Street showcases a bold new look and feel for their restaurants. Inspired by the exquisite wooden carvings and decorative motifs found in traditional Thai architecture, they have created a luxurious and calming restaurant and bar over two floors just a stone's throw from bustling Oxford Street. Dreamy. Don't leave without trying the mango sticky rice with coconut – it's so good.
Where: 5 Berners Street, London, W1T 3LF
10. Best Coconut Soup: Bintang Restaurant
The Dish: Bintang Signature – tofu and aubergine with signature sauce of coconut cream, lemongrass, tamarind, lime leaf and galangal (£8.50)
The Lowdown: Spanning over 25 years, Bintang Restaurant has been at the forefront of Pan Asian fusion cuisine. Specialising in delicacies from Malaysia, China, Indonesia, Japan, Vietnam & Philippines just to name a few. Taking its inspiration not only from the exotics of east asia but also from the creativeness of its dwelling in Camden. Their curries are simply amazing – try the Ulek, a spicy and hot red curry sauce, made with mixed spices, scotch bonnet, chilli and coconut milk, and the Sopas Ramen – cured salt beef with creamy chicken broth ramen, slow cooked egg, scallions, creamed corn, bamboo shoots and pickled ginger. Glorious.
Where: 93 Kentish Town Rd, London NW1 8NY
Make it At Home: The Coconut Collaborative
Why not make your own coconut dishes at home using The Coconut Collab? Coconut yogurt doesn't have to be sweet you know, here's how to make a fantastic Indian coconut dish at home – and try adding it to soup and curries for coconut dishes with a twist:
Indian Salmon with Spicy Mango and Cucumber Salsa
What you need:
For the salmon:
2 salmon fillets (skin on)

1 tbsp curry powder

1 tsp hot chilli powder

1 tbsp coconut oil

Salt and Pepper
For the salsa:
½ mango peeled and finely chopped

½ cucumber peeled and deseeded

1 green chilli finely chopped and deseeded

1 tbsp chopped fresh mint

Juice ½ lemon

1 spring onion finely chopped
To serve:
Coconut Collaborative natural coconut yogurt
Method:
Season the salmon fillets.

Mix the curry powder and chilli powder together, spread over the salmon fillets and leave for 10 minutes.

Mix all the salsa ingredients together in a small dish.

Heat the oil in a frying pan and gently fry the salmon on each side for approximately four minutes, skin side first, depending on the thickness of the fish.

If you like your salmon well done, transfer to a pre-heated oven at 180

°C and cook for a further seven minutes.

Serve the salmon with the salsa on the side and a dollop of Coconut Collaborative yogurt over the top.
Sponsored post in association The Coconut Collaborative – follow them on Twitter here, Facebook here and see the website here.