Beans on toast. There's simply nothing better. Beans on toast is such a glorious dish – full of comfort, warmth and a reminder that sometimes – simple is best. We ate our way through London's toasty offerings to find the capital's best beans on toast. Tuck in:
1. For Spicy Beans: Chapters, Blackheath
What: Baked spiced haricot beans with chorizo, poached egg and rocket on grilled sourdough (£7.95)
Expect: This dish is a sexy little number, with the beans baked in spices and tomato sauce to give a rich and totally dreamy taste. Poached eggs and beans are a match made in foodie heaven. Add a slab of sourdough and this is one classic breakfast done good.
Why: Chapters is an all-day brasserie banging out some incredible breakfast and brunch dishes south of the river. Come here for their Eggs Benedict or their mighty Full English. They have weekly breakfast specials that change from day to day – we recommend heading there on Wednesday for their special dish of bubble and squeak, creamed spinach, poached egg, crispy bacon and Hollandaise sauce. Along with continental favourites, they also have a range of different American breakfast choices. Drop in on a weekend for French toast with strawberry jam and vanilla crème fraiche all for the bargain price of £5.95 – you can't argue with that.
Where: 1, Granary Building, Granary Square, London N1C 4AA
2. For Posh Beans: Ottolenghi, Spitalfields
What: Cannellini bean stew with bacon and chorizo, served on toasted Italian white bread with a fried egg and black pudding (£9.50)
Expect: A hearty bean stew full of punchy Mediterranean flavours, that will no doubt warm you up on a cold winter's morning. The added topping of bacon and chorizo is a welcomed addition and before you turn your nose up at black pudding, this one is really, really good. Yotam Ottolenghi is the genius behind Ottolenghi and has devised a breakfast menu like no other – everything is a winner.
Why: This is the largest and newest of the Ottolenghi delis, sitting 70 people, with all of the bustle and atmosphere you'd expect from its Spitalfields location. Although we suspected as much, the food is absolutely top notch. The deli has everything you want and need in a breakfast spot. From oat porridge with poached plums, blackberries and toasted mixed nuts and star anise French toast with brioche, each brunch plate has the wow factor. For those on the go, there's a pack-to-order counter service for food to take away, as well as a grab-and-go fridge fully of ready-made salads and sandwiches for lunch. No visit is complete without a stop by the pastry and cake display for something sweet to devour.
Where: 50 Artillery Ln, London E1 7LJ
Photo Credit: Instagram 
3. For BBQ Beans: Caravan, Kings Cross
What: Barbeque baked beans, fried eggs, mojo verde, coriander and toast (£8.50)
Expect: While the avocado with poached eggs is a strong Caravan favourite, as is the cornbread, the barbecue baked beans with toast and a fried egg shouldn't be overlooked. It's everything that you want from a dish – a mixture of different flavours and textures that work so well together.
Why:  Caravan is simply the best place for brunch in London. I'm sorry, but it's true. If you can't handle an hour-long waiting time on weekends, try the Exmouth Market branch which tends to be a little calmer than its Kings Cross sibling. Honestly, everything on the Caravan brunch menu is worth trying; their baked eggs with a rich tomato sauce, stirred with thick Greek yogurt, is simply divine. Also, the their avocado on toast is heavenly – the combination of avocado and chilli on home-baked sourdough is simply wonderful.
Where: 1, Granary Building, Granary Square, London N1C 4AA
Photo Credit: Instagram 
4. For Smoky Beans: Brew Cafe, Chiswick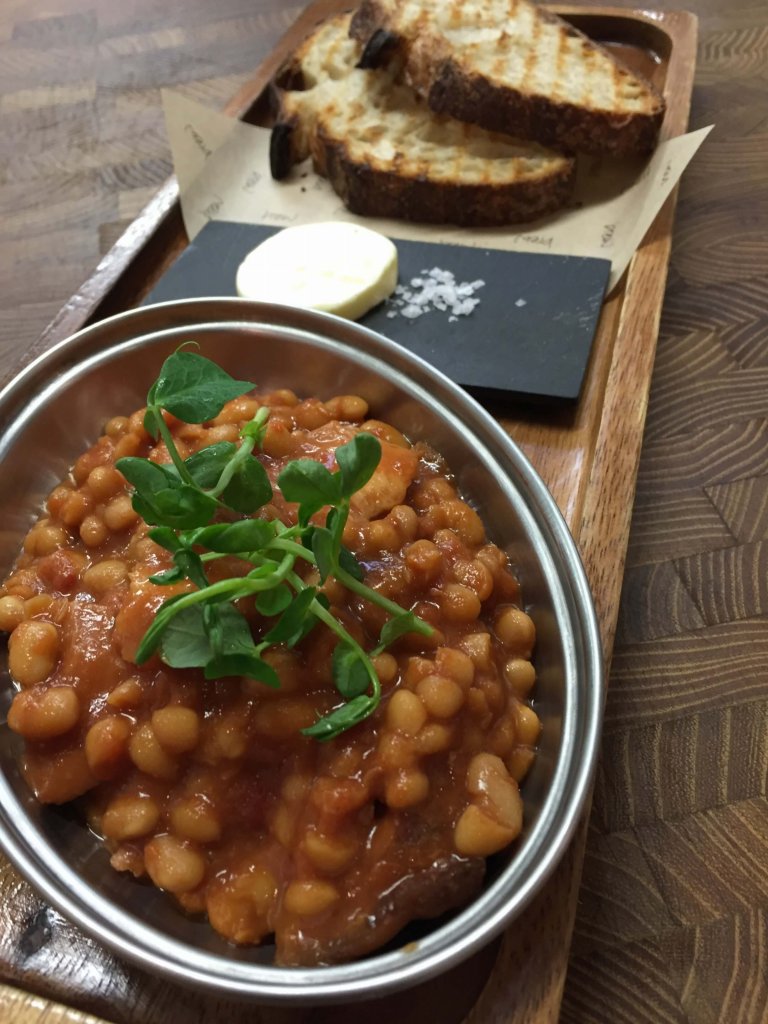 What: Smoky bacon Boston beans on Brew's sourdough toast (£8.90)
Expect: Brew Cafe know their beans. Here, the beans are baked with black treacle, dark sugar, chopped tomatoes, Worcestershire sauce, and bespoke ham hocks, prepared by Brew's in house butcher. These beans are rich, smoky and full of the deep flavour of the pot and are served alongside Brew's homemade sourdough. All you need now is an open fire and a comfy arm chair.
Why: This small cafe offers creative breakfasts, plus modern Mediterranean lunches and evening meals. It's great for weekend brunch, too. If you're looking for value for money, you can't get much better than this. If you like eggs, you're in for a real treat, as their menu is briming with all the egg action. Think, Turkish eggs, poached eggs, Eggs Benedict, chorizo-folded eggs and soft boiled eggs. Come for homey vibes and a lovely neighbourhood feel. Their toasted banana bread with pistachios and honeyed yogurt also comes highly recommended by us.
Where: 142 Chiswick High Rd, London W4 1PU
5. For Classic Beans: Rivington, Greenwich
What: Homemade baked beans on toast (£3.75)
Expect: This is the dish that mends a hangover or a bad morning. It's a dish that's totally fuss-free but still holds its own in the breakfast stakes. This tomato-rich number maybe overshadowed by breakfast greats, but there's no denying that sometimes the classic, simple dish is the best.
Why: Using seasonal, British and independent produce, Rivington Grill carefully crafts seasonal menus that are innovative and inspired. Rivington Grill cherishes food that is foraged, farmed and fished in the British Isles. If you're morning person, pop by for their breakfast menu – drop scones, fry ups and eggs Benedict. Along with their menu, they create different drinks for the different seasons and have one of the finest selection of gins south of the river.
Where: 178 Greenwich High Road, London SE10 8NN
6. For the Works: Village East, Bermondsey
What: Campfire Breakfast (£9)
Expect: Barbecue baked beans, two fried eggs, slow-roasted pork shoulder and toast – the campfire breakfast is a take on the classic beans on toast with a big American hit of BBQ flavours. The pork shoulder is undoubtedly a fantastic extra and mixed with the smokey beans makes for one hell of a dish.
Why: Village East's breakfast menu is a feast for the eyes and stomach. They've got all the brekkie regulars available: avocado on toast, porridge and granola along with platters of meat filled wonders. Their breakfast burger is an 8 oz. beef patty with bacon, fried egg, smoked cheddar and avocado – nothing says rise and shine than a burger before 10am. If you're feeling virtuous order the booster smoothie, a delightful combination of  ginger, pomegranate and carrot juice. Oh, and did we mention that they also sever a killer white hot chocolate? The dream.
Where: 171-173 Bermondsey St, London SE1 3UW
7. For Beans in a Mug: Ginger and White, Hampstead
What: A mug of G&W's homemade smoky beans on toasted potato sourdough
Expect: A bean dish that will have you coming back time and time again. The beans here are swimming in a thick, tomato sauce which is delight when mopped up with the toasted potato sourdough. Carb on carb? Go on, then. Thick slathers of Bath Pig's chorizo have been added, along with parsley and crumbled feta. Forget about melted cheddar on beans, it's all about the feta.
Why: This is one of many great brunch delights at Ginger and White and they dish up plenty more. Their weekend brunch menu trumps their brekkie menu with their toasted banana bread with vanilla cream cheese and autumn fruit compote. Relive childhood memories and opt for the fish finger, lettuce and tartare sauce sandwich on bloomer bread. Best enjoyed with a good ol' dollop of ketchup. They're big fans of using the best seasonal produce around, with their brunch menu changing from season to season.
Where: 2 England's Ln, London NW3 4TG
Photo Credit: Instagram
8. For Mixed Beans: No 67, Peckham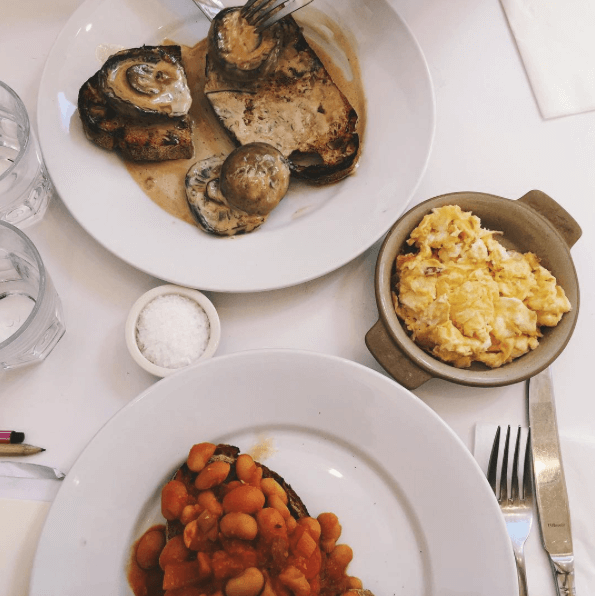 What: Homemade beans on toast (£4.50)
Expect: The homemade beans here are made from a mixture of different beans cooked in a pepper stew, with a subtle hint of spice. If you're not happy with just beans, order a few sides to throw on including mushrooms, streaky bacon and chorizo.
Why: NO 67 is a fab local cafe with soul and a jewel in Peckham's food scene. Housed in the South London Gallery, their weekend brunch menu is without doubt a serious contender for some of the best brunch dishes in the area. Tuck into roasted mushrooms with white wine and thyme on toasted sourdough or indulge in their famous Full Spanglish – two eggs, chargrilled chorizo and morcilla, beans, roasted mushrooms and toast, the ultimate hangover cure.
Where: 67 Peckham Road, London, SE5 8UH
Photo Credit: Instagram 
9. For Southern Beans: Hush Brasseries, Holborn 
What: Homemade smokey beans on sourdough toast (£3.95)
Expect: There ain't no party like a baked bean party and at Hush Brasseries you can party all day long with their  beans. They've sprinkled flavours of the Deep South into their smokey beans creating an intense, BBQ flavour. A simple, honest dish that's bloody tasty.
Why: Hush Brasseries is a restaurant for all occasions, from the early-risers to the late night eaters. They do great food – from blueberry waffles, afternoon tea to steak – there's something for every day. Their weekend bottomless brunch is a banquet fit for a king (or queen). It's 3-courses including favourites such as avocado on toast, the Hush Hamburger and scrambled egg on toast. You have 2 hours to drink as many bellinis as you can physically handle. Challenge accepted.
Where: 95-97 High Holborn, London, WC1V 6LF
Photo Credit: Instagram 
10. For Beans on Bagel: Tina, We Salute You 
What: Homemade beans on toast or a bagel (£6.50)
Expect: £6.50 for some homemade beans on toast is a hefty price to pay for beans – but the beans here are something quite marvellous. They're more pasty and less saucy than its canned counterparts and you are served a generous amount for your sparkles. Choose either sourdough toast or a bagel – beans on a bagel is something we agree with.
Why: Amidst the terrace houses and mob of chained up bikes lies Tina, We Salute You a local cafe that dish up all kinds of breakfast treats. They've nailed their flat whites and use the Square Mile Coffee Roasters to ensure the best possible of coffee. This cafe come art gallery is forever changing their outdoor and indoor murals, giving a leg up to local artists. The outdoor seating comprises of plastic tables and chairs, which looks better suited to local village hall – East London laps it up.
Where: 47 King Henry's Walk, London, N1 4NH
Photo Credit: breakfastlondon