We're going to come out and say it: we like chain restaurants. Excuse the pho pax, but we do. Not all of them, mind, not the ones where your food comes microwave-fresh, but there's nothing wrong with a good chain from time to time.
Pho happens to be ones of those; just the ticket for a quick bite before a night out or an easy after-work dinner, their fresh and healthy summer menu caters perfectly to speciality diets ('vegans love us!' our waitress proudly tells us), with lots of lower calorie items too.
Our favourite is the Clerkenwell branch; it's got just enough atmosphere to take a first (read: Tinder) date and the staff are super attentive. If you're looking for a satistfying Asian supper after leaving your trendy office in Shoreditch, here's what you need to know:
Pho's New Summer Menu: The Food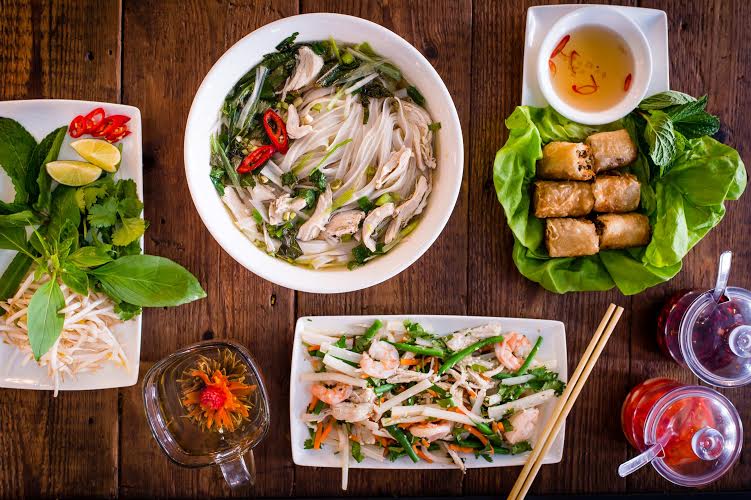 Everything is made from scratch on the day. For starters, there's a lot of dipping, dunking and rolling going on; fresh summer rolls with vermicelli and prawn come with a tangy fish sauce, the vegan fried spring rolls a peanut dip – it's like a condiment army has attacked on our table and we like it.
Things don't get any less handsy with mains; if you like spicy soupy things, plump for the spicy stock in the traditional Pho, pimped out with fresh red chilli, it's nothing like the watery traditional stock of noodle soups past. This food is needy, it demands your attention; the Bun Cha room temperature noodles come with a small bowl of gingery sauce to pour over, springs of fresh coriander, more chilli, bay leaves are served alongside the dishes, and you can alter to the taste to your liking. Win.
Get a side of salad; the Goi salads are fresh, light and delicious and makes you wonder why iceberg lettuce ever gets a look in these days – try the papaya salad with prawns and peanuts, or the chilli and ginger marinated chicken salad with lots of fresh red onion and tomato.
Pho's New Summer Menu: The Drinks
They've brought a range of fruity special summer cocktails; the best is the Phojito, a take on the classic mojito, using rice spirit as a base – it's tangy and fresh with lots of mint leaves. The Dua Colada is one for those with a sweet tooth; we're not sure if it's socially accept to get a piña colada no where near a beach, but if it is, then go for it.
Pho's New Summer Menu: The Verdict
Sometimes a place surprises you; Pho in Clerkenwell is just one of those. It's somewhere to go when you want more than a plate of food; you want a bit of a journey, a taste of this, a sprinkle of that. Pho is just that; by allowing you to get physical with your food, it reminds us of the joy of going out for dinner in the first place: for a shared experience, a sense of fun, and, after all, to get your hands a little messy.
Pho is at 86 St John Street, London, EC1M 4EH – menu perve here