Tasty Tuesdays: 15 Foodie Products You Need to Buy This WeekBy Alicia Grimshaw
Looking for some new foodie items to pick up this week? Spruce up your shopping basket with some exciting new product launches – here's our favourite products to try at home:
1. For Vegan Cakes: Lola's Cupcakes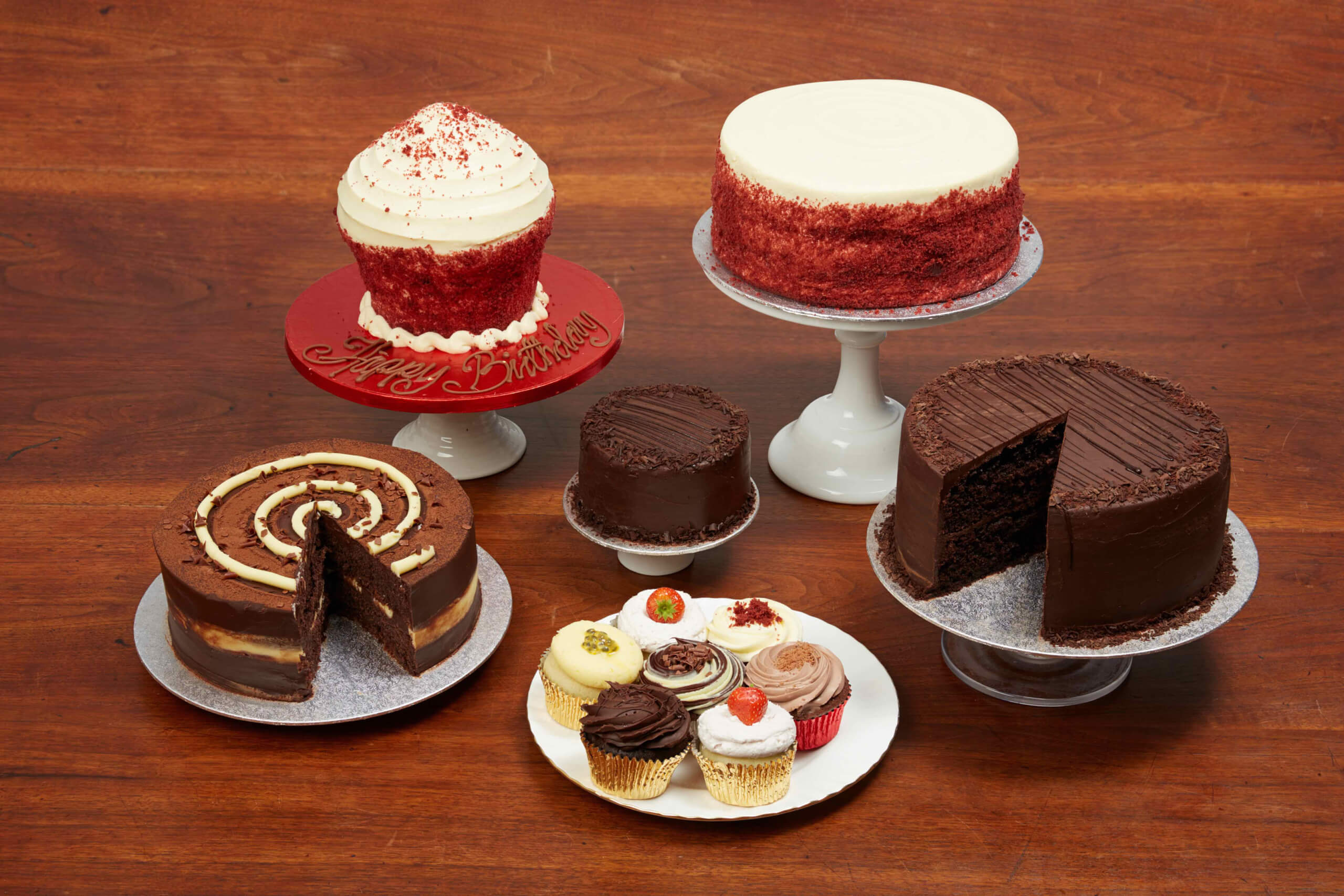 What: Lola's Cupcakes believe that everyone deserves to treat themselves, which is why they've been busy in their test kitchen, developing an ever-growing range of free from cupcakes and cakes. You must try their award winning vegan coconut and passion fruit flavour. Not only are there vegan cakes available – get your hands on sugar and wheat-free cakes, too.
The Lowdown: Whether you are a fruit or chocolate lover, Lola's have a range of cupcakes for vegans and vegetarians. In passion fruit, strawberry and chocolate choices, each cupcake uses the perfect combination of soya yogurt and vegan butter, to create soft and flavoursome sponges. These are then decorated with vegan buttercream and topped off a choice of fresh passion fruit, strawberry or vegan chocolate shavings.
Where: See your nearest Lola's store here
What: T2 is cherished by tea devotees all over the world – it's the tea that thousands of people start and end the day with. T2 has stores in Australia, New Zealand, the United Kingdom and the United States. They've just launched a new 'matcha madness' range, which include three new flavours.
The Lowdown: The cinnamon matcha will have you curled up and comfy from the very first sip. Let the cinnamon and green do their thing. The chocolate matcha is a chocolatey twist on a Japanese fave, and the mint matcha is the best of the Japanese brews with a hint of fresh mint – this cool matcha blend leaves a clean, crisp finish that's hard to resist.
Where: Stores here 
3. For a Snack: Bounce Energy Balls
What: Bounce Energy Balls is launching a brand new flavour to help put a spring in your step. The new coconut lemon protein crush combines a nutty flavour with nutritious ingredients. Coconut lemon is a zesty bundle of ingredients to help you stay unstoppable whatever you're doing. Enjoy on the go, with lunch, or pre and post exercise – they're guaranteed to keep you going.
The Lowdown: Gluten-free, full of top quality protein and fibre, with a dash of creamy coconut and sprinkling of fresh lemon flavour, the new Bounce ball is a moreish snack that will keep you satisfied. A chewy, crunchy mix of coconut, nuts and whey protein, this newcomer will keep energy levels sustained throughout the longer days. And, if you haven't tried their peanut butter balls, you really should.
Where: Whole Foods Market and Planet Organic
4. For Cereal: Kellogg's Ancient Legends
What: Kellogg's has unleashed Ancient Legends, a brand new range of delicious granolas, mueslis and cereals. The new Ancient Legends range take their name from the ancient grains and seeds such as spelt, chia and flax that make up the product – a modern take on ancient traditions, we like.
The Lowdown: The Ancient Legends Muesli is available in two flavours – puffed spelt, pumpkin and sunflower seeds, with sultana and flax seeds, and the quinoa, apple, cranberry and chia seeds which is a great addition. Dig into spelt, cranberry, sultana and flax seeds granola, along with rye, cranberry, almond and flax seeds cereal. Glorious.
Where: Tesco
5. For a New Flavour: KIND Bars
What: KIND Snacks are the number one tasting snack bar in the US and launched here in the UK last October, introducing such favourites as the dark chocolate nuts and sea salt bar. A delicious, wholesome snack, KIND bars are made, quite simply, from whole nuts and fruits, bound together in honey. They've just released a new flavour and it's a belter.
The Lowdown: The Madagascan vanilla almond bar is the newest and lowest sugar edition to the KIND range, here to answer all your snacking prayers with a mighty 6.5g of protein per bar. With a nutritious combination of mixed nuts (almonds, peanuts, cashews and walnuts) finished with the delicious taste of Madagascan vanilla, it's the perfect sweet treat.
Where: Waitrose
What: Mighty Matcha is the UK's newest 100% organic matcha tea. Made from pure ground green tea leaves, this ancient ingredient has been given a 21st century makeover. Mighty Matcha is all natural and vegan, contributes to reducing fatigue and lowering cholesterol.
The Lowdown: Grown in the shade, young leaves are then hand picked and the stalks and veins are intricately removed. This gives a potent kick to their nutritional value, whilst ensuring a sumptuous, less bitter and almost sweet-like flavour with an energetic zing. Mighty Matcha offers nothing less than a fresh boost to your diet, the perfect alternative to a morning coffee, or a quick-fix-pick-me-up for the dreaded afternoon slump.
Where: Buy online 
7. For an Alternative: Cauli Rice 
What: Cauli Rice is the first long-life, microwave-ready version of the global diet phenomenon, cauliflower rice, offering all the great taste and satisfaction of traditional carbs, but with a healthy twist. The product has been specifically developed to respond to the growing needs of those who want to lead a healthy, low calorie, low GI lifestyle, yet without sacrificing the satisfaction of a 'full meal'.
The Lowdown: Designed to be used in place of the carb element of your daily meals, Cauli Rice is prepared using a unique patented formula which preserves the delicious taste and nutritional benefits of fresh cauliflower grains. There's four flavours to choose from; original, lemongrass and chilli, Indian pilau, and mediterranean.
Where: Tesco, ASDA, Sainsbury's, Waitrose and Whole Foods Market
8. For a Monthly Subscription: Chimasu 
What: Chimasu was started in 2014 by two snack fanatics who returned to the UK from a holiday in Far East and were unable to find their new favourite snacks. At Chimasu, we send a monthly box filled with 12-15 tasty Oriental snacks based on your preferences. We want to take our customers on a snack adventure across the Far East and so our snacks come from a wide range of countries including: Japan, China, Thailand, Indonesia, Philippines, Malaysia,
The Lowdown: Upon subscribing each customer has the opportunity to complete a short survey which lets us know more about which snacks they love, like and don't like. Boxes are handpicked based on this survey, but don't worry customers can still make changes to their preferences at any time. All snacks come with ingredients in English and a personalised snack description list which provides some interesting info about the snacks in your box.
Where: Online here
9. For a New Nut Butter: Whole Earth
What: Whole Earth, the natural and organic food brand has extended its premium spreads offering with the launch of a new '3 Nut Butter' spread. Whole Earth creates great-tasting spreads that are healthy, nutritious and produced using only natural ingredients.
The Lowdown: The brand's new Peanut, Pecan & Walnut 3 Nut Butter spread offers a unique combination of nut flavours: a smooth blend of pecans and peanuts has been combined with crunchy walnut pieces to deliver naturally nutritious benefits to all.
Where: Tesco
10. For a New Condiment: Hellmann's 
What: Barbecue-lovers rejoice! With summer fast approaching and the much-anticipated grilling season almost upon us, Hellmann's is launching its most exciting range of sauces yet. Inspired by exotic flavours from around the world, these sauces are the only additions you'll need to give flavour to your outdoor feasts.
The Lowdown: There's a sauce for every summer dining occasion to glaze, pour, marinade and dip, with a seven strong line-up of new flavours. There's American smokey BBQ sauce: smokey American BBQ sauce with a rich malt, real Worcestershire sauce and smoked wood taste. Perfect with steak or chicken. Also from the range is, Brazilian spicy churrasco BBQ sauce: not for timid taste buds, this mind-blowing is made from crushed chilli peppers and Worcestershire sauce, and the Japanese sticky BBQ sauce – this aromatic soy and ginger flavoured sauce is sweet with the heat of crushed chilli peppers soy sauce. Delicious with fish.
Where: Supermarkets nationwide
Note: Angelica hijacked Alicia's feature at this point because she really wanted people to know about these new products. We're sorry this piece isn't a Top 10. We can't be perfect all the time.
11. For Sugar-Free Yogurt: Yeo Valley
What: Yeo Valley believe that striking the perfect balance should be about making little changes to help you live a healthy and fulfilling life – without being a chore. When it comes to good food, their motto is 'great taste, the right way', which is why they are committed to reducing refined sugars in their products.
The Lowdown: Bio Live is a new adult range of yogurts that contain no added refined sugar. These delicious yogurts contain live cultures and less than 10% total sugars per pack, meaning you can fuel your busy day with good, clean energy without compromising on taste. Bio Live thick and creamy yogurts are made from organic British milk and are available in packs of four 120g pots. There are five delicious options to choose from, including strawberry, blueberry and raspberry, fruit selection, cherry, strawberry and rhubarb.
Where: Supermarkets nationwide
12. For Crisps: Burts x GUINNESS
What: Thick cut British crisps done just right: hand-cooked in Devon with real taste, proper crunch, and made by real people. That's Burts Chips in a bag. They source the best potatoes, slice and cook them in small batches, and season them with the best flavours around, often sourced from local partners. Following the excitement, popularity and success of Original GUINNESS Burts Chips and GUINNESS Rich Beef Chilli, Burts is launching a third flavour to the award-winning Guinness Potato Chips range.
The Lowdown: This time, Burts have combined thick cut potatoes and the classic cheese toasty with the world's most iconic stout flavour to create a mature double act. The perfect pairing for a pint of the good stuff when in the pub or round at your mates for the weekend match, the melted Cheddar goodness of GUINNESS Toasted Cheddar Burts Chips will keep the munchies at bay. Whether you're nice enough to share these mouth-watering cheesy chips with your friends is up to you! We love.
Where: Available nationwide in Selfridges, Waitrose, Tesco, Farm Shops and Delicatessens in 40g and 150g bags
13. For a Home Cooked Dinner: The Saucy Fish Co.
What: In the six years since launch, The Saucy Fish Co. have changed the way millions of Brits think about fish. Before The Saucy Fish Co blazed a trail through the chiller aisles, it was a sea of blandness. It was hard work just buying fish, never mind cooking it. From their little home in Grimsby, they put their chefs to work – scouring the world for the right fish and flavour pairings to tickle your taste buds. But by George, they cracked it! Perfect pairings, expertly-prepared. They have a fantastic range of 20 complimentary fish and sauce products, which people just love.
The Lowdown: Their salmon with rocket and crème fraiche dressing has just been awarded gold 'healthy ready meal' in the Healthy Food and Drink Awards. Greens to give you a spring in your step, and a sparkle to your salmon. The crème fraiche and rocket sauce is fresh and light, paired with a hearty bit of salmon we'll forgive you for skipping across your freshly-mown lawn to tuck into an al fresco lunch at home. Glorious.
Where: Available from selected supermarkets (Sainsbury's, Co-op, Booths, Budgens), Ocado and now shop.thesaucyfishco.com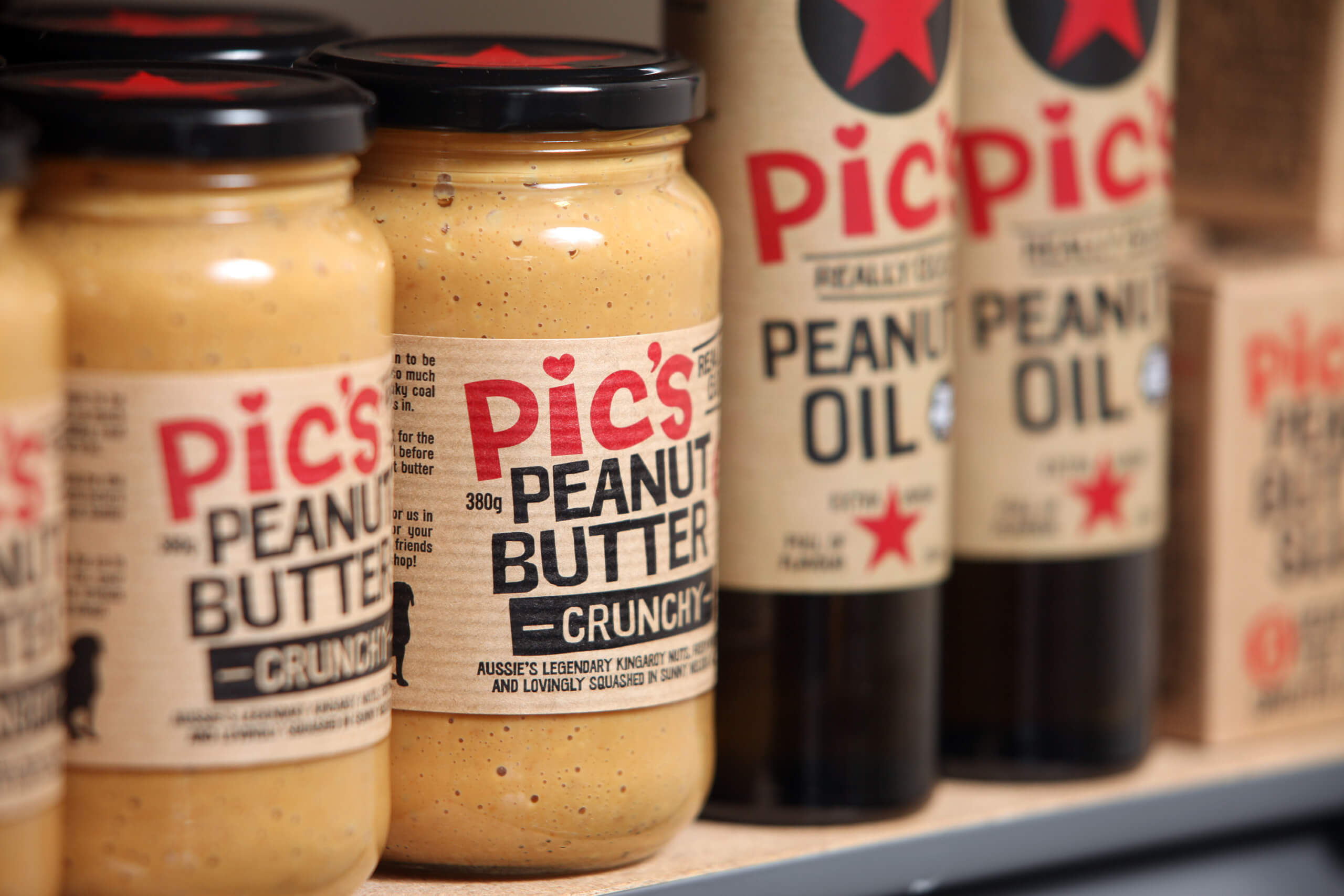 What: Pic's is a natural peanut butter from New Zealand, one of the healthiest Peanut Butters on the planet, fact. That aside, they are most famous for the great taste. They use Hi-Oleic peanuts from Australia, which are roasted, crushed and sealed extremely fresh. Hi-Oleic peanuts are premium peanuts, unlike almost all the peanuts imported into the UK. They have healthier fats and acids, more fibre, vitamins and protein.
The Lowdown: Pic's peanut butter is made using just crushed peanuts and a pinch of salt – they don't add any oils, sugars, additives or preservatives, so it's 100% natural.
They are the #1 selling peanut butter in two countries (New Zealand and Singapore) – you can't say fairer than that.
Where: Online here
Photo credit: Tim Cuff
15. For a Healthy Dinner: Quinola
What: Quinola's ready-to-eat Express Quinoa is the quick and easy way to eat Peru's tastiest organic, Fairtrade quinoa. Packed full of nutrients and gluten-free, each 250g pouch is ready to eat cold, as part of a salad, or hot as an alternative to rice or pasta. To heat, simply pop in the microwave for two minutes and then fluff with a fork.
The Lowdown: Express Quinoa has a no-junk promise, containing only three ingredients: fairtrade organic quinoa, sunflower oil and sea salt from the marshes of Guérande, France. Organically and sustainably grown by a farming co-operative near Lake Titicaca, Express Quinoa is not only delicious and easy but contains protein, iron, fibre, magnesium and all essential amino acids. In 2015 the Express Split Pea scooped the 'Store Cupboard' Award at the prestigious Free From Awards and a highly commended for the Spicy Mexican flavour! Fair enough.
Where: Ocado, Selfridges, , Planet Organic, Wholefoods, Traidcraft and independent stores