We're back for another round of Tasty Tuesdays and this time it's all about the snacks. From beautifying snack balls (yes, really) to premium bar snacks and even vegan chocolate we've discovered 8 delicious snacks to try, and a bottle of wine just because. So, without further ado here are our favourite snacks of the week: 
What: Doisy & Dam have launched a brand new range of Nut Butter Cups for us to become obsessed with this autumn. 
The Lowdown: Available in 2 delectable flavours; Hazelnut and Almond, the Nut Butter Cups are encased in a silky smooth dark chocolate outer shell with a flavoursome nut butter filling. Not only are these cups instantly moreish (there's 3 of them in a pack), they're also low in sugar, contain no palm oil, they're less than 65 calories per cup and they're vegan and gluten-free! Seriously though, they're delicious and healthy so what's not to love? 
Price: £1.35 for 3 cups (30g packs)
Stockists: WH Smiths, Wholefoods, Boots nationwide and online at Doisy & Dam 
What: Divine Chocolate, the only Fairtrade company owned by cocoa farmers, have launched a new range of deliciously dark chocolate bars bursting with flavour and made with specially sourced organic cocoa from tropical São Tomé. 
The Lowdown: If you're looking for a new ethical and vegan-friendly chocolate brand then Divine Chocolate will be right up your street. 44% of the profits from these premium quality bars go straight back to the cocoa farmers and even the packaging is plastic-free and fully biodegradable. Exciting and distinct flavours include a mix of warming ginger and aromatic turmeric, a delicious duo of real blueberry and popped quinoa, crunchy cocoa nibs, refreshing zesty lemon, combined with rich 85% cocoa, and the exceptionally dark and pure 95% cocoa bar. Sustainable, ethical and luxurious, these chocolate bars are filled with melt-in-the-mouth, feel-good flavour. 
Price: £2.39
Stockists: Ocado online and via Divine Chocolate's website here.  
What: Award-winning gourmet popcorn makers, Popcorn Shed, has launched a quintessentially British treat in the form of (yes, you guessed it) popcorn.  
The Lowdown: Popcorn Shed's new Cherry Bakewell flavour is a mouthwatering snack packed with caramel almond popcorn and real cherry pieces. In a nod to the classic British dessert, the Bakewell Tart, this new popcorn is made with all-natural ingredients and is even gluten-free and vegetarian-friendly. This new popcorn snack is a real luxurious treat you won't want to miss. 
Price: £3.50
Stockists: Online at Popcorn Shed
What: Montezuma's creamy Chocolate Giant Buttons are *meant* to be for sharing but we can guarantee that you'll want to guzzle the lot. 
The Lowdown: Available in white, milk and dark chocolate, Montezuma's Giant Buttons are a perfect social snack (if you can bear to share them). Montezuma's prides itself on being an ethical and sustainable business. Each delicious product is made in their own small factory in Britain. So, why not grab a bag and (perhaps) share them with your friends. 
Price: £3.79
Stockists: Montezuma's online.
What: Your beauty and wellness routine has now become edible thanks to Health Lab's new range of probiotic snack balls. 
The Lowdown: The team at Health Lab have turned wellness and beauty on its head by creating snack balls that do more than taste delicious. Their Beauty Balls contain high-quality marine collagen, rich in protein, fatty acids and essential beautifying vitamins. Available in two flavours: Choc Cherry and Choc Sea Salt, they're both delicious and healthy. The Wellness Balls are packed with all things good for your gut and available in Glow Choc Macha and Gutsy Mixed Berry. Both Wellness Balls are enriched with 1 billion vegan probiotics to give you more energy and vitality, boosted moods and improved immunity. 
Price: From £2 for a 40g ball (Waitrose £1.89)
Stockists: Waitrose, Planet Organic, Wholefoods, Revital and independent stores across the country.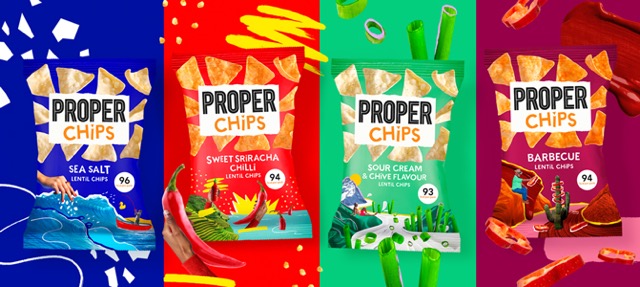 What: PROPERCHIPS have released a delicious new chip snack range made out of lentils and we can't get enough.  
The Lowdown: The PROPERCHIPS snack range comes in 4 mouthwatering flavours; Sweet Sriracha Chilli, Sea Salt, Barbecue and Sour Cream & Chive. For PROPERCHIPS, flavour is everything and from sweet chives, spicy cayenne and smoky chipotle all ingredients are high-quality and natural. To make it that little bit better, all 4 of these flavours are vegan and under 100 calories per serving so go one, treat yourself!
Price: Single-serve bags 90p and sharing bags £1.99. 
Stockists: Single-serve bags (20g) are available from WH Smith and Tesco. Sharing bags (85g) are available from Asda and Ocado. 
What: Boundless is on a mission to revamp the traditional nuts and seeds snack by introducing game-changing flavours. 
The Lowdown: These activated snacks are big on quality, baked with gutsy blends and spices. Forget about dry roasting or coating them in salt, Boundless has discovered a better technique invented by the Aztecs and Aborigines which activates the goodness of the nuts and seeds. Soaking them in water before baking them unleashes a whole bunch of goodness lying in wait. Exciting flavour combinations include Orange Ginger & Maple, Cayenne & Rosemary and Turmeric & Smoked Paprika. 
Price: Starting at £1 per pack. 
Stockists: Barrecore, Sourced Market, Revital, As Nature Intended, Amazon, Borough Box and Boundless online. 

What: Made For Drink is an award-winning premium snacks brand designed especially to be enjoyed with a tipple or two. 
The Lowdown: Founded in 2016 by Dan Featherstone, Made For Drink is a British family-run business making the world's greatest bar snacks. Working with artisan suppliers and superior quality ingredients, Made For Drink has 3 sumptuous snacks to try; Duck Fritons, Chorizo Thins and Magalitza Salami Chips. Each bar snack has an intensely savoury and delicious flavour that balances perfectly with the crunch of the chips. Enjoy with a glass of Rioja, IPA or a Pilsner-style lager. 
Price: £2.50 (single pack) 
Stockists: Waitrose (selected stores), Sainsbury's (selected stores), Fortnum & Mason, Harvey Nichols, Daylesford Organic, Partridges, Sourced Market, House of Bruar, COOK (selected stores), Rothschild Waddesdon
What: Jacob's Creek Australian rosé wine made with a little French style is the perfect accompaniment to this week's snacks. 
The Lowdown: Le Petit Rosé is a delicate wine with aromas of red fruit, spices and rose petals which create a well-balanced and elegant flavour. Made in the Provence-style, this light wine is a multi-award winner, including a Silver medal at the Decanter World Wine Awards 2019. Best served as cool as possible, this rosé is the perfect tipple for a drink with friends and why not serve a few snacks with it too? We've got a few ideas…
Price: From £6.50 to £8.10 
Stockists: Ocado, Tesco, Co-Op and Amazon