Tasty Tuesdays: 10 Foodie Products You Need to Buy This WeekBy Angelica Malin
Looking for some delicious new products to try this week? Here at About Time, we're forever munching our way through jazzy new food products to find things really worth your precious pennies. Here's ten items we're totally crushing on at the moment:
1. For Mexican Made Easy: Wahaca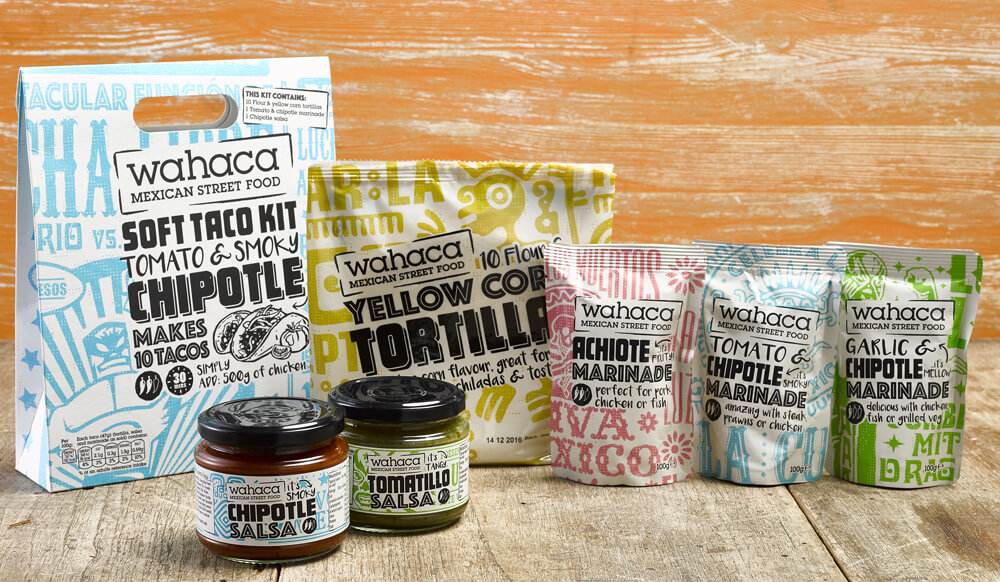 What: If you haven't tried Wahaca, you're missing out. Inspired by Thomasina's travels around Mexico, Wahaca was born in 2007 when she and co-founder Mark Selby set about recreating the flavours of Mexico's vibrant street food culture in the UK. And if you can't make it to Wahaca, Thomasina Miers and her team, in partnership with All About Food, have just launched new soft taco kits and a Mexican ingredients range, so you can taste Wahaca at home!
The Lowdown: The full product range includes three different varieties of soft tacos with special spice mix, each varying in its level of heat, ranging from mild to hot, with flavours to suit all tastes. For those looking for a mild option, the tomatillo and garlic mojo kit comes with a garlic and chipotle marinade and a tomatillo salsa, making a mild-yet-tasty taco. For the more adventurous, try the tomato and smoky chipotle kit, with smoked tomato and chipotle marinade and chipotle salsa.
Stockists: Tesco's
2. For Snacking: PiCK UP! Minis 
What: Launching this month, meet the latest edition to the PiCK UP! family: PiCK UP! Minis. Fun sized versions of the popular PiCK UP! biscuit – these little treats are perfect to pop into your pocket for a pick me up on a family day out or even nibble at your desk.
The Lowdown: Available in two varieties; the classic milk chocolate and everyone's favourite choco and milk. Both flavours consist of a thick slab of milk chocolate sandwiched between two mini crisp butter biscuits – with the choco and milk variety also containing a milk cream filling inside the chocolate.
Stockists: Tesco, Waitrose and Costcutter
3. For Vegan Baking Supplies: Wing Yip 
What: Used for centuries in Southeast Asian cuisine, it's only in more recent years that coconut been seen as a wonder ingredient on the UK food and drink scene – loved for its endless health benefits and multiple uses. Wing Yip have jumped on the bandwagon, and are now selling two brand new coconut products.
The Lowdown: Perfect for those who have a dairy intolerance, evaporated coconut milk makes a great base for smoothies and milkshakes, and can be used as a dairy alternative in baking or savoury dishes. Sweetened condensed coconut milk is great for creating sweet treats, such as macaroons and fudge, adding to coffee and even cocktails. Both products are soy and gluten free, and suitable for vegans!
Stockists: Buy online
4. For a Water Alternative: DRINKmaple
What: DRINKmaple came to life thanks to two American Ironman triathletes who discovered that maple water offered the most refreshing drink they could find. It's collected by simply tapping maple trees – a process that doesn't harm the plants, and allows the water to run into buckets. The organic maple water is then bottled without anything being added or taken away and without any boiling.
The Lowdown: Unlike maple syrup the tree's water isn't high in sugar, in fact maple water has only about half the sugar of coconut water (less than 1.5g per 100ml), but does contain 46 other nutrients, including more manganese than a cup of kale – a nutrient which plays an important role in our bodies' energy systems. DRINKmaple is packed full of nutrients and minerals the trees have amassed through their roots.
Stockists: Ocado, Wholefoods and Planet Organic
5. For a Supplement: OMNI Superfoods
What: If you're not familiar with OMNI Superfoods, here's what you need to know. The blends are completely free from additives, added sugar and firmly committed to the ethos that has become their signature; organic goodness paired with convenience and a widely versatile ingredient.
The Lowdown: High in minerals with zero preservatives, a spoonful or two added to organic porridge mix, or to a  smoothie of coconut water, berries and bananas makes for a tasty breakfast; a natural and potent alternative to other current products, such as whey protein. The blend can be taken to improve skin, help with aiding hormonal balance, and general energy.
What: Supernatural is launching an invigorating range of spiced juices, just in time for summer. The limited edition menu of spice-infused drinks will be available exclusively in Supernatural's recently opened East London store on Brick Lane. Supernatural's entire team is made up of former mixologists, who have applied the principles of cocktail making to the world of juicing.
The Lowdown: The menu comprises of  five unique juices. The milder varieties include: Power Beet, with beetroot, cayenne pepper, Himalayan rock salt, lemon and apple, and Citrus Kick, a medley of orange, carrot, ginger, turmeric, cayenne pepper and lemon. If you can take your spice, opt for hotter alternatives; Mind Blower with green chilli, pineapple, lime, apple and orange and Eye-Popper, a combo of spinach, cucumber, celery, ginger, bell pepper and apple. For those that can take the heat, there's Hot Scotch with watermelon, lemon, mint and scotch bonnet chilli. And boy, does that juice live up to its name.
Stockists: 86 Brick Lane, London, E1 6RL
7. For Dairy Goodness: Arla skyr Drinking Yogurt
What: Arla Foods are behind the new Arla skyr Drinking Yogurt, a convenient way of enjoying your favourite Icelandic style super yogurt on-the-go. Skyr (pronounced 'skee-er') has been a staple ingredient and snack for Icelanders for thousands of years, with the famously healthy nation embracing its nutritional benefits.
The Lowdown: Flavours include blueberry and blackcurrant and mango and passionfruit – Arla skyr Drinking Yogurts are perfect for those with a busy lifestyle. Packed with protein, the 350ml fruit flavoured Icelandic style yogurt drinks are fat free and contains less sugar (33% apparently) than other yogurts on the supermarket shelves.
Stockists: Tesco's and Asda
8. For Gluten-Free Treats: Gemini Chocolate 
What: Gemini Chocolate is the brainchild of a new Soil Association licensee, Samuel Chandler. Samuel is a former musician who followed his passion for nutrition and healthy eating after discovering the health benefits of the cacao bean.
The Lowdown: There are no hidden nasties and the chocolate is not heated above 42 degrees celsius – keeping it raw, which preserves all the nutrients, minerals and antioxidants. Samuel also uses Palmyra Jaggery as it's highly nutritious, has a low glycemic index, and has a great flavour and mixes his chocolate with healthy whole foods such as coconuts, mulberries, hazelnuts and quinoa. Plus, the chocolates don't contain dairy, soy and gluten and is made using only organic ingredients.
Stockists: Order online 
9. For a New Breakfast Option: Nairn's
What: Nairn's gluten-free muesli is the latest product from their gluten-free range. Suitable for coeliacs, the muesli is high in fibre, naturally energising and is made with wholegrain oats. If it's too hot for porridge, we recommend a bowl of Nairn's muesli, a splash of almond milk and a good handful of raspberries.
The Lowdown: The muesli contains a blend of gluten-free wholegrain oats, sultanas, sunflower seeds, flaxseed and cranberries it's a great way to start your day. Naturally, oats do not contain gluten but can be contaminated by other grains. Nairn's gluten-free oats are carefully farmed and expertly milled to ensure there is no cross contamination of the oats during growing and milling.
Stockists: Ocado, Asda and Sainsbury's
10. For a High Protein Snack: Bounce Bites
What: Bounce Energy Balls is introducing, for the first time ever, a brand new format to the Bounce family, along with irresistible new flavours. The lovely people at Bounce are passionate about nutritious, balanced and convenient snacks, so have created Bounce Bites as a perfect partner for smarter snacking throughout the day.
The Lowdown: Coconut Cranberry and Sweet & Salty Almond will be available alongside Cacao Orange as new Bounce Protein Energy Bites. Each flavour is a chewy mix of protein, fats and carbohydrates, bundled into a nutritious, convenient snack. They're a great source of fibre and protein, as well as being vegetarian and gluten-free
Stockists: Waitrose, Holland & Barrett and Tesco
And a few for luck…
11. For a Vegan Yogurt: Salted Caramel CO YO
What: Britain's first and most loved coconut milk yoghurt brand, CO YO, has launched a deliciously decadent and all natural Salted Caramel edition that is completely free from dairy and refined sugar. Produced at the brand's own premises in England, CO YO is luxuriously creamy, richly indulgent and has a clean flavour profile, making it a true dairy alternative and the best tasting coconut milk yoghurt in Britain.
The Lowdown: The ultimate in healthy gourmet, this new variety is 99% pure coconut and bursting with all the goodness of the fruit. It is produced by pairing CO YO's silky smooth coconut milk yoghurt with a rich caramel sauce made from a unique blend of coconut sugar, coconut milk and the finest mineral-rich Himalayan salt crystals.Highly nutritious, a whole coconut goes into every 100g of the yoghurt, so it is the most delicious way to enjoy the exceptional health and beauty benefits of this miraculous fruit. Indeed, every spoonful is a rich source of protein, calcium, magnesium, fibre, vitamin B-12 and vitamin D. Tuck in. 
Stockists: Waitrose
12. For a Chocolate Fix: Godiva 90th Anniversary Box
What: Looking for a treat? You can't get much better than Godiva and their new special birthday box. Created in celebration of Godiva's 90th birthday, the exquisite Anniversary Collection Truffles is a culinary journey through both new and traditional tastes and textures – it won't disappoint.
The Lowdown: Showcasing the chocolate mastery that has been passed down through nine decades of Godiva; this new indulgent collection is probably the best yet. Created by Godiva's Chef Chocolatier, Ilse Wilmots, the collection is a multi-layered journey of exquisite taste and texture combinations with classic truffles, mousse truffles and textured truffles. From smooth, aerated mousse truffles to contemporary interpretations of traditional recipes, this box is dreamy; there's everything from classic dark chocolate truffles to matcha truffles and speculoos truffles!
Stockists: The limited edition Anniversary Collection Truffles is available in a 12-piece box for £22 and an 18-piece box for £34  – available to buy from September in Godiva stores, in Harrods and at www.godivachocolates.co.uk