Tasty Tuesdays: 10 Healthy Food Products to Buy This WeekBy Angelica Malin
Another week, another chance to stock up on some healthy lunchbox essentials. We chomped our way through a whole load of healthy products to find ten things really worth your time and money this week – from chia popcorn (yes, really) to gluten-free biscuits, we've got you covered. Here's what to purchase next time you nip into the Whole Foods post-yoga – happy snacking, friends:
1. For Healthy Baking: The Groovy Food Co. Coconut Sugar
The Lowdown: The Groovy Food Company is an award-winning British brand, producing natural foods that taste delicious and make you feel good, too. Their products offer natural alternatives to refined and processed everyday cupboard staples, such as organic coconut flour, organic extra virgin coconut oil and organic agave nectar. They use only the finest ingredients, sourcing produce across the globe, from the hilltops of Mexico to organic plantations on the beaches of South East Asia.
What: The brand have just launched organic coconut sugar – a delicious, natural and unrefined alternative to refined sugar. It can be used as a direct swap to refined sugar in sweet and savoury dishes; with a unique buttery caramel taste, it's great in baking, cooking, hot and cold drinks, including smoothies and milkshakes. The sugar is sourced from certified organic plantations in South East Asia and is derived sustainably from luscious coconut palm trees using the cut flower bud of the coconut blossom. Glorious.
Stockists: Available nationwide at Tesco or online here
Price: £4.99
2. For a Post-Gym Snack: Arla Protein Cottage Cheese
The Lowdown: Arla Foods, the leading farmer-owned dairy company, launched Arla Protein in 2015. The quark-based snacks come in a range of delicious flavours. Following huge success and demand the range has recently been expanded with the addition of protein milkshakes – available in tropical and raspberry & strawberry flavour and protein Top Hats – a blend of quark and yoghurt with a hint of vanilla or ginger. Each pot contains 20g of protein and is topped with a separate container of sunflower seeds, freeze dried apples among other ingredients.
What: The brand has just launched Arla Protein Cottage Cheese; a tasty addition to any meal, that contains 20g of protein per serving. With the same amount of protein as five eggs or a whole chicken breast and just 1.5% fat, Arla protein cottage cheese is set to be the new fridge staple. Try it topped on a jacket potato, as a salad accompaniment or a tasty topping for a crisp bread or oatcake. There's a whole host of options with this versatile product; for breakfast experiment with savoury pancakes and for a mid-week dinner, why not try replacing regular cheese in classics such as macaroni and cheese. Dig in.
Stockists: Asda,Tesco or Waitrose stores
Price: £1.30
3. For Delicious Cakes: Henrietta Inman at Fortnum & Mason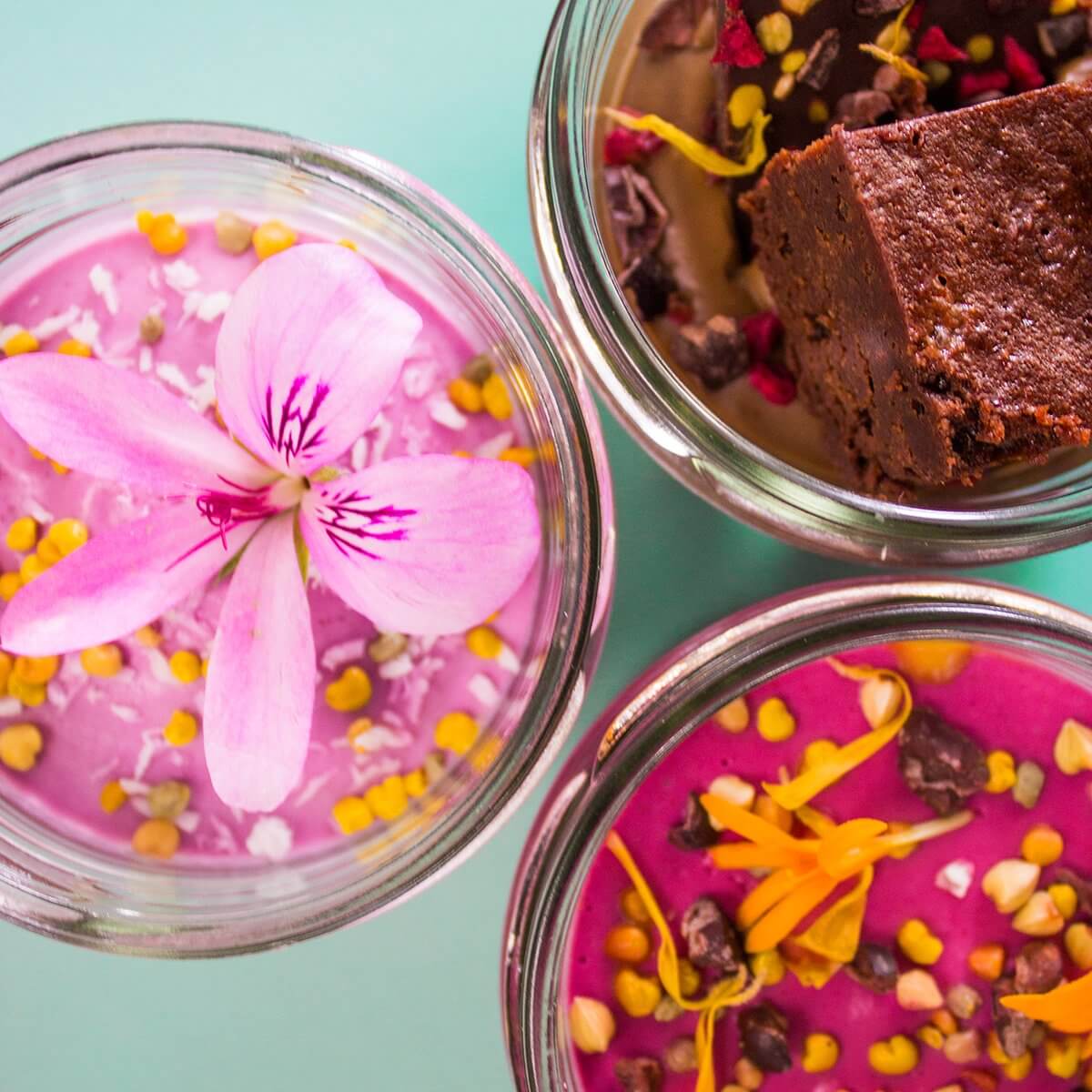 The Lowdown: Henrietta Inman is a skilled pastry chef and owner of Henrietta Inman, specialising in delicious patisserie made with whole, natural, nourishing real food ingredients. After gaining a distinction in the Professional Patisserie Scholarship at Westminster Kingsway College, she worked in a number of award-winning kitchens including the Michelin-starred Apsley's formerly at The Lanesborough Hotel. Her first book, Clean Cakes, Delicious patisserie made with whole, natural and nourishing ingredients and free from gluten, dairy and refined sugar, was published in February 2016 and was a huge hit! 
What: Following the success of her book, Henrietta is bringing three of her most popular creations, which all feature real food ingredients and are free from gluten, dairy and refined sugar, to Fortnum & Mason. There are three delicious pots to delve into: blueberry lemon mousse pots, raspberry, beetroot and orange parfait pot with crunchy hazelnut buckwheat biscuit and cacao ganache base and raw chocolate mousse pot topped with chocolate truffle teff brownies. We love the chocolate one – coconut yogurt adds a subtle surprising freshness to these pots, which, combined with the avocado, creates a seductively smooth mousse-like cream.  The pots come topped with chocolate truffle brownies made with 100% cocoa solids for extra indulgence and richness. Yes, please. 
Stockist: Fortnum & Mason
Price: All £3.75, box of four £14
4. For Speedy Smoothies: Tesco Smoothie Packs
The Lowdown: Homemade smoothies have never been so easy with Tesco's new smoothie packs – we're totally loving them in the office. The freshly chopped fruit is the perfect base to your favourite smoothie recipe and handily packed in a convenient fridge-ready container. The packs will help you save precious morning minutes, as all you need to do is simply scoop and blend with your favourite juice and veggies.
What: There's the red smoothie base mix and orange smoothie base mix, which are both delightful. Satisfy your sweet tooth with the red smoothie – this is a light and fruity mix of scrumptious strawberries, delicious melon and watermelon. The orange mix transports you to the tropics with this refreshing mix of pineapple, mango and orange. The perfect kick-start to your morning is now easy to make and even easier to drink. The optimum pick-me-up to leave you ready to take on the day! Try blending the orange smoothie base mix with orange juice and two handfuls of chopped carrot – add crushed ice and serve for a wonderful energizing explosion.
Stockist: Tesco's
Price: £3.50
5. For a Summer Sip: Yuyo Yerba Mate
The Lowdown: Newly launched brand Yuyo is bringing the national beverage of Brazil to the UK drinks scene, just in time for Rio 2016. For centuries, yerba mate, pronounced yer-ba mah-tey, has been consumed by the indigenous population of Southern Brazil, Paraguay, Argentina, and Uruguay as a social activity and a way of boosting mood and metabolism. The plant – ilex paraguariensis – is a tree native to the region; its leaves are naturally stimulating and contain a whole host of vitamins, minerals and antioxidants.
What: Yuyo was founded by PhD biochemist Charles Grummitt and Spanish translator Rosie Marteau on the couple's return to the UK after several months travelling in Latin America. Their range of organic-certified infusions based on the South American super herb includes Pure Yerba, citrusy Yerba Zing, Yerba Mint and chai-like Yerba Spice. As well as focusing on creating delicious flavour and aroma profiles, their aim is to make the benefits of yerba mate accessible to the UK mainstream. We're in.
Stockists: Whole Foods, Planet Organic, Revital and As Nature Intended stores nationwide and online here
Price: From £4.35
6. For a Premium Non-Alcoholic Sip: Thomas & Evans No. 1
The Lowdown: Thomas & Evans No. 1 is a brand new non-alcoholic drink, that has been created by WiseHead Productions – a new business backed by Britvic, setup to create drinks for adults who seek exceptional drinking experiences. It's got no nasties involved ; T&E No. 1's subtle sweetness occurs naturally from the fruit extracts used, and contains only 53 calories. 
What: Thomas & Evans No. 1 has been created to satisfy smart sippers with a refreshing, aromatic drink for those moments when they choose not to drink alcohol.  T&E No. 1 is gently sparkling and reveals flavours of green fruits, citrus peel and botanicals, layer by layer. Its intricate blend of over 20 ingredients, including silver birch charcoal filtered green fruit juices and steam-distilled botanicals, unlocks a bouquet of aromas including apple, elderflower, citrus peel and oak tincture.
Stockist: Harvey Nichols
Price: £4.50
7. For a Healthy Afternoon Treat: RHYTHM108
The Lowdown: Following success in over 500 stockists in Switzerland, and an equally impressive reception in the UK, RHYTHM108  is a much-loved brand which is inspired by the essence of the Yogi. The brand is an advocate of the 'eat real, be real' ethos – perfect for those looking to cut out artificial and processed ingredients, without compromising on taste. The brand was founded by Siddhi Mehta, a graduate from Oxford university, who worked in the City for management consulting firm McKinsey & Co., before following her love for food, travel, and entrepreneurship to found RHYTHM108: a company bringing imagination and fun back into healthy eating. RHYTHM108 was born from an appreciation of real food, ancient cooking knowledge discovered on her travels, and the love of crafting innovative recipes.
What: They've just launched Ooh-la-la Tea Biscuits, a reinvention Of Britain's favourite afternoon treat. Redefining the traditional biscuit, each packet is made with all natural, all organic and nutritious ingredients, like gluten-free whole grain oats, superfood coconut oil and unrefined coconut flower sugar. They are dairy-free, gluten-free and certified organic, the Ooh-La-La tea biscuits offer a delicious, wholesome and healthier alternative to processed snacks. Crafted with care and love by Swiss patissiers with over 30 years of combined experience, they are the perfect accompaniment for tea or  coffee lovers, or those with a penchant for a sweet treat.
Stockis: Planet Organic, All Revital stores, The Natural Kitchen, As Nature Intended, and other independent health stores
Price: £1.30
8. For New Popcorn: Joe & Seph's Coconut and Chia Popcorn
The Lowdown: Popcorn is far too good just to keep for girlie nights in and movie marathons and Joe & Seph's gourmet popcorn is the pick of the bunch. Officially the best tasting popcorn around, with 24 Gold Great Taste Awards to its name, Joe & Seph's is aiming to revolutionise the UK popcorn market with its air popped corn in exciting and innovative flavours. Designed for taste adventurers, each of its eclectic 42 flavours are created by a chef, made solely from natural ingredients. Only extra-large corn pieces are used meaning no pesky kernels are left at the bottom of the bag. Whether you're a sweet or savoury lover, a traditionalist or someone who likes their taste buds to be challenged, there is something for everyone, with a real focus on innovation.
What: From gin & tonic to toffee apple and cinnamon, there is a variety to suit every palate. Central to the unique Joe & Seph's experience is its innovative, Willy Wonka style "flavour sequencing" technique, which unlocks different taste elements, one after the other as you crunch. Keeping your palate on its toes, Joseph and Jackie layer flavours so different tastes develop in the mouth in succession. The caramel, pepper and chilli, for example, goes from sweet caramel, to ground black pepper and finishes with a fiery kick of chilli, all in around eight seconds. The newest mouth watering flavour coconut and chia seed is a delicious mixture of smooth caramel, coconut and chia seeds.
Stockists: Coconut and chia seed popcorn is available on the Joe & Seph's website here
Price: £4
And a few for balance…
9. For Summer Scoops: Mövenpick Passionfruit & Mango Sorbet
The Lowdown: Mövenpick Ice Cream is a gourmet treat for ice cream lovers – embodying the passion, skill and imagination of the Mövenpick Maîtres Glaciers, who seek only the best ingredients to maintain the Swiss standards of perfection. Each luxurious Mövenpick flavour contains only naturally sourced ingredients and no artificial additives or colours. The reward is a subtlety of flavour and texture, along with a creamy lightness that no artificial ingredients can match.
What: Mövenpick Ice Cream is celebrating the start of summer with two delicious new flavours, offering the perfect treat for all gourmet ice cream lovers. For a taste of Italy come rain or shine, why not try Mövenpick tiramisu ice cream, which marries airy mascarpone, biscuit and delicate coffee sauce with Marsala wine? Or, for something more exotic, passionfruit and mango sorbet is bursting with fruit, from Ecuadorian passionfruit purée, to Alfonso mangoes from India. With coffee and exotic-inspired flavours proving to be a more and more popular choice, the new Mövenpick flavours are an ideal way to get your taste buds on-trend.
Stockist: Ocado
Price: £4.99 for 500ml
10. For Margaritas: Jose Cuervo x The Rolling Stones
The Lowdown: Jose Cuervo is the number one selling tequila in the UK and the number one selling tequila globally. They've just launched a new special bottle to celebrate The Rolling Stones' favourite favourite drink: Tequila Sunrise. They bought a bottle of Cuervo and took the drink on tour with them, promoting it across the United States. After the Trident Party, The Rolling Stones' great American tour became known as "The Tequila Sunrise Tour."
What: Legendary tequila brand Jose Cuervo and the world's greatest rock n' roll band The Rolling Stones have joined forces to release two limited edition Tequila bottle. Entitled The Rolling Stones Tour Pick, the two releases celebrate the pivotal role Jose Cuervo played in The Rolling Stones' legendary 1972 North American tour, which was dubbed the 'Tequila Sunrise Tour'. To celebrate the tour that became legend and the drink that made it, Jose Cuervo has released two special edition bottlings of The Rolling Stones Tour Pick available at Selfridges and Asda from the end of July.
Stockists: Selfridges and Asda
Price: £12 for Special Edition Rolling Stones Jose Cuervo Especial and £100 for Ultra Premium Rolling Stones Reserva de la Familia Collector's Edition