I have a new favourite restaurant in London, but you have to promise not to tell anyone, OK? Good, glad that's sorted. I have always been a fan of Picture Fitzrovia, an unassuming, warm restaurant in the heart of town, which serves up some of the best British food around. So, naturally, I was the first one through the door when I discovered they have a new venture in the capital: Picture Marylebone. The second site from three passionate young entrepreneurs did not disappoint, and I think it might just end up being your new favourite restaurant, too. For a brand new dining spot in Marylebone, here's what you need to know:
Picture Marylebone: The Lowdown
If you're looking for a restaurant with heart and soul, this is it. Picture was started by Tom, Alan and Colin – a trio who met in London and shared a dream of opening their own restaurant. The boys worked together for many years within Michelin-starred restaurants, before starting their own venture. Picture Fitzrovia opened to rave reviews in 2013, serving up some of the most delicious (and best value) tasting menus in London, and their new Picture Marylebone opened in July 2016 – and we think it's going to be big
If you're looking for somewhere special, and food that wows, you need to check it out; the restaurant has a cool, laid-back vibe, with a great neighbourhood feel. The restaurant is all about produce and quality; whether it's the soft homemade bread and butter, incredible quality fresh vegetables and delicious house-made pasta, there's no skimping on quality at Picture.
The food. Oh man, the food. If you want to enjoy Picture fully, I really recommend the tasting menu. The six-course summer menu costs £40 and allows you to really taste the best of Picture's menu, with some real foodie highlights and the best dessert ever.
For a bite at lunch, they've also got a great value lunch menu – a set menu which costs £22 for three courses, or £25 for four courses (which, given the area, is really quite a bargain). The £40 summer tasting menu, which also comes as a vegetarian version, is simply divine. It starts with a chilled summer green vegetable soup, which is light, full of flavour and refreshing – perfect with their homemade sourdough bread and freshly churned butter.
Next up is an incredible veggie dish – charred spiced cauliflower with peas, shallots and capers. The impressive thing about Picture is how they manage to turn a handful of ingredients into something really very special – it shows an insane amount of skill and ingenuity to limit the amount of ingredients used, and just focus on amplifying flavour and winning on presentation. The cauliflower dish is a real testament to this skill – the cauliflower is smoky and delicious, with a little tang from the capers and just the right amount of spice, it's a beautiful plate of food.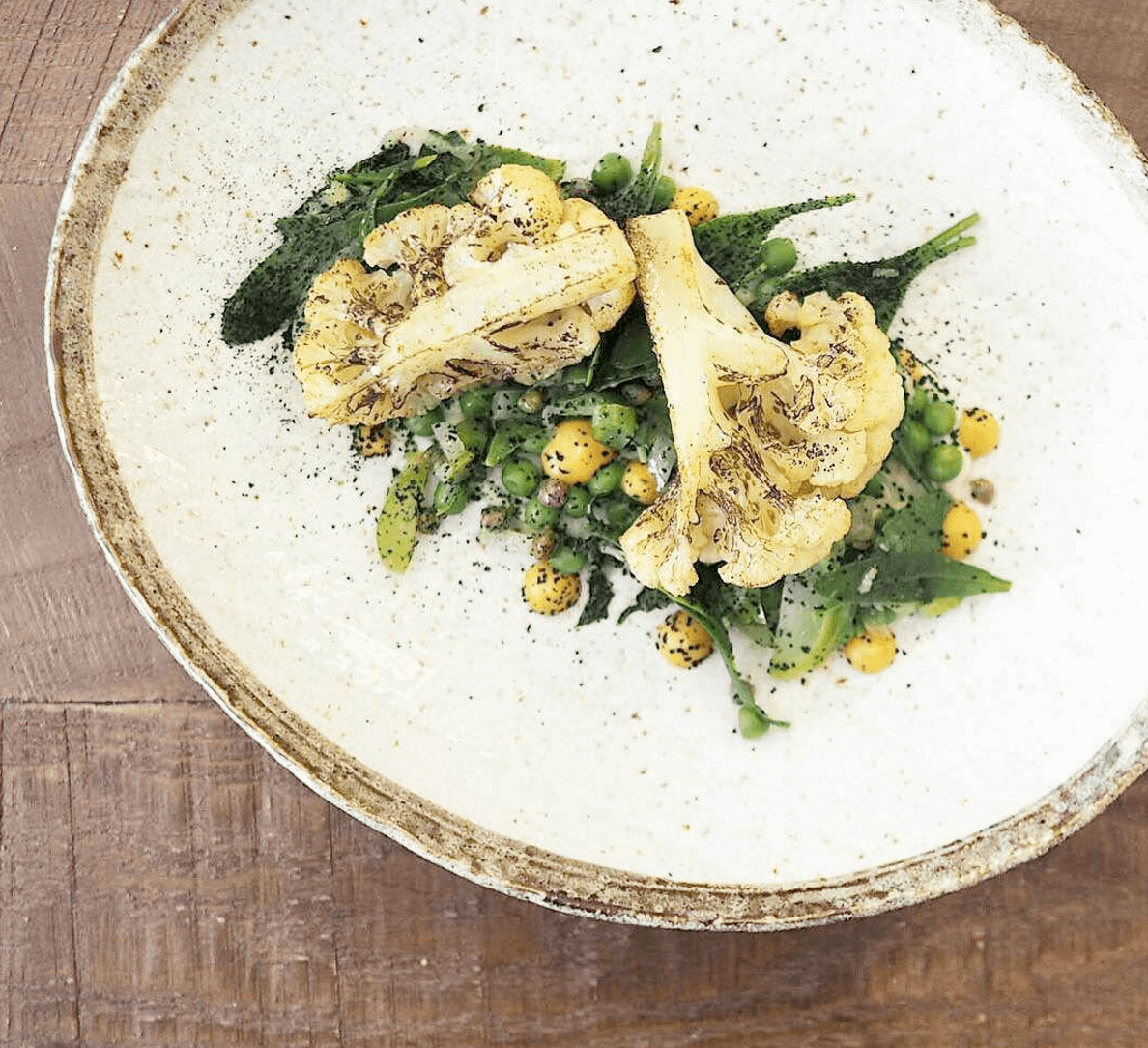 The next veggie dish is no less impressive (my boyfriend says it's his favourite thing he's eaten this year, which is no mean feat) – a delightful mix of Isle of Wight heritage tomatoes, feta, olive and herb dressing. Again, the simplicity of the dish is really what makes it brilliant – the tomatoes are fresh and full of flavour, the feta has been grated on top and the little bites of olive set the whole thing off. Whoever is running this kitchen, seriously knows what he's doing.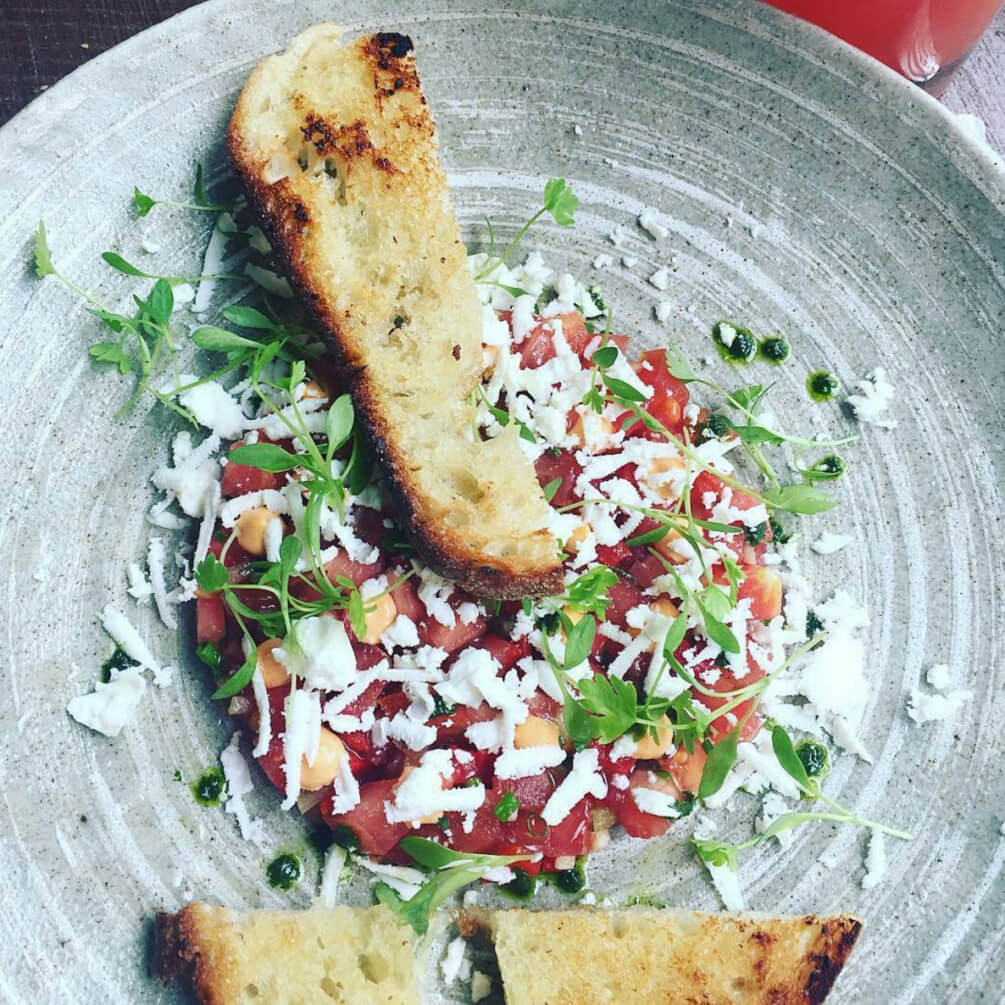 For more substantial mains, we sampled the cod with corn and Paris brown mushrooms and the hake brandade with smoked haddock, hispi cabbage and red onion. The cod is expertly cooked, and given an earthy feel with the beautiful mushrooms, whereas the hake is smoky and full-bodied, with a warming, comforting feel coming from the mashed potato it's mixed with. They are absolutely heavenly fish dishes, and I really could not fault them.
We end our savoury journey on probably my favourite course of the whole night (read: month). I'm a sucker for pasta, and Picture's ravioli of caramelised onion with peas, lettuce and pecorino is just beyond divine. The pasta has a real sweetness from the onion, and the salty cheese works perfectly with it – it's the kind of ravioli you want to eat, again and again.
And, of course, there's pudding. And not just any pudding. The most delicious, decadent, divine chocolate dessert you've ever tasted. The dark chocolate mousse with salted caramel crumble is a heavenly light pudding, with a real richness and depth, and you can't help but love every mouthful of it. It's the perfect end for what is, without a doubt, the perfect tasting menu. And for £40? That's a real steal in my books.
Picture Marylebone: The Drinks
Picture has a really decent wine list, and your waiter will happily pair the wines with food for you. We loved the Grenache from France, because summer is all about rosé wine in the sunshine, right? If you're looking for a cocktail, try one of their fruity summery creations –  try The Lady Cavendish with gin, red berry tea, elderflower and lavender. Delicious.
Picture Marylebone: Our Verdict
Picture Marylebone are onto something very good indeed. I wasn't sure Picture Fitzrovia could be beaten, but the boys have really smashed it out the park with this new venture. If you're looking for a fantastic foodie experience in London, or have someone you really want to impress at dinner, book at table at Picture Marylebone for the 6-course dinner and enjoy every single bite. You can thank me later.
Picture Marylebone is at 19 New Cavendish St., London, W1G 9TZ. Photo credits: Picture Restaurant – Instagram.