Don't know what makes an outrageously sexy pancake? You're about to find out… Whether you like them sweet, savoury, or, like me, a bit of both, we've found something for everyone this Shrove Tuesday. Our top pick for the indecisive, or downright greedy, is Snowflake Gelato, as you can build your own from over 50 different varieties – or if you're a North Londoner, you simply can't beat grabbing a piping hot fresh crepe from the classic Hampstead Creperie. The Botanist, in Sloane Square, has a fantastic offering for the decadent and savoury pancake lover, filled with lobster, no less. Forget calories for one day only, and get stuck into these bad boys…
1. For the Greedy: Apple Crumble Pancakes at Snowflake
What: Design your own dream recipe, choosing from over 50 different flavours of gelato to fill your crêpe, before topping it with whipped cream, Nutella, fresh fruit, and hot chocolate sauce straight from their molten hot chocolate tap. You can also pick a Snowflake Crêpe including Crumble Crêpe – caramelised apple, brown sugar, ground almonds, cinnamon and fresh whipped cream – and Banoffee Crêpe with warm banana, butterscotch sauce and fresh whipped cream.
Where: Snowflake Gelato, 43 Westbourne Grove, London W2 4UA
2. For the Frills: Elderflower Pancakes at Where the Pancakes Are
What: This pop-up is all about the fancy pancakes. Think pancakes with a choice of maple, lime or elderflower syrup and berries; the hummingbird, a feast of fruits and flavours; or with poached kumquats and blood-orange cointreau cream; if you prefer savoury, there is the 1000 baby-greens with a lime & coriander butter or the brunch classic smoked salmon, asparagus, hollandaise, chives & red amaranth. 
Where: The Proud Archivist, on the banks of The Regents Canal in Hackney, 2-10 Hertford Road, London, N1 5ET
3. For the Thirsty: Boozy Pancakes at Jackson + Rye
What: Head to Jackson + Rye for an adult-only version of their signature buttermilk pancakes made with a dash of wickedly good rye whiskey. The deliciously fluffy flippers cost £5.95 for a stack of three, served with a generous helping of rye-infused whipped cream. Top with sweet 'n' salty maple slab bacon (£3.50) to make it extra indulgent.
Where: Available on Pancake Day at all Jackson + Rye branches: Soho, Chiswick and Richmond.
4. For the Decadent: Lobster Pancakes at The Botanist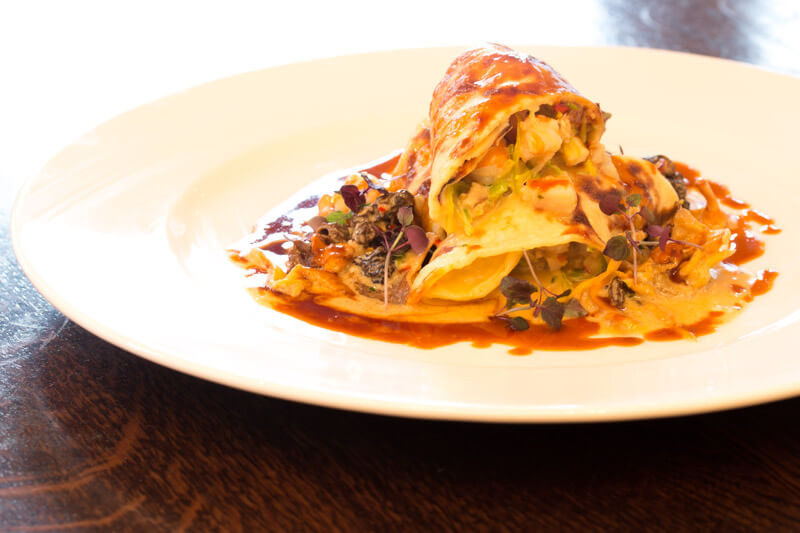 What: It's your last chance to indulge before Lent, so pep up your crêpe with chunks of fresh lobster, earthy mushrooms and creamy, smoked garlic bisque at The Botanist on Sloane Square. This super-indulgent pancake (£32) is to be savoured rather than scoffed and is available for lunch or dinner this ShroveTuesday. If there's room, follow it up with deliciously sweet marshmallow pancakes with hot chocolate sauce and coconut ice-cream (£7).
Where: The Botanist, Sloane Square
5. For the Real Deal: French Pancakes at Hampstead Creperie
What: Easily one of the best crepes in London, La Creperie de Hampstead is world-famous (well, at least famous in NW8) for a reason – they use only the best ingredients and real Belgian chocolate. Get the classic with banana (my favourite) or go fancy with the Crepe Suzette.
Where: 77 Hampstead High Street, London NW3 1RE
What: Once the Great Eastern Hotel's original ballroom, this magnificent Grade two listed room provides a stunning setting to dine. We love their brunch options; the hotel does brilliant eggs, waffles and pancakes. Try the American pancakes with streaky bacon. Delicious.
Where: 40 Liverpool Street, London EC2M 7QN
What: Honestly, there's a good reason why there's always a queue at The Breakfast Club. Their pancakes are world-class; try the All American pancakes with eggs, sausage, home-style fried potatoes, streaky bacon and maple syrup (£10.50) but don't blame me for your waistline later.
Where: Throughout London – see here
8. For the All-Day Crowd: Tom's Kitchen
What: Tom's Kitchen is offering sweet and savoury pancakes all day, and they are seriously tasty. The Shrove Tuesday menu at Tom's Kitchen includes delicious specials such as the Buckwheat & Wholemeal Pancake with spiced honey roast pumpkin and grated courgette, or the Ricotta Pancakes with apple raisin compote and vanilla mascarpone. Tuck in.
Where: Throughout London – see here