Uh, oh. Massive list incoming. We tried a top 10. We failed. We tried to write a top 20. We failed. So, yes, we're serving up 25 ways to eat pancakes in London for Pancake Day 2019. Because these beauties are all too good to be missed. Here's the ONLY Pancake Day in London 2019 guide you'll ever need. You can thank us later.
What: Pancake Day in London celebrations at Christopher's Covent Garden will be as show-stopping as ever, with four decadent pancake specials available all day long, exclusively on Tuesday 5th March.
The Lowdown: Pancake options range from the indulgent White Chocolate & Oreo Pancake Stack with vanilla mascarpone, honeycomb ice cream and Cinnamon Doughnut Pancake Stack, with salted caramel ice cream and milk chocolate sauce, to the exquisitely luxurious Butter Poached Lobster Pancake with chorizo picante, caviar, yukon gold potato & truffle. Their much-loved Build-Your-Own-Pancake Menu will also be available.
Where: 18 Wellington Street, Covent Garden, WC2E 7DD
What: Popular all-day dining hot-spots and brunch specialists, Riding House Café, Rail House Café and Village East, will be flipping Bottomless Buttermilks for an extra indulgent Pancake Day in London.
The Lowdown: Renowned for their fluffy and light buttermilk pancakes, the Bottomless Buttermilks are topped with berries, vanilla clotted cream and maple syrup or triple-smoked bacon and maple syrup. The pancakes will be available on Tuesday 5th March and served all day at Riding House Café and Rail House Café, and for lunch and dinner at Village East.
Where: Rail House Café | 8 Sir Simon Milton Square, Victoria, SW1E 5DJ, Riding House Café | 43-51 Great Titchfield St, Fitzrovia, W1W 7PQ, Village East | 171-173 Bermondsey St, London SE1 3UW
What: For those wanting to celebrate Pancake Day in London in style, China Tang at The Dorchester is the ultimate posh destination, for their famous Peking Duck Pancakes.
The Lowdown: Widely regarded as the best pancakes in London, the Peking Duck is prepared in the specialist duck oven at China Tang, and accompanied by delicious home-made pancakes, hoisin sauce and all the garnishes. Following the pancake extravaganza, minced duck in lettuce cups or shredded duck with beansprouts provides the second course, and the much-loved duck soup.
Where: 53 Park Lane, Mayfair, London W1K 1QA
What: Queen's Park favourite Antipodean café and natural wine bar, Milk Beach, have whipped up a selection of sweet and savoury toppings for this year's Pancake Day in London.
The Lowdown: Sweet choices include chocolate and banana, blueberry and cream or a simple classic, lemon and sugar. There's also savoury delights, such as decadent mushroom and brie, or a ham hock and Neal's Yard cheese topping. The pancakes are available for one day only – enjoy alongside one of Milk Beach's famous coffees, where the current roast is a Kenyan bean.
Where: Milk Beach, 19 Lonsdale Road, Queen's Park, London, NW6 6RA
What: Long Bar at Sanderson have curated the next best thing to pancakes for this Shrove Tuesday; pancakes and a cocktail. Glorious.
The Lowdown: Served in a mini martini glass, the Blueberry Stack cocktail celebrates Pancake Day in London 2019 with a bit of a twist, including a miniature pancake on the side. What's more, the restaurant at Sanderson will also be serving show-stopping crepes at the live crêpe station. Available for lunch or dinner, the classic combination with lemon and sugar will be priced at £8.
Where: 50 Berners St, Fitzrovia, London W1T 3NG
What: Thomas's Café, the British all-day restaurant located within Burberry's flagship store on Vigo Street, has created a divine Pancake Day 2019 menu, perfect for a stylish Shrove Tuesday feast.
The Lowdown: This year's pancake menu includes a variety of sweet and savoury, from classic sugar and lemon to Secret Smokehouse salmon served with crème fraiche, caviar, dill & spring onions, the Cornish Jerusalem artichoke and the delectable poached Yorkshire rhubarb, with hedgerow preserve, topped with whipped honey cream and crushed almond. Fancy, like.
Where: 5 Vigo St, Mayfair, London W1S 3HA
What: Tom's Kitchen restaurants in Chelsea and Canary Wharf are set to celebrate with a delicious selection of gourmet pancakes available for lunch and dinner on Tuesday 5th March.
The Lowdown: Guests can choose from the Crab Pancake with grain mustard and cheese or the Potato Pancake with duck egg and mushroom ragout. For dessert, the Tom's Kitchen chefs will be serving up Crepes with orange butter sauce and marmalade. Tom's Kitchen restaurants use the finest British ingredients to create menus that are served in a relaxed and informal environment, the perfect setting to enjoy Pancake Day in London 2019.
Where: Locations here
What: Celebrate Pancake Day in London in style at Jason Atherton's Michelin-starred Social Eating House, in the heart of Soho.
The Lowdown: Chef Patron Paul Hood has designed his version of a Mille Crêpe, featuring layers of fluffy pancakes, confit lemon, lemon pastry cream and drizzled with vanilla Chantilly cream to finish. Available on Tuesday 5th March only, the special dish will be priced at £16 for 2 people sharing. We want in.
Where: 58 Poland St, Soho, London W1F 7NR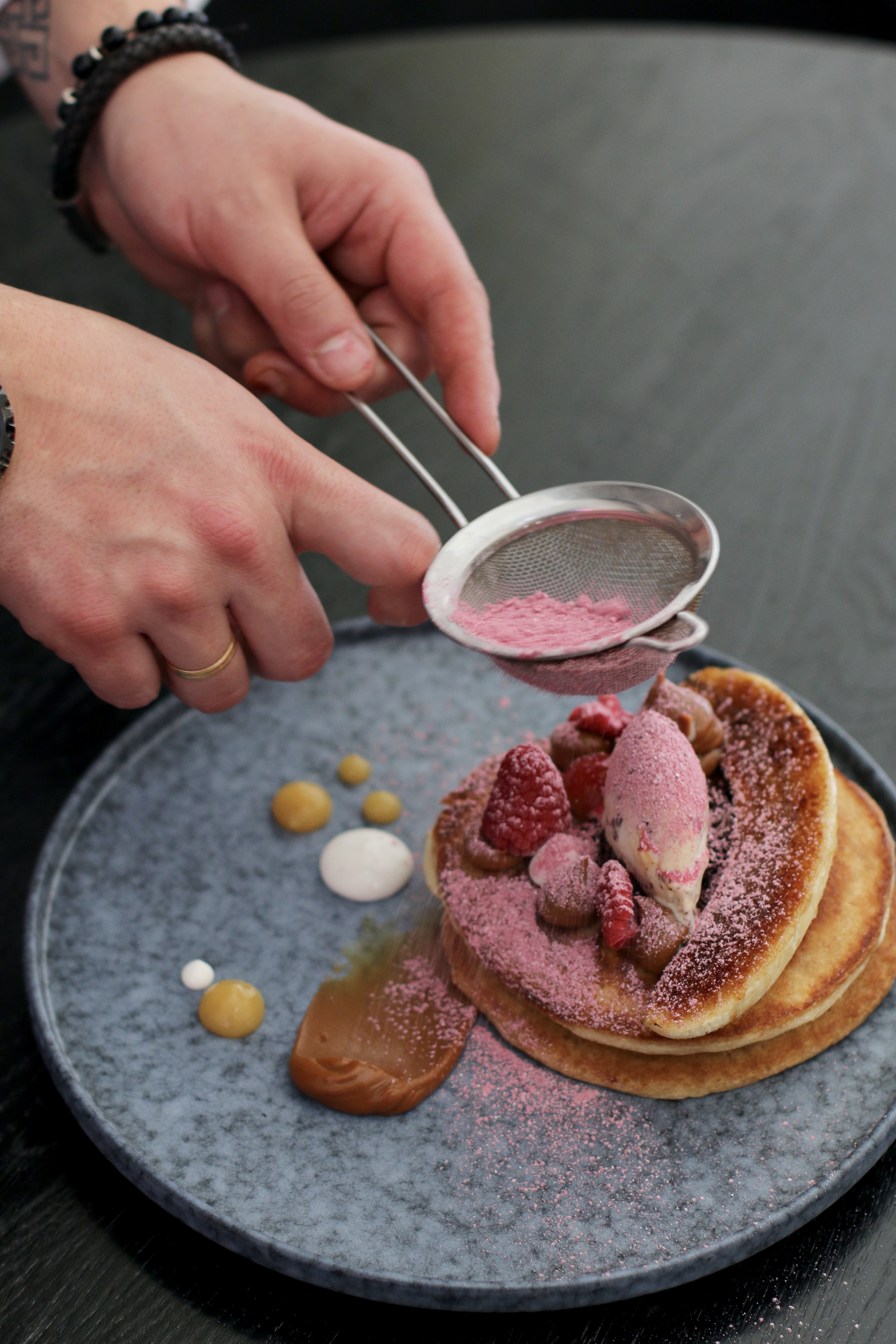 What: Looking for something different? Indulge this Pancake Day in London with Gaucho's Latin take on an all-American classic: the Dulce de Leche Pancake.
The Lowdown: These fluffy Americana pancakes are served with caramelised banana, coconut and peach puree served with, arguably Argentina's greatest culinary export, dulce de leche, topped with raspberries and banana split ice-cream. The perfect way to treat yourself – available from the 4th to 10th of March.
Where: Locations here
What: Loving this sunny weather? This Shrove Tuesday, head to the rooftop at Queen of Hoxton for some Red Velvet Pancakes at Lady Celeste's rooftop hideaway. We're into it.
The Lowdown: Make the most of the sunshine in their Moulin Rogue inspired Winter rooftop WigWam draped in red velvet, and enjoy a hot buttered rum to wash down your pancakes. They will also be serving up buttermilk pancakes with build your own toppings stations on the ground floor.
Where: 1 Curtain Rd, London EC2A 3JX
What: Located in the historic Vintry Ward, moment from Cannon Street station, the newly-opened Vintry & Mercer serves beautiful green tea ricotta pancakes topped with a generous dollop of silky-smooth clotted cream and plump berries.
The Lowdown: Available for breakfast and brunch at the hotel's restaurant, the Japanese-inspired delicacies can be ordered from an eclectic menu that pulses with bold, Asian flavours from morning to night. The pancakes are also power packed with Matcha powder providing the perfect energy boost to kick start the day. Power up.
Where: 19-20 Garlick Hill, London EC4V 2AU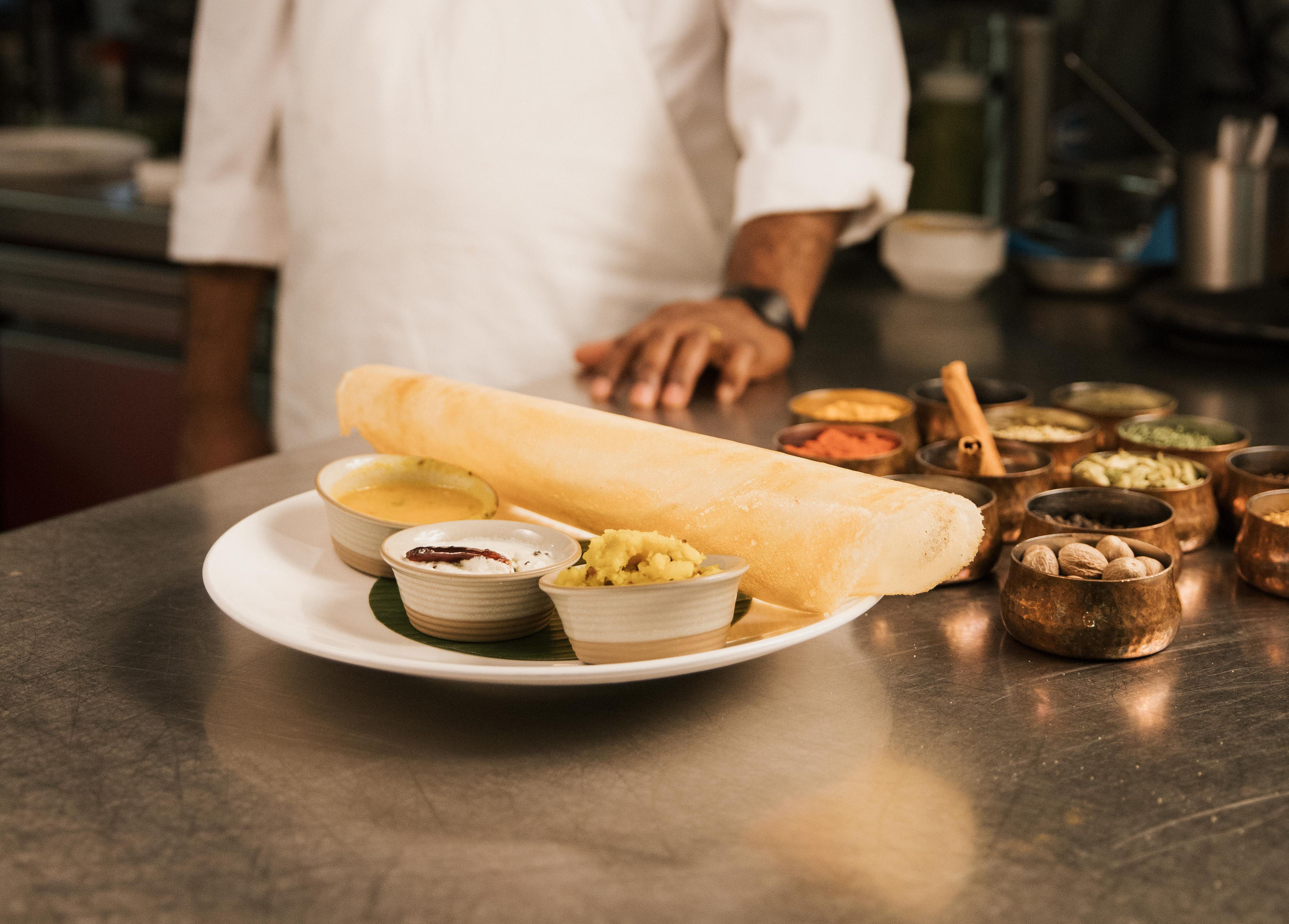 What: Combining the finest of traditional Indian cooking with culinary concepts from all over the Subcontinent, The LaLiT London in Tower Bridge serves a savoury Dosa pancake for breakfast made with fermented rice flour batter, lentils and fenugreek seeds.
The Lowdown: Available at the hotel's Baluchi restaurant, the pancake can be rolled or folded into a triangle before being dipped in warm coconut chutney with green chilli.
Where: 181 Tooley St, London SE1 2JR
What: Ask For Janice has created a menu of sweet and savoury pancakes for those looking for something a little different this Pancake Day in London. Available to order all day on Tuesday 5th March, the menu ranges from fluffy buttermilk pancakes to crispy dosas. 
The Lowdown: Savoury pancakes are laden toppings such as shredded slow-braised pork shoulder, inside rolled pancakes with grilled with Old Winchester on top and served on wilted Cavolo Nero. For those looking for a sweet fix, try the buttermilk pancakes with whipped ricotta laced with vanilla and orange blossom water, topped with blood orange, pomegranate and a sprinkling of rose petals. Vegans will be able to enjoy American-style soy milk pancakes topped with blueberry jam, fresh blueberries, coconut yoghurt and mint.
Where: 50-52 Long Ln, London EC1A 9EJ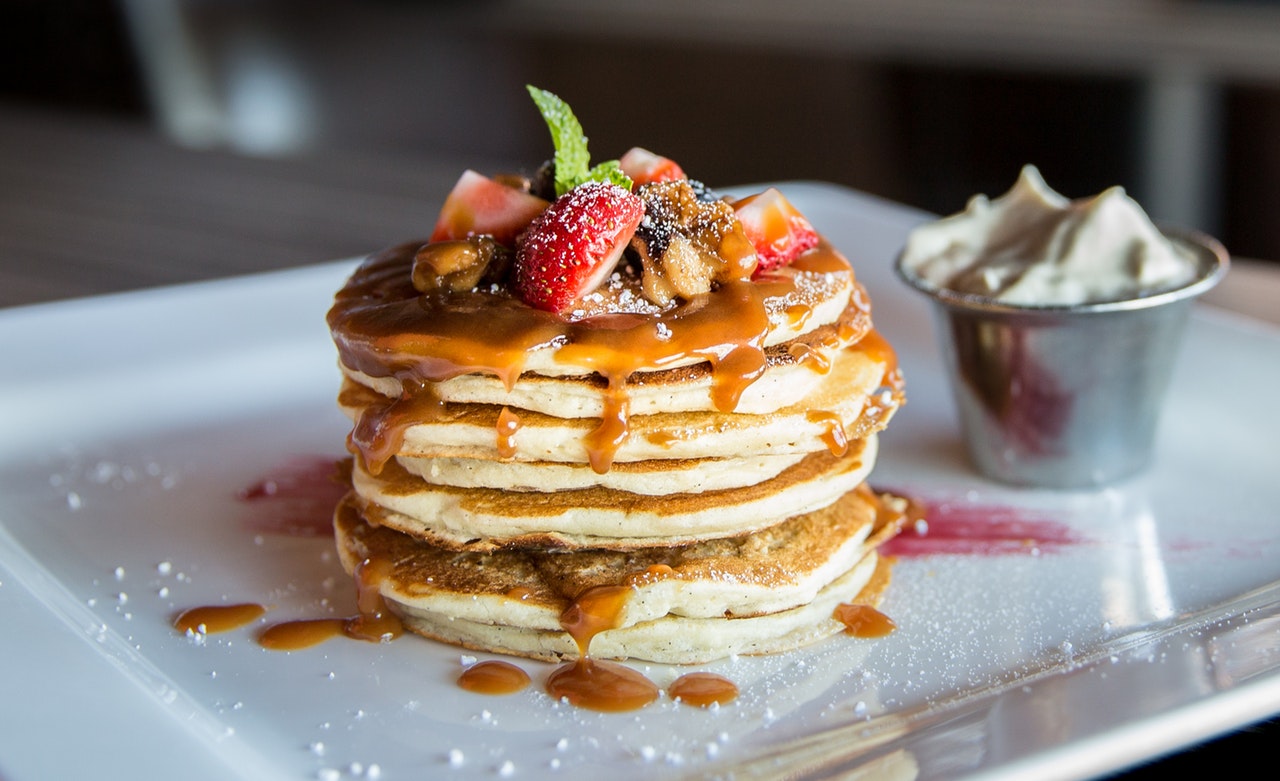 What: There is no denying that every day is a good day for pancakes. However, for the ultimate Pancake Day this year, stop by Royal Lancaster London and be prepared to indulge in a variety of delicious sweet and savoury pancakes.
The Lowdown: Island Grill, the award-winning sustainable restaurant at Royal Lancaster London, will be serving up gourmet pancakes throughout the day for all to enjoy. The restaurant will also have a live pancake station for breakfast, which is open to both guests staying at the hotel or those looking to simply enjoy the best pancakes in town.
Where: Lancaster Terrace, London W2 2TY
What: This year, Hoppers will be holding a pancake roulette at both their sites, Soho and St. Christopher's Place. We're not quite sure what that is, but we're into it.
The Lowdown: Anyone who orders a feast with an egg hopper and gets a lucky double-yolk hopper gets a round of cocktails on the house. Hopper St Christopher Place will also be serving up a Jaggery Milk Hopper for one day only – we've heard they are totally delicious.
Where: Locations here
What: Get ready for not one but two stacks of joy this Pancake Day in London, as Scottish sensations Mac & Wild bring a taste of the Highlands to London with the supreme Ben Haggis pancake mountain and The 8 Stack Mac.
The Lowdown: Mac & Wild will be serving up a sixteen layered pancake tower of Haggis Mac and Cheese, finishing with an decadent deep-fried mars bar pancake stack. Try the Ben Haggis – a mountain of sixteen butter pancakes, covered with creamy mac and cheese, Red Jon sauce and crispy shallots, topped with a warm haggis crumb, fresh Jalapeno chilli and deep fried haggis pops to truly blow your mind. Finish the day with The 8 Mac Stack, consisting of 8 fluffy Highland clouds of joy topped with Scotland's finest deep-fried Mars bar and dripping with a whisky caramel sauce and a peanut butter drizzle.
Where: Locations here
What: For Pancake Day in London, Bluebird Chelsea and White City are having a pancake takeover for the day. On Tuesday 5th March, join them for a six-level pancake tower drizzled in chocolate, a bacon and egg pancake sandwich and bottomless pancakes and bubbles.
The Lowdown: Bluebird Cafe Chelsea and White City are offering Londons the ultimate Pancake Day celebration, unlimited pancakes and bubbles. Get battered with stacks and stacks of pancakes and limitless toppings including marshmallows, chocolate sauce, maple syrup, candied pecan, berries and Nutella. To help wash all the buttery goodness down, Bluebird is offering unlimited prosecco to all those diners.
Where: Locations here
What: On Saturday 9th March, guests can tuck into bottomless Prosecco and Pancakes at The Little Blue Door, perfect for those who missed Pancake Day itself.
The Lowdown: Indulge in a heavenly combination of Pancakes and Prosecco at The Little Blue Door's bottomless brunch. Guests can indulge in TLBD's 'The Fuck F***off Pancake Platter', complete with stacks of pancakes and tiers of toppings including caramelised almonds, marshmallows, whipped cream and chocolate buttons, served on a silver platter and topped with chocolate ganache, to satisfy everyone's sweet tooth. While the fountains of prosecco and dripping sauces flow, TLBD's resident DJ will be playing club classics from throughout the ages.
Where: 871-873, Fulham Rd, Fulham, London SW6 5HP
What: Pizza powerhouse Bunga Bunga Battersea, is swapping the oven in for a frying pan this Pancake Day, offering diners delicious pancake platters inspired by Pisa.
The Lowdown: On Tuesday 5th March, Bunga Bunga Battersea will be serving up Italiano style pancakes including savoury starters, a Tiramisu Tier and even a Maple Syrup Negroni special. Diners will be able to indulge in super soft pancakes this Shrove Tuesday, starting with a pancake topped with Parma Ham, Rocket and Parmesan followed by a Tiramisu Tier Stack, fluffy layers filled with Mascarpone, Whipped Coffee Cream, Nutella and Fresh Berries, both perfectly accompanied by Bunga Bunga's Maple Syrup Negroni.
Where: 37 Battersea Bridge Rd, London SW11 3BA
What: Don't follow the pack with the all-too-common bacon and maple syrup this Pancake Day, and instead try a South-American inspired pancake at Floral by LIMA in the heart of Covent Garden.
The Lowdown: For a colourful Peruvian twist, enjoy vibrant, purple corn pancakes topped with an assortment of fresh fruit, drizzled with traditional Latin American dulce de leche, to ensure it's a deliciously Instagram-worthy occasion. This limited-edition pancake will be available for £8.
Where: 31 Rathbone Pl, Fitzrovia, London W1T 1JH
What: With the countdown to Pancake Day officially on, discover this special that'll be landing on the EGGBREAK menu this Sunday for one week only.
The Lowdown: Say hello to their Vegan Banana & Choc Chip Pancakes, topped with coconut vanilla cream, raspberries and toasted coconut flakes. And fear not, they've still their OG pancake stack on the menu too. Get involved.
Where: 30 Uxbridge St, Kensington, London W8 7TA
What: Head to one of seven bars across London for an exclusive pancake menu this Shrove Tuesday. From the traditional sweet to the unexpected savoury, Darwin & Wallace will have the fluffiest of pancakes.
The Lowdown: Executive Chef Simon Duff has created an exclusive pancake menu for the day, from delicious sweet pancakes to interesting savoury. Guests can enjoy Banana & Ricotta Pancakes with coconut yoghurt, maple syrup and warm berry compote to Kimchi Pancakes with smoked salmon, spring onion and basil mayo. Kimchi is definitely having a moment and we can't wait to try!  

Where: No 11 Pimlico Road, No 32 The Old Town, No 1a Duke Street, No 197 Chiswick Fire Station, No 29 Power Station West, 601 Queen's Rd and No 17 Dickens Yard
What: This Tuesday 5th, Fortnum & Mason invite customers to celebrate Pancake Day with delicious sweet and savoury dishes available at the flagship Piccadilly and the brand new Fortnum's Bar & Restaurant at The Royal Exchange.
The Lowdown: Overlooking the streets of bustling Jermyn Street, diners at The Gallery can tuck into dishes created with ingredients from the famed Food Hall. For those looking for a dessert style, pancakes are served alongside poached Yorkshire rhubarb with ginger crème patisserie as well as the classic lemon and sugar pairing. Savoury pancakes are presenter with spiced crab with Dorset crab and coriander, plus rosemary & taleggio pancakes are combined with roasted butternut squash and onion marmalade.
Where: 181 Piccadilly, London, W1A 1ER
What: For gluten-free option, why not go for Kalifornia Kitchen signature Buckwheat & Banana Pancake served with coconut yoghurt, caramelised bananas & almond brittle will make you go bananas.
The Lowdown: The brainchild of vegan influencer and creative power house Loui Blake, Kalifornia Kitchen's ethos is to redefine the way we regard plant based food and make it a regular go-to option for any hungry customer. Moving away from the junk food vegan restaurants so commonly opening now, Kalifornia Kitchen wants to break down the barriers of vegan eating making it as much fun as it is tasty. From pink croissant to the famous jackfruit tacos, there are many reasons to visit.
Where: 19 Percy Street, London, W1T 1DY
What: This year to celebrate Pancake Day, Le Pont de la Tour, overlooking the River Thames, will be serving the traditional French dessert of Crêpes Suzette. The Grand Marnier will be poured on top and the crêpes will be flambeed in the middle of the restaurant to give a theatrical element to the day.
The Lowdown: In keeping with the conventional French dish, Le Pont de la Tour create a sauce of caramelized sugar, butter, tangerine juice and zest which is drizzled over the crêpes before the Grand Marnier finishes it off.
Where: 36D Shad Thames, London, SE1 2YE