About Time: You Stepped Outside Your Comfort (Cal)zoneBy Clare Finney
There comes a point in every pizza lovers life when a margarita – even a margarita with an extra topping of mushrooms – just isn't going to slice it; when the siren calls of the creative, controversial options hanging coolly at the bottom of the menu become too hard to ignore. If that is you, now, you've arrived at the right time. London's pizza scene has never been so interesting as it in this golden age of collaborations, British cured meats and cashew nut cheese. Go forth and fold (or roll, or dangle, or cut – however you eat your pizza). These are the best pizzas outside of your comfort calzone:
London's Best Pizza: The Rhubarb One
Named for the Aztec god of fermentation, adorned with homages to Crystal Palace residents Camille Pissarro and Zola, the founders of 400 Rabbits make no bones as to the heritage of their pizzeria. "We're from south London. We're not Italian. We wanted to celebrate what makes London tick in terms of food," explains Daniel Edwards. Cue dazzling collaborations with the likes of Zoe's Ghana Kitchen, New Zealander Chantelle Nicholson, Gourmet Goat and – later this year – Horn Okay Please, of Indian street food fame. Nevertheless, you don't have to wait for them to break new ground at this casual, airy pizzeria. Their own changing menu constantly pays homage to both seasonal and local ingredients, and their rhubarb pizza with chipotle rolled goats cheese, rhubarb, piquillo peppers, mozzarella, and tomato is a prime example of that: sweet and spicy, creamy and sharp, startlingly unusual and yet indisputably pizza-y. As controversial pizzas go, this will certainly keep us sated until the sound of Horn Okay Please.
London's Best Pizza: The Vegan One
Another number from 400 Rabbits, the co-founder of whom is reassuringly vegan. We're told he's recruiting a local vegan cheese supplier, but in the meantime check out his cashew cream, white wine, smoked tofu, shallots and thyme: a tongue-teaser of textures and a mind teaser as to how a vegan pizza could taste so damn good.
Find it: Locations here
London's Best Pizza: The Vampire One
Lost Boys is to a traditional Neapolitan pizzeria what Pride and Prejudice and Zombies is to Jane Austen's novel. Sure, both share certain ingredients, and the former couldn't exist without the other – but the connection really stops there. The dough is black, thanks to the addition of black charcoal, and the pizza names are puns on 80s and 90s horror film references because, Camden. "London pizza is anything you want it to be," their founder, Alex Fisher – which includes a kale, cherry tomatoes, caramelised shallots, lemon zest, oregano and nutritional yeast-topped, charcoal-infused pizza called Kale All the Vampires. Come for the pizza, stay for 'banging cocktails' and the 'Killer 80s playlist'.
Find it: 141 Junction Rd, London N19 5PX
London's Best Pizza: The Cabbage One
It says something about London 2019 that there is not just one, but four cabbage-based pizzas around, their once-derided hero ingredient present in varying degrees of fermentation. At Homeslice you'll find fresh cabbage – savoy –  married with spiced lamb and sumac yoghurt, as well as their kimchi, porcini cream and basil pizza, which is just a flavour frenzy; 400 Rabbits are running two sauerkraut specials for a limited period (one meat, one veggie) with sauerkraut from local pickle pioneer Vadsz Deli;  and Voodoo Rays are offering a Reubensque, the pizza answer to a Reuben sandwich, topped with salt beef, two cheeses, sauerkraut and a Russian dressing.
Find it: Locations here
London's Best Pizza: The Breakfast One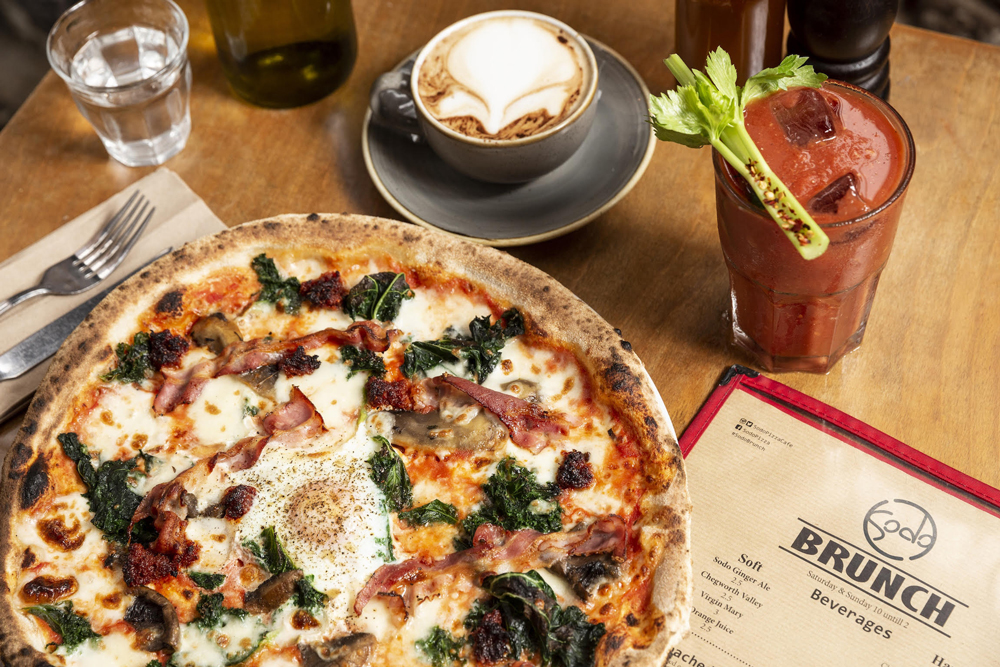 Again, there are plenty to choose from in London – so many, in fact, we've run a dedicated breakfast pizza article – but my brunch money's on Sodo Pizza in Walthamstow. Not only are their tomato, mozzarella, , mushroom, pancetta, egg and nduja-toped pizzas available until 2pm at weekends, they are every bit as delicious as you'd imagine a pizza-full English-mash up to be. With mozzarella from Essex, mushrooms for local farms and nduja from Sussex, Sodo's ingredients are impeccably sourced, and their dough is fermented for a tangy, digestible 48 hours.
Find it: Locations here
London's Best Pizza: The Collaborative One
You see a Turkish kebab; Yard Sale see a pizza. You see a taco; Yard Sale see a pizza. You see a Thai stir fry; Yard Sale see sticky soy pork belly, sesame-lime ricotta, spring onions, pickled ginger & toasted pumpkin seeds on a burnt chilli and tomato sauce. Every month or so this pioneering east London pizzeria teams up with a neighbouring restaurant to create pizzas which are so wrong, they're right. Last month it was the Vurger Co, whose beloved Auburger has stolen the hearts and stomachs of vegans everywhere. Yard Sale paired their  chipotle sauce-braised aubergines with caramelised red onions, chargrilled peppers, rocket and a drizzle of house made cumin mayo. This month's collaboration is still under wraps, but if history repeats itself, we're in for a good thing.
Find it: Locations here
London's Best Pizza: The Dahl One
Though a brewery and pub first and foremost, Crate's exceptional pizza offering has garnered a huge following in its own right – and with good reason. The dough is 24 hour fermented, the toppings are freshly and locally sourced and there is, let's face it, no better accompaniment for beer. Their Kashmiri dahl pizza, with fresh spinach, dal, crispy shallots, cumin seeds, fresh bananas and Greek honey sounds baffling until you realise a pizza base is basically naan bread in Italian. Their New Zealand executive chef, Jess Seaton, considers pizza dough as a vehicle for brilliant flavours – be they middle eastern lamb, stilton, or hearty, aromatic Kashmiri dahl.
Find it: Unit 7 Queen's Yard, Hackney Wick, London E9 5EN
London's Best Pizza: The Geezer One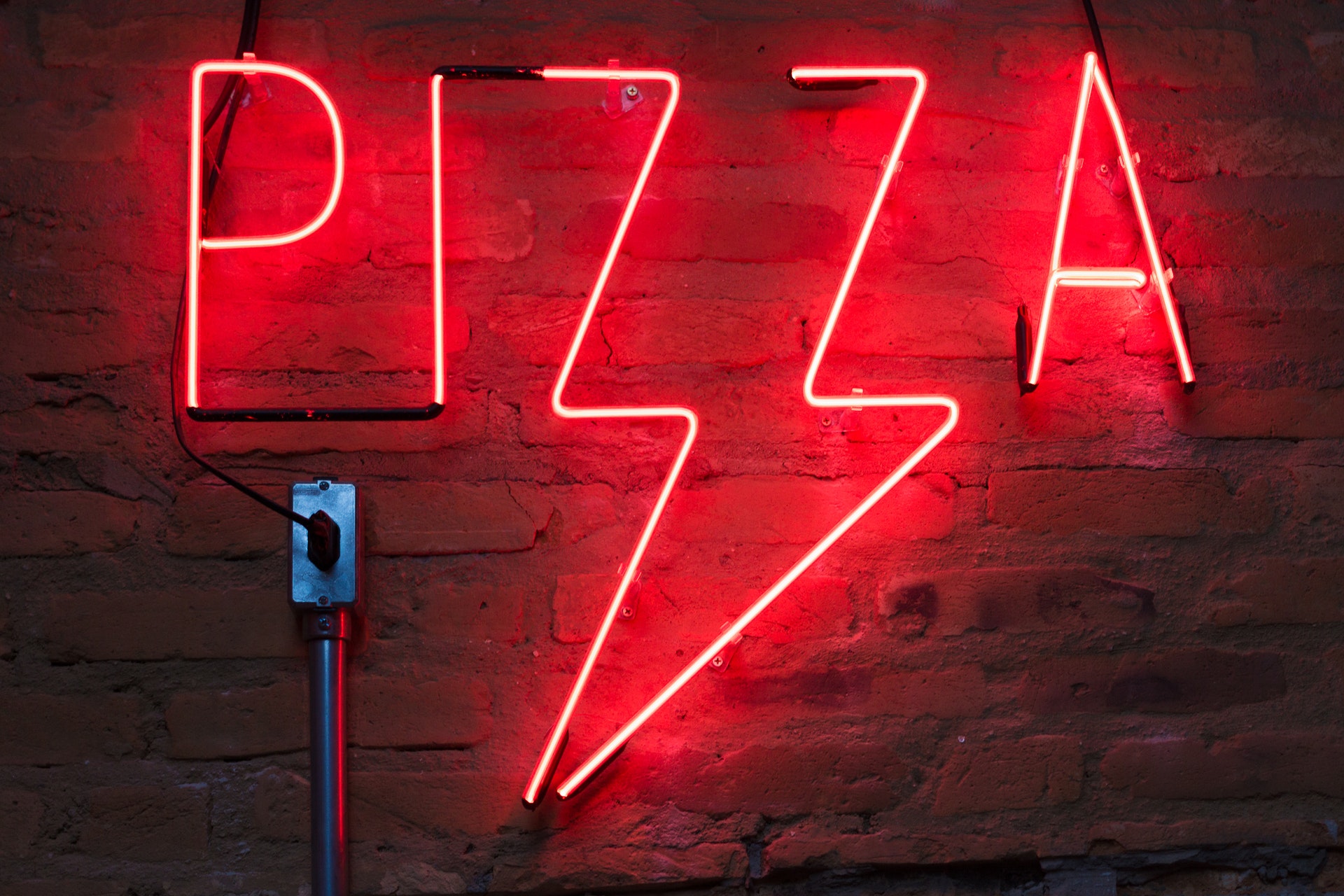 Initially created as a witty one-off – a tongue in cheek celebration of the "big personalities" who frequent this East End boozer – the Lord Morpeth's Geezer pizza went down such a treat with its local muses it's stayed. In fact, it's one of their most popular numbers: the salt beef, pickled gherkins, sweet mustard dressing and shallots uniting east London's Jewish and Italian heritage in a classic east London watering hole.
Find it: 402 Old Ford Rd, London E3 5NR
London's Best Pizza: The Sweet One
Though personally of the view that dessert pizza is one abomination too far, I'm magnanimous enough to recognise no list of alternative pizzas would be complete without one. Fortunately, I have found the one sweet pizza that capable of overcoming my nightmare that is Nutella congealing on cold dough: Nutella calzone from The Belrose in Belsize Park. The folded dough keeps the Nutella warm and vice versa so that the chocolatey, nutty sauce oozes seductively out of its pillowy case upon contact – making the cool, nut-studded pistachio gelato served alongside it an icy, welcome relief.
Find it: 94 Haverstock Hill, Belsize Park, London NW3 2BD