About Time: You Discovered London's Best Hot Chocolate 2019By Jodie Duddy
Looking for the London's best hot chocolate 2019? Look no further. We've rounded-up the very best, *proper* hot chocolates in the capital to keep you warm this winter (and if you'd like to make one at home, here's some recipe inspiration). Get ready to indulge:
What: Classic Hot Chocolate (from £5)
The Lowdown: SAID in Soho and Fitzrovia serve up some pretty special hot chocolates, which can be spiked with a range of spirits like cognac, grappa, whisky and rum. You can also grab something sweet, like delicious chocolate bark or pastries, from SAID to accompany it. Word on the street is Italians do the best hot chocolate, and if this is true than you need to look no further than SAID DAL 1923.
Where: Locations here
What: Luxury Hot Chocolate (from £3.50)
The Lowdown: The hot chocolates here are made with real chocolate, using chocolate made on Hotel Chocolat's own plantation in St Lucia. You can really taste the difference with their delicious, rich hot chocolates, which come in 9 different varieties. Our personal favourite is the hazelnut hot chocolate, which is made with pureed nuts, rather than syrup or powder. The white chocolate and nutmeg is also delicious, if you're feeling like something sweet and indulgent.
Where: Borough Market, 2-4 Bedale St, London SE1 9AL
What: Chocolat Chaud (£3.50)
The Lowdown: PAUL brings French tradition into a family-run business with their special baked goods and homemade sandwiches. Their Chocolat Chaud is really very special – expect a divine, rich, thick dark chocolate hot chocolate, perfect for warming the cockles. If you're feeling festive, they can top it with whipped cream, Christmas crunch or cinnamon. You can also buy a pick to make at home for the ultimate Christmas treat.
Where: Locations here
What: Aztec Spiced Hot Chocolate (£5.50)
The Lowdown: The Camden Grocer is a little deli in Camden market, which serves up delicious hot drinks. We loved the Aztec spiced hot chocolate, which you can pimp with whipped cram and make boozy with Westerhall Run or Whisky from the Cotswolds Distillery. The Camden Grocer can be found in the North Yard – Camden Market's recently launched new restaurant and dining area.
Where: Unit 89 – Stables Market, Chalk Farm Rd, London NW1 8AH
What: The Hot Chock (£12)
The Lowdown: Frenchie Covent Garden is a chic, modern French Brasserie and serves an even chic-er hot chocolate offering. The Hot Chock is a blend of Fair Juniper gin, hot chocolate infusion and green chartreuse chantilly cream – it's an unforgettable cocktail based on the flavours of hot chocolate, perfect as dessert cocktail.
Where: 16 Henrietta St, Covent Garden, London WC2E 8QH
What: Sweet Temptation (£11)
The Lowdown: Enjoy a 'Sweet Temptation' at the breathtaking Sky Pod Bar, London's highest public garden. Served with a wafer biscuit on top, the hot chocolate also contains  Martel VS Cognac, Roots Kanela liqueur which gives it the Christmassy spice flavour and it finished with orgeat syrup and toffee nut whipped cream. They also serve other hot seasonal drinks like mulled wine, or hot Aspell Cyder.
Where: Sky Garden, 1 Sky Garden Walk, London EC3M 8AF
What: Signature Hot Chocolate with Torched Marshmallow (£5)
The Lowdown: Chin Chin Labs are famous for their special nitrogen ice cream, but did you know they also serve up an incredible hot chocolate? The hot chocolate is super rich, made with luxury Valrhona Chocolate (the best) and you can opt for a handmade torched marshmallow on top, which is perfect for pleasing your inner child. There's also a vegan version, with notes of raspberry and apricot, so every can indulge this Christmas.
Where: 49-50 Camden Lock, Camden Town, London NW1 8AF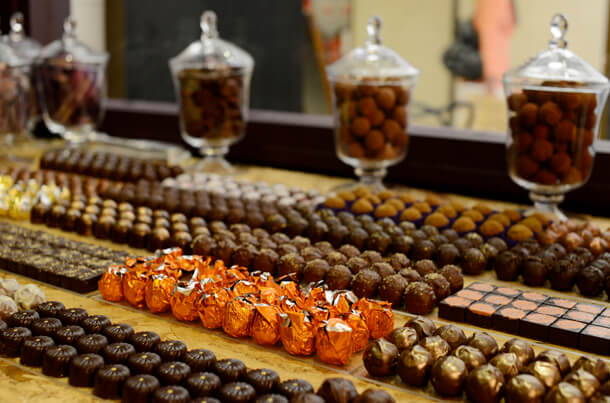 What: Aztec Hot Chocolate (£3.95)
The Lowdown: Paul a Young's Aztec hot chocolate is surely some of the best in chocolate. This rich and thick hot chocolate can be mixed up with spices, such as cinnamon and cayenne or ginger and cardamom, or just enjoyed in its traditional, classic chocolate form. You can also choose to have homemade salted caramel poured in, which tastes like heaven. Either way, you'll be hard pressed to find a better hot chocolate in London.
Where: Locations here
What: Italian Hot Chocolate (from £3.50)
The Lowdown: Luxury Italian chocolatiers Venchi celebrate the beauty of chocolate in all forms. At their Cioccogelaterie shops you can immerse yourself in a sensory experience, surrounded by chocolate: small daily indulgences for any time of day. You'll be spoilt for choices in stores, with chocolates, pralines, Suprema chocolate spread, bars, hot chocolate and, of course, last but not least, gelato. The hot chocolate is seriously divine, an indulgent treat to warm you up.
Where: Locations here
What: Hot Chocolate (from £3.95)
The Lowdown: Melt Chocolates in Notting Hill is one of the best luxury, boutique shops in London, we say. They make a delicious hot chocolate in store, made with only the best quality dark chocolate – it comes in a little shot glass, perfect for a sweet hit. You can also buy their 'hot chocolate blocks' to take home, which make a great Christmas stocking gift. Pick up some dairy-free vegan chocolate truffles while you're there, they are too good.
Where: Locations here