Here's 5 things you should be eating in the capital this week. Get your knives and forks at the ready:
What: A brooding bar and restaurant at the Arch Hotel, hidden along a sleepy little street in Marble Arch. Glamorous booths, warm lighting and delicious food makes this place the stuff of Date Night dreams.
Why: Game Game Game. If you're usually freaked out by the idea of game meat, now is the time to broaden your horizon, as it's officially Game Season. For all of you sceptics, game is essentially the culinary equivalent of eating a really hench, strong man. The meat is darker, leaner and more flavoursome because the muscles get used. Hot. Hunter 486 have a menu dedicated to game throughout October and November. Chow down on Roast pheasant breast and confit leg croquette, lentils, salsify and glazed chestnuts or roast wild duck with braised red cabbage, fondant potato, orange and cinnamon glazed figs and spiced jus. Heaven.
Where: Hunter 486 at The Arch Hotel in Marble Arch. 50 Great Cumberland Place, Marble Arch, London W1H 7FD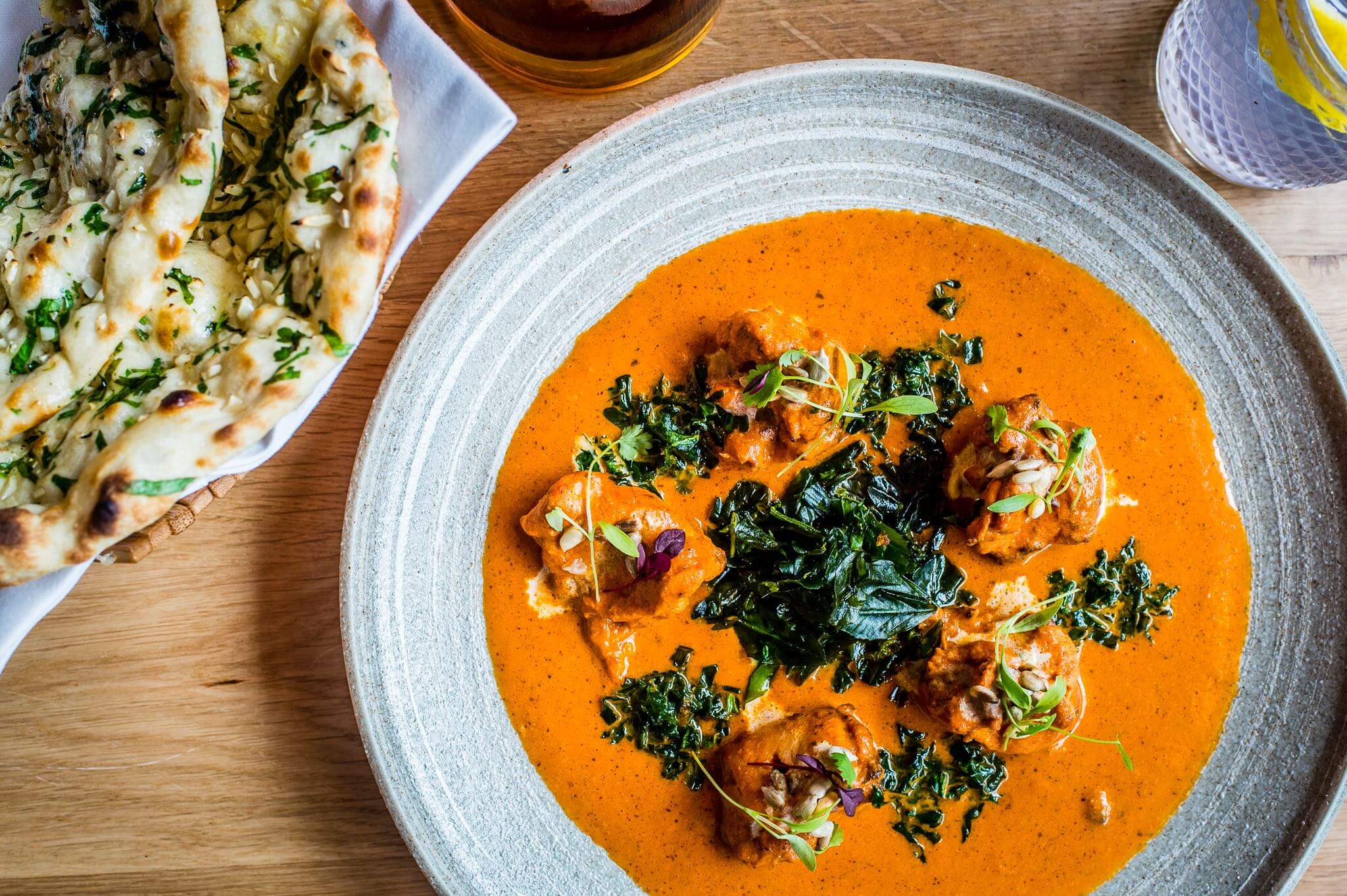 What: Canary Wharf is fast becoming a melting pot for different restaurants – sushi, brunch and ramen to name but a few. But let's not forget Chai Ki, a newly opened Indian restaurant that can do no wrong.  Believe us when we say, it's worth the punt across London for.
Why: While many Indians are heavy, greasy and far too rich – Chai Ki are none of those things. It's Indian food, but not as we know it. No post-meal slump here. Dig into sharing plates of Goan Prawns with roasted garlic, Goan chilli, rock samphire and tempered coconut rice and chicken pear chaat – a heavenly combination of tandoori chicken tikka, pear, charred gem lettuce, mint, and a mango thyme dressing. For main course, larger plates are up for grabs –  slow cooked Welsh lamb shoulder with saffron, Kashmiri,  green chilli and Fish Kuzhambu – grilled salmon, Byadagi red chilli, mustard seeds, star anise all served with fennel beetroot aloo. Put down that sad korma and hop foot it to Chai Ki.
Where: Mall Level -1, Crossrail Place, Canary Wharf, London, E14 5AR
What: Now, I don't know about you – but we're big fans of everything that is deep fried and crispy. Ma' Plucker have just made our chicken dreams a reality. Ma' Plucker are serving up the very best Southern chicken, served three ways. With a side serving of R&B, a hefty portion of soul and sauces, Ma' Plucker is your one stop chicken shop.
Why: So here's how it works, you'll will be given a #3waychicken menu, that outlines how you can combine these recipes, to rustle up your own perfect poultry plates. Step 1 – choose a base of either; freshly plucked salad, a house bun, or a maple waffle. Step 2 –  choose a sauce, options include; MP chicken skin gravy (tastes so much better than it sounds), chipotle chilli sauce, Kansas BBQ, or maple chilli glaze. Step 3 – choose your chicken, from chilli rubbed, roasted Rotisserie, to crispy and coated buttermilk. Oh baby. 
Where: 75 Beak St, London W1F 9SS
4. For a New Opening: Aladino's 
What: Following a successful soft launch, Aladino's restaurant has now officially opened in West London's High Street Kensington. Expect a unique menu of Alexandrian cuisine with a contemporary twist.
Why: Aladino's menu blends traditional Alexandrian recipes with classic French and Italian influences, creating bold and original creations. Think, prawns in delicately-flavoured crispy coating and full-bodied lentil soup complemented by lemon balm and served with garlic croutons. Mains are equally tasty – slow-roasted lamb shank infused with mild Egyptian spices, ox cheeks with puy lentils, carrot and orange carpaccio and gremolata.
Where: 38C Kensington Church St, London W8 4BX
5. For a Takeover: Spice Night 
What: For one night only, this Thursday Arun Kapil, founder of award winning spice company, Green Saffron is hosting  a Spice Night at The 3 Crowns Old Street pub. Cooking alongside Head Chef Lee Urch, Arun is set to create a 5-course menu making the most of Green Saffron's fresh, vibrant spices.
Why: The Spice Night will celebrate Arun's knowledge of spices adding depth and flavour to dishes and surprising the palate with unexpected flavour pairings. Kicking things off is canapés of venison tartar with crisp bread, 'Gol Guppa', tamarind water and spice and artichoke 'croques'. For starters, we're talking about a spiced butternut and autumn leaf salad with a slow-cooked Burford Brown egg and shaved raw chestnuts. It doesn't stop there, enjoy Cornish crab cakes with sweet cucumber pickle, Rajput 'split and grilled' red-legged partridge with damson and bramble 'lunji'. Finish off with triple chocolate meringue cream pie, garam biscuit, pistachio and rose. A feast of absolute delights.
Where: The 3 Crowns, 8 East Road, Old Street, London N1 6AD
To book, please contact The 3 Crowns on: 020 7842 8516