May is one of my favourite months; when the days start to stretch out long in front of you, and it's warm enough to step out into the night without a duffel coat and scarf. May is also one of my favourite months because it's when my boyfriend & I begin to walk. Long, leisurely walks, from north London to the West End, through Primrose Hill and Regent's Park, that define our summer. We walk, and walk, and walk. Walks that give us time and space, to meditate on where we are right now, without rushing to the next moment, the next meeting, the next meal.
The older I get, the more I've come to appreciate those quiet moments of reflection; I'm left wanting to slow down, not speed up, to switch off, not switch on, to stop, rather than start. My weekends are an antidote to the week; as I come into the weekend, I feel like myself craving a vial of calm, in the form of lie-ins, naps and long walks, to heal me. We all need to pause, breathe, walk.
So this is a story that starts with a walk; from West Hampstead to Belsize Park (through the glamorous sights of car park of the 02 Centre), through Primrose Hill and over into Regent's Park, stopping to smell the flowers in the Rose Garden, and, finally, landing at the tip of Marylebone High Street.
Marylebone High Street, for me, is sadly style over substance. It's so pretty, with its cafes spilling out onto the pavement, artisan cheese shops and chocolatiers, but I can never find anywhere to eat in the evening. Daylesford is delicious, but unjustifiable expensive, Fischer's has outrageous, comically-bad service, 108 Brasserie a little too stiff, and the Ivy Café feels too formal for a date night. We've tried everywhere – and beyond 28-50, where I can recite the menu backwards, I've been so many times – I've never loved anywhere enough to go back.
Which is how we find ourselves, at 9pm, staring hungrily into each other's eyes over the biggest pizza I've ever seen. La Brasseria is Marylebone's answer to Milan; all sultry marble interiors, glossy, panelled walls with classic black and white photographs and Italian maître d's serving up Chianti by the glass. It's undeniably sexy, and apparently the refurbishment cost a cool £1 million. But does the food live up to the high shine on their marble counter tops? Yes. A hundred times yes.
We start with a plate of Truffle Arancini (£5.50) on a bed of cheesy, truffle sauce. They are a delight; crispy on the outside, unctuous and fluffy on the inside, a decadent mouthful of sticky rice and truffle coming together, bonded by Parmesan, the best kind of friendship. The sauce is a little grainy in texture, but it's not the star of the show really, and my boyfriend, who is so hungry he is practically eating the table, declares them "absolutely outrageous". Rich, moreish, divine. Good Arancini really is the stuff of the Gods.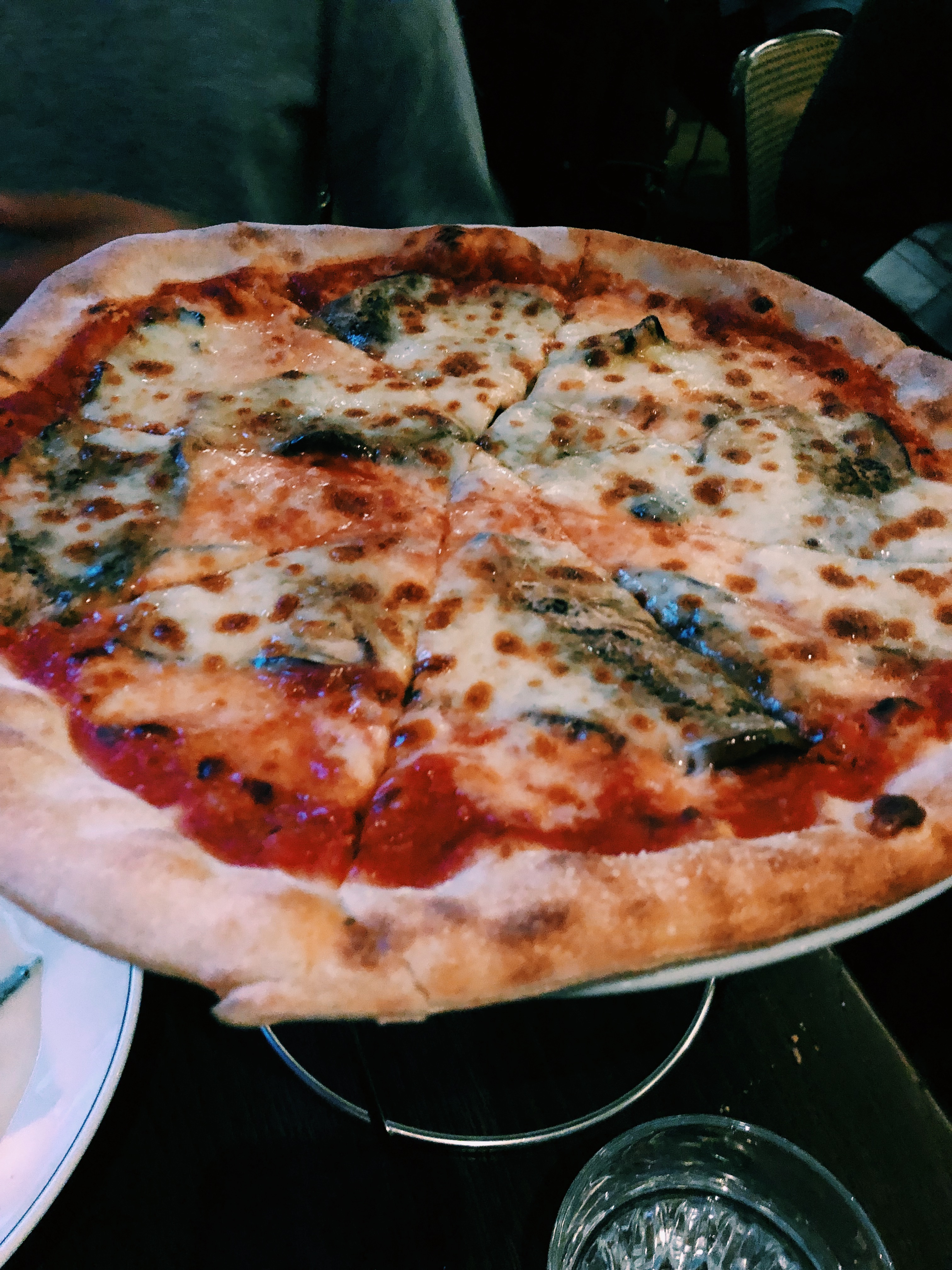 Next, the theme of the evening – cheese – continues. Melanzane alla Parmigiana (£9) so delicious and flavoursome, we practically lick the plate clean, the aubergine melty and tender, with a crisp cheese topping. It's so good, we order La Parmigiana Pizza (£12) just for a taste-test; the pizza is gigantic, with the thinnest base, spilling over with the finest quality mozzarella cheese and thin slivers of oily aubergine, it's a show-stopper of a pizza. The pizza is heavenly – and far too big to finish. At this point, my other half is almost crying with joy.
We end on a sweeter note; the Tortelloni di Zucca (£14) – homemade pumpkin tortelloni with butter and parmesan sauce. The parcels are filled with a sweet, lightly spiced pumpkin centre, with a super silky texture. I cannot fault them.
We begin the long walk home; our appetites satiated, our hearts full, our arteries swimming with cheese. The walk almost defeats us; a quick pit-stop for a huge pistachio and hazelnut ice cream cone in at Gelato Mio in St John's Wood gives us a much-needed energy boost. The perfect evening; full of dairy, dreams and letting your feet take you to unexpected places.