January Special: 10 Things You Need to Eat in London This WeekBy Alicia Grimshaw
The weather is grim, your bank balance is looking pretty bleak and you've watched all the new Dinner Date episodes. We get it, January isn't the most joyous month. But wait – because we have some very good news. We've discovered some amazing foodie deals, new restaurants and mega cocktails – here's our pick of where you should be eating in the capital this week:
What: Perched high above the capital with bangin' views across the City, London's hottest new destination rooftop restaurant, bar and grand terrace, Aviary, has come home to roost. Nestling on the 10th floor of the brand new Montcalm Royal London House Hotel, bordering the City and Shoreditch on Finsbury Square, Aviary is an ornithological paradise soaring above London's busy streets.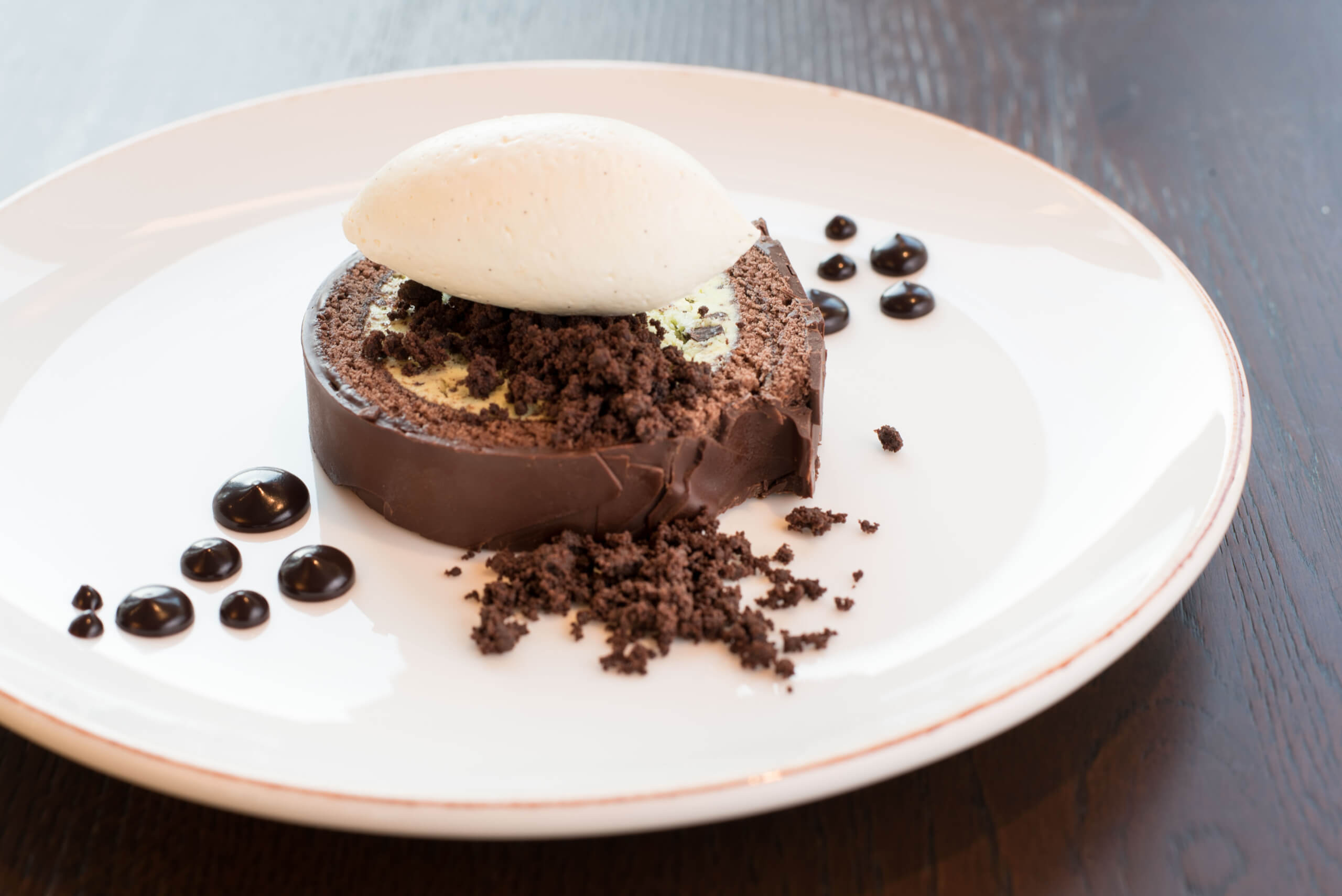 Why: Start with something light from the raw section, like the chalk stream trout with taramasalata, celeriac, apple and rye; beef tartare with oyster dressing, shallots and radish or a platter of oysters, cherrystone clams, trout, tuna, scallop and mackerel to share. For the main event, the coal oven offers prime meat cuts and wild fish on the bone cooked over live charcoal. Select from the daily changing 'butchers cut', retired dairy cow sirloin on the bone, or one of the impressive larger cuts to share such as the Ayrshire rose veal T-bone, Old Spot double chop  or Shorthorn chateaubriand. Leave plenty of room for dessert with choices such as: After Eight Arctic roll; milk chocolate mousse with salted caramel; almonds and malt ice cream; and sticky toffee pudding.
Where: The Montcalm Royal London House Hotel 22-25 Finsbury Square, London EC2A 1DX
What: Calling all taco lovers! To kick off the celebrations for their 10-year anniversary this year, Wahaca have introduced their new 'Taco Tuesday' offer throughout the month of January. The pork pibil tacos with fiery pink pickled onions are a team fave.
Why: Let's face it…Tuesday's need a little help. Monday's get a bad rep but have that post-weekend-5-days-to-go excuse and Wednesday's are hump day meaning you've made it half way through the week, so with Tuesday's being a long way from fun,Wahaca want to turn this around.  Starting this week, on each Tuesday of the month, every diner's first plate of tacos will be just £1, available at each of Wahaca's restaurants across the UK.
Where: Locations here 
What: Missing the selection boxes and mulled wine on tap? We get it – it's cold, dark and you're probably broke. If you feel like you just want to hide away from it all, then Gourmet Burger Kitchen may have just the thing to pick you up.
Why: Veg-Out, the latest GBK special, is packed full of goodness sure to help you find some inner peas during January. Sink your teeth into sweet potato, pea and feta croquettes, grilled aubergine, chermoula yoghurt, Cajun relish and garlic mayo. Pair with GBK's latest Black and White milkshake with vanilla ice cream, and Kalamata olive sugar to really banish away the January grump. No blues here, sister.
Where: Locations here 
4. For Another New Opening: Timmy Green
What: Timmy Green is a brand new all-day Australian restaurant and bar from the team behind brunch hangout and a-must-stop-for-banana-bread-addicts, Daisy Green. Opened recently in the Nova Development in Victoria, Timmy Green knock up creative small plates, and big prime steaks cooked to order on the Josper charcoal grill, and change the gear nicely from buzzing all day brunch spot to sophisticated and fun evening venue.
Why: In addition to the steaks, which are 100% grass fed beef reared slowly on UK farms in the South of England,  look out for: the Daisy garden with house made dips, black bread soil and fresh crudités; the three beets of josper-roasted, cold pickled and candied beetroot, with goat's curd and candied seeds; and the giant chicken parmigiana' to share with twice cooked duck fat fries. Try the the vegan aubergiana, or the the signature Timmy burger served on a black brioche bun with chilli pineapple salsa. The all-day brunch menu features some of the favorites from sibling Daisy Green including the fancy bacon roll – paratha roti, back bacon, crispy onion crusted poached eggs, drizzled in the Ribman's Holy F*ck hollandaise, and the banana bread sandwich with mascarpone, fresh berries, flaked almonds and honey.
Where: Nova Victoria, Corner of Bressenden Place and Buckingham Palace Road, London SW1W 0PP
Photo Credit: Leyla Kazim
5. For a New Partnership: Abokado x Climpson & Sons 
What: Abokado, the place where you pick up maki rolls and sushi bites on a lunchtime has partnered with East London coffee purveyors, Climpson & Sons across all 28 sites. Sourcing, roasting and crafting the finest coffee from their Hackney base, Climpson & Sons coffee will fast become your morning staple.
Why: The partnership marks a revolutionary development in the specialty coffee movement, as Abokado is the first UK chain to serve artisan coffee and highlights the importance of sustainability and ethical sourcing protocols within the global coffee industry. Bridging the gap between good coffee and quick service, the partnership pairs high quality equipment with knowledgeable staff who focus on care and attention to create the perfect cup every time.
Where: Locations here 
6. For a New Burger: Roast Restaurant 
What: Roast Restaurant is famed for its indulgent roast dinners; lashings of gravy, crispy roast potatoes that would make your mum proud, and melt-in-the-mouth meat. Now, it's taking things a step further with Head Chef Stuart Cauldwell developing a brand new dish in the form of the ultimate roast burger, which is now available.
Why: The Roast Burger features layers of carved tender Welsh Black roast beef stacked with lashings of carrot piccalilli and horseradish sour cream, topped with melted ale and mustard cheddar, curly kale and pickled red cabbage, all sandwiched between a roast potato, rosemary and garlic bun, with the burger accompanied by a red wine onion gravy. Alongside the burger, further additions for 2017 include the brand new roast flight menu, a selection of small plates which will be available Monday-Friday from 12pm-10pm. Including Hasselback potatoes with duck bacon and Berkswell cheese, and hay smoked chicken and chorizo fritters with piccallili.
Where: The Floral Hall, Stoney St, London SE1 1TL
7. For a New Dessert: Alain Ducasse at The Dorchester 
What: Traditionally served in France to celebrate the Epiphany, Galette des Rois is an elegant puff pastry and almond cake created once a year. At Alain Ducasse at The Dorchester, this delightful dessert will be available on the lunch hour menu from Wednesday 11th to Friday 13th January 2017 and served with a prune chutney.
Why: The lunch hour menu is £65 per person and includes 3 courses, 2 glasses of wine, water, and coffee/tea. For starter, choose between smoked duck breast with parsnip roulade; cockpot of egg and wild mushroom; or cauliflower veloute with foie gras. For main, opt for either the fillet of salmon with Jersulam artichoke; braised beef chuck with celeriac and red wine sauce; or polenta and roasted chestnuts. And there's pineapple treat, or the iconic galette des rois for pud.
Where: 53 Park Ln, Mayfair, London W1K 1QA
Photo Credit: Pierre Monetta Photography
8. For a New Foodie Bargain: Bombay Palace 
What: Start 2017 with a spicy bang thanks to the new Thali Tuesdays at Bombay Palace. Don't fret if your purse strings are a little tight, the new Thali menu is available every Tuesday for lunch and dinner; all for the bargain price of £19.90.
Why: Look, we get that the festive period isn't the cheapest, so we're all for a foodie deal. And let's be honest, this is an absolute steal.  Choose from a selection of two tasty thalis including a meat thali with either chicken or lamb curry, and a vegetable thali with two vegetable curries and a lentil dish.
Where: 50 Connaught St, London W2 2AA
9. For a New Lunch Menu: Samarkand 
What: Escape the office with Samarkand's new express lunch menu; indulge in a unique gastronomic adventure, filled with unexpected flavours and intriguing ingredients, all in your lunch break. Transport yourself to a world of flavour at Uzbek destination restaurant on foodie hot spot, Charlotte Street, to explore the tastes and aromas at the heart of the Silk Road.
Why: The speedy set menu is priced at £15 for two courses or £18 for three courses. Choose from a selection of starters including baklajon, a smoked aubergine caviar decorated with edible flowers; manti a traditional Uzbek dumplings filled with spiced beef and lamb or seasonal pumpkin; as well as Russian salad made with ox tongue, pickled cucumber, truffle mayo and quail's egg. Highlight main courses celebrate the signature flavours of Uzbekistan including jiz biz, pan fried rack of lamb served with potato cake and a fresh salad of herbs and finely sliced onion; supreme chicken tabaka with Samarkand Rice; and dry aged fillet of beef shashlik. Try the chilli and thyme poached pear with pistachio crumble for dessert. It's the one.
Where: 33 Charlotte St, London W1T 1RR
10. For New Cocktails: Duck and Waffle
What: Ditch the 'new year, new me' line, and ride the glass lift in the Heron Tower to the 40th floor where you'll find Duck and Waffle, and their new anti-resolution cocktails. King of the cocktails, Rich Woods has specially created a new range of cocktails that are indulgent, lavish and just what the doctor ordered.
Why: Cocktails on the menu include the Foie Gras Manhattan made with Jack Daniels, sweet vermouth, salted maple and foie gras infusion, and the White Russian Mr. Whippy made with Grey Goose vodka, Mr. Whippy soft serve ice cream, Kahlua sauce and served with a 99p flake. Also making its menu debut is the Dark Chocolate and Truffle Negroni, a sweet mix of  Bombay Sapphire gin, sweet vermouth, amaro, rested with dark chocolate and black truffle, and the White Chocolate Gin Fizz, a lightly carbonated cocktail made with Bombay Sapphire gin, Milkybar liqueur and lemon bitters.
Where: 110 Bishopsgate, Heron Tower, 110 Bishopsgate, 38th Floor, London EC2N 4AY
One for luck… 
11. For a New Breakfast Dish: Bill's 
What: Bill's Restaurants has teamed up with Marmite to serve a limited edition breakfast menu to help fuel commuters, shoppers, families and friends after the busy festive season. Available between from Monday (9th) until the end of January at all Bill's sites across London, customers will be able to access the secret menu using the code phrase 'Spread the Love'.
Why: The menu consists of The Marmite Rarebit, an mix of Marmite, crème fraiche, English mustard and mature cheddar served on a toasted bloomer with two poached eggs and fresh parsley. For those looking for a bit of oomph, The Marmite Mary is an alcoholic breakfast cocktail made with Chivas Regal 12 year-old, tomato juice, cream, lemon and a special Marmite reduction, served with a stick of celery and slice of lemon, also available in a Virgin version for those on the wagon.
Where: Locations here