Looking for fun, foodie ways to celebrate Halloween in London? From full-blown meat feast, to spooky menus and one-off pumpkin dishes, we've got your Halloween diary filled. Here's where to feast this Halloween in London:
Halloween in London: Special Menus
For a Special Burger: Mac & Wild
The Lowdown: If you're looking for a meaty Halloween in London, then look no further than Mac & Wild. For those that don't know, Mac & Wild is a game and seafood from the Scottish Highlands, with a wicked interior and a great place to dine with friends. The restaurant is running a Halloween-y take on their award winning Veni-Moo burger; The Evil Moo, a special Halloween burger, is as delicious as it is dangerous. 
The Venue: London's favourite Scottish restaurant Mac & Wild is where diners are taken on a journey to the Scottish highlands, enjoying the finest wild venison, game and seafood in a rustic setting. Yes, please.
The Food: A burger straight out of hell. Expect two patties of succulent Scottish beef, hot as hell homemade Harissa hollandaise, all encased in a devilishly good brioche bun, this is one burger you don't want to miss this Halloween.
Where: Mac & Wild, 65 Great Titchfield Street, W1W 7PS
For a Spooky Meat Feast: MeatUp
The Lowdown: This Halloween in London, specialist British BBQ restaurant MeatUp have introduced a 3-'corpse' macabre menu. The menu includes delights such as a MeatUp Autopsy of chicken heart, sautéed lamb kidneys, a pork ribcage and steak. There's also the Human Brain Burger, served with pickled midget fingers, a Bulbous Lamb Burger with hand-cut chips and tombstone toast for good measure.
The Venue: Located on Old York Road in South West London, the all-day restaurant and late-night bar, created by Sachin Khanna, has all of the ingredients of a great get-together in your own back garden – only bigger, better and bubblier.
The Food: The MeatUp Massacre is running on Friday 28th and Saturday 29th October. MeatUp works with some of the best butchers and farmers in the country to create a menu showcasing the very best of British ingredients, from land and sea, and the Prosecco list is among the longest and best in town, with a wide range of DOC label wines from the Veneto regions. Get involved.
Where: MeatUp, 350 Old York Road, Wandsworth Town, London SW18 1SS
The Lowdown: Looking for something new (and slightly tenuously linked to Halloween, to be fair) this year? Chi Kitchen's delicious new Halloween Menu will be available from Friday 28th to Sunday 31st October. MasterChef 2014 winner Ping Coombes will be bringing an exclusive Halloween menu of traditional autumn dishes with a modern pan-Asian twist to Chi Kitchen Oxford Street.
The Chef: Ping was appointed as Consultant Chef at Chi Kitchen earlier this year, and since then has continued to create exciting, colourful and delicious menus influenced by Thai, Chinese, Malaysian, Vietnamese, Japanese and Korean cuisine. Some signature dishes which Ping has brought to Chi Kitchen include her Nasi Lemak, Laksa Kahwin and her Grilled Wagyu Beef.
The Food: One of the star ingredients of Ping's Halloween menu is, of course, pumpkin, an Autumn favourite and key ingredient to many traditional Vietnamese soups. Featured on the menu is Ping's Malaysian-inspired Chicken Pumpkin Curry with Snake Beans and a Thai Basil and Chilli garnish. Also available will be a seasonal Cream of Pumpkin Soup served with a brioche and Asian garnish. Guests looking to satisfy the traditional Halloween sweet tooth, guests will also be able to enjoy a Pumpkin and Honeydew Melon Mousse. Delicious.
Where: Ground Floor Debenhams, 334-348 Oxford Street, London W1C 1JG
For a Halloween Feast: Balans Soho Society Kensington
The Lowdown: Something a bit more Halloween-y. Unlock your inner demons this Halloween in London at Balans Soho Society Kensington High Street, with an especially prepared, devilishly depraved and not for the faint of heart, 'Blood Feast' available Saturday 29th and Sunday 30th October.
The Venue: Simon Costin, the internationally renowned designer responsible for all the new Balans Soho Society interiors, has made Halloween a way of life, not just another day on the calendar. He will be casting his stylish spell over the Kensington High Street restaurant on Saturday 29th October with old black and white movies flickering over the walls, cobwebs being spun and lights glimmering blood red. Go Simon!
The Food: To start, perhaps try the tender and juicy Chicken Heart Yakitori, served with crunchy Asian Slaw, to get the heart racing. Or delicious Devilled Kidneys served with wild mushrooms on toast will live up to the promise of its name. To follow, a sumptuous Braised Lamb's Heart is stuffed to bursting with softly melting chicken liver and pistachio, served with creamy mashed potato and a rich gravy. To finish, enjoy the Spiced Apple Mousse served with a brandy snap and salted caramel I-Scream. Go on, we dare you.
Where: 187 Kensington High Street, London W8 6SH 
For a Day of the Dead Menu: Stovell's Restaurant
The Lowdown: This month, award-winning Stovell's restaurant in Chobham, Surrey, will be marking the Day of the Dead with a special tasting menu created by chef patron Fernando Stovell inspired by his Mexican heritage. The special seven-course menu will be available at dinner only from 20th October until 5th November, priced at £78 per person. 
The Venue: Stovell's is set in the unique setting of a 16th Century Tudor farmhouse in the quaint Surrey village of Chobham, where diners can enjoy contemporary European cuisine with Mexican accents, prepared by a team of talented chefs. For a dinner outside the city, there's nowhere finer.
The Food: The menu will include dishes such as the Huitlacoche Ravioli, Poblano and Cheese Curds, featuring huitlacoche, a mushroom-like delicacy. Another highlight will be the incredibly aromatic Pescado a la Talla fish of the day, prepared with Guajillo and Ancho Chile, grilled over citrus wood and served with pineapple Pico de Gallo. 
Where: Stovell's Restaurant, Windsor Road, Chobham, Surrey GU24 8QS
For Halloween Films: Dalloway Terrace
The Lowdown: London's favourite al fresco dining spot, Dalloway Terrace, has launched Dalloway Film Club in conjunction with The Nomad Cinema. This Halloween guests can get spooked by watching a special screening of supernatural comedy Ghostbusters (1984) under the night sky, on the 30-foot cinema screen across from the terrace, with wireless headphone.
The Venue: Located just two minutes from Tottenham Court Road, in the heart of Bloomsbury, Dalloway Terrace is named after the eponymous character created by Virginia Woolf, an author whose name will forever be associated with the area. Since opening in March 2016, the restaurant has firmly positioned itself as a top dining destination on the London restaurant scene.
The Food: A bag of Willy Chase's Fit Corn is included with each Film Club ticket as well as the cocktail, however those who fancy something a little more substantial can order dishes from the new Dalloway Film Club menu, including crispy salt and pepper squid with chilli and lime, truffle fries and Wiltshire ham hock monsieur with grape chutney.
Tickets: Tickets are £25 and come complete with a petrifying, bespoke Brain Damage cocktail for guests to sip throughout the movie. 
Where: 16-22 Great Russell St, London WC1B 3NN
For a Halloween Menu: Il Convivio
The Lowdown: The leading Italian restaurant Il Convivio has introduced a special set menu for Halloween week, a slightly more refined, fine dining options for those looking for something a bit special this Halloween in London:
The Venue: A highly acclaimed, stunning Georgian townhouse conversion situated in the heart of Belgravia. Il Convivio has now established itself as one of the leading Italian restaurants in the capital for its outstanding and exquisite modern Italian cuisine. Loved for its discretion by the affluent locals and praised by the critics for the sheer talent of the Head Chef, Cedric Neri.
The Food: The menu includes delicious seasonal delights, such as pumpkins and autumn truffle, with an Italian flavour. Start with in-house made tortelli filled with burrata cheese in a cream of langoustine and autumn truffle, or baked pumpkin, smoked scamorza cheese and watercress. Follow with seared scallops with a celeriac fondue, sprinkled with hazelnut crumbs and garnished with young shoots, and a delicious dessert such as chocolate biscuit base topped with layers of creamed pumpkin and white chocolate, sprinkle with amaretto crumbs. Nom. 
Where: 143 Ebury St, London SW1W 9QN
For Pumpkin Dough Balls: PizzaExpress
The Lowdown: Be afraid, be very afraid this Halloween; as PizzaExpress heralds the return of the scarily popular limited edition pumpkin-shaped Dough Balls to the Piccolo children's menu. The perfect treat for your little monsters, these Jack-O-Lantern shaped starters are a spooky twist on the iconic Dough Balls and will be available to enjoy across all restaurants nationwide from 22nd–31st October.
The Venue: Pizza Express needs no introduction. A restaurant group with over 400 restaurants across the United Kingdom and 40 overseas in Europe, Hong Kong, India and the Middle East, it does exactly what it says on the tin: pizza, express. Quick service, tasty pizza and delicious dough balls, we're all over it.
The Food: These Jack-O-Lantern shaped creations are a twist on the iconic Dough Balls. While you're there, grab a Florentina pizza – it's my favourite. Spinach, free-range egg, mozzarella, tomato, garlic oil and black olives, finished with Gran Milano cheese. Glorious.
Where: Locations here
Halloween in London 2016: Afternoon Teas
For Arty Afternoon Tea: Lancaster London
The Lowdown: This Halloween, indulge in a truly ghoulish experience at Lancaster London with the hotel's exclusive Halloween-themed ARTea Afternoon Tea. The Afternoon Tea includes a host of spooky sweet treats, which happen to be really delicious too.
The Venue: The fun Afternoon Tea will be served in Lancaster London's sumptuous first floor Lounge Bar from2pm until 5.30pm. Throughout the year there will be a host of themed Afternoon Teas tying in with special dates, movie releases and London events.
The Food: The offering will include spider web lollypops, shattered glass cupcakes, Frankenstein macaroons and bloodied finger éclairs. Fresh-out–the-oven pumpkin scones will be served warm, with cremated blood orange marmalade plus artists' tubes of home-made strawberry jam and Cornish clotted cream. The Afternoon Tea also includes savoury classics with a fantastically frightful twist such as Axe carved beef with horseradish, smashed egg and crazy wild cress on blood bread, cucumber coffins and Devilled chorizo tartlets accompanied by a selection of fresh loose leaf teas.
Where: Lancaster London, Lancaster Terrace, London W2 2TY
For Halloween Afternoon Tea: Podium
The Lowdown: This Autumn, London Hilton on Park Lane has a frightfully good treat in store for visitors to the luxury hotel, as they have launched a spellbinding Halloween-themed afternoon tea. Guests can delight in a wickedly delicious selection of freshly prepared sandwiches with classic fillings, along with a tempting array of delicacies, the bewitching afternoon tea will be sure to have you under a spell.
The Venue: Located on Park Lane, the iconic Hilton hotel's in-house restaurant Podium is an all-day restaurant and bar. Podium is a perfect location for sophisticated celebrations this Halloween – a great place to take your mum, girlfriends or other half for a refined afternoon of sweet feasting.
The Food: Nothing says Halloween in London like cake, right? The Spooktacular Afternoon Tea is available from 24th-31st October. The treats available include mango mousse with raspberry, spooky chocolate parfait with praline feuilletine, elderflower jelly eye ball on chocolate sponge and green apple gel with white chocolate. Served with traditional plain, fruit and chocolate scones presented with jam, clotted cream and chocolate praline spread accompanied by a carefully chosen selection of top ranked teas from Twinings.
Where: Podium Resturant and Bar, 22 Park Lane, London, W1K 1BE
Halloween in London 2016: Sweet Treats
For Pumpkin Spice Eclairs: Maitre Choux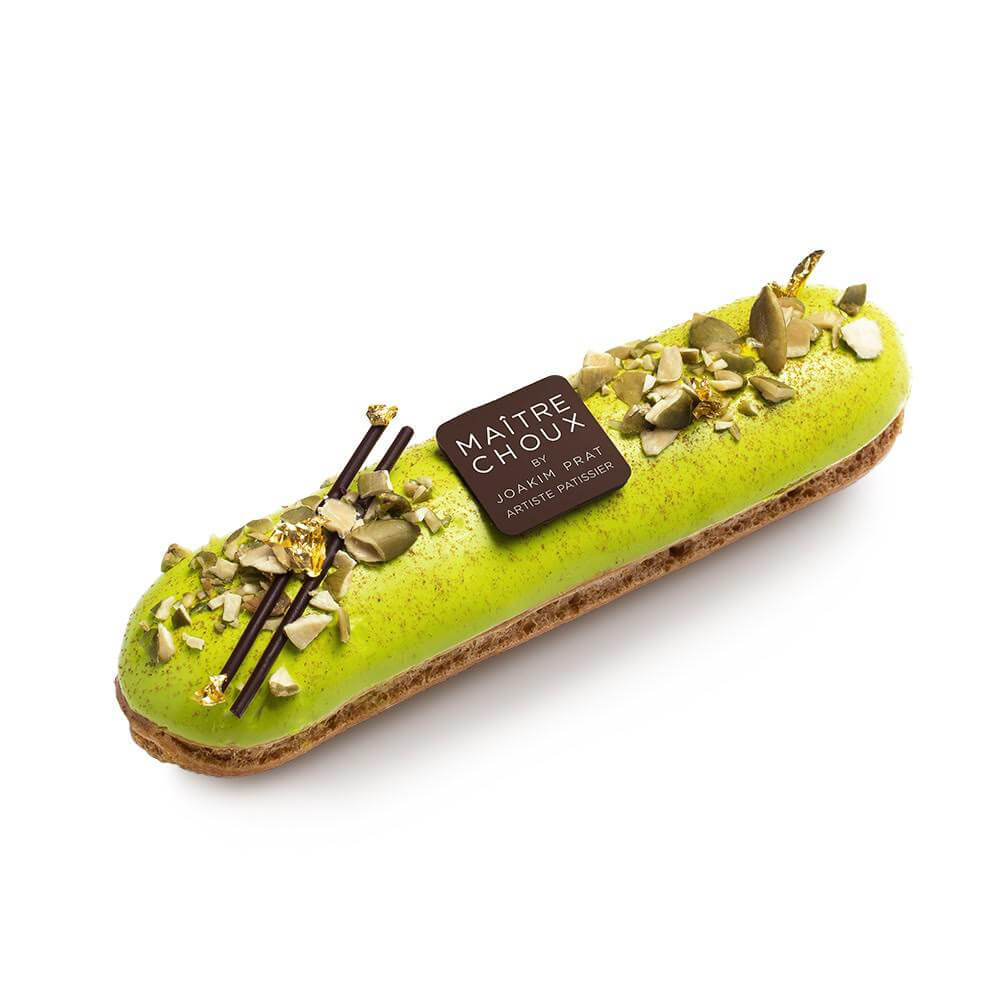 The Lowdown: This Halloween in London, everyone's favourite choux shop has teamed up with Bailey's to celebrate the launch of their brand new Pumpkin Spice flavour, creating a delicious, limited edition Pumpkin Spice and Caramelised Apple éclair.
The Venue: Located in South Kensington, Maitre Choux launched in April last year and has fast become one of our favourite pastry shops in London. The eclairs are available to buy here and also from Fortnum and Mason throughout Autumn. Dreams. 
The Food: The éclair draws on classic autumnal flavours, including everyone's favourite pumpkin spice, to create the perfect treat for these colder months – like a big warm hug in pastry form. Enjoy it with an Earl Grey tea and thank us later. 
Where: Maitre Choux, 15 Harrington Road, London, SW7 3ES
For Spooky Cake: Bea's of Bloomsbury
The Lowdown: This Halloween, Bea's of Bloomsbury has just announced the return of their most ghoulish delicacies yet, complete with vegan and gluten-free options. There's also Halloween afternoon tea at three of their five locations and for their one-off Halloween tea party! Bea's of Bloomsbury are hosting their annual Halloween tea parties on Monday 31st October between 5pm and 10pm and their afternoon teas are available throughout the day.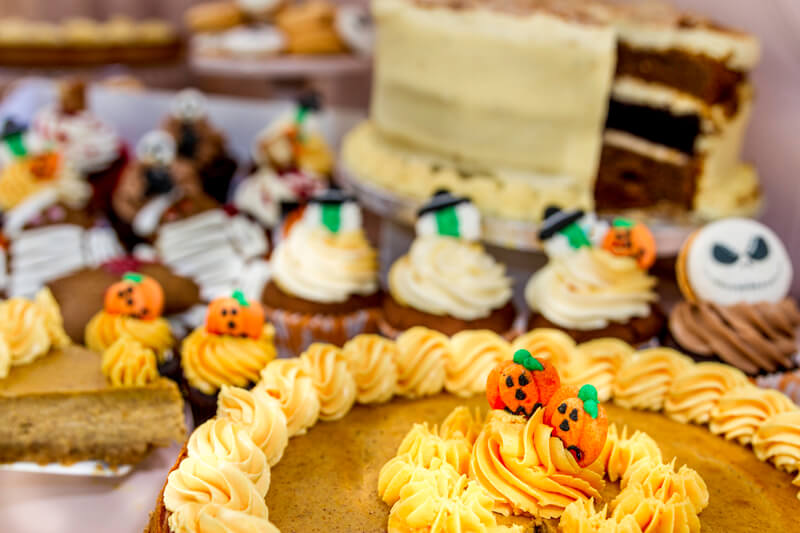 The Venue: With stores in Bloomsbury, Farringdon, Maida Vale, Marylebone and St Paul's, Bea's serves customers across London with the best cake, tea and sweet treats around. Marylebone, their newly opened venue on the corner of the high street, shows off brand new interiors and boasts a new savoury menu. The cafes have a great feel; you and your friends can enjoy mountains of scones with clotted cream and jam, lots of different flavour cupcakes, mini treats such as brownies, meringues and marshmallows and just to squeeze something savoury in there.
The Food: Halloween in London never looked so good. Handcrafted creations include an American style baked pumpkin cheesecake, Halloween themed spiced pumpkin macaroons, apple tart, assorted bewitching cupcakes, hauntingly sweet meringues, scrumptious headless gingerbread men, and a decadent chocolate and pumpkin sponge cake lavished with cinnamon cream frosting. What's more, Bea's are renowned for their 'duffins', white chocolate blondies and cupcakes, which you must try.
Where: Locations here
The Lowdown: This Halloween, London-based artisanal gelato makers Amorino is offering a chilling twist on Halloween treats with its devilishly delectable range for All Hallows Eve, including a black Halloween cone and tangy pumpkin-coloured mango sorbet, for those who prefer treats to tricks! What's more, vegans and lactose intolerants need not miss out, as all Amorino's sorbets are vegan-friendly. Only the freshest free range organic eggs and the highest grade whole milk is used in their authentic gelato.
The Venue: Available across Amorino's London branches to be enjoyed in-store on plush seating or to take-out, you can also opt to order-in a dessert with a difference with Deliveroo. These stylish boutiques also offer other sweet treats, including decadent thick authentic hot chocolates, macarons and waffles.
The Food: For a tasty frozen delight for Halloween in London, the new exquisite Halloween Cone features a striking black cone and is served with two miniature black cones, one filled with sweet Chantilly cream, the other with either hazelnut, dark chocolate or smooth salted butter caramel. Available with any of Amorino's luxury gelatos or sorbets, each as mouthwatering as they are beautiful, flavours include zesty Organic Sicilian Citrus, luscious Caramello al Burro Salato, fruity Mango Alfonso d'India and decadent Cioccolato.
Where: Locations here
For Devilish Desserts: MARC Patisserie
The Lowdown: This Halloween, luxury pâtisserie connoisseur Marc Patisserie is conjuring up a dangerously delicious pumpkin-shaped dessert to celebrate this year's Day of the Dead. Ideal for every Halloween trickster, Marc Patisserie's utterly devilish Halloween delight won't be available for long, so snap one up now before the ghoulish night descends!
The Venue: Located in Selfridges. MARC Patisserie serves up the highest quality pâtisserie, macarons and chocolates – London's definitive destination for pâtisserie connoisseurs. MARC Patisserie's unique approach to patisserie combines French techniques and classic flavours, with a playful, seasonal British twist – perfectly represented in this enchanting Pumpkin Pastry.
The Food: Want a delicious way to celebrate Halloween in London? Offering a bewitching twist on traditional treats, this seasonal dessert comprises a delicate choux pastry filled with a fresh pear and chocolate centre, adorned with an edible chocolate spider web. MARC Patisserie's Halloween Pumpkin Choux is priced at £5, and will be available to purchase between 21st October and 1st November, 2016.
Where: Selfridges & Co, 400 Oxford Street, London, W1A 1AB