Make this weekend egg-extra special with five new places to brunch in the capital this weekend. From Indian feasts to pizza parties, we think we've taken brunch to new levels in the capital, but we're totally OK with it. Without further adieu, get your comfiest, stretchiest jeans on, and get ready to brunch:
1. For Vegetarian Brunch: The Gate Restaurant, Hammersmith
Expect: This inventive, eclectic vegetarian and vegan restaurant is housed in a beautiful high-ceilinged room, and an incredible sense of calm, and serenity. Expect to be amazed by its design, with light-wood furnishings, and an beautiful art work. The food is top, too; at the Gate, they source ingredients with care, to create beautifully presented, delicious food. Come for their weekend brunch, which is an absolute dream for vegetarian diners, and relax in the gorgeous setting.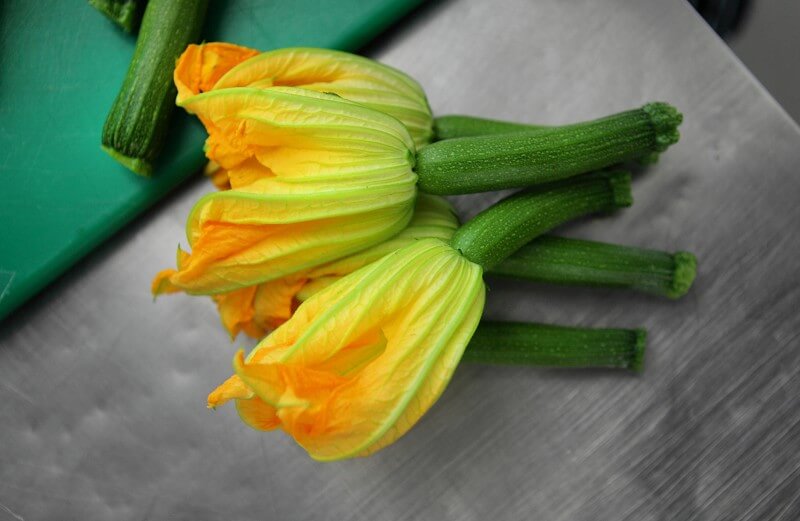 Eat: All the veggie goodness. Their veggie menu includes fantastic comforting dishes like sweetcorn and chilli Scotch cakes with slow roasted tomatoes, Shakshuka with crusty bread and Huevos Rancheros with red salsa. For vegans, there is even truffled vegan eggs with toasted sourdough bread and Portobello mushrooms. Genius.
Why: Adrian and Michael Daniel have been running London's most successful vegetarian restaurant since December 1989 – so they must be doing something right. The cooking at the Gate reflects the diverse cultural background in which they grew up – what one might call Indo-Iraqi Jewish. Their grandmothers blended Indian and Arabic cuisines with the traditional Jewish food, and they apply the same principles at the restaurant. They source our ingredients with care, intensifying flavour by careful cooking and by combining ingredients in unexpected ways.
Where: 51 Queen Caroline St, Hammersmith, Greater London W6 9QL
2. For Italian Brunch: Chucs, Mayfair
Expect: A classic Italian restaurant and café with traditional 1950's Italian décor in Mayfair, Chucs offers breakfast, all day dining, and a Sunday brunch menu, alongside a carefully selected choice of classic wines and cocktails. The restaurant also boasts a beautiful outside terrace, perfect for enjoying summer aperitivo, and hanging out with friends.
Eat: All the fancy brunch dishes. Think: spicy avocado and smoked salmon, Fontina cheese with mushroom and scrambled eggs for starters. If you want true decadence, splash out and try the Eggs Royale with caviar at a cool £33, or the egg white omelette with black truffles. Yeah, it's over the top. But we love it.
Why Go: For truffle goodness. Chucs offers truffle shavings scattered on their roman style pizza bianca, a thin stretched base covered with mozzarella and the finest truffles, carefully sourced and selected by the chefs for the highest quality in the luxury ingredient. It's the ultimate decadence, and worth visiting for the pizza alone.
Where: 31 Dover St, London W1S 4
Expect: Pan-Indian restaurant and Soho institution, Carom has moved to Butlers Wharf along the Thames for their second summer pop-up. Following a successful six week rooftop residency at Madison Bar & Restaurant in the City, Carom is now re-locating Thameside and partnering with Butlers Wharf Chop House to host an Indian 'Spice Garden' complete with fragrant outdoor planting, quayside deck with pergola, lanterns and sleek colonial style inside and out.
Eat: All the small plates, including great Palak Pakora Chaat with yogurt, Dakshin Prawns and King Scallops. They also do fantastic curries – try the black lentil dal. And you can't miss their Peshwari Naan with almond and coconut, it's the sweet dream. When you're there, try one of their Indian-inspired cocktails – the Masala Chai with Tanqueray No. Ten gin, Assam Tea, spices, Apricot Brandy and cranberry juice is a taste sensation.
Why Go: For the best taste of India; the pop-up will run until the end of September and will provide diners with a taste of India south of the river. It's great for all day feasting – guests will be able to enjoy Carom's signature dishes and Indian-influenced spiced cocktails from until 10pm whilst taking in beautiful views of Tower Bridge and the Thames.
Where: Spice Garden, Butlers Wharf Chop House, 36e Shad Thames, London SE1 2YE
4. For Unlimited Bubbly Brunch: Pizza Buzz
Expect: Nestled between Silicon roundabout and Shoreditch, PizzaBuzz is the City's newest pizza joint, which boasts Glera Frizzante Prosecco on tap, which has been exclusively introduced to the UK market for the first time. It's the perfect place to ease into Saturday – grab a real slice of excitement with a boozy bottomless bubble-filled brunch at PizzaBuzz. Every weekend throughout September 11am until 3pm, enjoy a two-hour slot of perfect pizza, free-flowing bubbles and great music for just £25 per person.
Eat: Customise your own 12" with up to three head-turning toppings such as wild rock shrimp, merguez sausage, tenderstem broccoli, Fontal and Pecorino or choose from the established Worship Street Loves menu. The resident pizza gurus have created unbeatable flavour combinations including the Señorita – smoked salmon, cream cheese, capers – and the Veal Meatballs with added sage, prosciutto and caramelised onions. Stop it.
Why Go: Expect seriously slick service as you make your way along the statement terrazzo bar and experience the perfect pizza-making process: stretched, topped and baked right before your eyes. With five different bases (including gluten-free) created from a signature and exclusive flour blend that is developed to aid digestion, each pizza is cooked for a snappy 90 seconds in the searingly hot wood-fired pizza ovens, delivering the perfect char, crisp and melt with every slice. Pizza perfection, we say.
Where: 2 Worship Street, London EC2A 2AH
5. For Casual Brunch: The Black Penny
Expect: The Black Penny is a brand new coffee house located on Great Queen Street in Covent Garden, providing a dedicated space for dining, drinking and debate in the centre of the capital. Bridging the gap between fast food and gourmet gastronomy, The Black Penny offers Londoners refined but casual dining, freshly roast coffee and speedy take away at the busiest times of the day.
Eat: Head Chef George Notley has created a menu which offers a range of traditional breakfast items including bircher muesli and pastries, together with delicious fresh fruit compotes in innovative flavour combinations such as grilled pineapple, chilli and lime. The menu also includes a selection of larger dishes such as Crispy Duck Hash with a poached duck egg, sweet potato, baby spinach and spring onion and slow braised black Penny beans on sourdough with goat's curd and chives.
Why Go: For a quirky side – The Black Penny continues to carry the torch for heated debate and daring creativity, downstairs in The Seminar Pit. From spoken word poets to lectures on the weird and wonderful, our guest speakers inspire, educate and entertain. Their brunch delicious are simple, but seriously effective – try the Crispy Duck Hash, we promise you won't be disappointed.
Where: 34 Greet Queen Street, Covent Garden, WX2B 5AA