As the month of January marks the start of Veganuary, London restaurants are once again revamping their menus in order to showcase their plant-powered offering. The vegan food scene in London has never been more exciting – and what was once a forgotten afterthought, or some token veggies, is now something far more impressive. Amidst the thick fog of tofu and seitan-based 'meats', high-end vegan menus are slowly becoming the status quo. Trendy COYA Mayfair have created a vegan menu that is nothing short of a meat-free miracle. Here's the all important lowdown:
COYA Mayfair: The Menu
The vegan menu draws on the same modern Peruvian influences as the normal menu, and fuses together global flavours with stand-out ingredients. The menu isn't trying to masquerade meat as veggies; there's no fake cheese and tofu is not mentioned once, instead it's a carnival of relentless flavours showcasing the diversity of veg. The outcome:  an epic banquet of hearty, well executed plates of ludicrously delicious grub.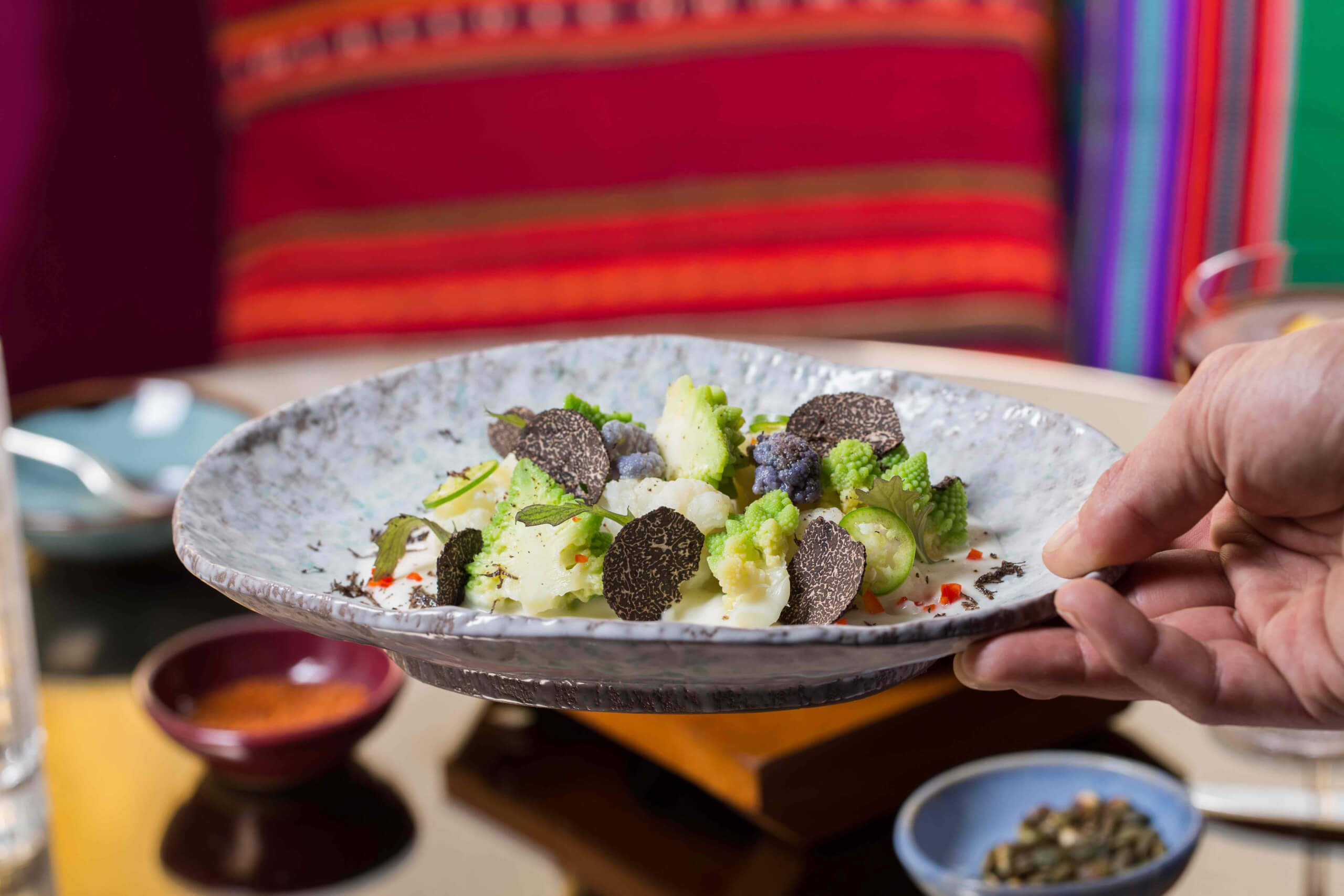 The feast kicked off with table side guacamole (with a nice litlle kick) and corn tortillas like any good Peruvian meal should. Next up: cauliflower tiradito with winter truffle. Truffle runs the risk of stealing the show, and in this dish it did. But happily.
The courgette, served courgetti style, was pimped up with shiitake and mint. An incredibly light dish, bursting with fresh flavours and earthy undertones – this dish proved that a trio of simple ingredients can come together to create something really quite special.
The main courses were equally breathtaking. I don't know how the kitchen wizards did it, but the forest mushrooms were cooked in such a way that the result was mouthful after mouthful of meaty, spicy greatness. Never had the humble mushroom tasted so good. And the fail safe combination of miso and aubergine proved to be a matched made in foodie heaven once again, as the whole dish was next level. The aubergine was sweet, sticky and absurdly delicious.
And how could I forget about that pumpkin dish. The incredible flavour merry-go-round danced between wonderfully spiced notes, sweet Aji Mirasol sauce and crunchy candied pumpkin.
The sides were not some sorry afterthought, and instead proved to be a tasty accompaniment to the risotto-style pumpkin. The sides were simple – kale, candied walnuts and goji berries – and proof that sometimes you don't have to mess around with a concept too much.
Think of desserts and they're usually laden with cream, eggs and all the diary. But the pudding here was a testament that desserts don't have to contain half the dairy aisle in Tesco, and shock, they can still taste as good, if not better.
The sphere of Inka chocolate was pure, utter joy, and balanced nicely with the tart lime sorbet.
COYA Mayfair: The Verdict
COYA Mayfair's vegan menu proves that plant-based diets are anything but dull. The vegan menu manages to be interesting, intricate and minimalist all at once. And, you know what, I really didn't miss meat at all. This is an adventurous menu, and one that was continually exciting from start to finish.
For more information on the menu, visit the website here. 118 Piccadilly, Mayfair, London W1J 7NW