The Vibe:
In the world of hipster joints, endless queues, shabby chic tables, the day and age of a white table cloth felt a distant memory for this About Time writer.
Turns out there is a gilded existence where white table clothes, doormen and no queues are de rigeur. Mayfair. Yes ok really not that shocking. But a trip to Mayfair is somewhat of an escapist dining activity, a world where drivers circle the restaurants and where jeans simply aren't acceptable.

8 Mount Street is the epitome of this luxe dining. A 90 cover European brasserie, opened last September designed by Parisian- based architect Clement Blanchet. The décor is drop dead gorgeous, my personal favorite the 30 foot long Italian marble bar dining counter which is the dream spot for a Mayfair snack of oysters and champagne. The crowd felt like mainly high flying bankers on expense accounts but also the perfect place for a special occasion.
The Food:
Yes the prices are Mayfair. But the food is on point and the service impeccable.
The menu is extensive, with a Mediterranean leaning. To start with we opted for the grilled squid with sweet peppers, green tomatoes and garlic. To sell a pepper as sweet is bold, but wow these really were nothing like the bland selection you find in Sainsburys, they really did taste of holiday and complimented the subtle flavours of the squid to perfection. Onion soup was another choice, highly moreish with gooey gruyere cheese, surely the best antidote to a British winter.
For mains, we went meaty, with tender rack of lamb served with salt, smoky garlicy aubergine and a veal chop with bean cassoulet.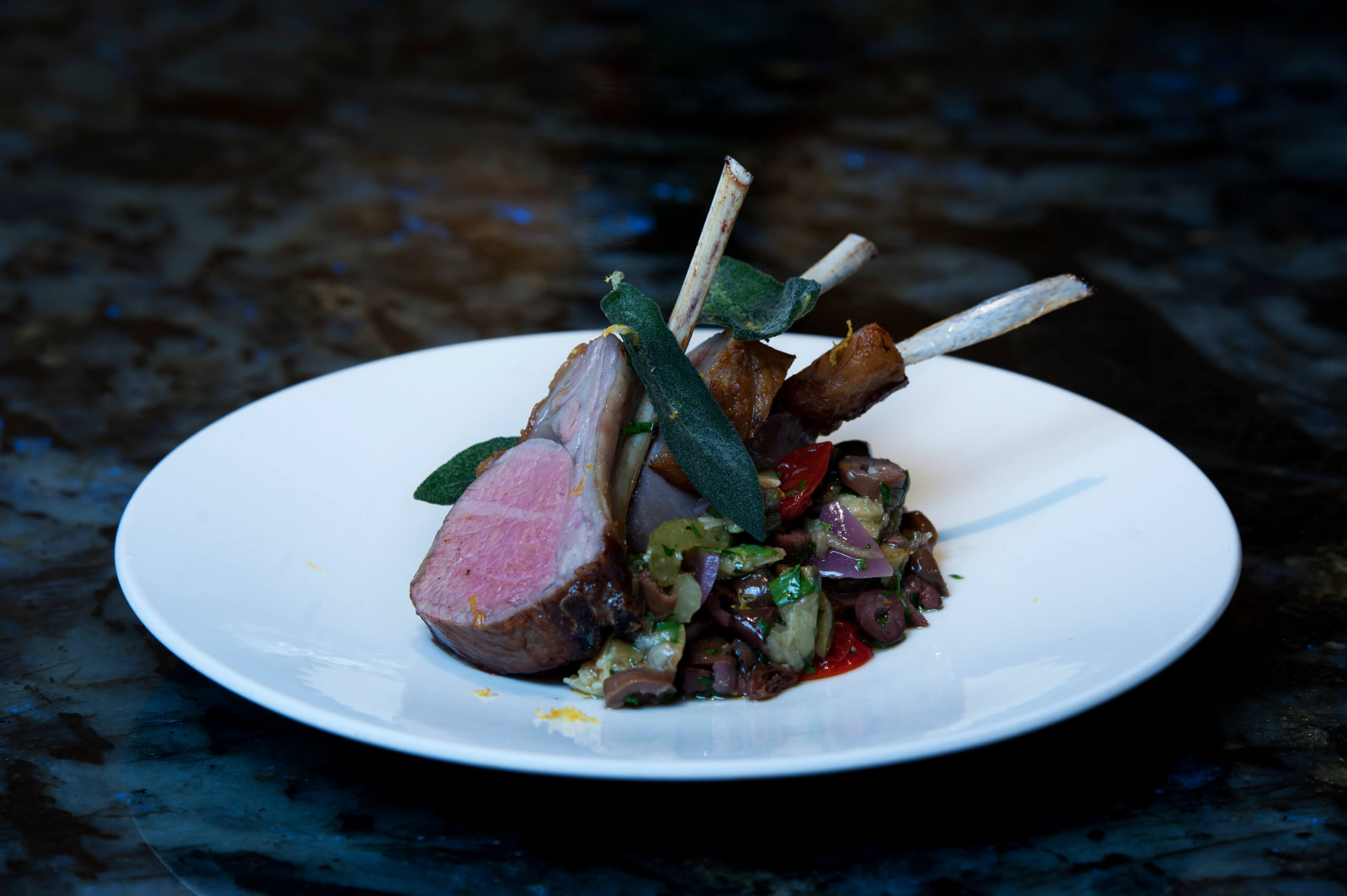 There was only one veggie dish on the menu, but wide fish selection. We saw the dover sole and it looked melt in the mouth spot on. We loved the sides. Vegetables in little pyrex dishes, which although slightly undercooked proved a clean foil to our meat feast.
Share a pudding, they are huge but impressive. Honey parfait and caramelized banana was a gooey delicious merge of the perfect marriage between the humble banana and honey.
The Verdict:
A beautiful restaurant, quality food (not always guaranteed in Mayfair joints) and impeccable service. A real luxe Mayfair experience. Only criticism- turn down the music.
For more details head to http://www.8mountstreet.com/