When I say Sushi Samba you probably think only of skyscrapers and sushi. Well, you'd be wrong on both fronts as in fact, despite the name, Sushi Samba offers up a unique fusion of Japanese, Brazilian, and Peruvian cuisine, and now the popular restaurant has opened its doors in a new location in Covent Garden (and it's not in a multi-story building).
Sushi Samba: The Lowdown
The new Sushi Samba is located in the historic Market Building, and as soon as you step inside, you're hit with a world of colour, texture, and eclectic design. The interiors are a blend of contemporary and traditional elements, with a bold colour palette that draws inspiration from the vibrant street art of Brazil and Japan.
Up a dramatic spiral staircase, you emerge into a spacious dining room that's flooded with natural light thanks to its floor-to-ceiling windows. The room is filled with a mix of plush velvet booths, sleek black marble tables, and of course, plenty of plants to create an Insta-perfect backdrop to your meal.
Sushi Samba: The Menu
We were there to try the new chef-curated Taste of Samba tasting menu, which features a multi-course selection of the restaurant's most beloved dishes. There are three price points for the menu; a vegetarian option at £70 and then an £85 and £100 option for people looking to splash out.
We opted for the £85 option which starts with a selection of snacks, including edamame seasoned with sea salt and lime, crispy plantain chips served with aji amarillo sauce, and green bean tempura served with black truffle aioli. The plantain chips are crispy and delicious, with the aji amarillo sauce providing a spicy kick, they are so moreish so do be careful not to fill up. The other highlight here is the beans; the tempura is light and crispy with nicely balanced truffle aioli.
Next comes the crispy lobster taquitos with avocado and pickled shallot, and the wagyu gyoza served with kabocha puree and sweet soy. The taquitos are a standout dish; the crispy exterior contrasts perfectly with the succulent, fresh lobster meat inside. The gyoza are a little disappointing as you really want to taste the wagyu beef which can be hard to do when in this format.
Fear not, however, as the food keeps coming and only gets better. The second course features one of the standout dishes: the Chilean sea bass anticuchos served with miso and Peruvian corn. The sea bass is cooked to perfection – large plump pieces of fresh fish, you both get a full skewer and will savour every mouthful. Shoutout to the corn which we'd never had before and devoured every last one – it's served with robata asparagus which was perfectly cooked. Side note: both dishes had quite a sweet glaze which although nice, left us feeling quite full and we were really only halfway through.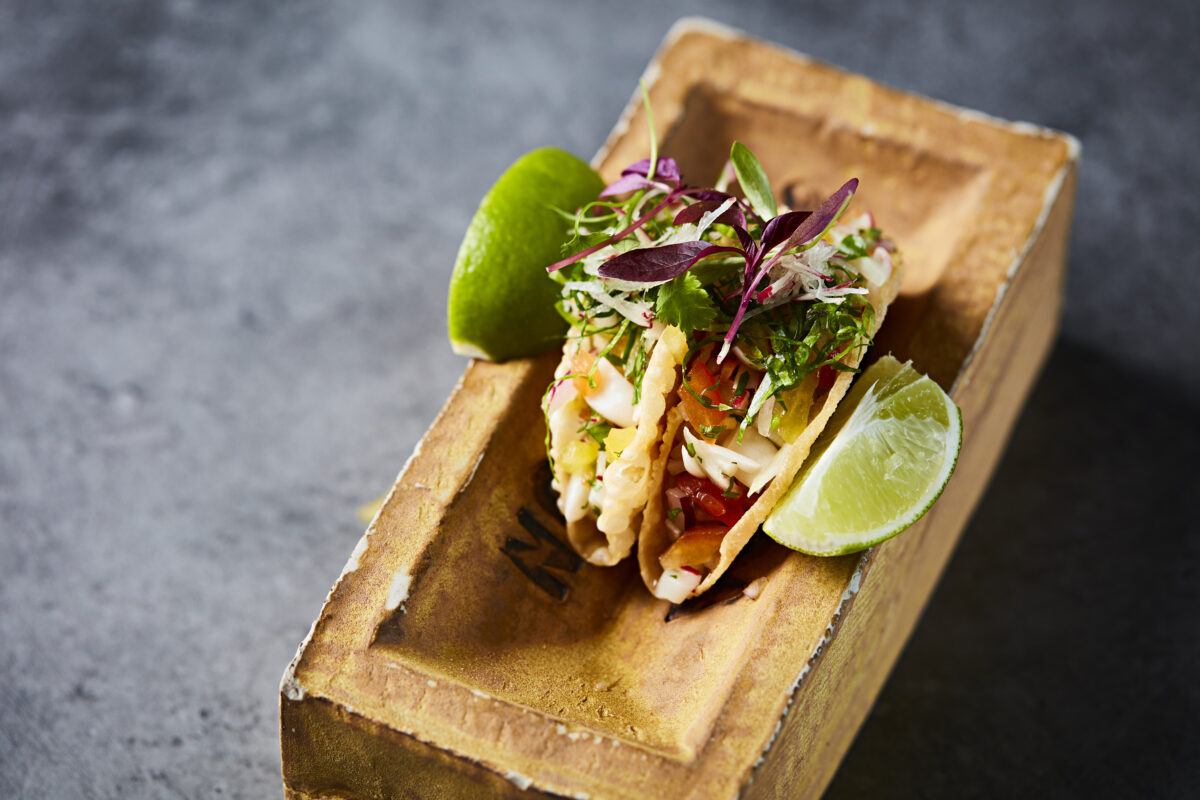 The sushi course that follows features Japanese wagyu maki with oroshi ponzu, caviar, and shaved truffle, as well as a selection of nigiri chosen by the chef. The wagyu maki is a highlight – think a combination of flavours and textures creating a perfectly balanced dish. The nigiri is also expertly crafted, with the rice being perfectly cooked and seasoned, and the fish being incredibly fresh.
Finally, the main course! The mushroom tobanyaki served with poached egg, assorted mushrooms, yuzu soy, garlic chips, and Japanese steamed rice is as massive as it sounds. A great stonking dish of creamy mushroom indulgence. That's not all though, we also have a robata lamb chop served with red miso and lime. The lamb chop is cooked well, with the red miso and lime adding a slightly sweet and tangy flavour to the dish.
As you can imagine, we skipped dessert which would have been a chocolate banana cake served with maple butter, plantain chips, and vanilla rum ice cream.
Sushi Samba: The Verdict
Overall, the 'Taste of Samba' menu at Sushi Samba is a true culinary journey that offers a stunning blend of flavours and textures that will leave you feeling absolutely full. The £85 price tag makes it definitely one for a special occasion, but the quality and creativity of the food stand out and although the skyscraper may be gone, you'll definitely leave on a high.
For further information on Sushi Samba, see here. 
35 The Mkt, London WC2E 8RF