Having lived in Hong Kong for a year, dining at hot pot restaurants were a regular occurrence. Much like the regular Friday night jaunt to the local curry house, over in Asia it's at hot pot restaurants where people talk about their week, bond over good food and catch up with friends.
The school I use to work at, the local teachers were hot pot fanatics – if ever there was a chance to dine at a hot pot restaurant, we would always go. School trip, a teachers birthday or Chinese New Year – we'd be there with bells on, a group of 20 of us all sat around pots of boiling spicy, salty broths. It was a highlight for me, I always say the best way to experience a culture is through the food.
As cliche as this sound hot pot isn't just a meal, but an interactive experience. I now understand why it's so popular in Hong Kong and the surrounding countries. It allows you to pick your food and cook it to your liking.
On the border of China Town lies a Chinese haunt with a difference. Gone are the MSG laden dishes, the oily beef in black bean sauce and frightfully cheap all you can eat buffets. Instead, Shuang Shuang is London's first specialist Chinese hot pot restaurant and it's a corker.
Shuang Shuang: The Vibe 
Shaung Shaung has done something rather beautiful with their new offering. They've brought the traditional hot pot into the modern age with their clean cut interiors and high-end technology. Downstairs is a solo pot affair, with individually sized stockpots ready for each diner. An oak clad conveyor belt made from stainless steel winds through the restaurant and the off-white Corian counter tops are lined with specialist hot pot equipment to ensure your ingredients don't die a hot broth-y death. Upstairs is home to larger tables allowing groups of up to four people to get into the hot pot spirit.
Shuang Shuang: The Food
If you're not familiar with the hot pot format, let me explain. Built in to each table there's a pot (surprise, surprise) and the first step is picking your broth. I highly recommend the Mala broth made with Sichuan peppercorns and dried chilli if you like your food with a kick, and if you're not a fan of spice the black bird made from a rare breed of black-fleshed chicken and dried Chinese berries offers a sweet and soothing taste. These broths pay respect to China's diverse food cultures – from the cold, game-loving North, the spicy Sichuan, to the bountiful South, and make use of some of the finest produce available in the UK.
Much like their sushi cousins, a conveyer belt of fifty-or-so of the freshest British and Chinese ingredients  trundles past. You pick what takes you fancy and you wack it in the broth for the time shown. Cook, scoop out, eat, enjoy. Simple.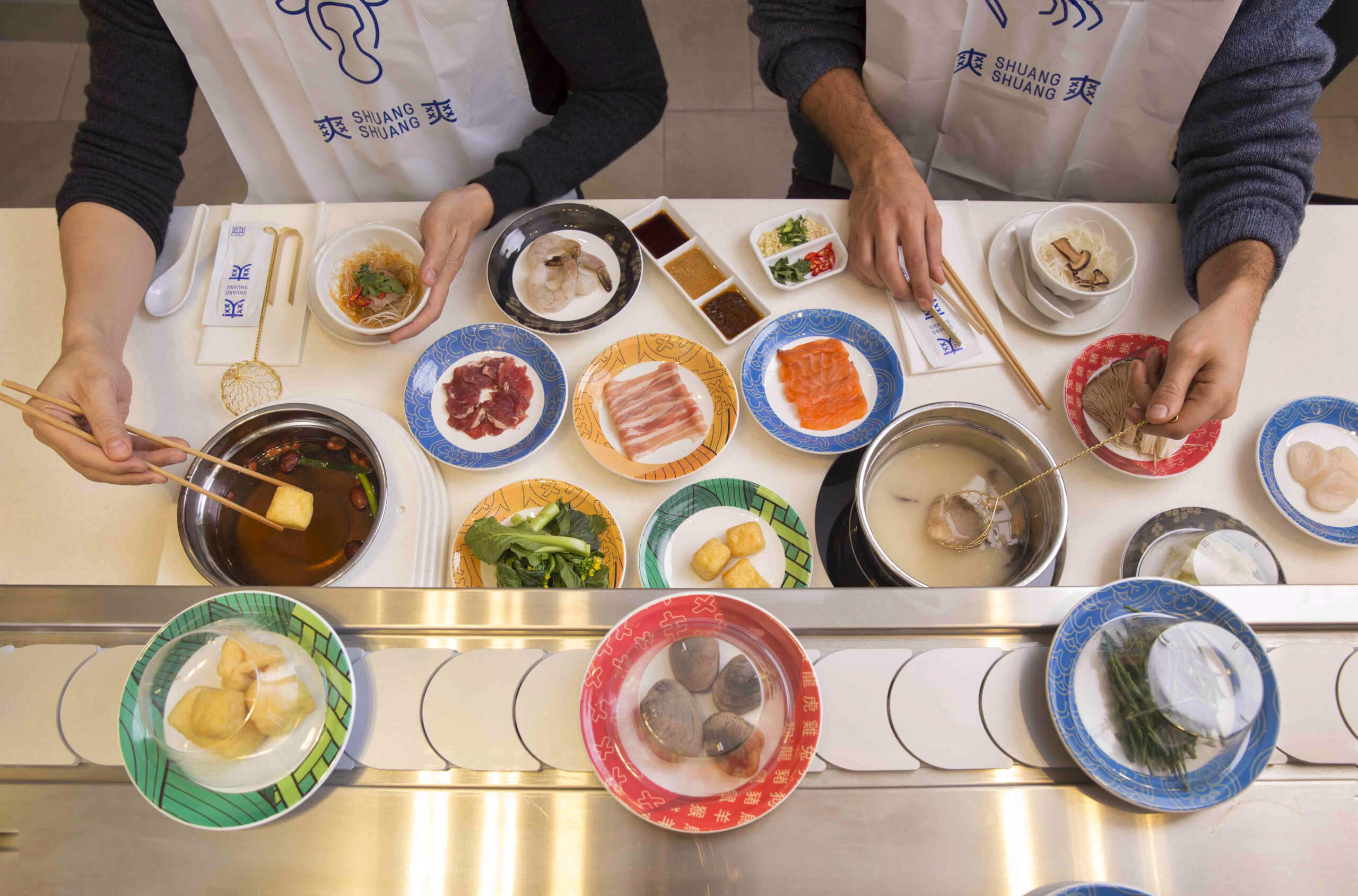 Before you aimlessly throw a few beef balls into your boiling hot broth – order some starters. The scallop and prawn fritters served with mala oil resembles the same texture to that of an onion bahaji, but not taste, this surpases the humble bhaji by a country mile. It's not overly seasoned, with just the right about of scallop to prawn ratio. Four of these beauties are just not enough. The pig's ears with xinjiang spice are shredded and fried, they have the bar snack/Bombay mix vibe about them. They're a perfect grazing snack to keep picking at throughout the meal.
Next up, the main event. This is what you've come here to do, picking the ingredients to cook in your now simmering broth. For meat fans, don't think about putting your coat on to leave without sampling the thinly slice beef, a couple of seconds in the broth and it's ready to eat. It's tender, juicy and bugger me – it's delicious. Beef balls are also a highlight as are the strips of pork belly. Usually, pork belly is a fatty cut of meat, here it's a revelation. A tasty revelation. There's also a selection of tripe and offal if you're after something different for your palette.
There's something here for everyone. The minced prawn and pork is fantastic, the mixture is served in a tube and it's up to you to make it into dumplings ready for cooking, once they rise to the top they're ready. I don't even like fish and I was knocking these babies back. All of the fish whizzing round is super fresh, we're talking about huge king prawns, scallops and salmon. Don't throw shade towards the veggies, they deserve love, too. Pak Choi is a Chinese cabbage that when dipped into a spicy dip just tastes glorious. You can also be adventurous and try the turnip leaves, lotus roots or the pumpkin slices and wood's ear mushrooms.
A hot pot dinner wouldn't be complete without carb loading on the good stuff: noodles. There's more noodles here than you can shake a stick at – flat noodles, instant noodles, rice noodles and rice cakes. When cooked in the rich, warming broth they're moist, moreish and most of all – sensational.
Shuang Shuang: The Verdict
You've got to hand it to the guys at Shuang Shuang, they've executed the whole hot pot experience in fine fashion. The staff are attentive and will regularly pop round with jugs of broth to top up your pot and they're on hand for any queries. You can't fault the food or the service. There's no need for a star rating or marks our of ten, Shuang Shuang should be at the top of your restaurant to-do list. If you're after somewhere that isn't the norm, slightly quirky, but still delivers on excellent food – Shuang Shuang is the place.