News flash: Señor Ceviche isn't just another Peruvian restaurant in London. Oh no – this place stands out by a country mile – for all the right reasons. With the rise of Peruvian food reaching fever pitch in the capital, Señor Ceviche still reigns supreme. Located in Kingly Court, this Peruvian tapas bar dishes up heady Pisco sours, super fresh small plates, and the staff greet you like old life-long friends. Read on to discover why it's about time you visited Señor Ceviche:
Señor Ceviche: The Vibe 
Opened back in 2014, Señor Ceviche has fast become the place to visited when dropping into Kingly Court. With neighbours like Pizza Pilgrims, Cha Cha Moon, Stax Diner and Dirty Bones all knocking together their delicious eats – this restaurant offers something very different: Peruvian small plates.
First thing you need to know about Señor Ceviche is this place is one serious party. The atmospheare is lively. The vibe is buzzing. And it's an ideal hangout for a casual date, a birthday party, or a catch up dinner with pals. Señor Ceviche's casa is everyone's casa. Step into Seńor Ceviche, and you're immediately transported to the bustling streets of urban Lima. Apart from the killer Latin- inspired musical soundtrack; street-art posters line the walls, and patterned tiles brighten the floors – all helping to complete this contemporary Peruvian dining experience.
Senor Ceviche: The Food
Oh baby, the food. The menu is a minefield of tasty munch – you're spoilt for choice. The menu itself is a work of art; though beautifully presented and deliciously enticing, it needs an encyclopedia to navigate. The descriptions are their own challenge; aji features heavily, as do unusual ingredients, such as tiger's milk, yakiniku, and uchucuta sauce. Go with someone who won't judge for your ignorance, or keep your phone close by.
The menu is spilt into sections: para picar (starters), ceviche, Peruvian barbecue, and sides and salads. I'd recommend getting 3 plates per person, or more if you're hungry/have a serious case of fomo. Get things going with the Chifa Chicharrones – 4 pieces of the juiciest, slow cooked pork belly served with a sweet soy sauce. The pork belly had a beautiful layer of crispy fat, and the meat was super tender. Throughly recommend. The crispy baby squid was lightly battered, and not overly greasy. And the veggie quinoa croquettes with cheddar was everything you wanted from a molten, cheesy bite.
The food pilgrimage continues. If ceviche rocks your world, the classico ceviche is bang on. The test of a good ceviche dish? The fish. The freshest fish and the lightest dressing. The classico ceviche delivers on both those points – the sea bass was off-the-boat fresh, and the aji limo tiger's milk (a citrus-based marinade that cures the seafood in a ceviche), with the sweet potato puree was wonderfully delicate and flavoursome.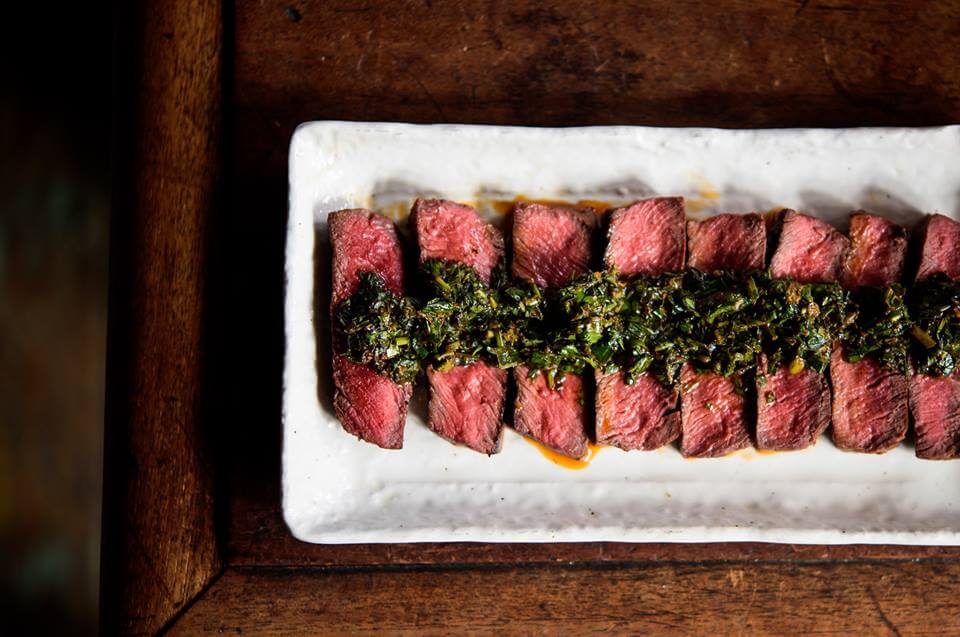 The Peruvian Barbecue is where the party at Señor Ceviche reaches its zenith. Try and refrain from ordering all the starters, as it would just be plain wrong to miss out on the restaurant's meaty offerings. Let's talk chicken: the Pollo a La Brasa is a marinated and grilled half baby chicken with coriander yoghurt – the favour combination is smashing and the mix of the yogurt and herbs is delightful, and really adds to the chicken. 
You must try their Pachamanca Pork Ribs – you'll be served an incredible quality rack of slow cooked baby back ribs, pimped out with roasted peanuts and yakiniku sauce. The combination of sweet, sticky BBQ marinade and the crunchy nuts is sensational, and the meat goes fantastically well with their sweet potato fries – utterly delicious.
And try the passion fruit and white chocolate cheesecake with chicha morada syrup for dessert. Seriously, this biscuit beauty puts Señor Ceviche on the map.
Señor Ceviche: The Drinks 
It would be absolutely sacrilege to visit Señor Ceviche and not order a Pisco Sour (or three). Opt for the classic Pisco Sour with Machu Pisco, lime juice, egg white and Chuncho bitters – it's fantastic. The Peruvian Old Fashioned is also a winner, with cherry, mushroom and pine infused Machu Pisco, orange peel, agave syrup, celery, and orange bitters. If that's all too much, the Amazonian Elixir with elderflower, cucumber, apple juice, basil and soda is damn refreshing.
Señor Ceviche: The Verdict 
What's not to love? Poppin' music, tasty small plates and a mega cocktail list. Next time you're around the Soho area, make sure you swing your head around the door. Come hungry and order more than you should.
Senor Ceviche, Kingly Court, Soho, London, W1B 5PW. For more information visit the website here .