I love Middle Eastern food so much, I would marry it if I could. It's easily one of my favourite cuisines; it's so shareable, delicious and healthy. I was excited to hear about Sarona – a new, modern Middle Eastern-inspired restaurant in trendy Clerkenwell, with a great location only moments from Farringdon Station. I popped down to discover the new opening – here's everything you need to know:
Sarona is the newest restaurant opening in Clerkenwell, offering a taste of Levantine cuisine to Londoners. The food is inspired by global cuisine, with inspiration from Greece, Turkey, Israel, Iran and beyond – there's little touches from all over the world in the menu here. The interiors are simple and stripped back, with a cool industrial feel, open bar and spacious dining area. There's also a few tables outside, if want to catch the evening sun after work with a drink in hand.
What's the vibe? Well, it's the kind of restaurant you could take literally anyone – a date, your mum, a business meeting – it's almost a blank canvas, that would suit any mood. The restaurant is truly modern; taking inspiration from the Middle East, they've translated it perfectly for the London audience. At breakfast time, expect dishes such as Moroccan English Breakfast with Merguez sausage, fried egg and handmade pita, plus Challah French toast and spicy Shakshuka.
In the evening, it's all about the sharing plates – homemade dips, fresh bread, grilled meat and smoky vegetable dishes, the food is super sociable and great for groups. It's the kind of restaurant I can see really taking off in London; somewhere centrally located, reasonably priced, trendy and, ultimately, really delicious.
Now, let's talk about the food. I love a sharing plates menu, because I'm greedy with food and want to try a little bit of everything. The evening menu at Sarona is set up perfectly for that – it's split cleverly into: Bread, Raw, Fried, Charred & Grilled, Comforting, Sides and Desserts. Some people might find the menu divides a little arbitrary, but I really liked it – sometimes I'm in a comfort food mood, and want to be able to dive straight into the good stuff. It also allows you to balance out the flavours and textures of your food well, so you can order a meal that "goes together", rather than just randomly picking sharing plates from a menu and hoping for the best.
We ordered a selection of their vegetarian small plates: pita bread, burnt aubergine, Palestinian cheese, cauliflower steak, hummus and labneh. Firstly, the bread is really delicious – all the pita and Challah bread is handmade in-house, and you can really taste that.
The Palestinian cheese with organic tomatoes and balsamic vinegar was a great dish – really light, flavoursome and fresh. I personally loved the burnt aubergine with tahini and date syrup best; the combination of smoky aubergine with sweetness from the dates was just perfect. Just look at that sexy dish.
The cauliflower steak with asparagus and parsley was probably the only dish I didn't totally love, it was a little on the wet side for my liking, so perhaps try their cauliflower with tahini and sumac from the fried section instead. It's got that fried flavour that goes so well tahini, me thinks.
The dips are out-of-this-world good; the Hummus Masabacha is full of flavour and oh-so creamy, the Labneh is tart and zingy – just perfect to accompany the delicious veggie options.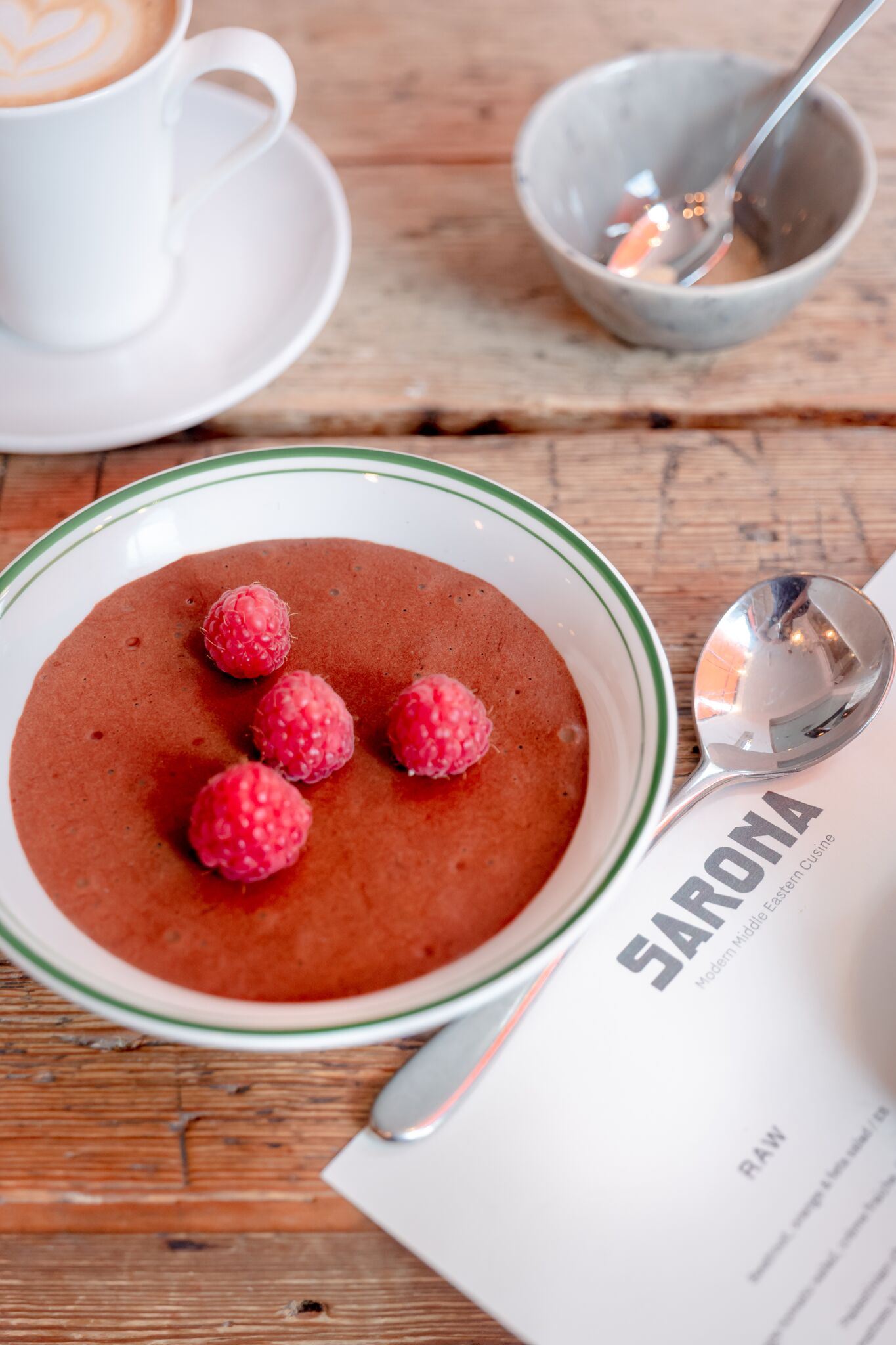 For dessert, we were really impressed with the sweet offering. We nose-dived into a beautiful, generous portion of chocolate mousse with fresh raspberries, which is heaven on a spoon, and then we moved onto the tahini ice cream, which is unusual and rather delicious. Don't miss the Baklava too, it's so good.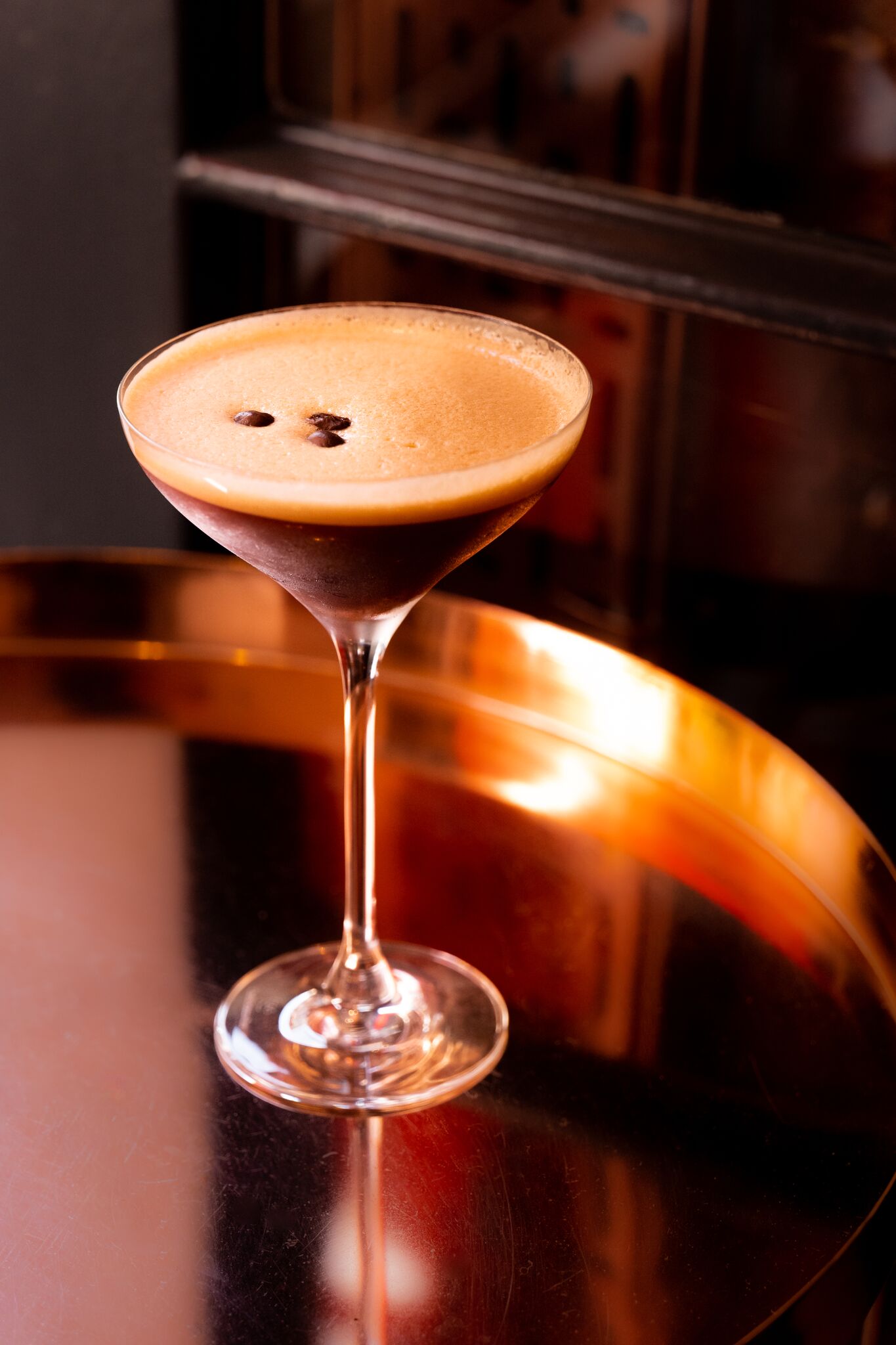 We drunk wine. Quite a lot of it. Of the Israeli variety, because that felt authentic. They've also got wines from the South of France and Spain, plus craft beer from Israel and Lebanon. A very much global wine list, to accompany the varied menu, which we enjoyed.
I was really impressed with the offering at Sarona. As someone who visits Israel and the Middle East often, I don't often find Middle Eastern food in London super delicious or authentic, but Sarona is the closest I've come to a taste of Israel in the UK. The food is really good; tasty, inexpensive and very creative. I say: come here for the vibe, stay for the chocolate mousse.
For more information and to book a table, visit Sarona's website here. Sarona is launching a Bottomless Mezze Brunch on Saturday 8th September – tickets are £35 and includes bottomless food and bottomless drink as well as live music and can be purchased here.