It's rare to walk into a swanky place and feel totally at home. Usually, when you go out for a nice dinner, it inevitably comes with a bit of a stiff vibe – uber design-y tables, brooding interiors, patrons dressed up to the nines, waiting staff scurrying around being unctuous and overly helpful… But not at Sakagura. No, not here. We totally loved Sakagura; read why it's about time you visited this new Japanese restaurant on Heddon Street, Mayfair:
Sakagura London Review: The Vibe
Expect an atmosphere that is sophisticated, yet casual. The tables are relatively basic, the interiors are stripped back, and the elfin waiters and waitresses are positively charming, silently floating between tables in a subtle and unobtrusive way.
But the crockery. Oh baby, that crockery. Each plate of food is served in a beautiful, bespoke dish, tailor made to suit the food which sits atop it. The restaurant's signature dish, the tuna tartar, is worth an order just for the spectacle alone. The tuna itself is served in an elevated dish on the plate, with the portions separated by a streak of black caviar, while accoutrements sit alongside, replete with a teeny tiny serving spoon. If you think it sounds ludicrously dramatic, it is. But this place gets away with the culinary drama, with what it lacks in other back-ground noise and pretension.
Sakagura London Review: The Food
The food is, quite simply, a work of art. Each dish has a focus on presentation, creativity and flair that we'd never seen in a Japanese restaurant before. It's a simple, sharing concept, which is flawlessly executed. We start with the Agedashi Tofu – a lightly fried tofu, in a umami Katso Dashi broth, with grated daikon. The tofu is perfect – crispy on the outside, soft, melt-in-the-mouth texture within, with a hint of umami from the rich, vibrant broth. You can't miss the Sakagura Carpaccio, where seabass is delicately marinated in a plum ponzu, and the visually stunning tuna tartar, which comes with its own seasonings and garnishes for a customizable experience.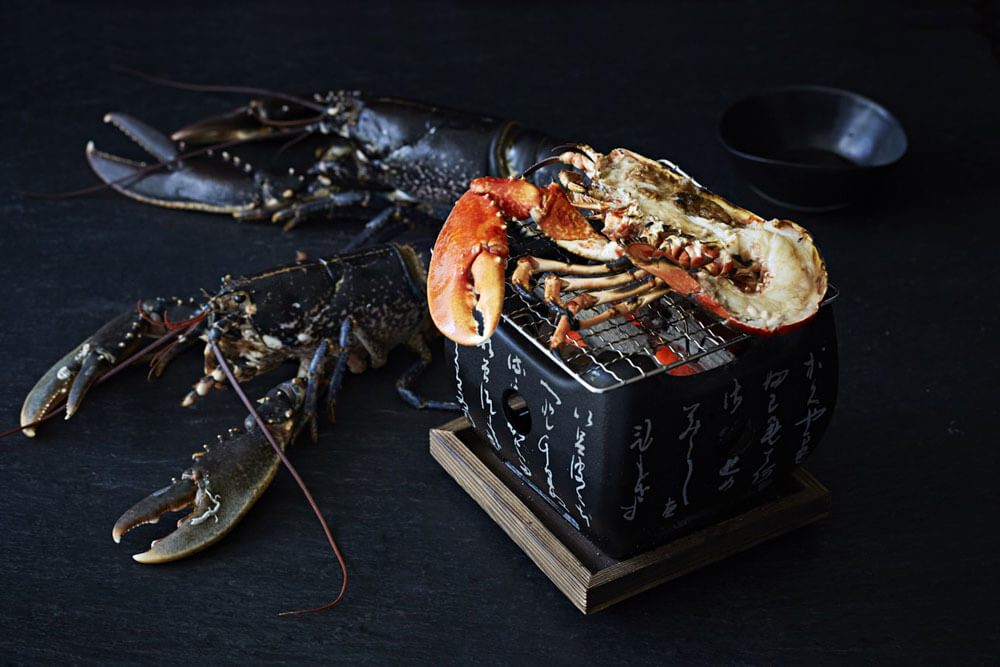 The menu is extensive and you'll be totally spoilt for choice; when in doubt, you simply must try the sushi. We opted for the salmon avocado rolls, Ebi Tempura and Salmon Toro with spring onion and, in all honestly, they were flawless. The sushi rice is exactly how you like it – soft, with a little bite, perfectly casing the beautifully fresh fish. The Ebi Tempura is a real highlight – sushi rolls filled with crisp prawn tempura, paired with soft, creamy avocado – truly a match made in heaven.
If you fancy something more substantial, they have a solid selection of hot dishes, ranging from the lightly fried soft shell crab and beef katsu, to robata grill delights, including diver scallops, tofu and asparagus. There's also handmade fresh buckwheat noodles, Udon noodles in broth and Kamameshi, their unique seasoned rice in a cast iron pot, which is served at the table and hand-mixed in front of you. We sampled the miso black cod, which has the perfect melt-in-the-mouth consistency you could want, and the Nasu Dengaku – a Japanese favourite of aubergine marinated in a sweet miso glaze. The aubergine has a wonderful, soft texture, but is a little on the sweet side for me.
But then our sashimi platter arrives and all evils are forgotten – the platter is aesthetically wonderful, with a huge selection of raw salmon, tuna, yellowtail, scallops and mackerel. Each fish is fresh, buttery and absolutely delicious – a must-order. Oh man, that fish. One word of advice: skip dessert. The only real let-down of our meal – the matcha fondant is dry, and a little bland. But, all in all, the food is out of this world and forgetting the pudding, each dish is a winner.
They have an incredible sake selection, and are happy to pair sake with your food. If you order sake, the sommelier with come round with a tray of ornate, hand painted sake cups for you to choose from, which is a lovely little touch. I went for a brooding earthenware number, while Angelica opted for a delicate pink glass, which I can only describe as unbearably predictable on both of our part. They have a great Japanese-inspired cocktail list; order the Furano Fields, a beautiful floral and fruity concoction of lavender, gekkeikan namazake jinzu gin, apricot brandy and passion fruit. Delicious.
Sakagura London Review: Our Verdict
Sakagura ticked all the boxes for us; the vibe is relaxed, and intimate, the food is fun, delicious and theatrical, and the sake is expertly matched. We found the service super attentive, the waiters happy to help with the huge menu and the food to be a delight to eat. If you're looking for a new Japanese restaurant in Mayfair, with the best sake selection around, it's about time you visited Sakagura.
Photos by Paul Winch-Furness. Sakagura is at 8 Heddon St, Mayfair, London W1B 4BU