There is food. Comfort food. Home-cooked food. Food your mum makes. City-slicker worthy sushi, homely plates of pasta, a perfect Lychee Martini after a long day's work.
And then food that goes beyond; food art, food that's designed for the plate it's served on, food that challenges you, surprises you, makes you smile. We're talking savoury cappuccinos, flights of sake that demand to be drunk from authentic Japanese wooden boxes and all the drama of the West End applied to a plate of raw fish.
Yashin Ocean House is just that; with plates that sparkle, dishes that wow and presentation that would make Greg Wallace proud, it's a 'clincher' of a restaurant – the kind of place you'd only take someone you really, really liked. The ultimate test of romance; if you've found someone you want to share the theatricality of a dry-iced, smoking plate of the world's most perfect sashimi with, then, in the words of Queen B, put a ring on it.
Yashin Ocean House: What to Expect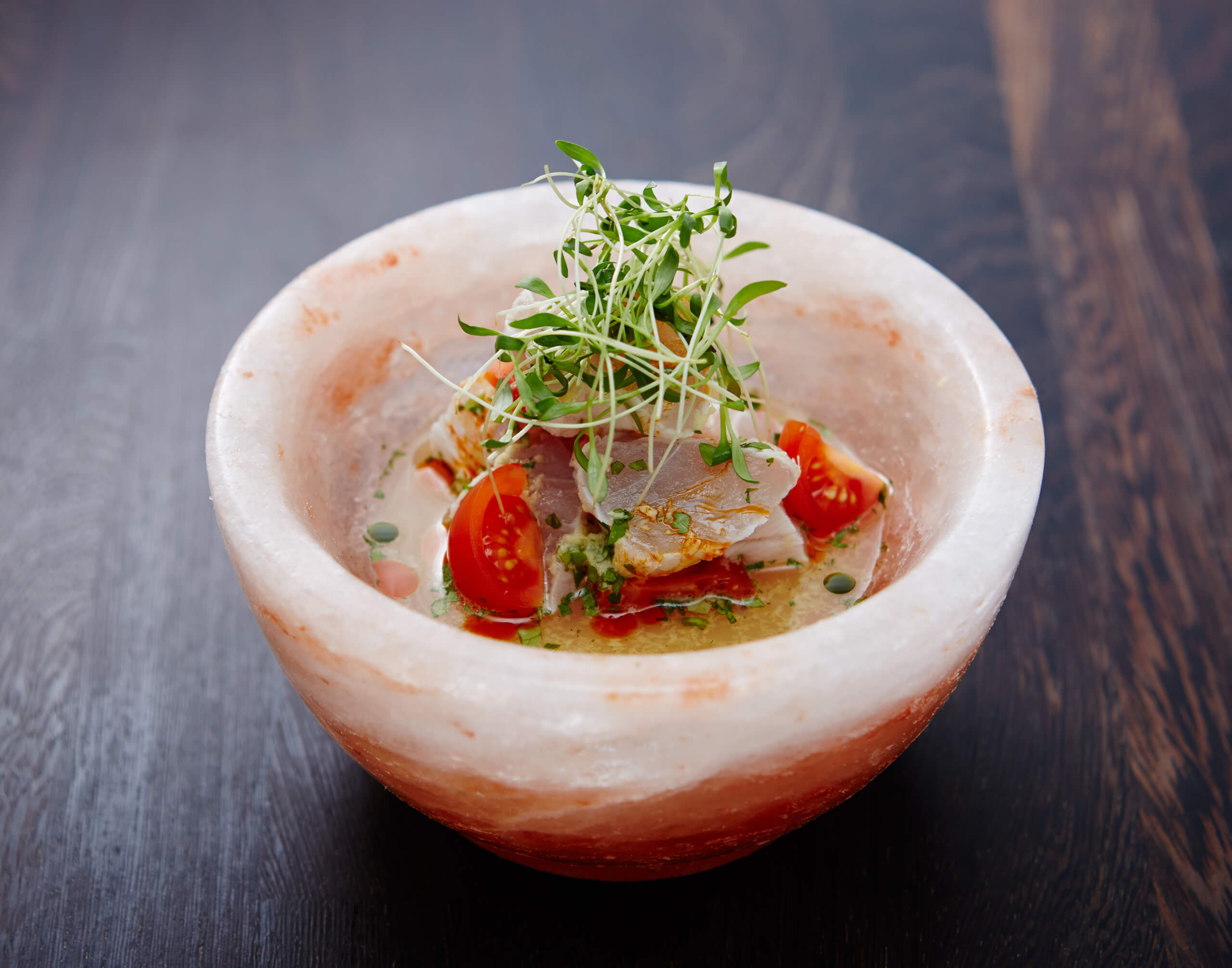 Yashin Ocean House challenges you. For one, the restaurant goes against the grain (sorry) of supermarket-bought, traditional sushi, by refusing to serve soya sauce and wasabi. You won't find little bowls of the stuff to dunk your fish into here – the restaurant believes that the salty sauce detracts from the flavour and freshness of the fish, masking its good quality, and instead they demand you try their specially-designed accompaniments for each piece of sushi – bespoke purees, sauces and condiments, created to match the fish piece-by-piece.
And, of course, it works. Too often we destroy the fresh flavours of perfectly-cooked sushi rice and silky, smooth salmon, by completely drowning our fish in soya sauce and smothering it in wasabi until our eyes water. We've all been there.
But here, there's such attention to detail, each piece of fish lovingly paired with an additional flavour which only heightens its intensity, such as an avocado puree, a mustard relish or a drop of trout roe. The restaurant, effortlessly, demands that you eat mindfully – carefully tasting each bite, letting the flavours sit on your tongue, analysing the morsels without the soya dunk. Slow, calm, reflective eating, the food itself is almost an act of mediation.
And the design is surprising, too. Forget the traditional stiff, white table cloth adorned look of traditional fine-dining sushi restaurants, this is somewhere that isn't afraid of looking laidback. The design is Scandi in feel, with exposed brick walls, a kind of dilapidated, crumbling chic, and black and white tiled floors, but not without odd quirks – and a seriously cool sushi bar where you can watch the action first-hand.
Yashin Ocean House: What to Order
There are a few dishes on the menu that are a must-try. Their miso soup is wonderful; designed as a savoury cappuccino, it's a playful take on the classic dish, with a thick head of foam that cuts through the salty, rich liquid below. It sets the tempo for your meal – and reminds you, at the end of it all, that food is an experience, not just nourishment. Also order the fish in a Himalayan pink salt bowl – zingy with fresh lime, chilli and coriander, you choose how salty to make your fish.
Tempura is next on the list of star dishes. The best is the prawn tempura – if you can get past the unashamed, bold presentation – it's a dreamy combination of fresh cooked prawn, all warm and soft, with a coating of thin panko breadcrumbs. Served with a vial of soya sauce, the crunch and the fish work in harmony together. For vegetarians, the 'garden' inspired vegetable tempura with its own watering can of dressing, will make you smile.
Cameras at the ready, people. Now move onto the crowning glory of the restaurant: Omakase Sashimi. One of the most photo-worthy dishes you'll try in London – a fresh mix of tuna, yellowtail, salmon and prawn, each fish is served with a special complimentary dipping sauce, such as unusual cubes of black sesame jelly, or a spicy roe, and comes on its own smoking plate. The nigri is also ocean-fresh; try the fatty tuna version of the classic Japanese dish.
Don't put your phone away quite yet – the octopus with red pepper, and the black cod, which comes served in a banana leaf, adorned with bitter slices of baked orange, are totally sensation in flavour and well-worth a snap. For meat lovers, the Wagyu shoulder is one of the restaurant's most famous dishes – served with its own candy floss ball. Again, the presentation goes above and beyond, with specially-designed bowls.
Yashin Ocean House: Our Verdict
We totally love the place. If you want a special Saturday night date spot, we can't recommend it enough. Not just because the food belongs in an art gallery, or the sake selection is sensational, but because this restaurant does something different – it dares to challenge you, surprise you, and wow you. Come down and discover the magic for yourself.