Mora is a special restaurant. Not an everyday kind of place – it's a fancy, upmarket spot, with low-lighting, and cool, sexy vibe, serving up posh Italian food at, frankly, seriously high-end prices. It's strictly an in-the-know restaurant, and the kind of people that go there are the ones I hope I'll be friends with in later life. Business men, actors, models, it's got that kind of feel about it. In the spirit of Christmas celebrations, I popped down last week and here's what you need to know:
Mora is an upscale, fine-dining restaurant and bar, which serves fusion Mediterranean cuisine in the heart of Marylebone. It's a small, intimate place, with a really evening feel – the leather booths and soft lighting lends itself perfectly for dates. On the night we visited, it was quiet and a welcome break from the nearby busy streets of the West End. The food has a sharing, communal feel, with small plates to share and lots of lovely things to nibble at the bar. This is the kind of restaurant you take someone you want to impress, that's for sure.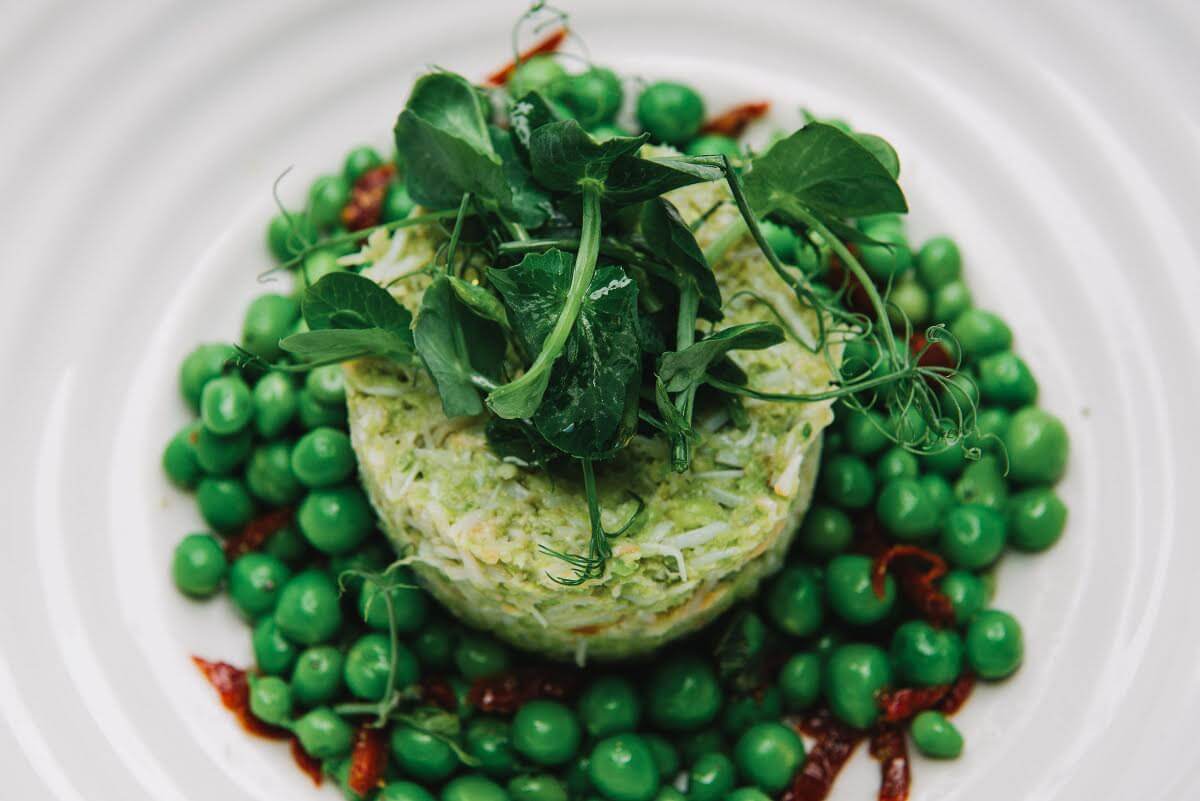 The menu is divided into small plates, starters, mains and desserts, which is great for all kinds of occasions. If you want to enjoy a cocktail at the bar and a few nibbles, they've got a plate for that, and if you want an all-out feast, it will work too. We were in a hungry mood, so decided to consume everything in sight. We started with testing out the small plates; the yellowtail ceviche with mango and pickled onion, and the hand-picked crab, served on a purple potato puree with potato chips.
The yellowtail was a real highlight – fresh, zingy and full of flavour, paired beautifully with the sweet mango. The crab dish wasn't really for me – the combination of cold mashed potato and crab didn't really work for me, but the crab tasted super fresh and the presentation was top notch, so perhaps this is personal preference. We also sampled their Buratta D'Adria (how could you not?) – served with Sicilian tomatoes and pistachio. The buratta is everything you could want – soft, creamy, melting-in-the-middle, it's perfection. Soaked up with seeded brown bread, there can be no fewer pleasures in life.
For mains, we went for a combination of fish and pasta. The pasta, we tried the Pacherri with ricotta, tomato coulis and crispy aubergine, and for fish, the pan-roasted turbot with steamed zucchini and red pepper cream. Both dishes were really lovely but, for the price, the portions are a little small – a fifteen pound pasta dish only features five pieces of pasta, and the fish is also on the small side. Still, quality over quantity here, the fish is really delicious – soft, flaky, with a bright and brilliant red pepper sauce, it's a beautifully balanced dish that's a delight to eat.
The pasta, however, is a little disappointing – it's slightly undercooked, with more bite than necessary, although the ricotta filling is truly delicious, with a creaminess that perfectly compliments the sweet tomato coulis and the crunch of crispy aubergine. It's a shame the little rawness to the pasta let is down, as this one could be such a winner. While you're at it, try the truffle mash potatoes – they are perhaps one of the best things here. For dessert, we gave the cannoli a whirl. The cannoli are a highlight, with a variety of sweet fillings, such as ricotta, chocolate and vanilla, dipped in nuts and chocolate, they are the perfect thing to be enjoyed with a cup of Earl Grey tea. Glorious.
Mora has a really rather wonderful Italian wine list, with lots of unique wines to discover. They also serve up some classic cocktails, as well as Winter warmers. I very much enjoyed their take on a Bellini with fresh raspberry and champagne – it's a beautiful, easy drink, which goes perfectly with their light Italian starters.
A mixed bag, I'd say. Some of the dishes here are a real delight to eat, while other fall slightly below the mark; the starters are a highlight, but the main courses are a little small for my liking. The atmosphere and vibe of the restaurant is hard not to love, however, and what they lack in gigantic portions, they certainly make up for in cool. Order some buratta and sit at the bar to soak up the distinctly Marylebone vibe.