Westfield shopping centre is a place where you can lose a good few hours trampling around various department stores, finding yourself lost in the never ending Sports Soccer closing down sale and somehow end up on their indoor ice skating rink. And yet, there's always one thing that comes to mind after a splurge: where's the nearest restaurant that's both tasty, satisfying and more than a baguette and a side portion of crisps. Well, my friends, it's The MeatCo.
It's safe to say that Westfield's has its fair share of restaurants, you're spoilt for choice – chain Asian eateries for comforting bowls of ramen to coffee shops for a millionaire shortbread and a flat white. Yet, The MeatCo offers something a little different, something a little more. It's a place where you'd visit even if you weren't laden down with shopping bags, and here's why: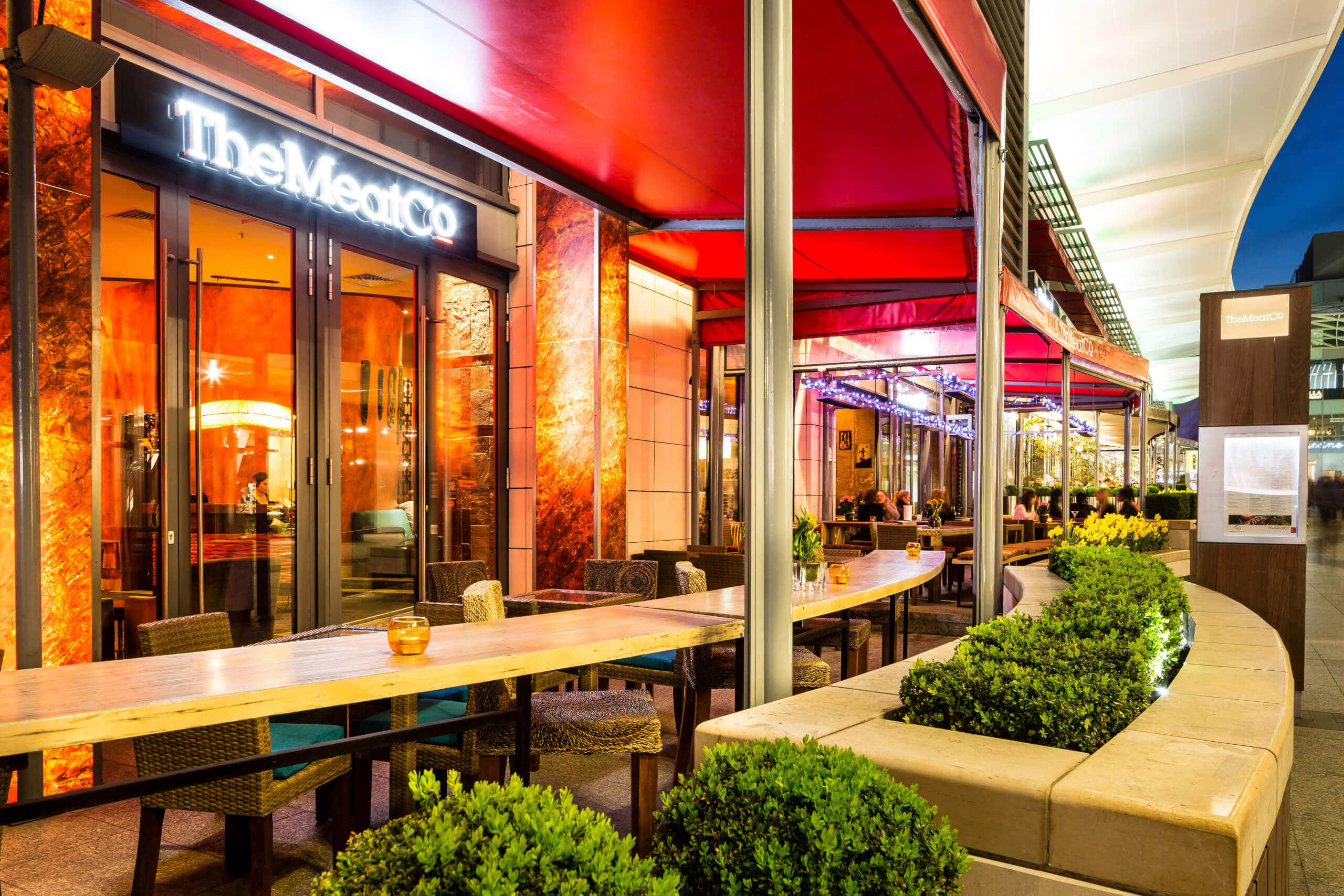 The MeatCo is well established in the Middle East, with outlets in Bahrain, Dubai and Kuwait, and in South Africa, too. The MeatCo at Westfield is the group's first restaurant to open in the United Kingdom back in 2008 and it strives to bring the best international steaks to the UK market. If you're not familiar with The MeatCo, here's what you need to know – owned by its creator Costa Tomazos, one of South Africa's most successful restaurateurs, the menu takes great influence from the African hertitage in both the food and decor. The restaurant was included in the 'Book a Table Awards' list of Top 10 Best Steak Restaurants in London and seemlessly blends modern steakhouse dishes with traditional service.
The MeatCo's interior is a distinct one. Drawing upon African designs, the bar downstairs is kitted out with low lighting, plush red interiors and statement art pieces that litter the walls. The bar has a cool, cosy vibe that even if you didn't come to eat, is still worth a visit. Upstairs, however, is where The MeatCo really comes into its own. Take the winding staircase up to the first floor and you're greeted with leather seating, a ten metre wall featuring wines from across the globe that runs through the middle of the restaurant and  colourful wall hangings.  It's striking, it's slightly over the top for its location, but this, this is why The MeatCo sets itself apart.
The drink selection is what you'd expect from a restaurant of this calibre – great. The wine list is more of an enclopedia than a list and can be overwhelming. Don't be put off, the staff are knowledgable and are on hand to match the idea tipple to your steak. The list features wines from Africa, Australia, Europe and America alongside Champagne and sparkling wines.
If you're more of a martini drinker than a merlot, their cocktail list does not disappoint. Their passion blast cocktail containing vodka, passionfruit and other fruity ingredients is light, refreshing and far too drinkable.
It's no surprise that The MeatCo's menu is a meaty one, and while there are veggie options on the menu it would be rude not to sample one of their steaks – it's what they're known for after all. Kick things off with one of their starters, and as this is an African steakhouse prepare for a mixture of  well loved dishes (chicken wings, salt and pepper calamari, and peri-peri prawns), but also a few global dishes thrown into the mix.
After a quick google (there's no shame), the boerewors starter is a must. Boerewors, is a sausage popular in South Africa that contains no less than 90% meat, with the other 10% herbs and spices. Circle like in shape, the boerewors is served with a hearty dollop of polenta. This dish is as comforting as it gets – the sausage is made from three different meats that have been seasoned beautifully. Mop up the last dregs with their potato and onion bread – warm, crispy and the ultimate winter warmer.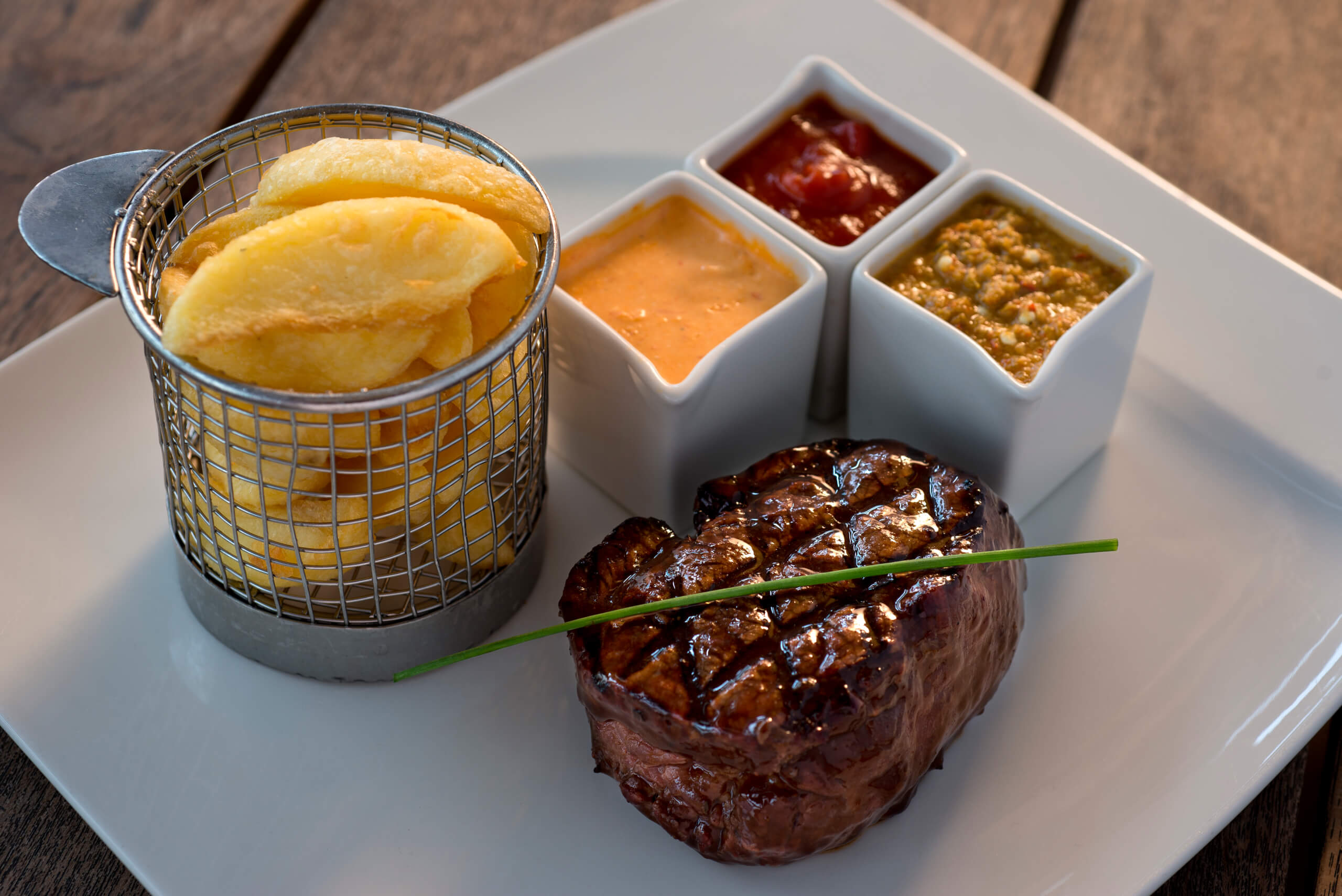 Be careful not to eat all the bread, as tempting as it is. There's delicious steak to be eaten and this is where The MeatCo really takes centre stage. Their steaks are sourced from two places, the British Isles and North America. The MeatCo boasts some of the best British cuts of meat around, all dry aged in-house for 30 days then wet aged to ensure the steaks are succulent, moist but most of all, tender. It's the British fillet steak that must be order, immediately. It's cooked on an open charcoal grill that adds a rich, intense smoky flavour to the meat. There's three main reasons why this is an excellent dish, let me explain: the steak is cooked to perfection (I like mine rare), it's not medium rare, it's not blue – it's what I asked for. The steak isn't overly tampered with, there's no unwanted seasoning detracting from the taste and overall, it's a solid good quality cut of meat. It's also the fact that you can add on toppings to your steak if you so wish, and we aren't just talking about a few onions rings. Order either 1/2 lobster, scallops, wild mushrooms or go all out and order a full lobster. There's no need for supporting actors, when the star of the show is sensational.
You're seriously spoilt for choice with the meat selection, the menu is a meat mecca.  There's gourmet burgers, a variety of different skewers, barbecue beef short ribs and grilled lamb loin on offer.
The side dishes also pack a punch, and like many steakhouses offer the usual – seasonal veggies, garlic mushrooms and grilled asparagus, yet it's the execution that matters. The creamed spinach is without a doubt, the one. It's rich, oh so rich, but utterly divine. It's one of those dishes that when you're full,  you can't help but pick at it. The brocollini with garlic and chilli has a subtle heat, that matches perfectly to steak and the roasted sweet potatoes are crispy, fluffy  and much better than its white potato cousins.
There's four words that make this meal even better – 'The chef's tasting platter'. A dessert platter that features all the desserts on the menu in miniature form. If you can't decide what to choose, order this selection as it allows you to taste all the different puds. The dark chocolate fondant is a volcano of chocolate – served warm, the fondant oozes chocolatey goodness and will have you scraping up every last morsel of light chocolate sponge. The brownie is also another strong contender – it's fudge-y, gooey and totally decadent. For something different, try the banana bread pudding, it's a fruity twist on school dinner classic.
The staff really are a credit to the restaurant, they perfectly match wine not only to your meal, but to your taste. They're also fantastic when helping you decide the cut of meat if you're not sure. The MeatCo is a celebration of timeless food, cooked well and served with killer cocktails. You don't have to be buying a discounted pair of gym leggings to pop into The MeatCo, it's worth the journey.