I'll admit it, I love steak. I have red meat running through my veins on a weekly basis. Before you throw your health guidelines and fancy statistics at me I just want to point out, I don't eat beef everyday. It's a treat to go to a steak restaurant. It's a treat to feast on these fabulous cuts of meat, and most of all it's one of the best feelings to find a restaurant that serves steak, but also, they're a dab hand at cooking it, too. And by gosh, does MASH deliver on both those things. I've eaten a fair few steaks in my time, tried copious amounts of Bernaise sauce, and tucked into my share of sides, but, friends, I'm telling you this  MASH is up there with some of the best steaks I've ever had, bold claim, but here's why:
MASH: The Vibe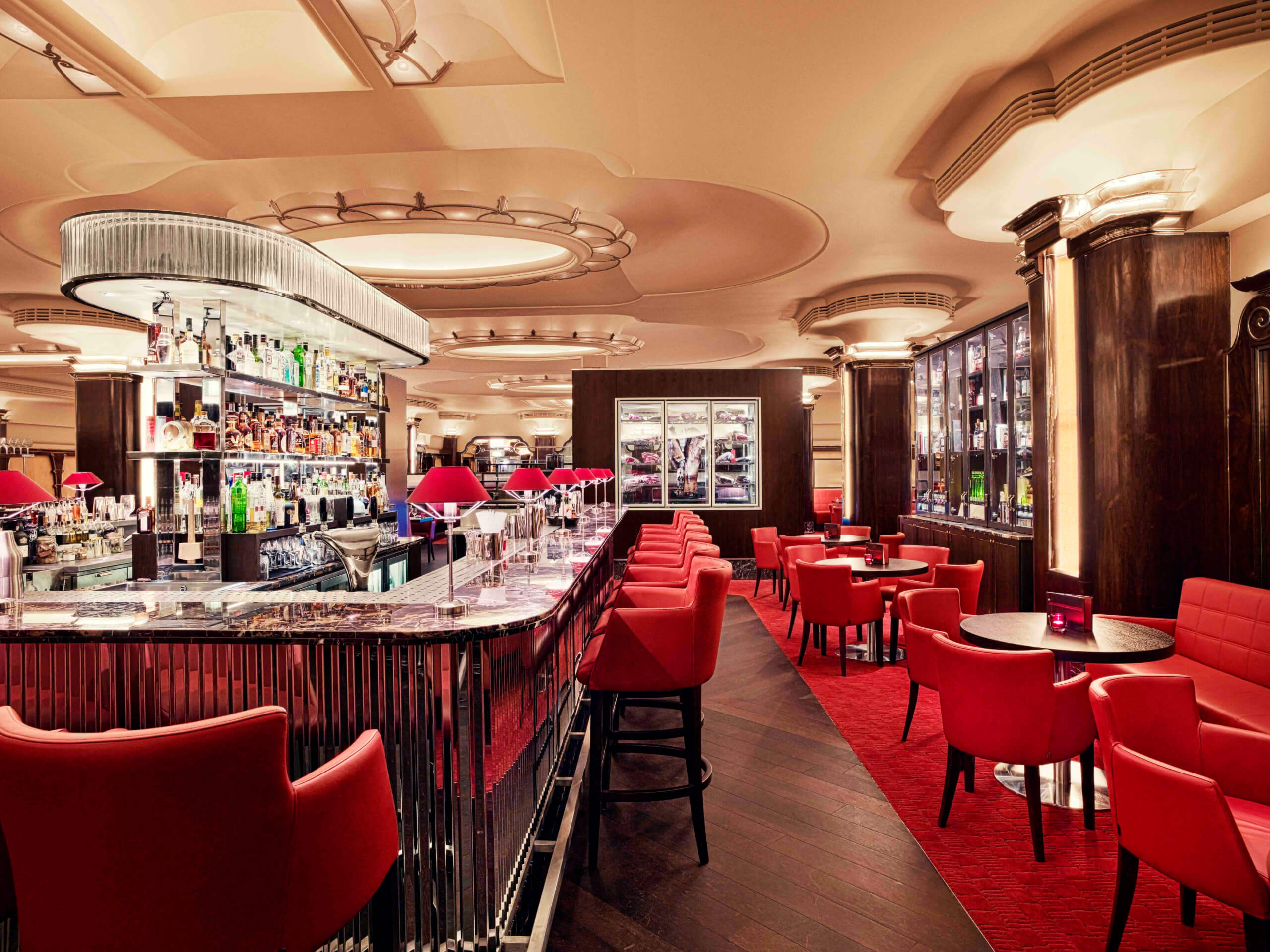 If you haven't already cottoned on to it, MASH stands for: Modern American Steak House. Located on Brewer Street, MASH is housed in one of London's most famous and iconic Art Deco buildings in Soho. On arrival there's a reception desk, a cloakroom and not much else, but the beauty lies two floors down. This is one of Soho's best kept secrets, or I may be very late to the MASH party, but the restaurant is a tardis. It's huge, and it certainly wasn't what I was expecting –  it's better. Plush red seating, table dividers of patterned glass, sleek curves, linear woodwork and art decor designs emblazoned on the ceiling. I feel like an extra in the Great Gatsby, or Bugsy Malone –  a waiter any minute is going to whizz past with a splurge gun. This. This is the roaring 1920's in 21st century London, and I can't get enough of it.
Aside from fixtures and fittings, there's one piece that's central to MASH's success and that's its meat vitrines. There's 2 large glassed fridges, one for dry ageing meat and one wet ageing – here you can marvel at prime cuts of beef basking in all their meaty glory. It's like a trophy cabinet, it's what I'd imagine it to feel like when you go into someones kitchen, and there standing bold as brass is their oscar, or some sort of award they've pick up for helping the community or a Blue Peter badge.
MASH: The Food
Let's not beat around the bush here – the food is superb. It's one of those places where you would  forgo your mid afternoon snack so your stomach is empty, grumbling and also, so you can properly go hard on the menu. I'm taking about the whole shebang, the whole 3 courses, the whole nine yards.
The starter menu offers a well-balanced choice, from pan-fried foie gras to tuna tartare and wild mushroom pasta. If you can stomach beef on beef (I'm a three meats a day gal myself), the beef carpaccio is the absolute one. There's not much to it; a plate covered in thinly slice raw meat, a sprinkling of parmesan cheese and a light smattering of mustard mayo. The  classic carpaccio sauce is made with a hint of lemon juice and mayonaise, but the addition of the mustard really lifts the dish. Three ingredients when brought together, creates something rather special. It's a light dish and an ideal option to kick off  your meaty journey – extra points has to be awarded to the quality of the beef. A good beef carpaccio should a-hear to these three things; it should be packed full of flavour, you shouldn't really need to cut it as it's so tender, and lastly, it should melt in your mouth. The carpaccio at MASH ticks those boxes. The pan fried scallops shouldn't be overlooked. Served with crispy chicken skin, these beauties are a sensation.
The steak menu isn't your just USA or Aberdeen angus steak, you're spoilt for choice. Boasting top notch cuts of meat from Uruguay, Denmark, Japan, Australia, with the familiar Scottish breeds and NY cuts also thrown into the mix. If, like me, you find yourself slightly perplexed with the offering, the knowledgeable staff are on hand to aid you with your decision. I opt for the fillet steak from Uruguay – the corn-fed Uruguay Hereford beef, renowned for its unique flavour and marbling of the meat catches my eye. Fillet is  is the most tender cut of beef and also the most expensive. The muscle is non weight-bearing, and that's what makes it so tender, and believe me – tender it was. I don't have many pet peeves in life; people who add milk in before pouring tea drives me nuts, people who wear football shirts when they're not off to watch a match, but what doesn't sit right with me – is when my steak is overcooked. I like my steak cooked rare, I like it juicy, bloody – not medium rare or blue, rare. And boy, did they cooked this piece of steak to rare excellence. It was a party of flavours, no unwanted seasoning to detract from the fillet, it was soft and supple. I didn't need a steak knife, it was like butter. Each bite better than the last. It was moreish, heavenly and you know what, it was a discovery of flavours that I haven't experienced before.
A steak without sides is nothing. The creamy spinach is a delight, the spinach is swimming in a cheesy sauce, suffocating under a crispy layer of cheese. Order that, pronto. Green beans with almonds is also a crowd pleaser as is the chilli fries for that spicy kick. The Bernaise sauce is a cracker – rich, creamy and served in a huge pot, none of this small jug nonsense. If steak isn't your bag (shame on you), there's also breast of French corn-fed chicken, lamb chops and the MASH Burger. There's a few fish dishes thrown into the mix as well.
Now, I don't know about you but for me, a decent meal doesn't end on a savoury note. Get your fork and spoon into the cheesecake. It's a classic cheesecake topped with raspberries and served with a blob of sorbet, and crushed almonds. The creme brûlée is a belter – nice crispy top compliments the custard base just right.
MASH: The Verdict 
If you haven't already guessed, MASH is well worthy of your time and money. It's a place that can appeal to any occasion – graduation, anniversary or birthday. The decor is sleek, the service is slick, but most importantly; the steaks are a sensation.