It was around circa 2012 that the burger hype in London reached a fever pitch. People went potty for patties; if it wasn't straight-up cheeseburgers, it was exciting US transplants that sent Londoners into a spin, and the same could be said for the pizza movement, happening, well now.
Over the last few years, there's been a rapid increase in pizza restaurants – from slice bars to street food setups and everything in between. As dough love-ins go, Happy Face Pizza is a relative newbie on the scene. From the team behind Spiritland, Happy Face Pizza is a love letter to Italian food where authentic Neapolitan pizza takes centre stage. Following the opening of its flagship restaurant in King's Cross in 2018, Happy Face has set up shop in South London with its second branch located in Victoria's Eccleston Yard.
Happy Face Pizza: The Lowdown
A popular hub for independent businesses, entrepreneurs and creative talent, Eccleston Yard celebrates creativity and community spirit – the ideal spot for Happy Face Pizza's second restaurant.
The restaurant takes inspiration from its stylish sister sites in N1 and features modern and urban interiors, industrial high-top tables, striking décor, sophisticated lighting and hanging installations as well as an impressive open kitchen with Gozney's Napoli pizza oven. The music playlist was giving us Printworks over One Night in Pisa, but we'll take it. 
Happy Face Pizza: Eat and Drink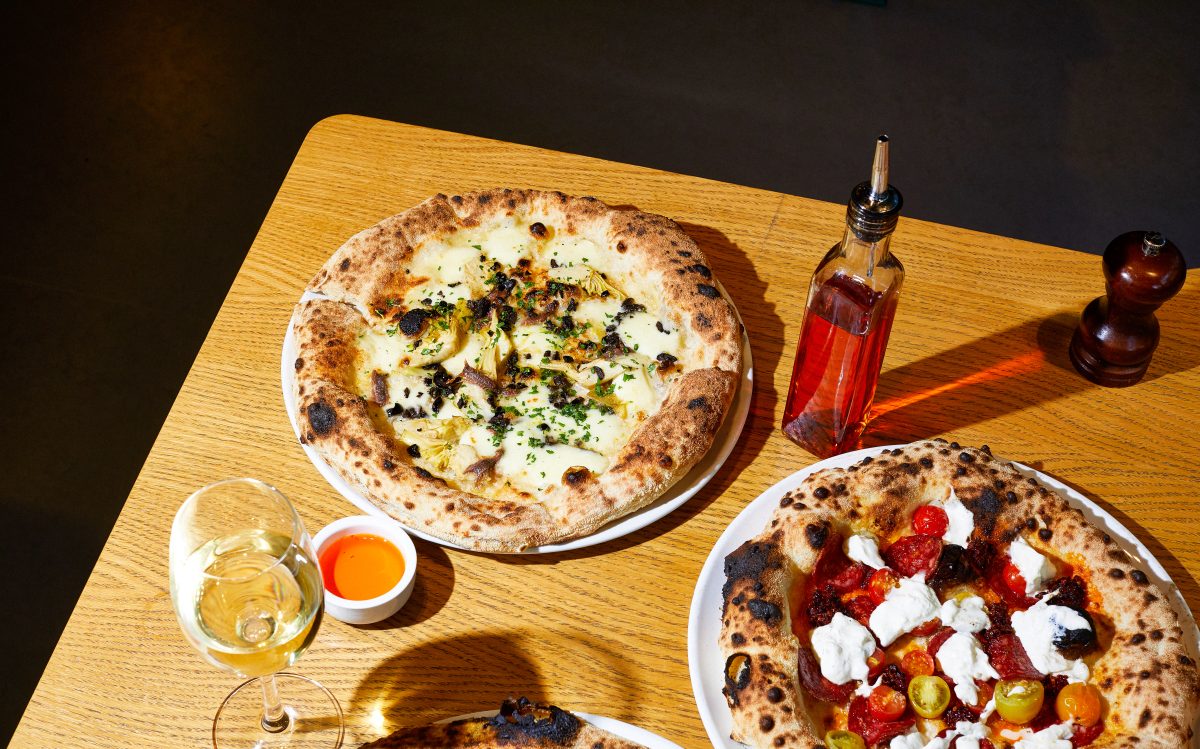 The menu here is happiness in carb-based form. Pizza options are well-choreographed, uncomplicated and seriously delicious. The secret to a sensational Neapolitan pizza is the dough, and Happy Face's hand-made 72-hour fermented dough not only tastes incredible, but is the foundation of the pizzas' iconic blistered crusts.
We kicked things off with the burrata (because is there anything better than cheese with the addition of cream?), and the Focaccia (start as you mean to go on). When it came to choosing our pizzas, we opted for the Melanzana (tomato, mozzarella, aubergine, basil and parmesan), and the vegan pepperoni (tomato, vegan cheese, vegan pepperoni and olives). As pizza restaurants go, vegan options are still playing catch up, but there's plenty of plant-based choices at Happy Face.
Happy Face's Neapolitan pizzas are a hybrid approach; hitting that sweet spot between doughy enough to get a good bite and hold all the toppings, but thin enough to give you that flop effect when you pull a slice from the round. It's seriously good – and we couldn't fault our doughy wonders.
To make it a real Italian feast, order the classic Sgroppino – a wonderfully refreshing palate cleanser made with lemon sorbet and topped with Prosecco. Happy Face Pizza does what it says on the tin; a casual restaurant celebrating Neapolitan pizzas, making them the right way, with proper ingredients, and with love. Ottimo.
For further information on Happy Face Pizza, see here. 
Happy Face Pizza Victoria, 23 Eccleston Place, London SW1W 9NF