As longstanding fans of Chotto Matte when it first opened, we were eager to revisit this iconic spot in Soho to experience its lunch menu. From the moment it first opened its doors, Chotto Matte drew people in with its unique blend of Japanese and Peruvian cuisine in a stylish setting. Would it still be the ultimate dining destination? Our return visit left us thoroughly impressed.
Chotto Matte: The Food
Opting for the lunch tasting menu, priced at just below £40 per person, felt like a luxurious and reasonable choice given the current climate. We recommend sharing this culinary journey with a companion for a leisurely catch-up over an indulgent lunch.
To start, we were treated to a twist on a classic favorite: the edamame. The BBQ soybeans, delicately seasoned with sea salt, offered a satisfying smoky flavour that beautifully complemented the inherent sweetness of the beans. It was a simple yet essential beginning to the meal. Next up was the sea bass ceviche, a refreshing and tangy dish that truly delighted our palates. The sea bass sashimi, bathed in leche de tigre and chive oil, provided a burst of flavours. The addition of sweet potato, Peruvian corn, and coriander added depth, texture, and a delightful crunch to the ceviche.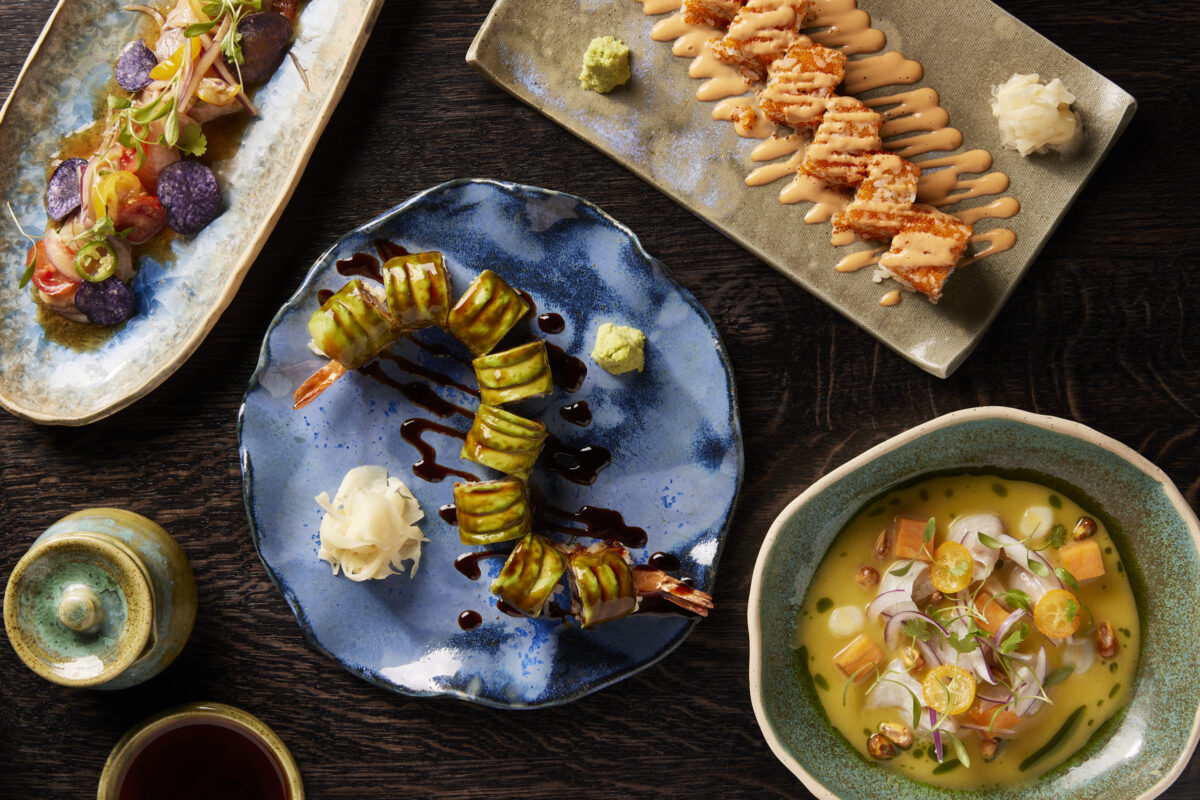 For sushi enthusiasts, the sato maki is an absolute must-try. This creative roll combines sea bass, salmon tartare, romano pepper, and lime soy. The flavours were expertly balanced, and the tangy lime soy added a refreshing twist to the traditional sushi experience. Don't miss the spicy tuna crispy sushi. Divine.
Moving on to the hot dishes, which often take a back seat to sushi and sashimi, we were pleasantly surprised by the two shared options we selected. First, the pollo picante, a succulent chicken dish bursting with vibrant spice. The red and yellow anticucho marinade, combined with yuzu juice and chives, created a mouthwatering experience that left us craving more. We paired the chicken with the Asado De Tira, a slow-cooked braised beef dish served with purple potato purée and a teriyaki jus. The beef melted in our mouths, and the dish exemplified Chotto Matte's dedication to crafting unforgettable flavours.
Dessert was an artful creation at Chotto Matte. We opted for the souffle cheesecake, a fluffy and light sponge cake that differed from the traditional dense American cheesecake. This carefully crafted dessert was the perfect sweet ending to such a well-balanced meal.
To complement the exquisite cuisine, Chotto Matte offers an impressive selection of expertly crafted cocktails and beverages. From Japanese-inspired concoctions to classic favorites, each drink is beautifully presented. The extensive sake and wine list further enhance the dining experience, providing ample choices to suit every palate.
Chotto Matte: The Verdict
Chotto Matte's lunch menu remains a culinary masterpiece, flawlessly merging the best of Japanese and Peruvian flavours. From the first bite to the last, we were transported to a realm of gastronomic delight. With meticulous attention to detail, exceptional flavours, and a commitment to culinary excellence, Chotto Matte continues to deliver an extraordinary dining experience that will leave you longing for your next visit.
For further information on Chotto Matte, see here.