A very good friend of mine recently announced he was off to America. He's fallen in love and has booked a ticket to live out his very own New York rom-com. The thing I think he'll miss the most out there is the amazing foodie areas and independent restaurants in London. Yes, the Big Apple has one of the best food scenes, but walking down Upper Street (yep, you can walk in London), I get the feeling he just won't be able to beat the sheer diversity and 'village-like' quality of streets like this.
We were here to try out one of the newest arrival to the already food-filled Upper Street. Taking the place of Cabana is Alphabet, a re-imagining of the original Alphabet formerly located on Beak Street, Soho. The new Islington venue features a 180-cover restaurant centred around a dramatic skylight, a stripped back urban bar, private drinking and dining areas and a collection of contemporary artwork.
Alphabet: The Menu
The restaurant offers a varied menu of Mediterranean inspired sharing plates developed by Head Chef, Yaz Khadiri. That said, the focus here is just as much about the cocktails as it is the cuisine. The drinks offering has been developed and curated by bartender Chris Edwards, co-founder of London's Shrub and Shutter in Brixton, and First Aid Box in Herne Hill. The menu includes a selection of 26 cocktails, with each spirit lined up alphabetically on behind the bar (do you get it: 26 letters of the alphabet).
We kick off with a Panettone Negroni – panettone infused Hernö Old Tom Gin, Campari, Picon, 30 and 40 Aperitif, and panettone essence. This is unlike any other panettone we've had before, smooth and subtle with a delicious almond-y undertone. It came with an air-dried panettone slice on top which made for delicious dipping (sorry if this wasn't the intention). Meanwhile a Warning Sign, an unusual (in a good way) blend of Warner Edwards rhubarb gin, pickled blueberries, lemon sherbet, and hibiscus soda. It looked almost like a magical potion dessert – and we could've had three – but it's always important to remember restaurants after you review them.
Alphabet: The Food
Feeling well and truly refreshed we headed to the back of the restaurant to eat. The area back here is much more open; there are a few large tables, great for groups, whilst booths along the sides offer a secluded intimate experience. We started with some sharing plates: Iberico ham and Manchego croquettes, shell-off prawns with chili and garlic, and finally, a plate of courgette and fennel fritters. The prawns were the star of the show here, pleasantly oily and fresh with the sort of garlic and chilly toppings we love but our partners don't. The croquettes were soft and fluffy in the centre although could have done with a little more cheese and ham (I like them pull apart stringy). Finally, the fritters were not the crunchy thin slices of joy I was expecting, they were slightly soggy and soft with large amounts of veg stuffed in the centre. One to avoid next time I think.
For the main course, we had chargrilled chicken kebab with chermoula, wild mushroom, and rocket along with one of their signature dishes, a slow cooked lamb tagine with apricot, almond, and cinnamon. The chicken kebab was a little disappointing: a single skewer seemed a little small for £14, whilst the garnish was fairly limp bog standard lettuce. That said, the hummus it was sat on was as good as you'd get in any restaurant, so just a near miss. With the tagine, we felt on much safer ground; a great hunk of meat with excellent Moroccan spicing, the meat fell off the bone and the jus helped add to the moisture and flavour to the lamb. It's a shame it didn't come with any cous cous but I'm sure this can be ordered separately. One final note, they serve Alphabites. We thought they might be a special dish of the venue but no they're genuine, old-school alphabites and, as you'd expect, they're heavenly.
Alphabet: The Verdict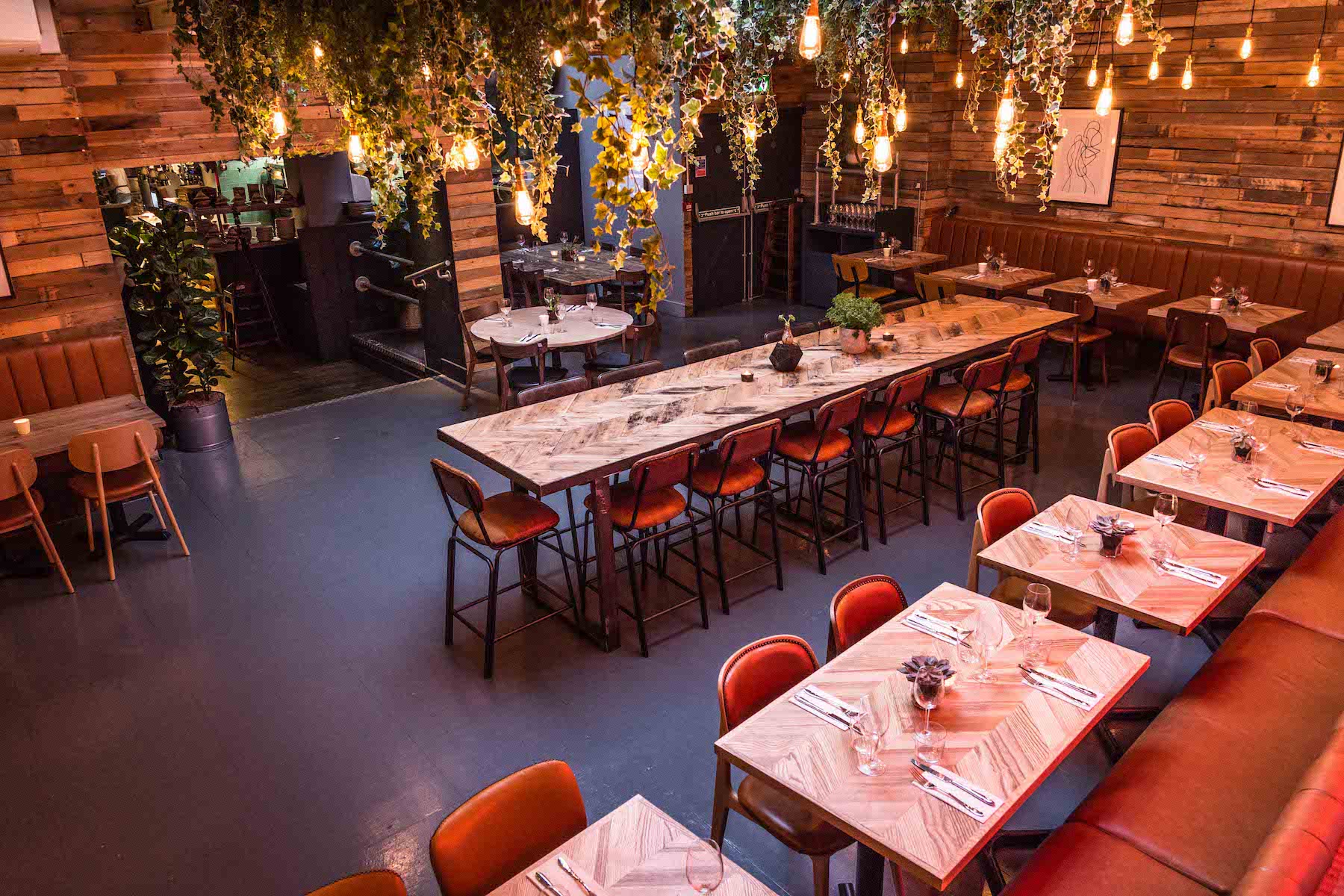 Overall Alphabet is a great new addition to Upper Street, there's a fun, relaxed vibe and the cocktails are original and standout (above the food currently). It's a great menu and over time I expect the food will get better. Head there for a fun night out, and for a reminder of what makes London so special.
56 Upper St, London N1 0NY
For more information on Alphabet, see here.