With the Bank Holiday weekend imminent, we've rounded up a selection of chocolates and cakes that'll see you through the four-day extravaganza. Dig in:
Easter 2021: Chocolate
The Lowdown: Ahead of Easter, hot chocolate gurus Knoops have launched their Easter Gift Bundle. Pop into the Kensington, Clapham Junction or Rye branches or shop online for their Easter box, which includes: Easter Spice Pouch (add a hint of 'hot cross bun' to your hot chocolate with this seasonal blend); Hot Cross Bunnies (five bunny-shaped marshmallows with notes of citrus and spices); and 34% Milk Chocolate Flakes (to make your own Knoops hot choc at home).
Where: Buy online, £28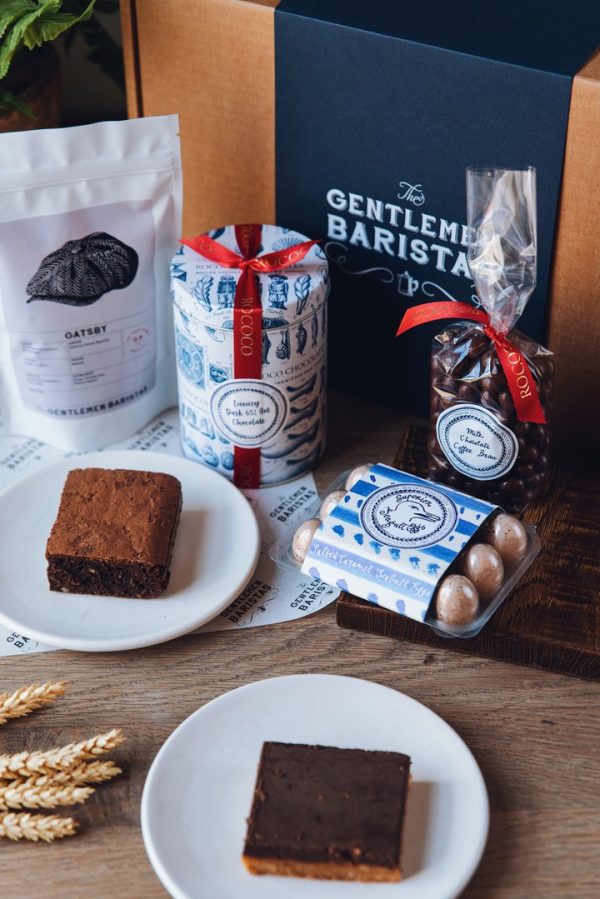 The Lowdown: The Gentlemen Baristas have teamed up with Rococo for the ultimate chocolate Easter Box. Tuck into The Gentlemen Baristas Brownie, The Gentlemen Baristas Caramel Slices, The Gentlemen Baristas Gatsby single-origin coffee (ground to order), along with Rococo Salted Caramel Seagull Egg Crate, Rococo Luxury Dark 65% Hot Chocolate tin, and Rococo x TGB whole Coffee Beans in Milk Chocolate. One for the chocolate connoisseur this Easter.
Where: Buy online, £55
The Lowdown: Easter just got even more indulgent thanks to Strazzanti's special edition luxurious Sicilian pistachio cream-filled chocolate mini eggs. Like a very posh mini egg, the outer shell is made from gorgeous dark chocolate, stuffed with a deliciously different pistachio ganache. Take it from us, this is one Easter egg you don't want to miss.
Where: Buy online, £12 for ten
The Lowdown: If you're looking for an alternative to traditional chocolate eggs this Easter, HECK has had a crack at something it's hoping will hit the spot with sweet-toothed sausage lovers. The 'Chausage', as it's been nicknamed at Heckquarters, is a satisfyingly sweet combination of gluten-free shortbread and Amaretti biscuits, butter, milk, sugar, sunflower seeds, apricots, glace cherries, raisins and cocoa powder, finished with a light dusting of icing sugar to give it the famous traditional salame finish of its meatier counterparts.
Where: Buy online, £10
The Lowdown: Explore new plant-based recipes in the kitchen this Easter and make the most of the long weekend with an indulgent chocolatey project or two, from award-winning peanut butter and chocolate pioneers ManiLife and Islands Chocolate. For their collaborative boxes, ManiLife and Islands Chocolates have joined forces with Bettina Campolucci Bordi of Bettina's Kitchen, a self-taught chef and plant passionate advocate, who has created 2 easy to recreate, family-friendly plant-based recipes – Peanut Butter and Chocolate Rocky Road and Peanut Butter and Chocolate Swirl Brownies.
Where: Buy online, from £12.99
Easter 2021: Cake
The Lowdown: Jack & Beyond's brand new delicate macarons have a crisp exterior and soft inside are incredibly light and moreish and come in a variety of flavours: chocolate, salted caramel, raspberry, and lemon and elderflower. Made by hand in their bakery these meringue-based treats, with a cute Easter design, are made with free-range eggs, scrumptious almond paste and filled with indulgent chocolate ganache.
Where: Buy online, £25 for 12
The Lowdown: Enjoy all the alfresco fun and festivities with PAUL bakery's collection of Easter treats. From the new Spring Sharing Box featuring two Fraisier bunnies, egg-shaped chocolate cakes and a box of 12 jewel-like mini macarons to Fruit or Chocolate Hot Cross Buns; a family Breadmaking DIY kit and Eggceptional Carrot Cake – there's something for everyone.
Where: Buy online, from £8