Hello lovely readers. We got an exclusive on Pret's new autumn menu, which launches tomorrow in the UK. We thought it would be rude not to share with you. Here's what's in store (literally) for the next few months in our favourite high street foodie spot… On your marks… Get set… Go:
Pret's New Autumn Menu: The Lowdown
It's all about delicious autumn flavours that warm you up from the inside. Pret's new autumn menu aims to have customers feeling full of beans in the morning and soup-er at lunch, with some hearty new macaroni cheese thrown in too for good measure. There's everything from Breakfast Power Pots to new macaroni cheese, and lots of lovely vegan options!
Breakfast Power Pots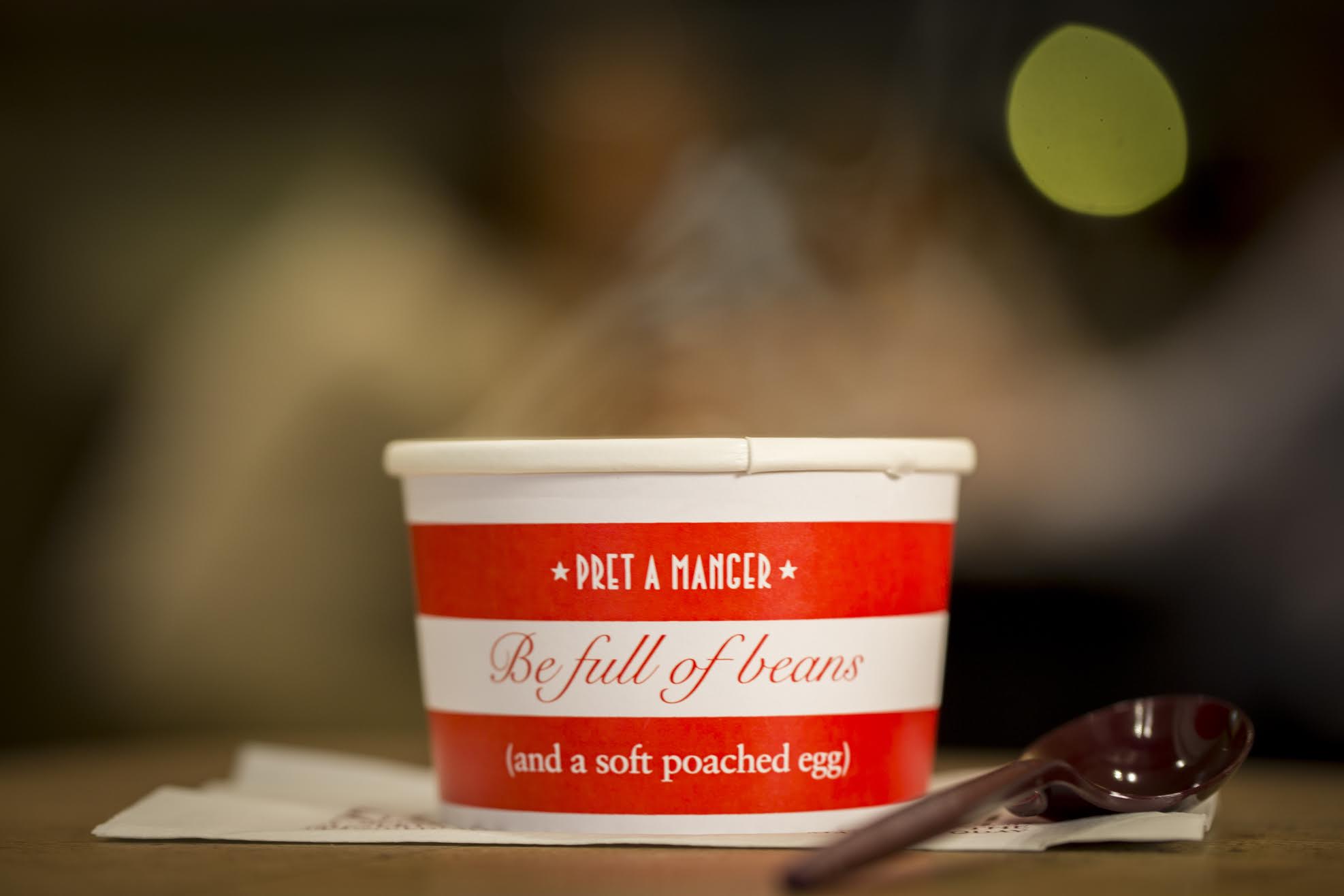 We all love a hot breakfast, but sometimes it's hard when you're in a rush. Pret to the rescue; Pret will be rollin -out two hot breakfast pots this autumn, priced at £3.75. The star of the show is Pret's baked beans; a mix of borlotti and cannellini beans (fancy, like) cooked with chopped tomato, olive oil and herbs. For a filling start to the day, the pots are served with either British sausage or roasted button mushrooms, and topped with a runny poached egg. Delicious stuff.
New Macaroni Cheese
Pret's popular macaroni cheese is going through a refresh this autumn, with the launch of two brand new flavours. Keep calm people, keep calm. Both options combine tubetti rigati pasta and cauliflower florets with matured Cheddar béchamel sauce, and are baked in-shop. The Short Rib Beef Macaroni Cheese, £5.75, also includes tender pieces of beef short rib which has been slow-cooked for 10 hours and mixed with red pepper tapenade. It is topped with Italian matured cheese and crunchy Panko breadcrumbs. For a great veggie alternative, the Ricotta & Butternut Squash Macaroni Cheese, £5.25, includes kale and roasted butternut squash, and is topped with creamy Italian ricotta and Italian matured cheese. A new classic.
New Soup Flavours & Sizes
Pret really is the king of soup, and they've got some new flavours we're so excited about. At the beginning of the year, Pret updated its entire soup range with the introduction of nine healthy new options. Pret will be updating it once again this autumn with six new flavours. What's more, of the 12 soups available from this autumn, all flavours will be dairy-free, gluten-free and under 250 calories, plus half the range is vegan! The soups (£3.45) will be on rotation, with one meaty and one vegan soup available each day, and two existing favourites (Chicken, Broccoli & Brown Rice and Souper Tomato) will also be available every day in two sizes; regular and as a side, if you want to mix and match with a sandwich or salad. The new soups are:
Lightly Spiced Carrot & Coriander
Shredded carrot and edamame beans with a delicate mix of spices including ginger, lemongrass and chilli, simmered in coconut cream for a rich finish.
Curried Cauliflower & Sweet Potato
An authentic north Indian vegetable curry with chunks of cauliflower and sweet potato and a delicate blend of cumin, chilli, mustard seeds, nigella seeds and turmeric. Simmered in a rich tomato sauce and finished with lentils and gungo peas.
Chunky Winter Veg
A rich, hearty vegetable soup with chunks of cauliflower, carrot, celeriac and swede, along with leek, savoy cabbage and a mix of herbs. A creamy soup without any actual cream!
Pork & Lentil Ragu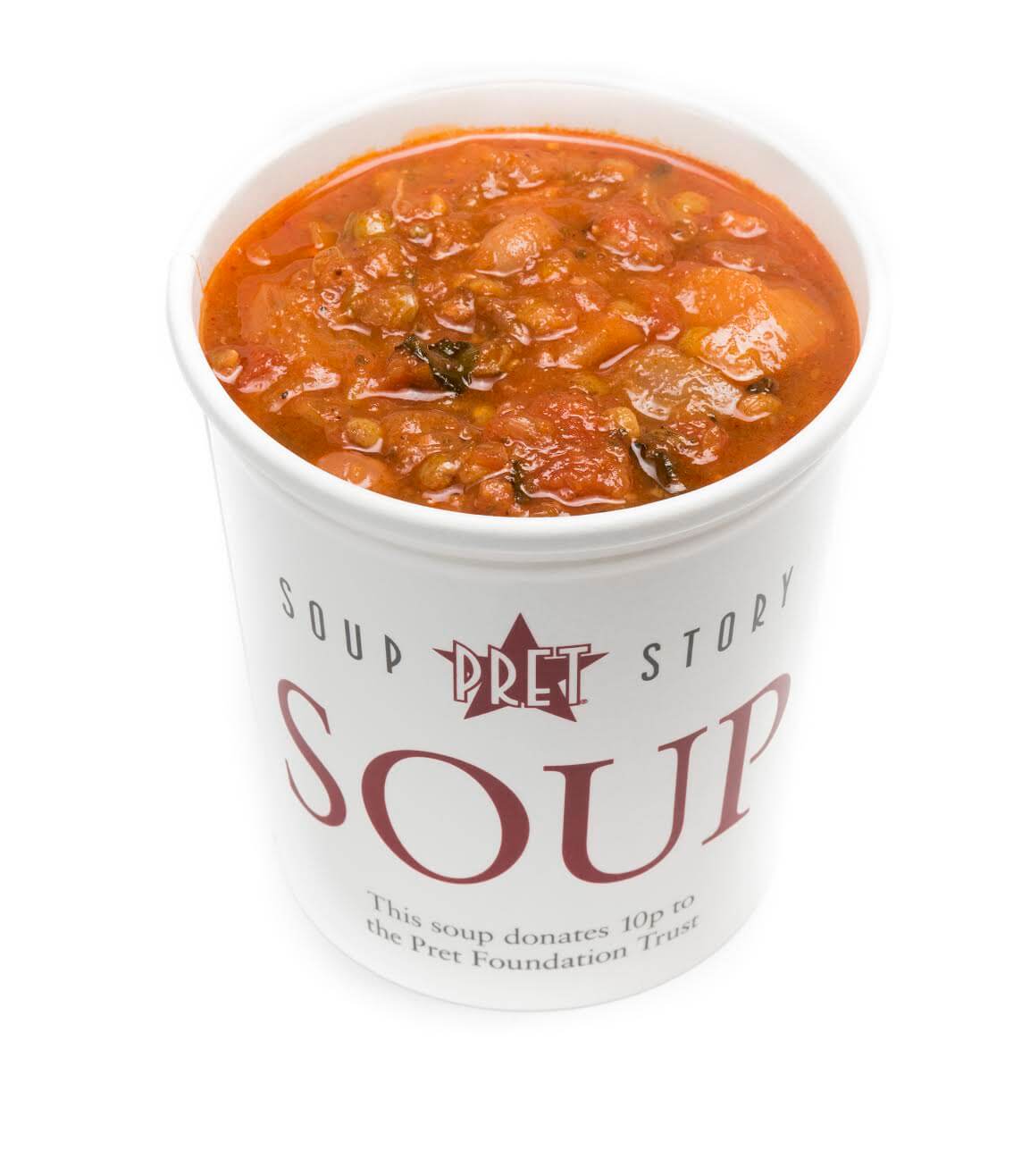 Pork spiced with fennel and garlic, and pancetta, slowly simmered in a rich tomato sauce with leek, cavolo nero, rosemary and cinnamon. Finished with lentils and borlotti beans to create a warming, hearty ragu.
Smoky Chorizo Chicken
Chunks of smoky chorizo simmered with chicken, tomatoes, cannellini beans, celery, peppers and carrot. Finished with smoked paprika and a mix of herbs.
Red Thai Chicken & Veg
Red Thai-inspired soup with chicken and a medley of vegetables, including shiitake mushrooms, baby sweetcorn, bamboo shoots, edamame and potato. Simmered in coconut cream and finished with red lentils.
We're so excited about the new menu, we hope you are too!